Baby Gates
You need one of these safety baby gates if you have a small child, toddler, or even a pet in your home. Safety is a primary concern for every parent but you cannot always be around while your little one is playing or running around the house. The good news is that you can easily track the baby and block access to potentially dangerous areas such as the stairs, entryways, and doorways using a miniature baby gate. These are short gates for the baby that adults can easily walk over. A diverse range of baby gates is available in different styles, sizes, mounting styles, and other useful features to fit every type of home.
Our choice Best Baby Gates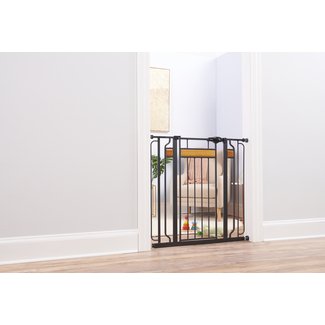 Extra Tall Home Accents Walk-Thru Gate Safety Gate
At a height of 37", this black baby gate is stylish, durable, and exceptionally strong. It's perfect for keeping your little climber away from dangerous areas or for containing a dog that loves to jump on guests. Sturdy steel coupled with cherry wood accents makes it a stylish addition to any minimal contemporary home.
Gate installation is simple, and you can choose between using the included door frame-mounting hardware or the included rubber tension knots to secure your gate to the doorway. Due to its adjustable construction, it can fit in doorways between 30" and 42" across.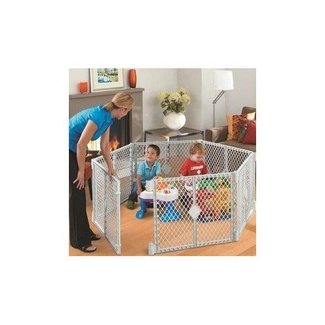 Super Yard XT Safety Gate
Adaptable and versatile, this gate system can function as a pen for a new pet, a contained indoor or outdoor play area for a toddler or an indoor fence to keep bookshelves or kitchens out of reach. If there are siblings or rambunctious pets in the house, this gate can also provide a safe tummy time area for a new baby.
Six 26" tall, 32" wide plastic panels can enclose an area of up to 18.5 square feet. Skid-resistant pads on the bottom of each panel keep this play yard stable and safe for any floor surface.
Hollingshead Extra Tall Walk-Thru Safety Gate
This stately safety gate strikes the ideal balance between traditional style and functional security for your little ones. Perfect for spacious doorways or archways in the home, it can protect areas between 44" and 72" wide and features a swinging, walk-through gate.
Sturdy steel construction is paired with a bronze finish for an extra touch of understated class. At a height of 36", it's suitable for containing both energetic pets and curious toddlers.
Easy Step Extra Wide Safety Gate
Childproofing your home was never so easy. Simple to assemble with pressurized rubber mounts, this 30" gate is perfect for that moment your child becomes mobile.
The sturdy steel construction is strong enough to withstand the excitement of a large dog or persistent toddler, and the system features two additional extensions allowing you to customize the gate to any doorway in your home.
9.5 Extension For The Guard Me Auto Retractable Safety Gate
Ideal for curious kids, this white swing gate keeps valuable items out of reach and out of sight of your little ones.
The gate accordions outwards to fit doorways between 24.5" and 35" across, while a lockable handle on the top of the gate keeps clever kids safe while allowing adults easy access.
At 29" tall, this low-profile plastic gate can contain small pets and children without interrupting the aesthetic of your home.
Chelsea Safety Gate
This 29.5" tall, black gate swings open in both directions for easy access and closes automatically, making it perfect for busy multitaskers who are trying to manage the chores, the baby, and an excitable pet all at once.
A magnetic gate latch comes equipped with a childhood proof lock, and a double-locking feature at both the latch and base of the gate provides added protection. The gate system is compatible with a variety of optional extensions that allow you to create a barrier up to 198" wide for use as a room divider.
Easy Walk-Thru Safety Gate
Inspired by the clean, straight lines of Scandinavian design, this gate combines minimalist style with maximum functionality. This 29" tall swinging gate comes equipped with wall mounts for superior strength and stability and is ready to stand up to your persistent toddler.
Available in natural, white, and espresso finishes, you can effortlessly match this rubberwood gate with your home's color palette. Whether you use this gate to guard stairs or limit hallway access to the kitchen, the 29"-42.5" width adjustability allows you to place this gate exactly where you need it.
Retractable Safety Gate
If you're searching for a safety gate that is quick to install and easy to use, look no further. This low maintenance mesh safety gate goes up in minutes for a safer home in no time.
The fine mesh panel allows you to see your toddler playing in the other room. The retractable locking design makes for easy accessibility without the risk of jamming little fingers and allows you to hide the gate when guests come over.
Easy Swing & Lock Safety Gate
Durable steel construction meets stylish matte-bronze finish for a baby gate that coordinates with your contemporary home décor. With one-handed, auto-locking gate operation, it resists prying little fingers and boisterous pets alike.
Intended for the top of stairs, this gate has no threshold to avoid tripping even if weighed down by heavy laundry baskets or a sleepy toddler. Suitable for both wide and narrow stair entryways, 31" tall gate refuses to compromise on safety, adjustability, or affordability.
Superyard Colorplay Safety Gate
Colorful and bright, this lightweight, six-panel play yard is fun and inviting and keeps your child safe as they play. With up to 18.5 square feet of internal space, this 27" tall play yard gives your child far more freedom and space than a traditional pack and play.
Use the convenient carry handle to move this play yard inside or out while you tackle your to-do list and let your child develop their motor skills and enjoy their favorite toys in safety.