Our Choice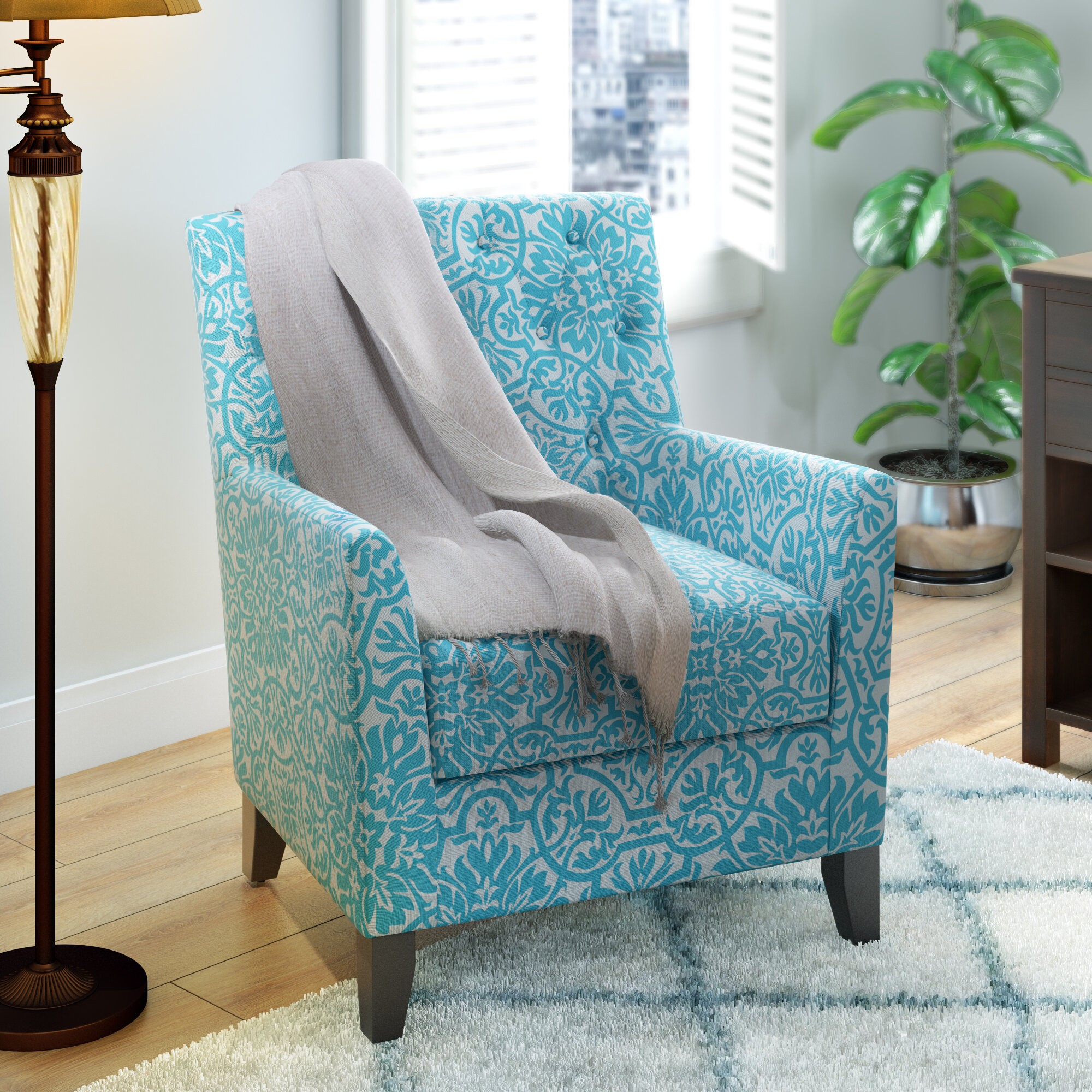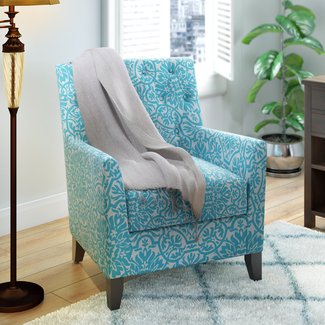 Goodfield Armchair
Traditional refinement and modern appeal combine seamlessly in this accent armchair with shelter arms, a tufted design and sturdy legs.
Crafted from a wooden frame covered in polyester and foam and 100% linen upholstery, the seat which has also been manufactured for durability, is also stain and fade resistant.
Incorporate in an industrial fusion theme in light colors where its light blue hues will blend in perfectly with its dark legs adding a delightful contrast.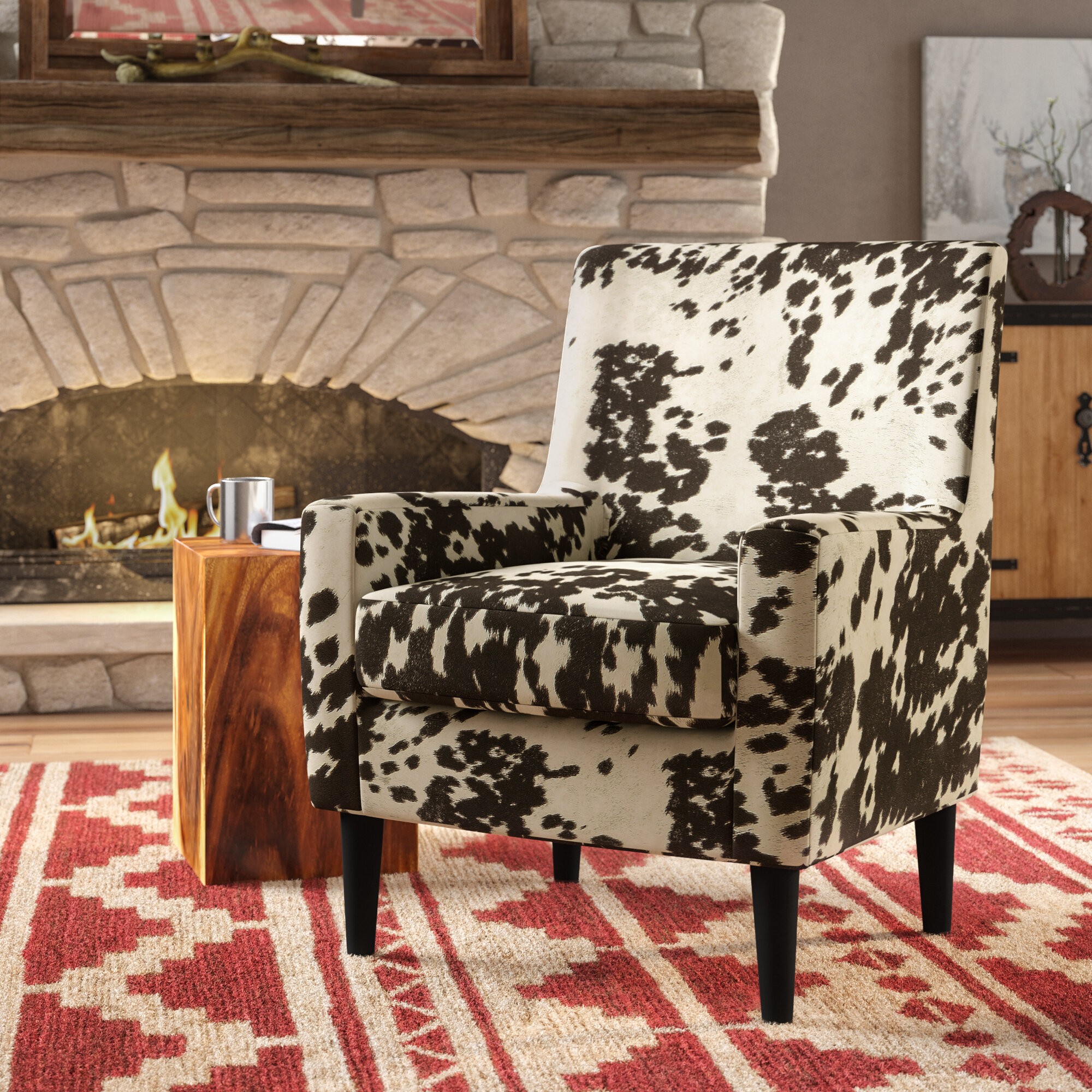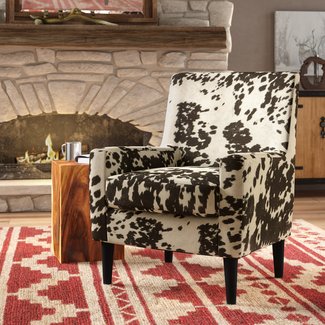 Donham Armchair
Crisp geometric lines lend this armchair a versatility which will enable it to complement a varying range of decorative themes which rely on robust, simplistic forms.
Detailed stitching further enhances the accent chair's air of refinement while coil springs and foam padding contribute to a structure which is both stylish and comfortable.
A plastic and wooden frame also serves to enhance its durability.
Complement with a patterned woven rug in white or pale brown and a coffee table in pale or richer natural tones against a white backdrop.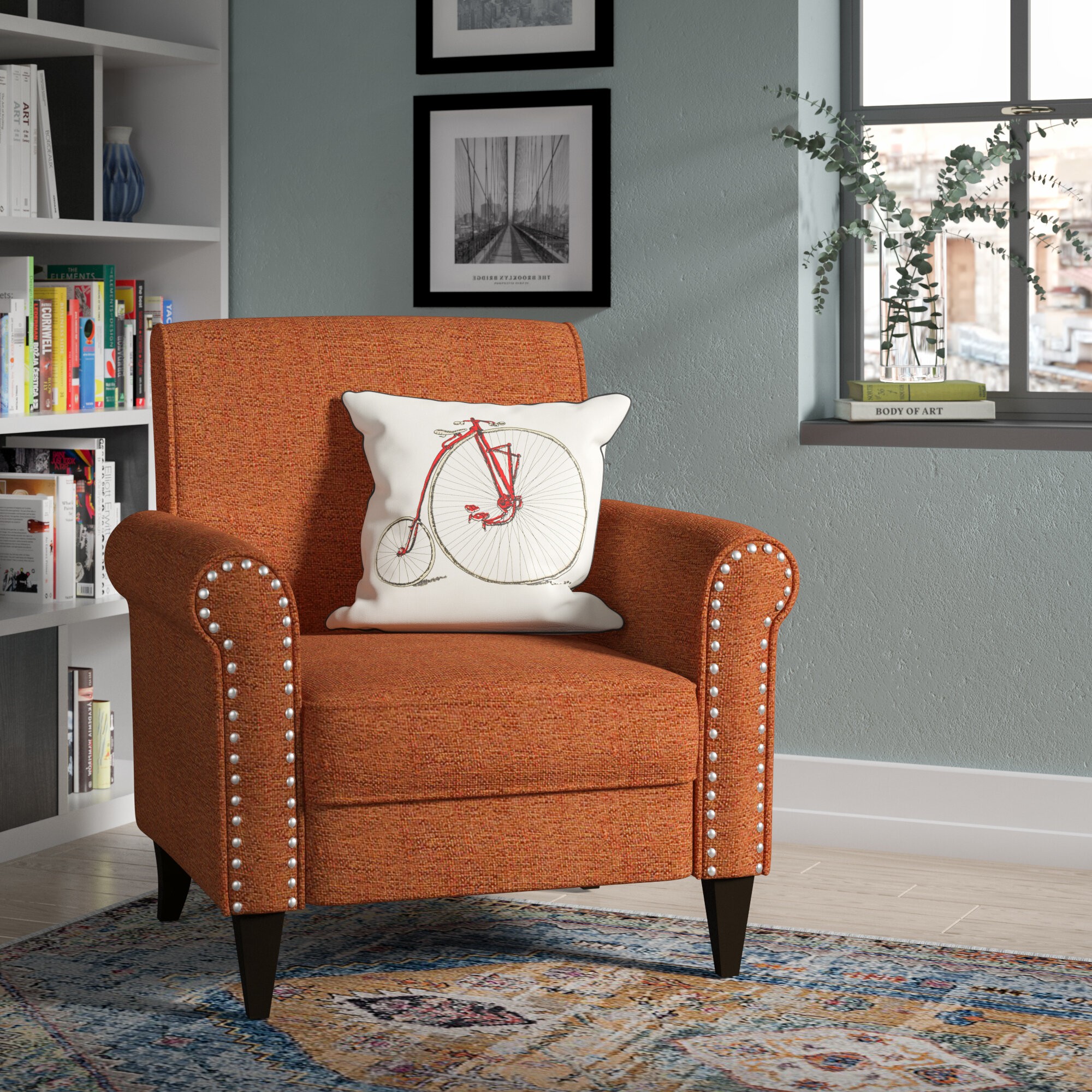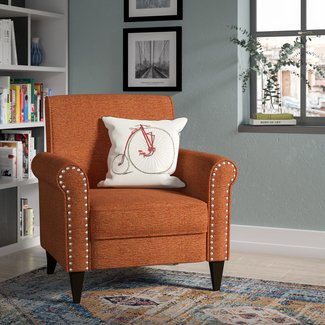 Amet 21.5" Armchair
Sedate, stylish and refined, this armchair is ideal for a transitional or traditional-inspired living room.
This lounge piece which features rolled arms with silvery studded detail and tapered legs in orange, has been crafted from solid pine and manufactured wood.
Foam padding covered in polyester fabric also serves to add a hint of stylish comfort to its durable design.
Enhance its delicate hue with white cushions and a plush rug in the same color and anchor the above effect with a rich mahogany brown coffee table with a high polish.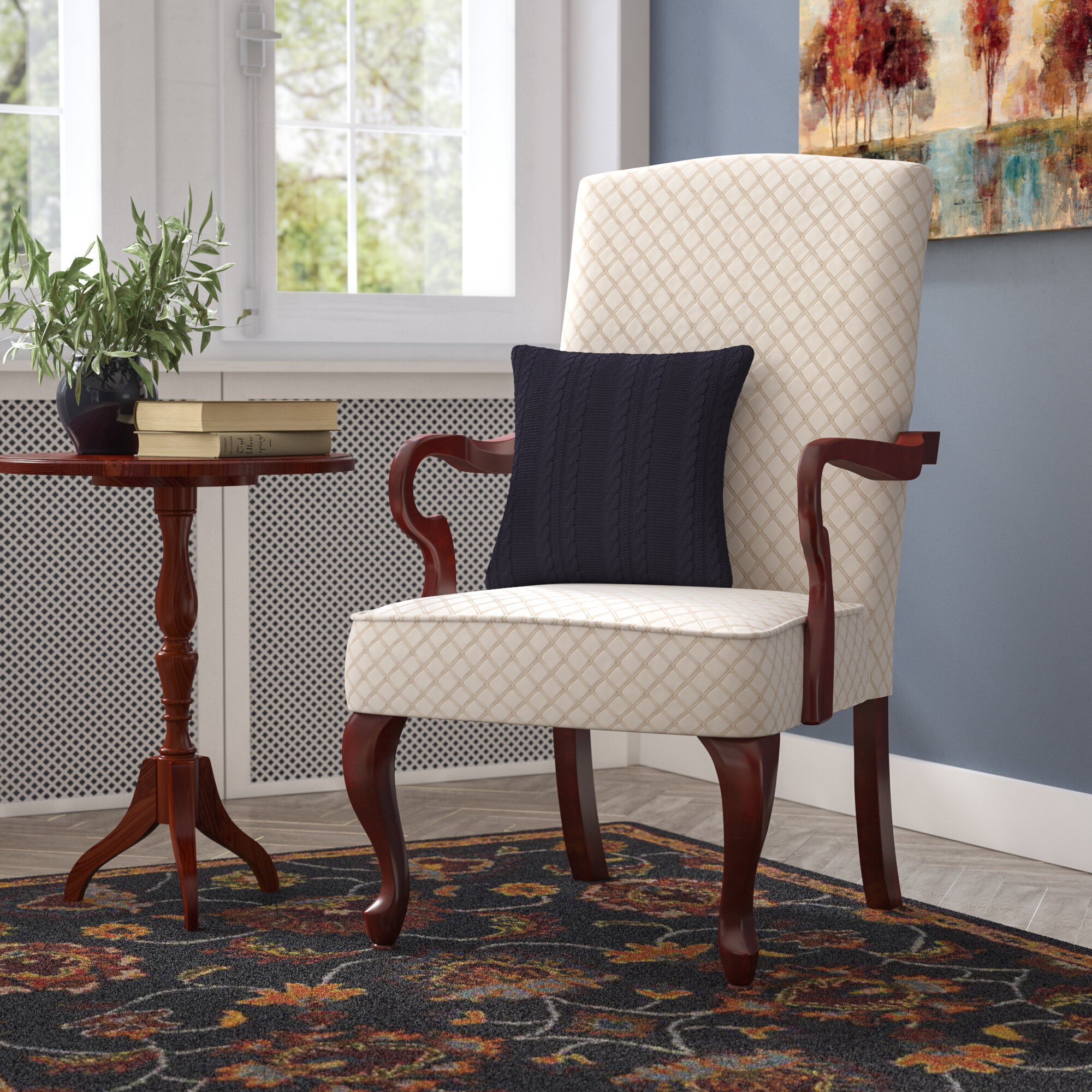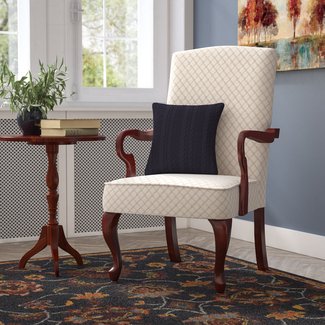 Tellis 21.75" Armchair
Scarlet interlocking diamonds outlined in gold and the rich burnished brown of its elegantly carved frame lend this fauteuil a regal opulence suited for a traditional setting.
Featuring a birch frame and foam upholstery, the chair also comes with a cotton and polyester covering.
Use to complement a cabriole sofa set against a white background decorated with period portraits and an ornate rug on a pale, paneled floor.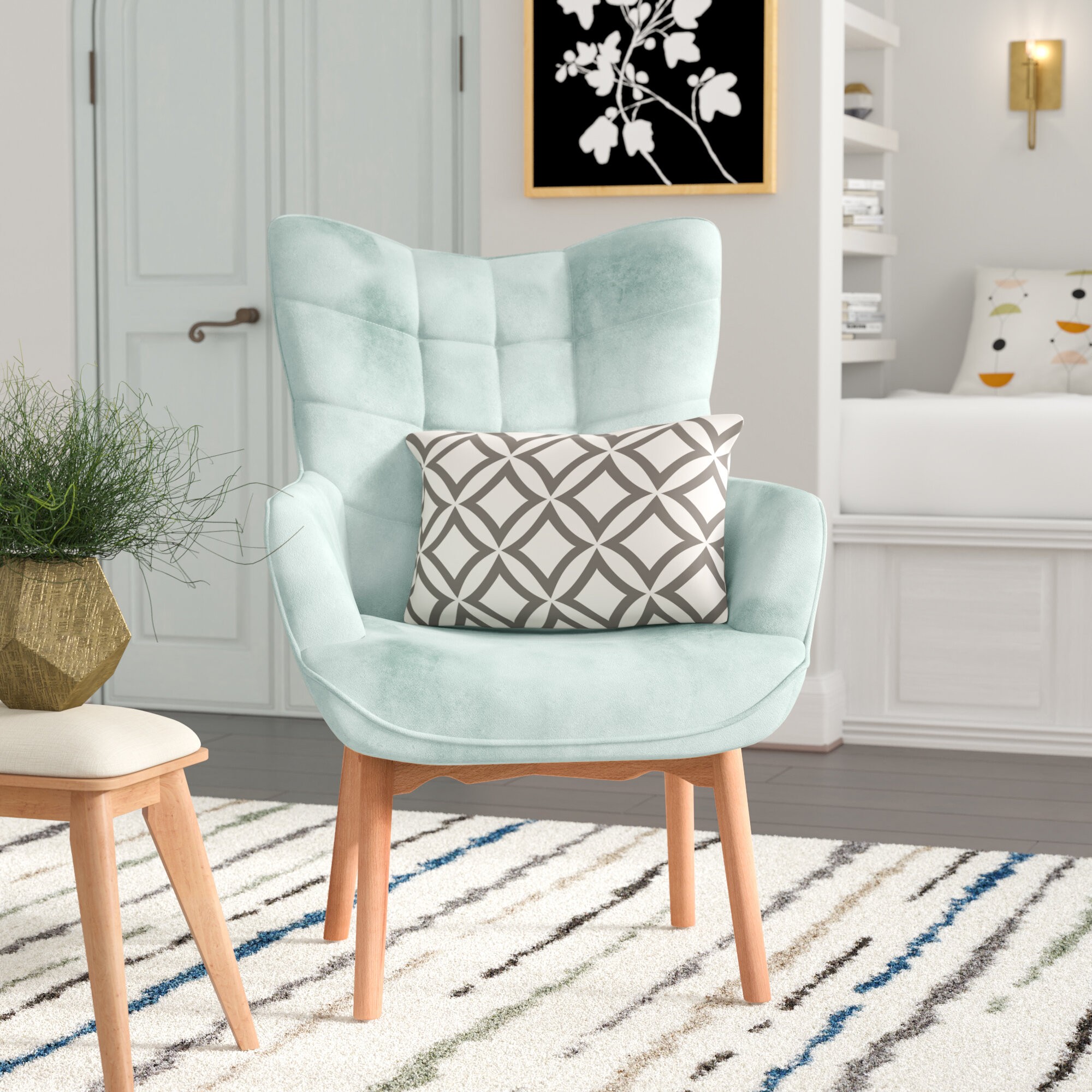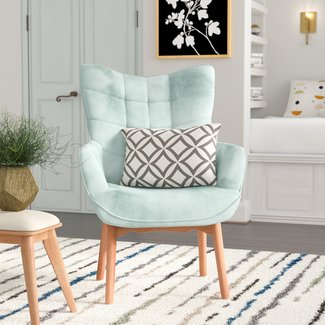 Tybalt Armchair
Flared arms and a bold velvet color coupled with pale legs grant this wingback-inspired armchair an appeal which effortlessly combines the modern and the traditional.
The seat which has been made from solid and manufactured wood and polyester covered upholstery also features foam padding to enhance the comfort it provides.
Make the most of the alluring contrast between its vibrant blue hue and its pale legs to enliven a Hollywood regency lounge in pale tones.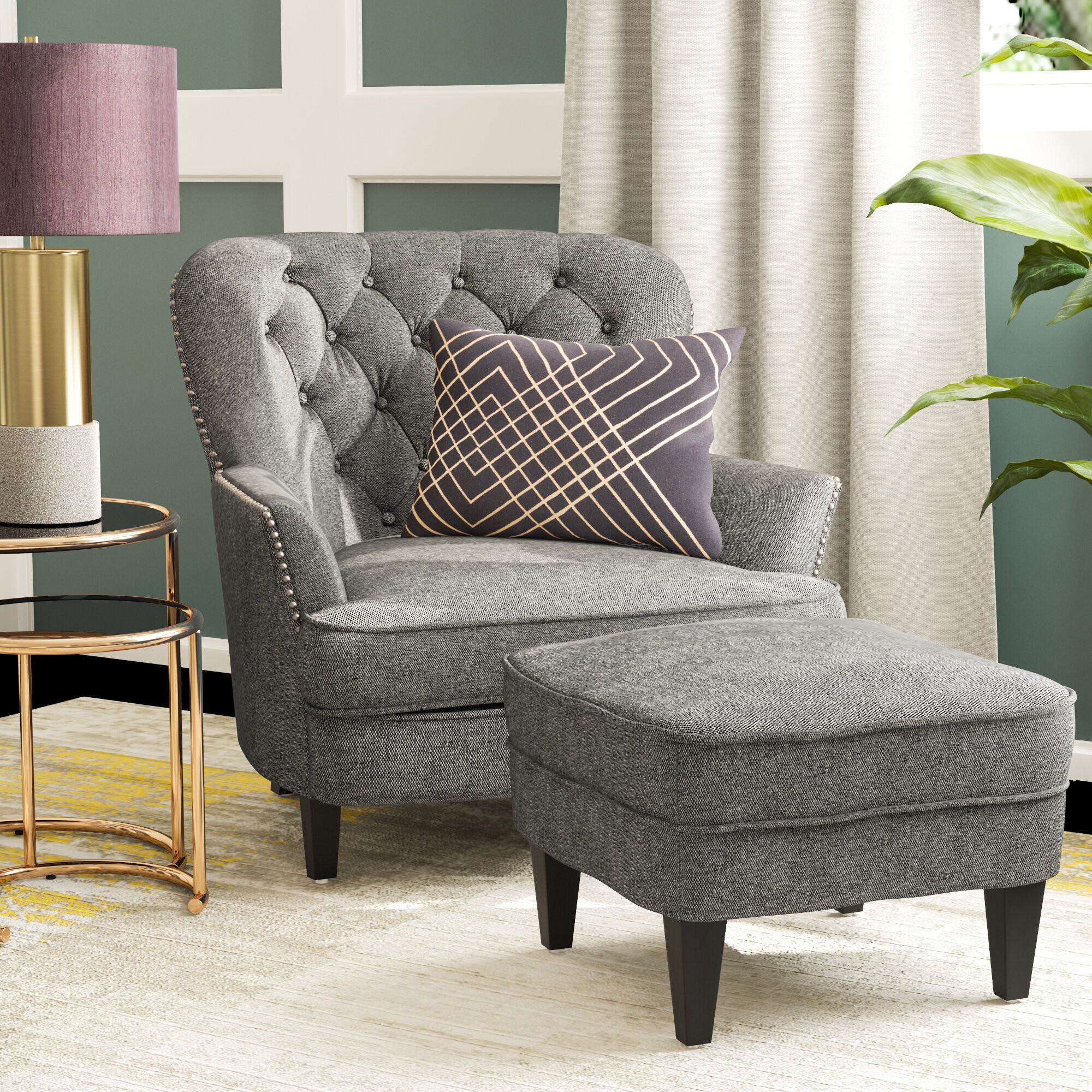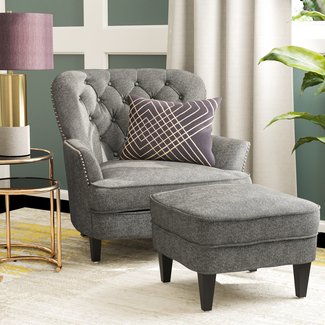 Heywood 24" Armchair and Ottoman
A tufted back and studded detail make this armchair and its matching ottoman a charming blend of classical refinement with a hint of contemporary charm.
The pair which consists of rubberwood frames, also features upholstery made from polyurethane foam padding covered in a fabric blend consisting of acrylic, linen and polyester.
The neutral gray of the chair and ottoman set are an excellent choice for complementing similarly lighter backgrounds decorated with accent pieces to create an airy, open ambience with a classical appeal.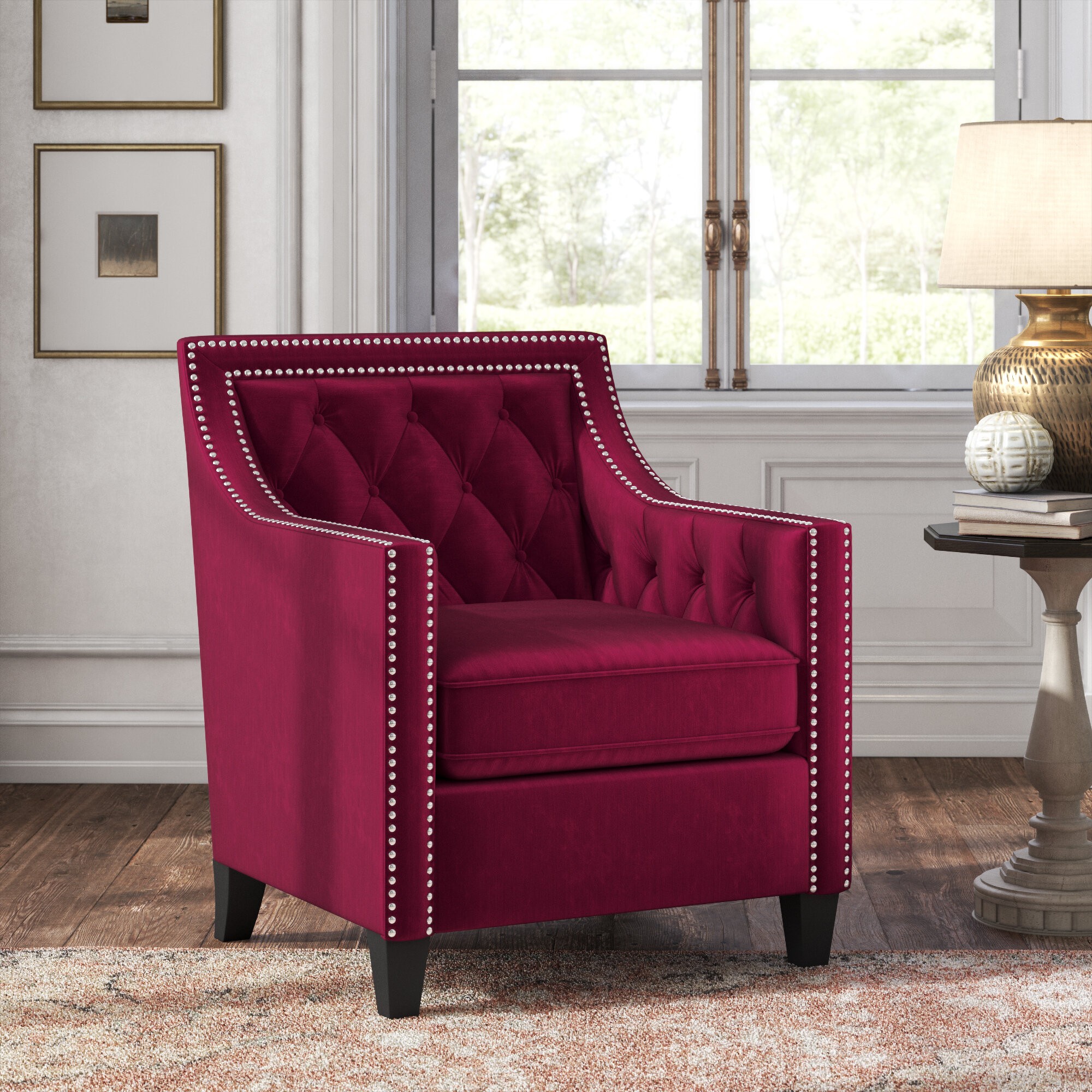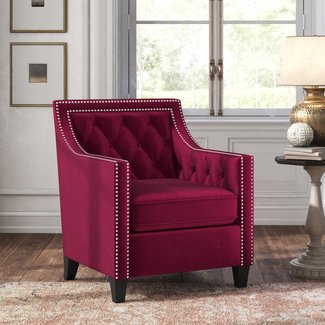 Opry 22.5" Armchair
The most striking features of this armchair include its bold, velvety tones outlined by stud detail as well as its style which is a delicate union of the traditional and the contemporary.
The seat whose elegance is further enhanced by the addition of tuft detail, consists of a frame made from solid wood as well as foam covered in 100% polyester.
Make use of its eclectic fusion of vibrant color, and vintage-inspired traditional appeal to reinvent a room decorated in white with lively accent tones.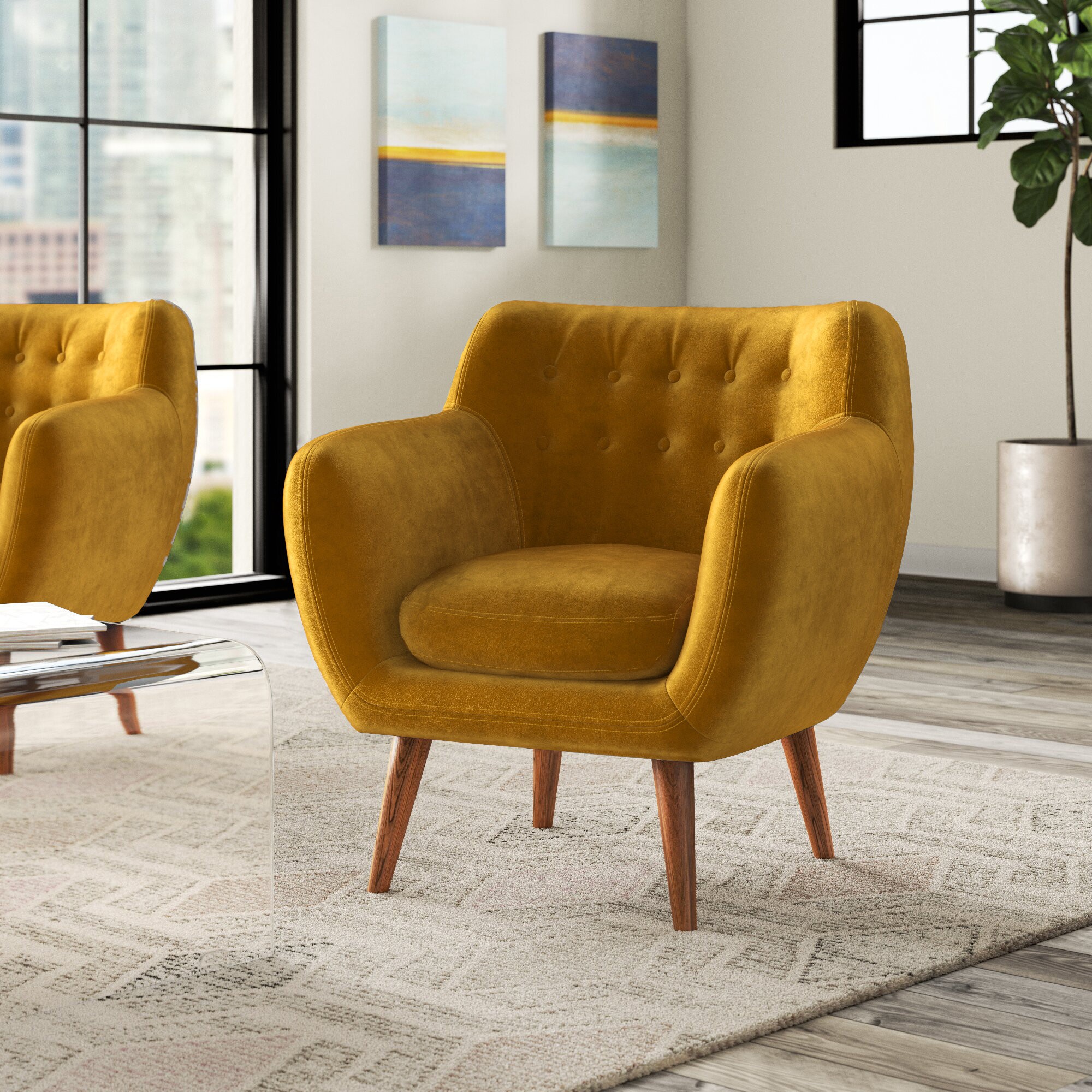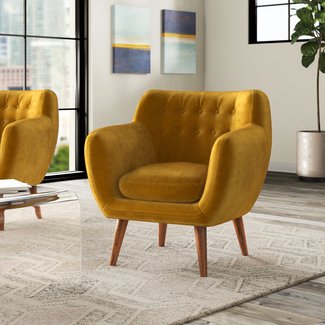 Martinique Armchair
Scandinavian simplicity meets regency sophistication in this Jensen-inspired armchair which will instantly elevate its surroundings with its sleek style.
Possessing a warp-proof frame made from New Zealand pine and smoke-finished oak legs, this seat which has also been upholstered with foam and synthetic fiber, has been designed to be stain, mildew and fade resistant.
Its modern form and luxuriant deep sapphire tones make this armchair ideal for a bohemian setting modeled using a color palette of white, grey and blue.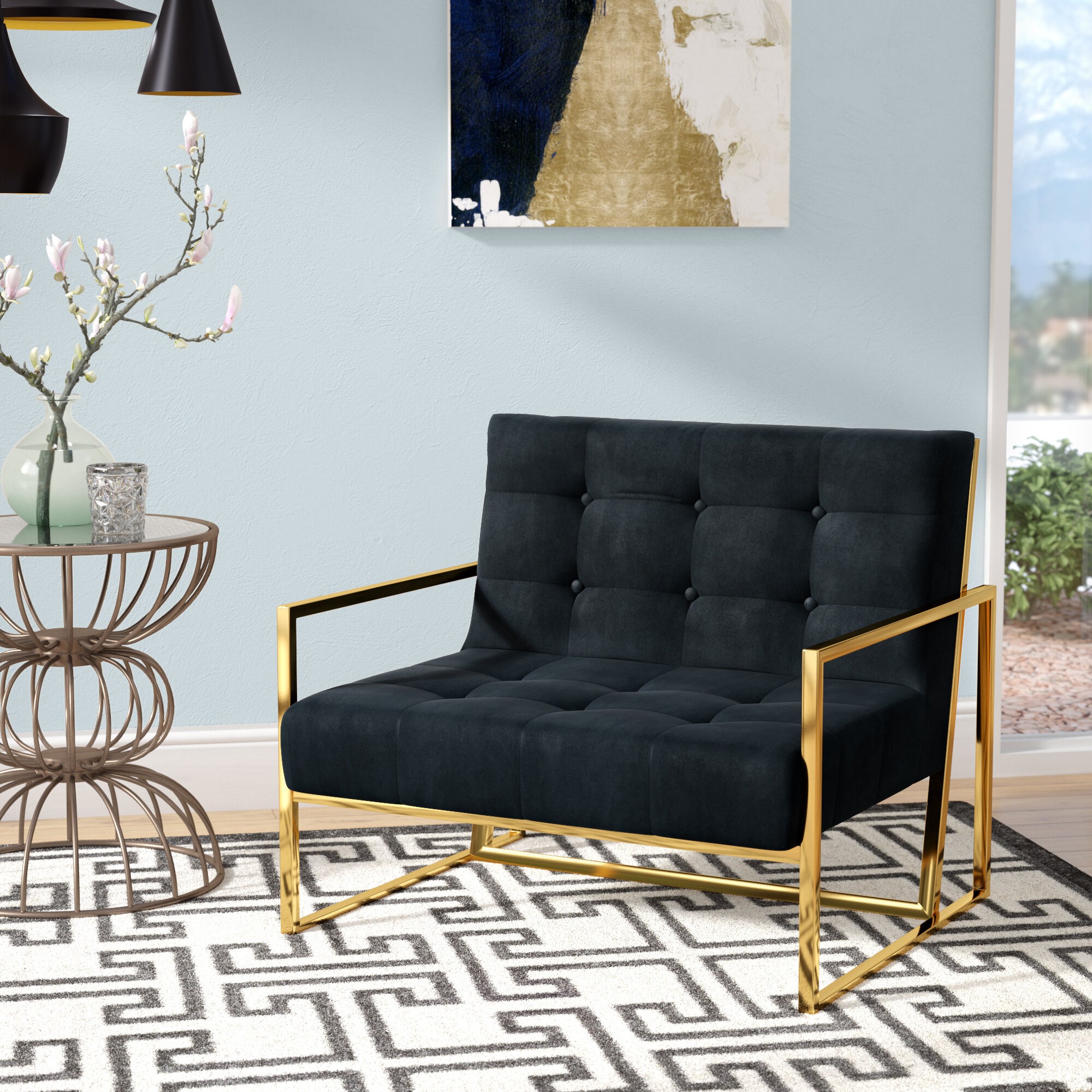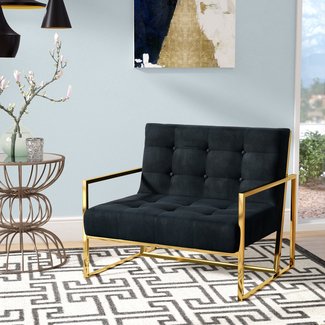 Jani Armchair
Midnight black balanced against a golden frame provides a truly eclectic glamorous combination which will instantly enliven your lounge.
The loveseat also features tuft detail for an added touch of sophistication. It has also been manufactured with a metal frame and  pocket string padding covered in smooth velvet to provide extra comfort and opulence.
Combine its bold, glamorous contrast with a glass coffee table adorned with white hardbacks and also complemented with a turquoise rug for a truly brilliant effect.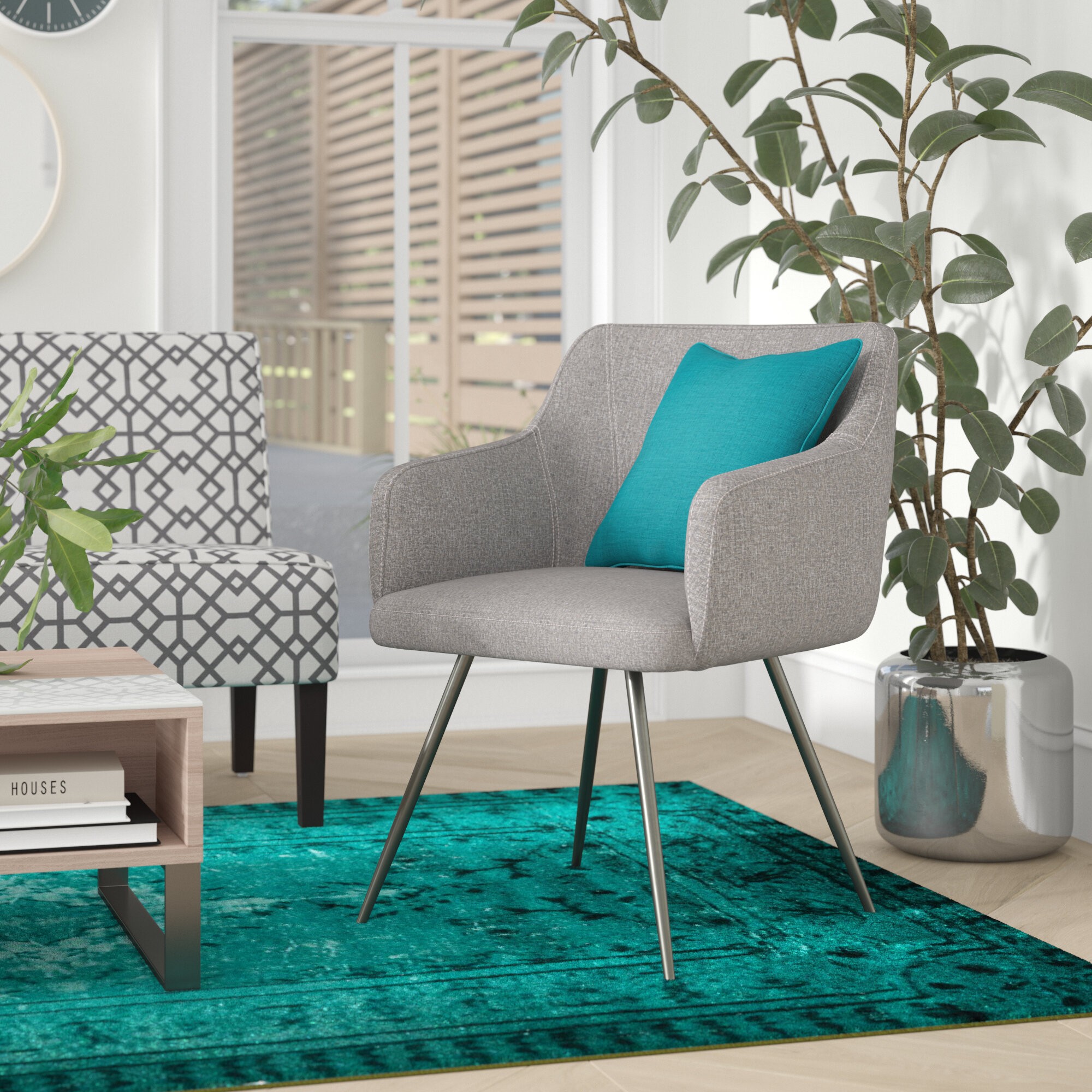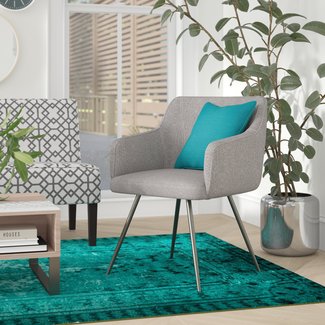 Hanner Armchair
A spare, minimalist design makes this modern chair an ideal choice for an extensive range of design themes ranging from contemporary, to mid-century modern to Hollywood Glam.
The chair has been manufactured with a metal frame and upholstered in foam covered in 100% polyester which is known to be especially durable.
Make the most of its neutral tones and spare form to elevate the style of your study by pairing it with a floating, writing or even a dual-sided desk.