Our Choice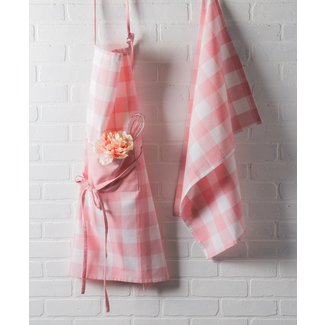 Wolsingham Checkered Chef Kitchen Apron
There is something timeless about a gingham printed apron for whipping up those delicious dishes in the kitchen. This apron is perfect for the budding chef in your life. Featuring an adjustable neck strap and extra-long waist ties to make this apron a true one-size-fits-all, it also has a durable front pocket to keep your hands free of utensils in the kitchen. Designed using 100% cotton, this apron is breathable and moisture-wicking, making it perfect for summer nights at the grill.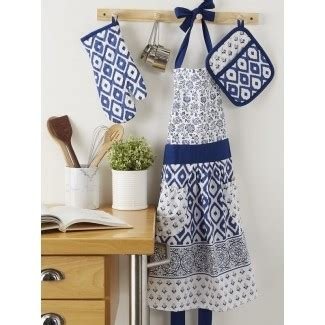 Cotton Market Chef Set
Looking for the perfect gift for the foodie in your life? Then look at a chef set that features the apron, but also an oven mitt and potholder. With an attractive Tunisian patterned print in white and blue, it will brighten up any kitchen. Thanks to the dual pocket design, you can have your utensils and recipes always at hand. Not sure of the sizing? No worries as it has adjustable ties to make it fit perfectly for everyone.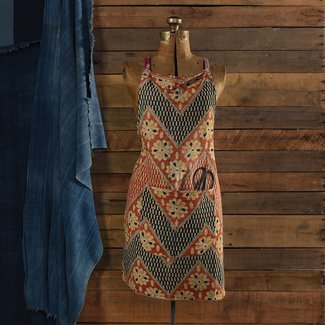 Kantha Apron
You'll look completely at home in your kitchen with this vintage style apron. It features the Kantha stitch to reinforce the fabric and make it thicker than the norm. This means this apron will withstand some tough love and be durable enough for even the most ambitious of projects. Keep in mind that due to the stitching method, this apron would have to be hand washed but it does feature a deep front pocket for your tools in the kitchen.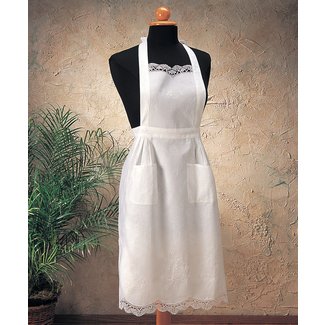 Embroidered and Cluny Apron
A vintage apron with delicate lace edging brings back memories of a simpler time when it was celebrated to spend all your time in the kitchen. The decorative lace is hand embroidered and adds a whimsical touch, allowing the chef to feel like a Disney princess. Deep pockets on either side are a welcome feature. 100% cotton material means this apron looks more delicate than it truly is and the neck ties are also cotton for a comfortable fit.
Stone Washed Cotton Canvas 2 Piece Apron Set
If you've got two chefs in the house, then you want a dual pack of aprons made from durable, breathable, and comfortable cotton canvas material. With a halter-style neckline to keep the tension off your shoulders, they have wide ties for easy knots and bows to hold in place.
They feature a different phrase or saying that relates to food, family, and health to encourage everyone involved. And a large kangaroo-style front pocket adds practicality to the whimsical look.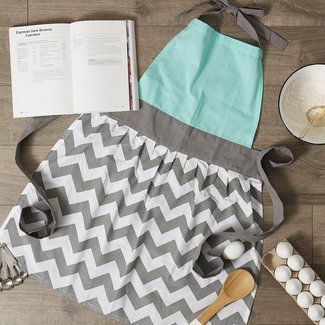 Skirted Kitchen Apron
Timeless designs and patterns in turquoise and gray make for a wonderful housewarming gift or simply a treat to yourself when it comes to this apron. The 100% cotton fabric is not only breathable when the temperatures rise but it is also treated with a stain resistant solution to prevent those pesky grease stains that no one can seem to remove! Throw in the washing machine with no worries of ruining the shape. Wide straps tie it around the neck and the waist.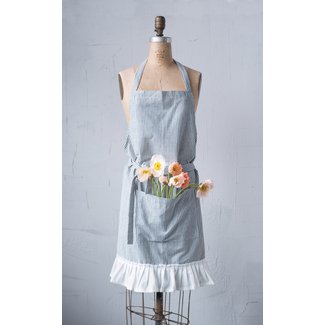 Apron
There is just something about standing in the kitchen, mixing your latest masterpiece, while the breeze coming in through the open window gently rustles the ruffles on your apron. This apron gives you that with its classic pattern that invokes professional chef designs, wide straps for the halter neckline, and the cotton blend material being both breathable and moisture-wicking so you're cool as a cucumber with hands in the front pocket waiting for that timer to go off.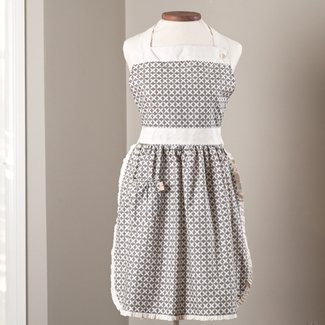 Caille Apron
If you're a person that enjoys adding a retro touch to your wardrobe, then you'll love the retro vibes this apron is putting out. Made from sturdy durable cotton, it brings an old-fashioned touch to the kitchen from its geometric pattern to the delicate ruffle along the hem. A hidden pocket adds practicality and the wide sash around the waist increases the support and comfort in the kitchen.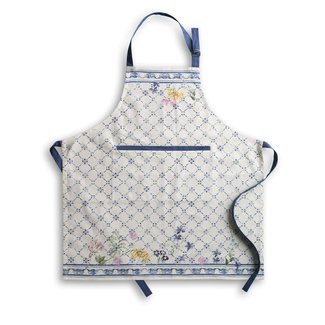 Faience Apron
Ready to get serious in the kitchen while still maintaining your personal style and flair? Then you definitely want to check out this beautiful blue and cream apron! A wide adjustable neck strap takes the tension off your shoulders from wearing an apron all day and the wide waist straps fit snugly but not constricting. The hidden center pocket is cleverly designed into the pattern and when a designer uses 100% cotton, you know its machine washable for your convenience.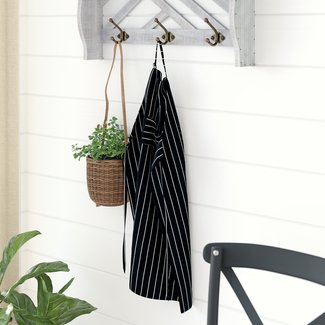 Tulia Striped Cotton Apron
Tired of getting pesky flour stains all over your clothes during your baking time? Want to look professional in a stark black and white pinstripe look during cooking time? Then check out an apron that has both covered. This halter-style neckline with a bib front for full coverage has everything you could need and want in an apron. Adjustable neck straps? Yes. Front pocket for storing your recipes, utensils, and more? Yes. Looking like a boss in the kitchen? Yes.