It's that time of the year to set up your Christmas tree and get to decorating. But what do you do if you're tired of having the same classic red and green theme each year?
Fortunately, Christmas tree decorations are evolving each year which means you get to be as creative as you want and flaunt your design aesthetic in unexpected ways!
Here, you'll find 9 jolly ways to decorate your Christmas tree for the best Christmas ambiance yet! It's time to impress your guests in the best way possible. Take inspiration from these unique yet festive Christmas tree decoration ideas and dare to be different this year!
1.

Sweet like sugar

It's a fact that pink is most associated with sweetness and since Christmas is a sweet and tender time of the year, there's no reason why you shouldn't shake things up by swapping a green tree for a pink one. Get rid of all things bitter this holiday season and embrace the sweetness by decking out your tree in pastels! This pink Christmas tree features an assortment of pink, green, blue, and toothsome donut ornaments along with an elegant beaded garland. A minimalist pink star tops it off for a subtle touch. To achieve this bubblegum-looking Christmas tree, stick to ornaments in soft pastel hues. You can always switch the donut ornaments for other sweet treats such as candy, ice cream, macaroons, and lollipops!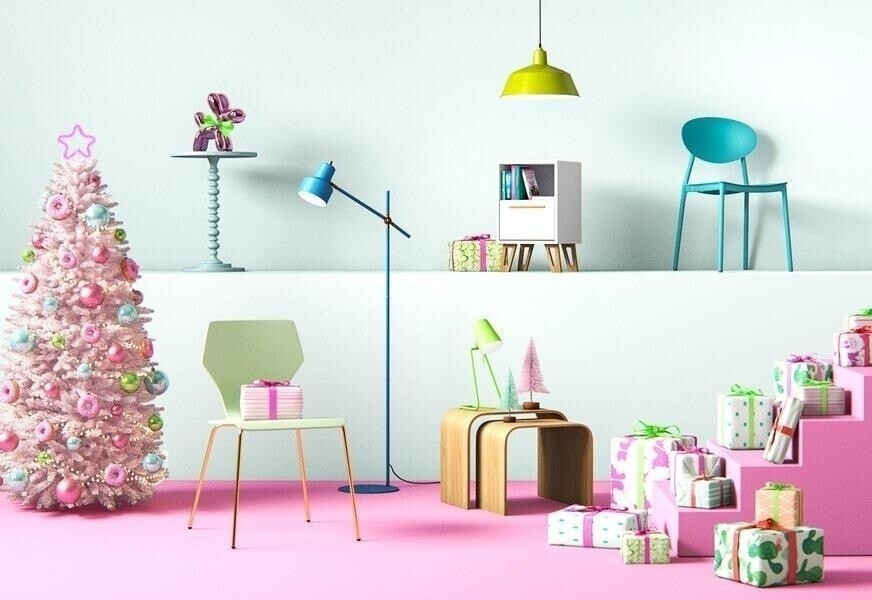 2.

Ornaments on ornaments

This Christmas tree is completely covered in ornaments, it's hard to tell if there's even a tree beneath it all! The thoughtfully ornamented tree complements the living room's color scheme and ties the room together with its blue, purple, yellow, gold, and white hues. Its multi-colored ornament design makes a unique focal point, destined to stand out and wow guests. Keep your home's color scheme in mind when picking out the ornaments' colors for a cohesive and not overly decorated setting. If you're on a tight budget, you can craft your own miniature version of this ball tree without actually needing a tree. All you need to do is make a cone with a poster board and hot glue your ornaments on it.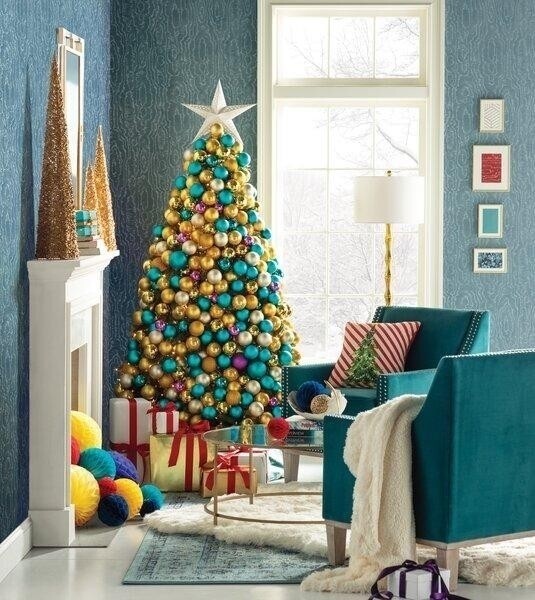 3.

An arts and crafts family bonding moment

The holiday season is all about getting together and bonding over the Christmas preparations and celebrations. What better way to enjoy some family time than by building your Christmas ornaments from scratch? Get your supplies ready and unleash your inner artist! The bright yellow and white handmade ornaments add an unexpected yet refreshing vibe to the tree while the green garland and decorations make the greenery pop even more. If yellow is too much for you but you still want to make a striking centerpiece, choose another vibrant color like blue, purple, or even orange!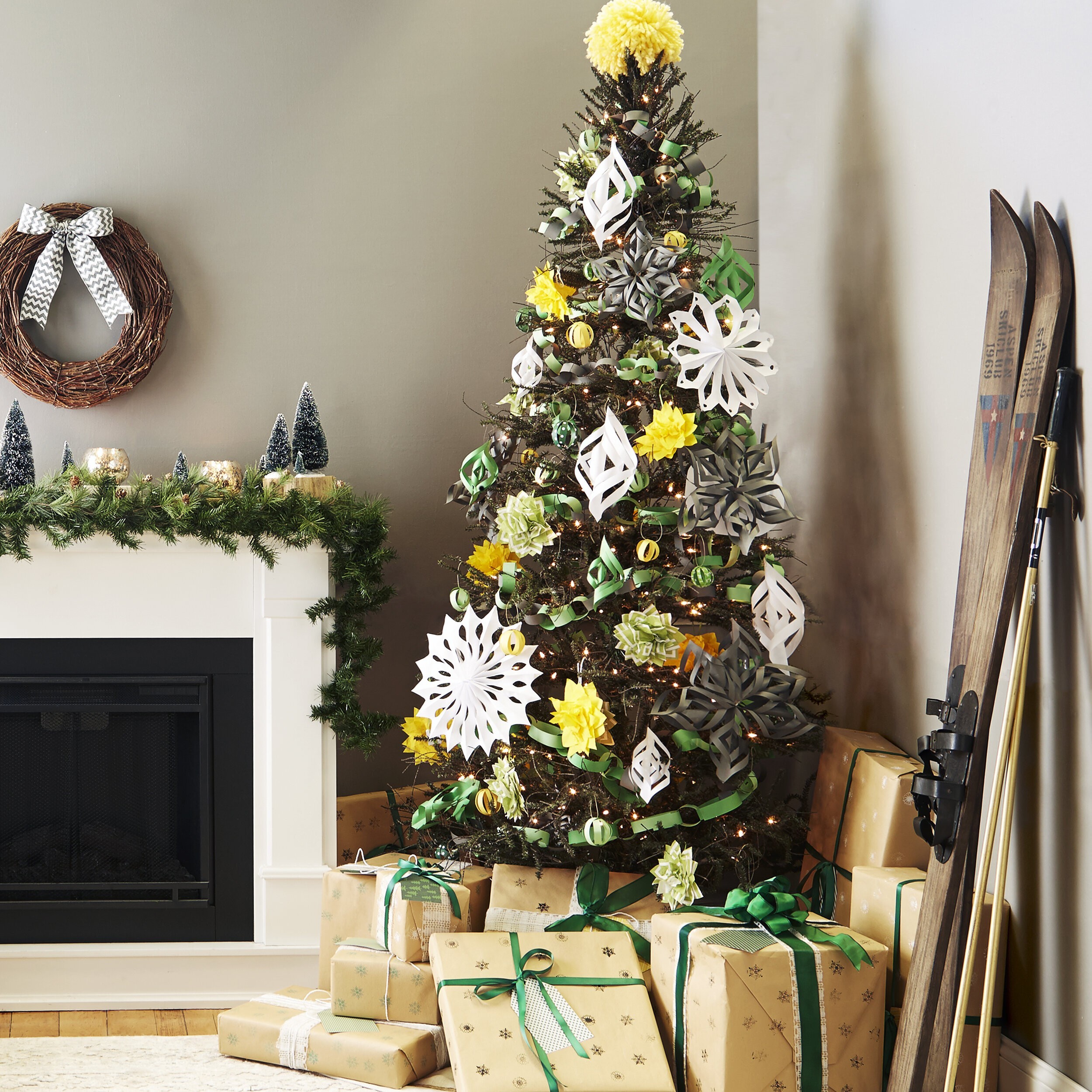 4.

Majestic red and white

Just because a lot of people are diversifying their holiday color palettes doesn't mean you can't stick to the traditional seasonal shades. But this time, why not create a setup that feels both cheery and refined. This evergreen tree is paired with red and white ornaments in several patterns and designs and boasts a gorgeous Christmas color scheme. Don't only limit yourself to ball ornaments! Bring personality to your tree with stars, snowflakes, and geometric ornaments instead! If you have some red ribbon lying around, turn it into a charming bow topper!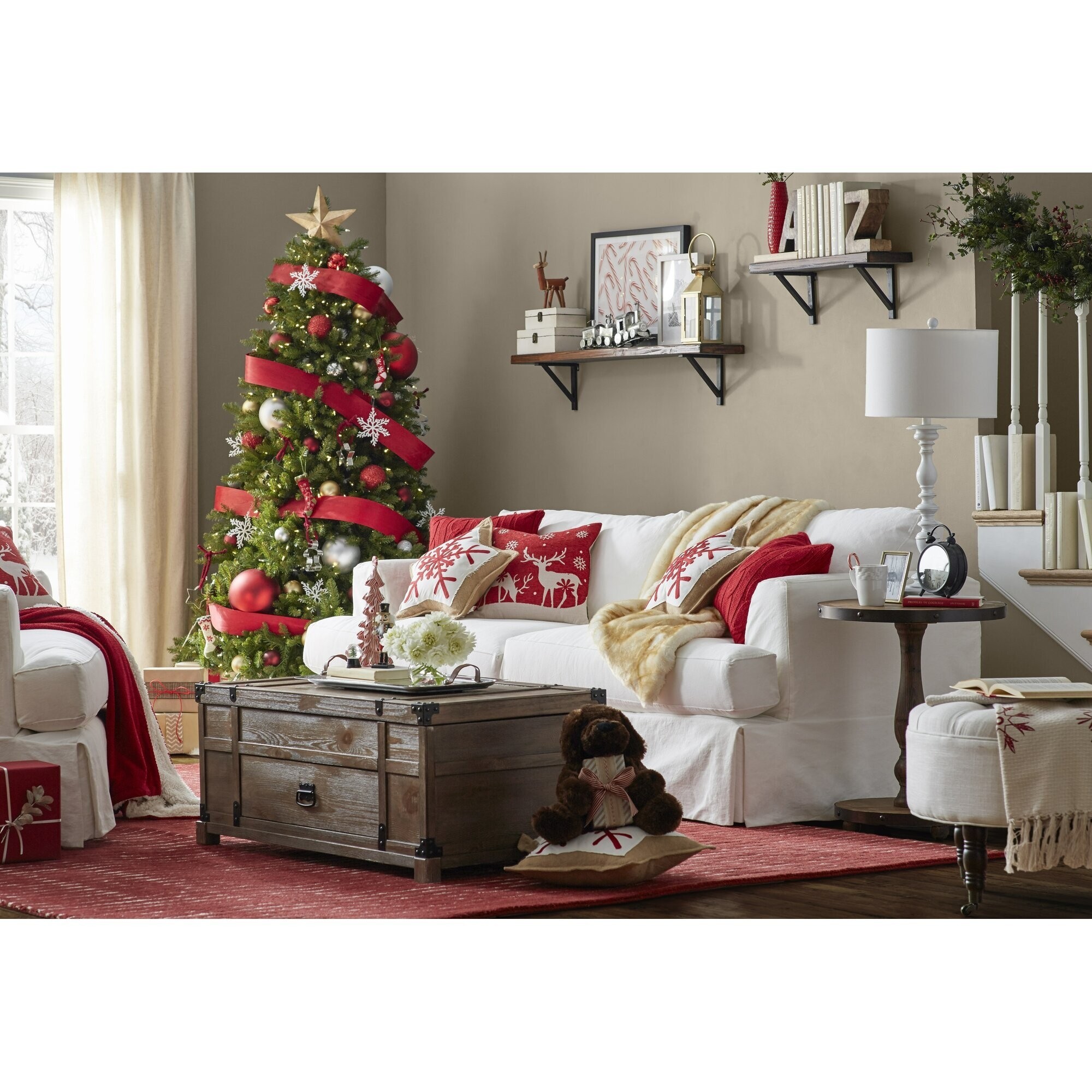 5.

Stick to the same shades

This large white tree is dressed up with only green, gold, and purple ornaments. No garland is needed since the tree's clear lights are enough to bring warmth and coziness to the setting. This office design perfectly proves that the best way to create a neat and appealing Christmas tree setup is to stick to your existing color palette! Keep the display simple yet colorful to add visual interest to the space.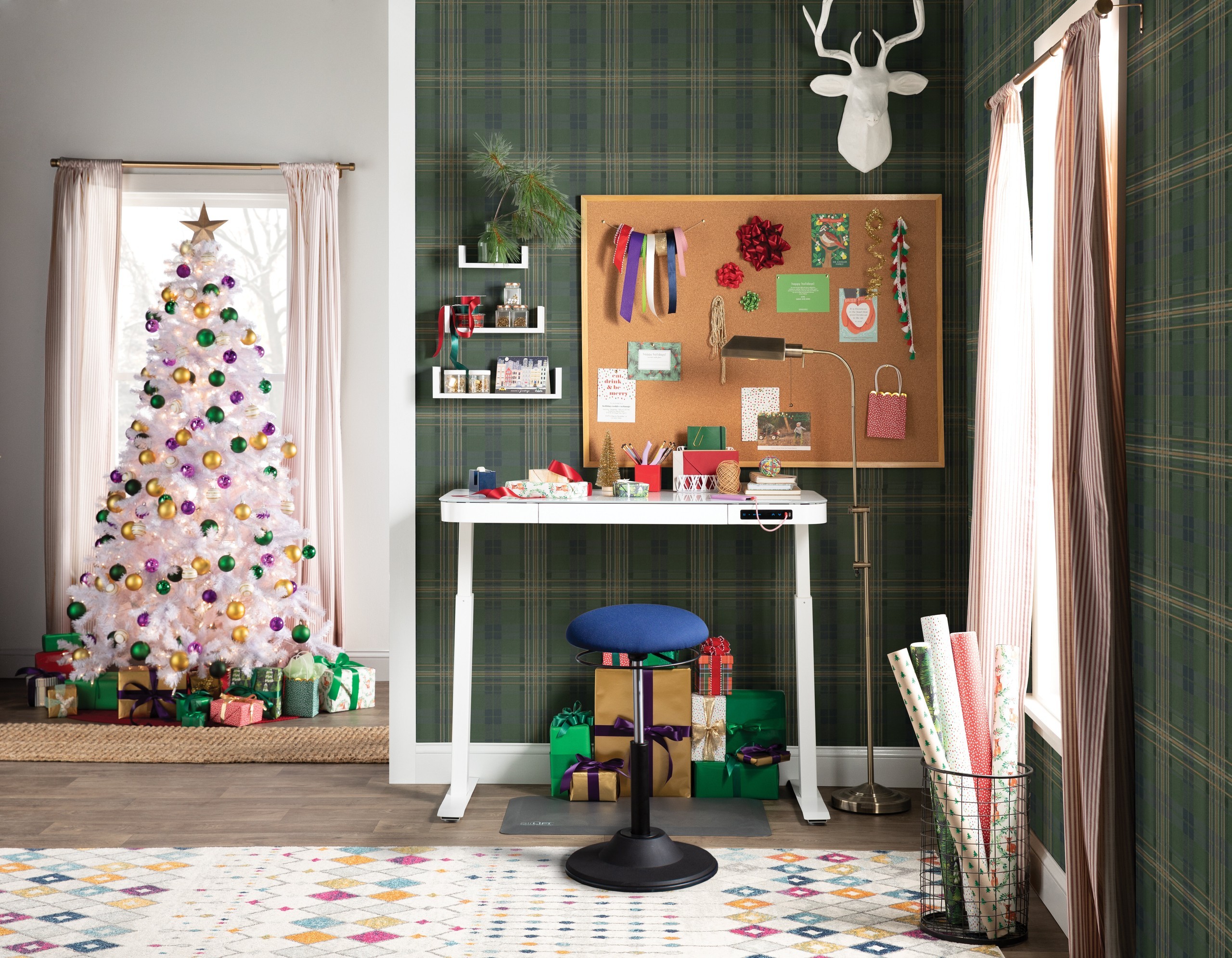 6.

A tree with refined elegance

This red, silver, and gold Christmas tree showcases oversized ornaments that particularly look great on larger trees. If you're going for the giant ornament look, make sure there are at least two other smaller sizes scattered around the tree for a visually pleasing effect. A large red ribbon and various seasonal elements work together to keep the tree from looking too basic. Since Christmas stocking ornaments aren't for everyone, you can replace them with candy canes or snowmen for a little touch of playfulness. The embellishments in varying sizes and shapes look beautifully coordinated in the same color scheme.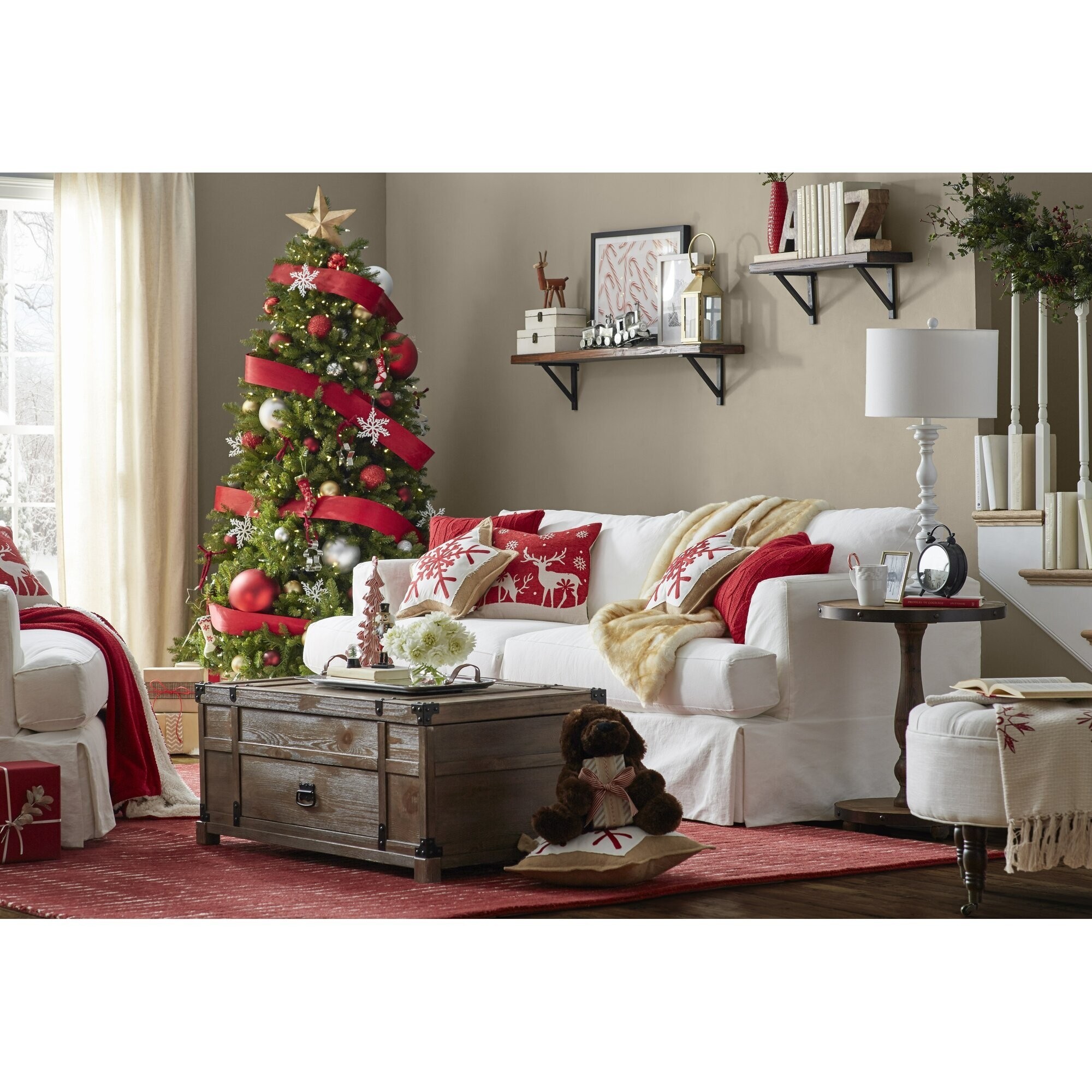 7.

Subtle and minimalist

It's totally okay to not want to fill your Christmas tree with shiny knick-knacks. Thislarge evergreen is wrapped in a soft white pom pom garland and decorated with fluffy neutral-colored decors. If pom pom garlands aren't your style, use a wood bead garland instead. You also can't forget about the warm and wooly tree skirt! The result is a simple yet stylish focal point. Adorn your tree with only a few types of neutral ornaments to achieve this minimalist look. The key here is to space out the decorations to keep it clutter-free.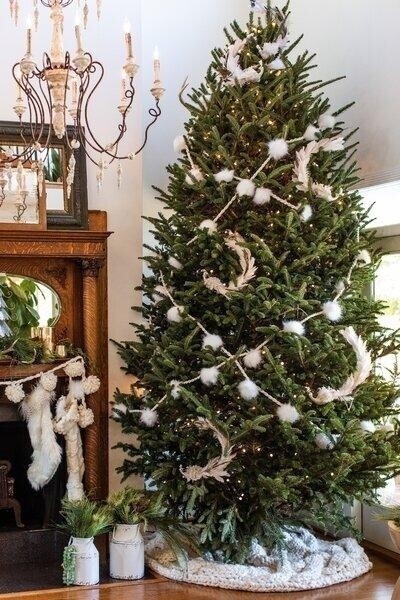 8.

Dreaming of a white Christmas

Who needs ornaments when you have a flocked Christmas tree? Its frosted texture is simply enough to make a Christmassy statement! If your tree doesn't already come flocked, consider sprinkling artificial powder to pull off a snowy effect. A subdued look is achieved here by spelling out joy and merry. If you want your tree to stand out this Christmas, flaunt your Christmas cheer by spelling it out! Choose a festive sign like "Merry Christmas" or "Joy to the world" to dress up your frosted tree.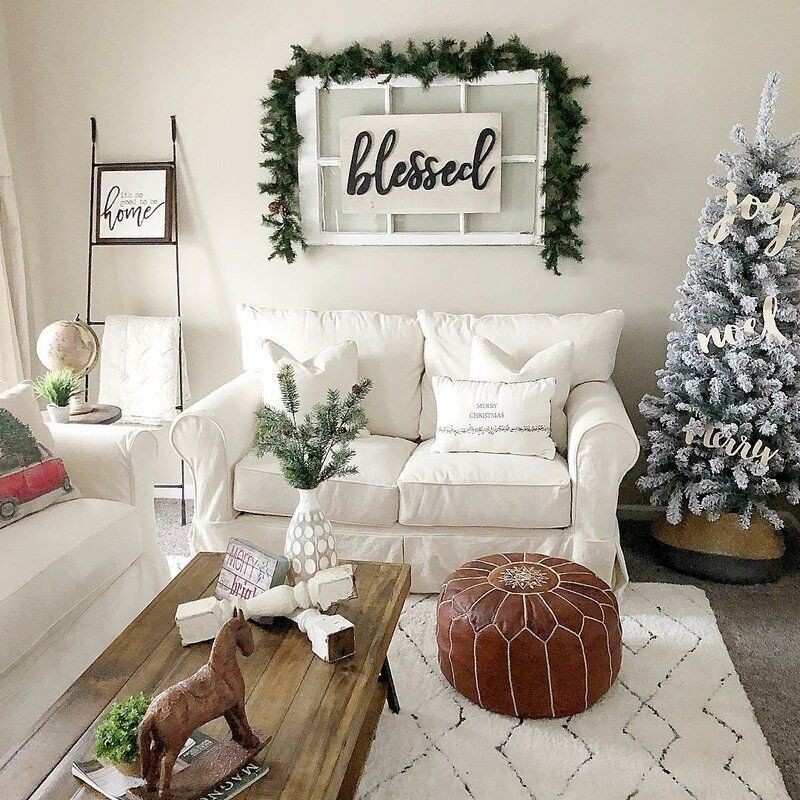 9.

Glam Christmas

You can never go wrong with a glamorous and sparkly Christmas tree during your holiday festivities! This tree is pure elegance with its shimmering embellishments and fancy tree topper. A neutral and shiny color palette makes for a sophisticated statement in any space. To balance out the white tones, varied shades of gold are layered throughout the tree. Don't be afraid to pick ornaments of all shapes and sizes, as long as they belong in the same color scheme and look shiny for a luxurious atmosphere. Spruce up your tree with rose gold decors instead of regular gold for an understated but equally glamorous setup.