When you're setting your Christmas table, you do want it to be a little bit more festive than usual. After all, it's the most wonderful time of the year: Shouldn't your table reflect that? Fortunately, it's not hard to find ways to elevate your dining experience - particularly when you have guests. As a host, you likely have many things on your mind, so selecting a stunning yet simple table runner is a great way to get the look you want!
However, with so many runners on the market, it can be difficult to pick one that will work the best for your home's unique aesthetic. We've taken all of the hard work out of your decision by finding the best table runner trends for you! Which one of these ideas or types of runner do you think will work best in your home?
The Nine Types of Christmas Table Runners You Should Know About
1. A Minimalist, Sophisticated Black Christmas Table Runner
For most of its surface, you'd never guess that this is a Christmas table runner - but that's part of its charm. With a facade that you can use for part of the year without worrying about any intricate appliqués or embroidery, the subtle Christmas decor on one end of the runner (a wintry reindeer and tree scene) gives you just the right amount of Christmas joy, without overwhelming at all. The dark color also makes this one very practical, as stains wouldn't show up easily. This type of runner is likely good for large families and people with striking minimalistic decor.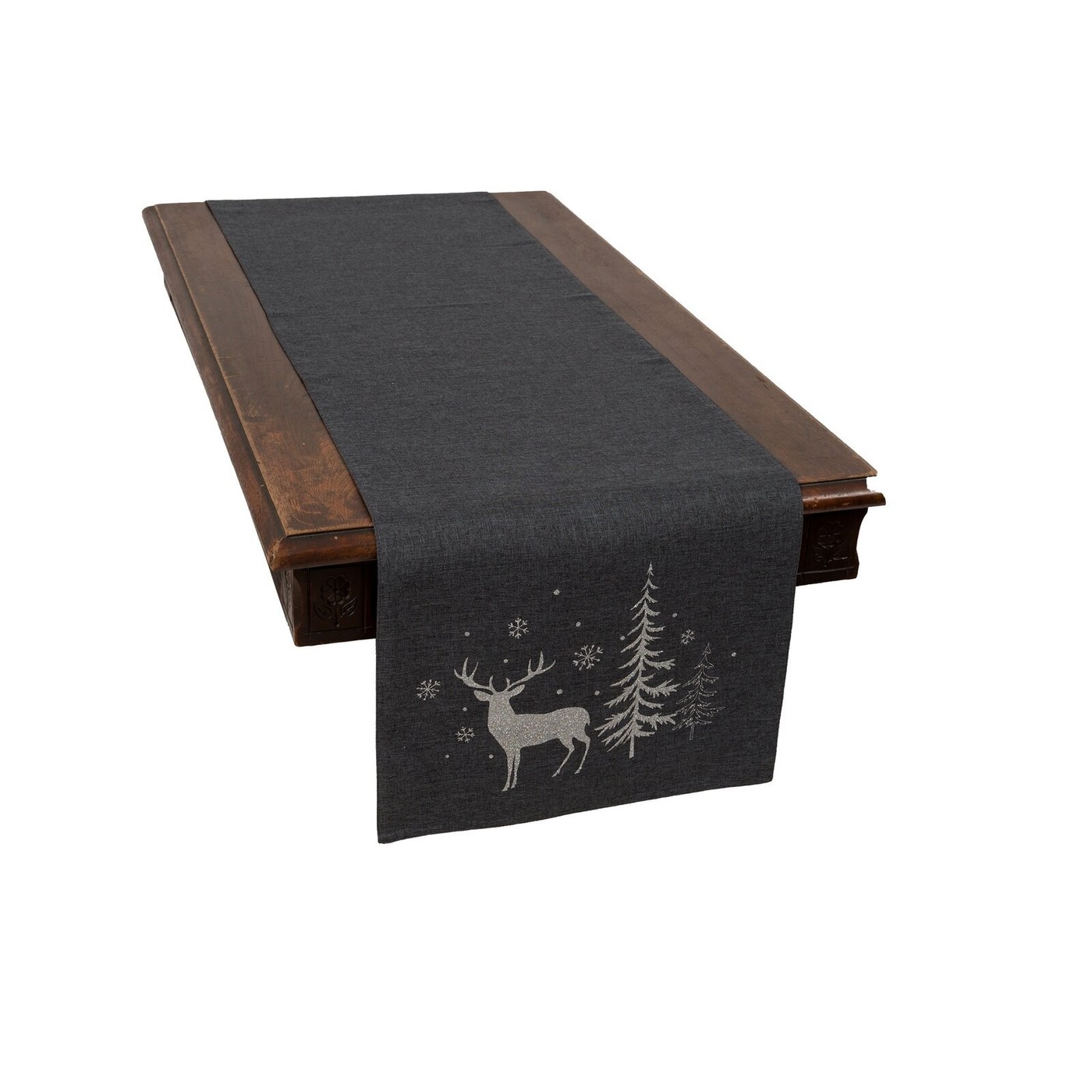 2. A Chic Black-and-White Plaid Runner
Whether you're going for a homey, farmhouse vibe or you like the black-and-white motif because your own decor is on the streamlined, industrial side, you're going to love a black-and-white plaid runner. Due to its simple color scape, this type of runner will go with a number of home decor and color palettes - and, because this is a cotton blend, it'll be incredibly easy to wash when needed so it can look like new in a flash. This type of runner often brings fun and flair to its unassuming pattern with tassels or end pieces in contrasting colors. Select one that matches your home's mood, and you'll always have a match in this runner!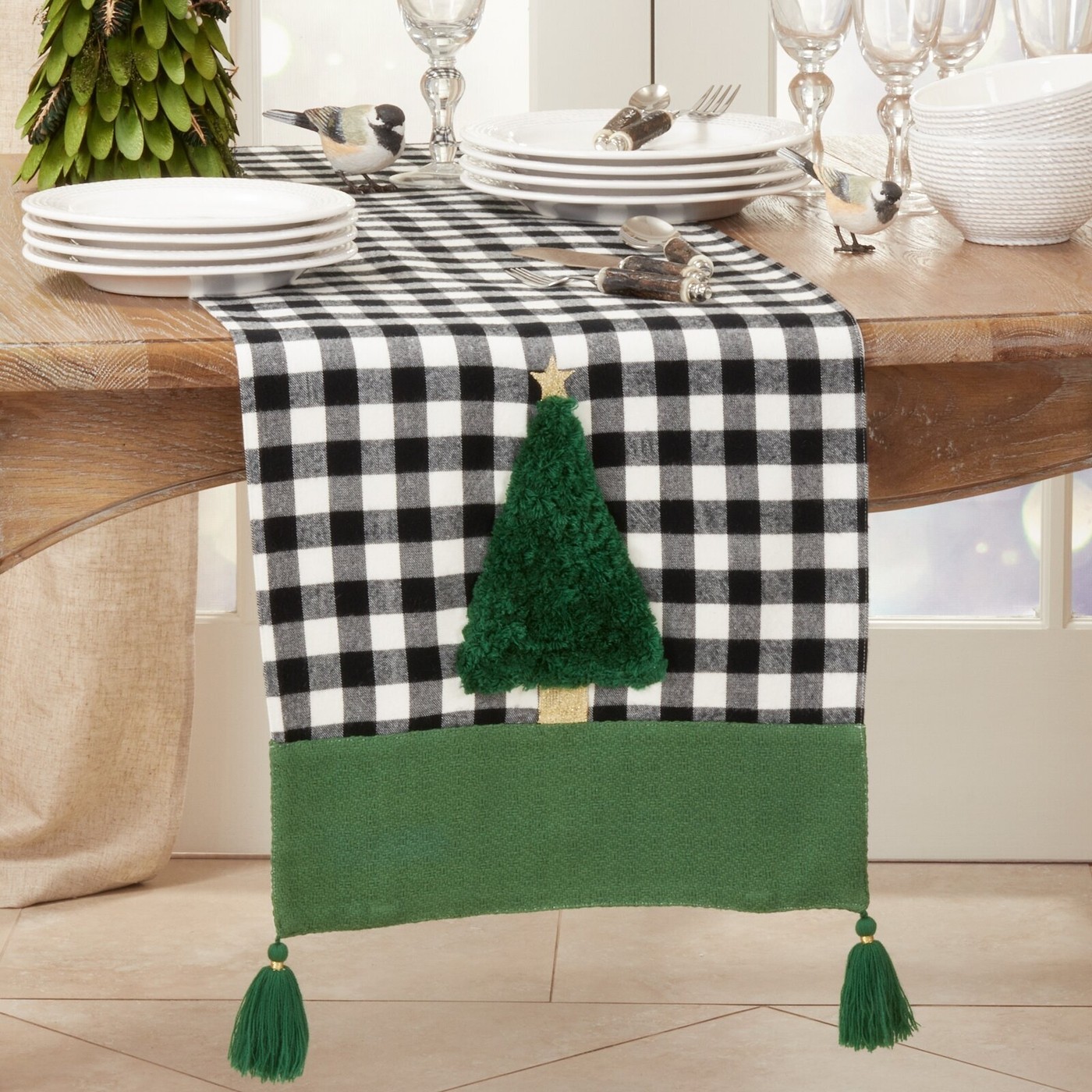 3. Natural Geometric Jute Runners
With a textured finish and a modern line drawing of a red-dotted reindeer, this runner is the perfect mix between natural, sophisticated decor and fun, family-friendly holiday cheer. If you like natural, neutral colors with pops of bright contrasting shades, these types of runners will be perfect for you! The fact that these runners often feature little 3D elements to make them really stand out (such as bows and pom-poms) will make them extra fun for those with children who like tactile elements to holiday decor.
Geometric Deer Christmas Table Runner
4. Circle-Based Candy Cane Runner
Tired of rectangular, oblong runners? If you're seeking to make a statement by breaking the normal bounds of geometry, you'll love a runner that looks like several circles stitched together (because that's precisely what this is). Styled to look like circular peppermint candies lying artfully on your table, this table runner will be a gorgeous addition to black-and-white or neutral decor styles - or for any family with a sweet tooth!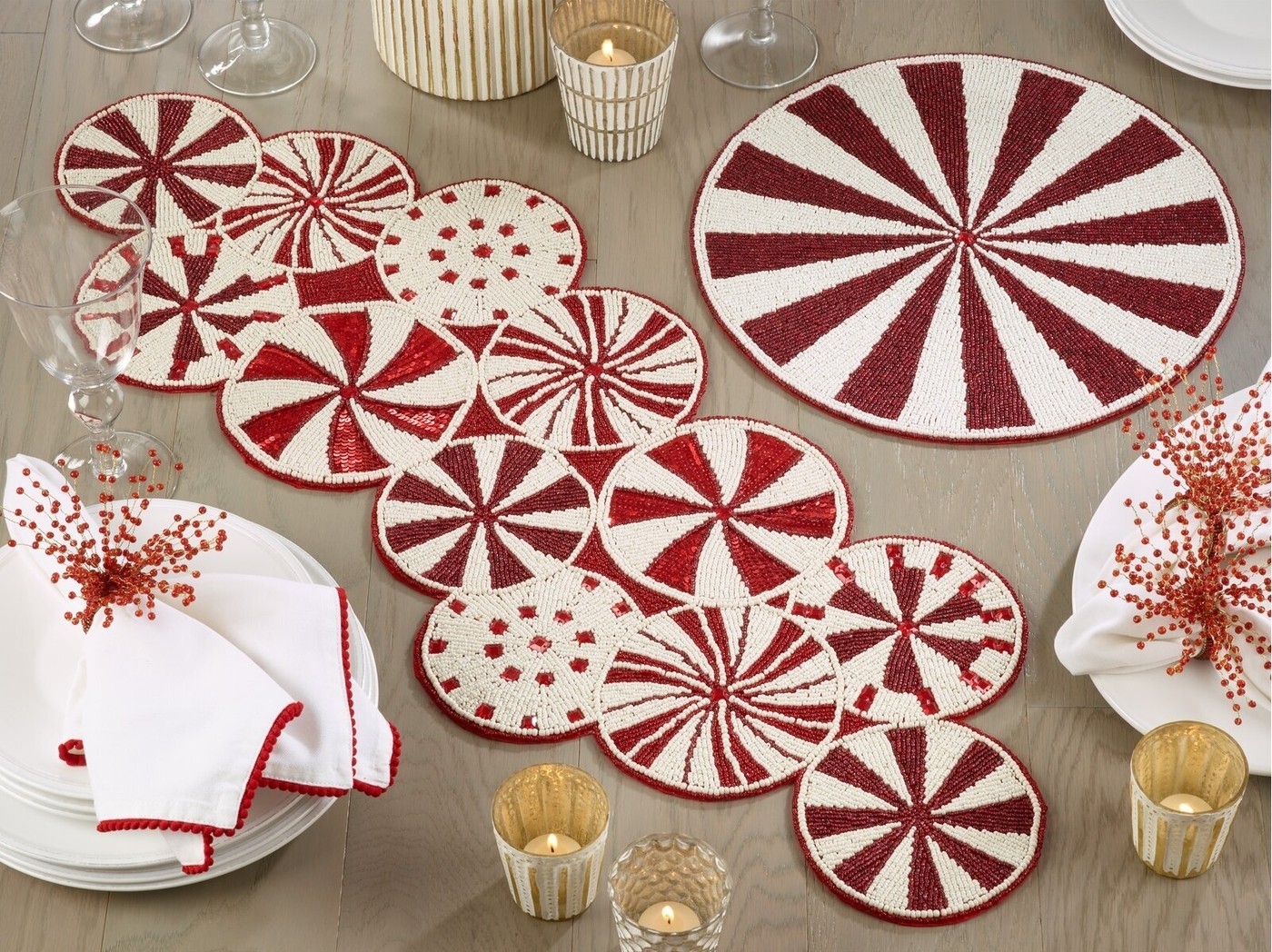 5. Black and Red Plaid Holiday Runner
With a warm feel, this more traditional runner offers a cozy alternative to more detailed runners. This simple cotton blend runner feels like a blanket that you'd cuddle up with on the couch - making it an excellent choice for more casual home gatherings, or for rustic decor. With a soft finish and an easy-to-maintain fabric, this runner will be a fantastic addition to your holiday decor.
Red Plaid Cotton Blend Christmas Table Runner
6. Sand Plaid Natural Christmas Table Runner
If your home decor is already bursting with personality and color, you need a way to make sure that you have decor items that add natural, neutral tones to your table! By doing so, you're allowing the focus to be where it should be: On your delicious dishes! This brown-toned plaid runner will mask stains, complement any type of wood, and its reindeer appliqué brings holiday cheer in a modern and subtle way.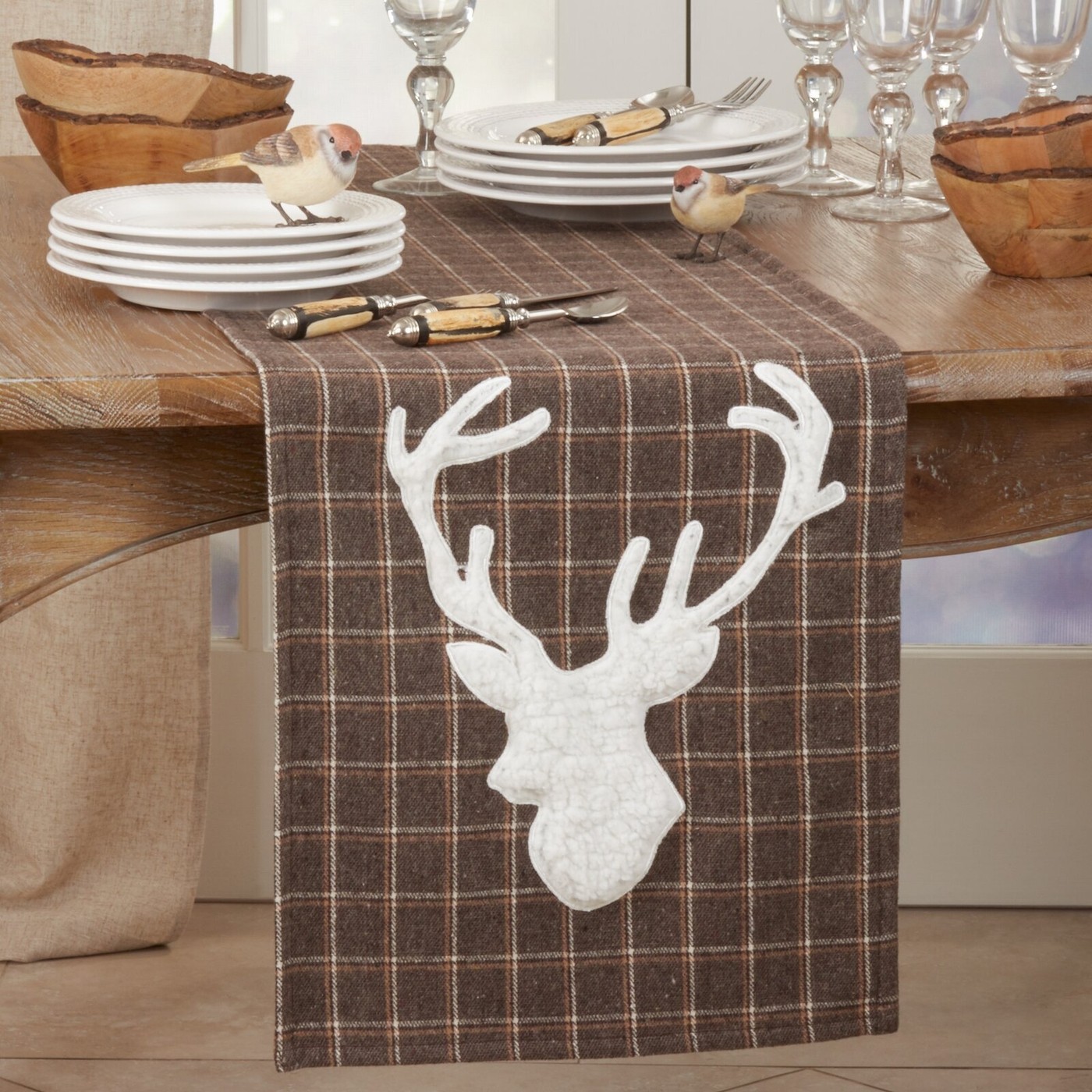 7. White Handmade Neutral Christmas Runner
Need a subtle way to create a streamlined backdrop for your Christmas dishes? With this gorgeous all-white runner, you'll be able to complement any type of decor in your home - and set the stage for your Christmas dishes to truly pop. Its shabby-chic holiday message stitched to the side make it clear that you know the reason for the season, but its clean finish allows you the freedom to decorate as you with without fear of clashing.
White Neutral Christmas Table Runner
8. Glitter Cotton Natural Christmas Runner
Do you love the contrast between neutral, natural, textured fibers and the glittery feel of crisp holiday decor? If so, this gorgeous juxtaposition between glam and rustic will help you decorate in a way that feels uplifted and subdued at the same time. The glittery icon of the Christmas tree feels more wintry in theme, which means that you can use it all season long.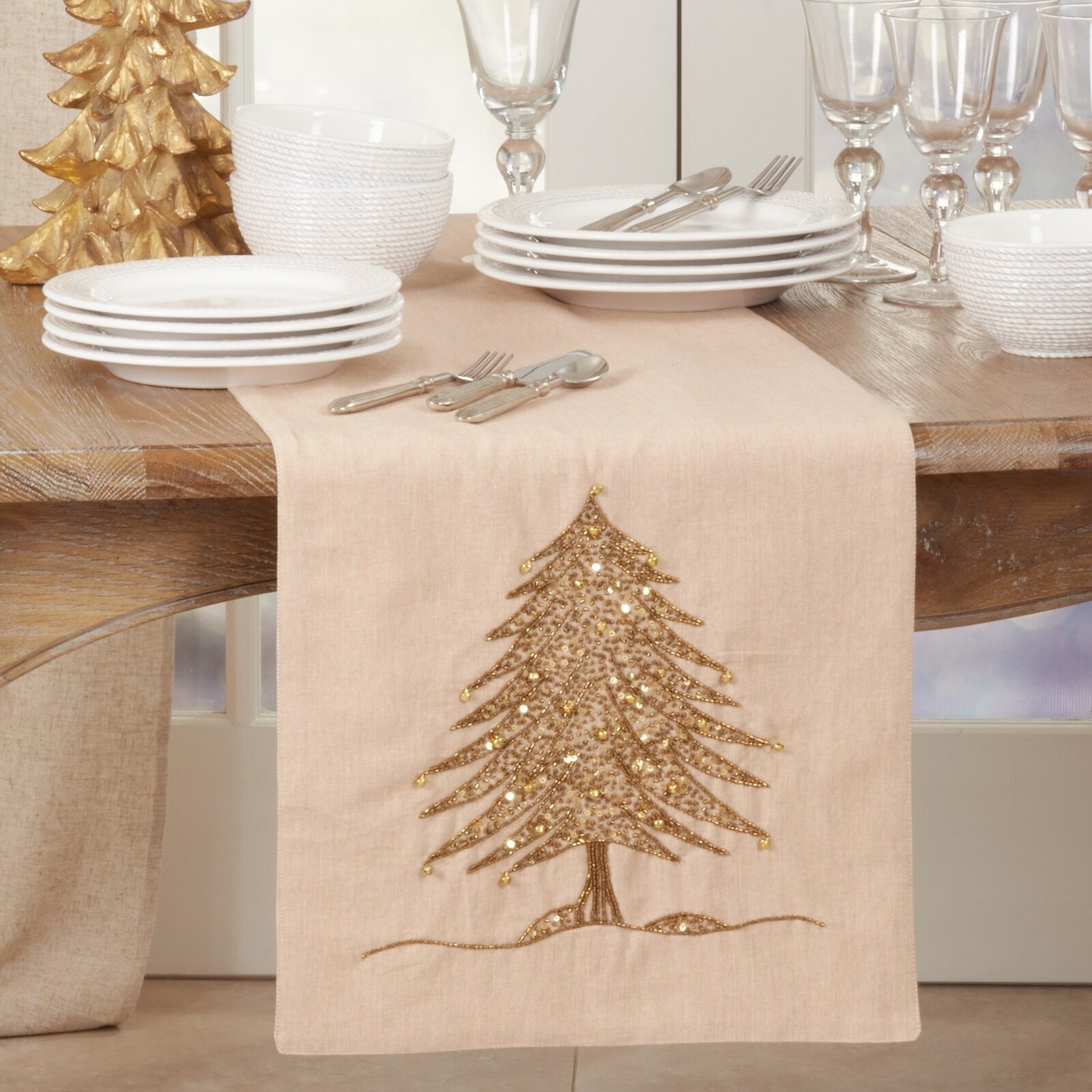 9. Blue Flamingo Christmas Table Runner
Sometimes, you just don't feel like going with a traditional color or pattern for your Christmas table runner - and that's okay! With these cheery flamingoes on a sea-blue table runner, you can embrace a fun side of Christmas that you'll see nowhere else. This type of runner is a great match for you if you enjoy quirky decor, colorful items, and setting your own trends.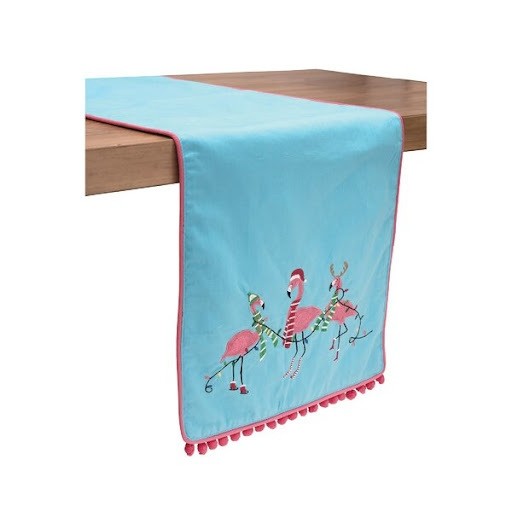 And that's that! These runners will make your table look chic in a comfortable, casual way - just what you need for Christmas!