Looking for new ideas to decorate your living room for Christmas this year? Look no further, we'll share nine of the very best styles to go for, so you can easily update your Christmas decor and impress your friends and family.
White Christmas
Turn your living room into a winter wonderland with a white Christmas theme. Ideal if you live in an area where it doesn't snow around Christmas time, this timeless, beautiful look will bring the magic of a snowy Christmas to life.
Choose a snow-frosted or white Christmas tree and keep your ornaments to a minimum with white LED lights and a selection of crystal drops. Assorted white tree ornaments placed around your room will further add to the snowy theme, while a frosted pine garland draped over your mantle or prominent artwork makes a great focal point.
Dress up your sofa with some knitted cushions and a cozy throw for winter evenings by the fire. Add a few festive themed cushions in pale tones featuring snowflakes to continue your white wonderland theme.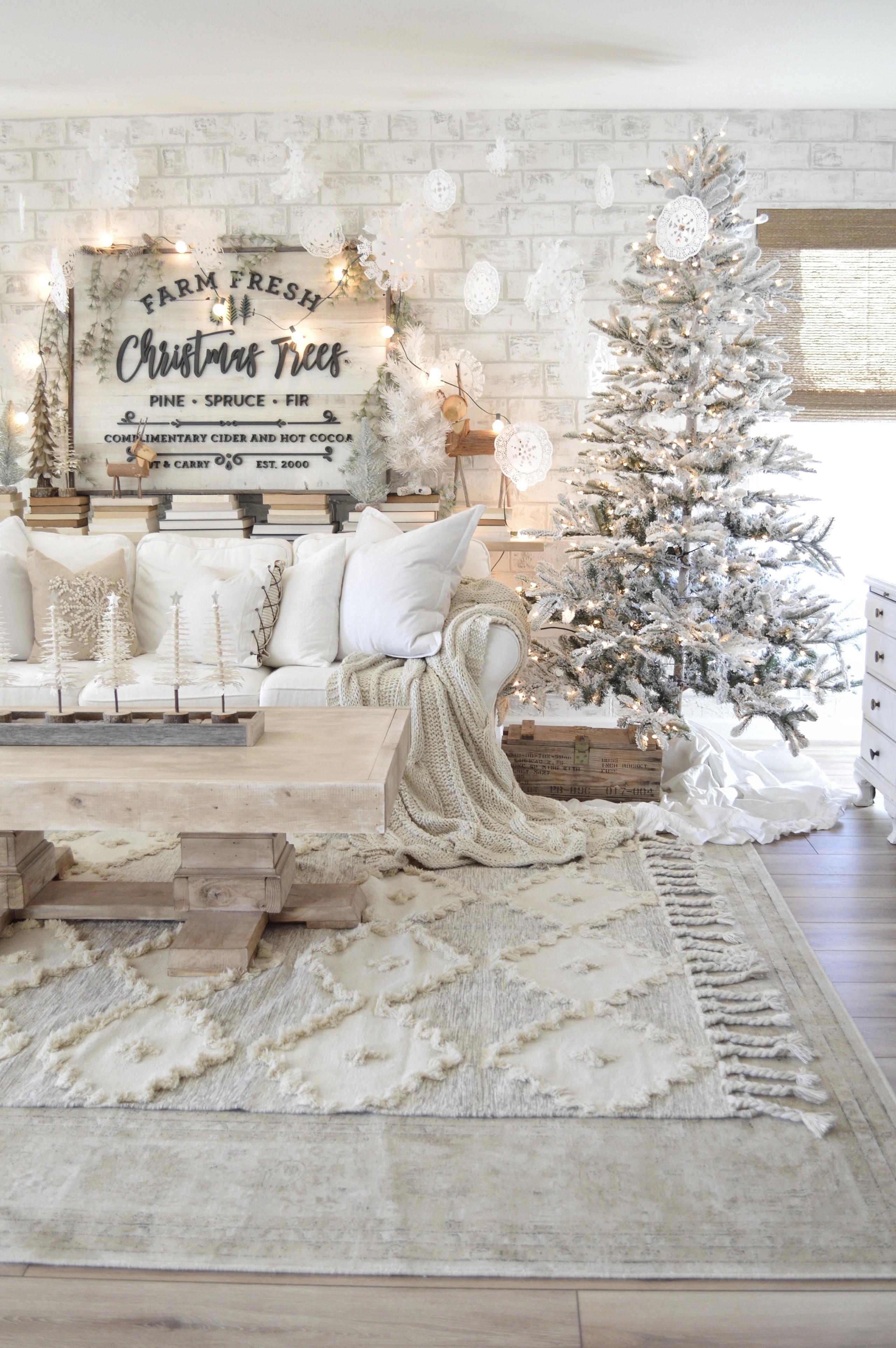 Decorating with your Room's Color Palette
For a harmonious look that's both elegant and unique, use your room's color palette to customize your Christmas decorations for a fail-safe way to a beautifully decorated living room.
Start off with the essentials, pine garlands, a Christmas tree, and at least one wreath. Then you will need to pick the main color you'll be using to complement your room's decor. Once you've decided on your primary color, select a secondary color that either contrasts or complements the primary one.
Choose a selection of ball ornaments in two shades of your primary color and decorate your wreath, garlands, and tree with them. Then in your secondary color, pick a ribbon and wind it through your garlands, around your wreath, and either tie it in bows on your tree or drape it around.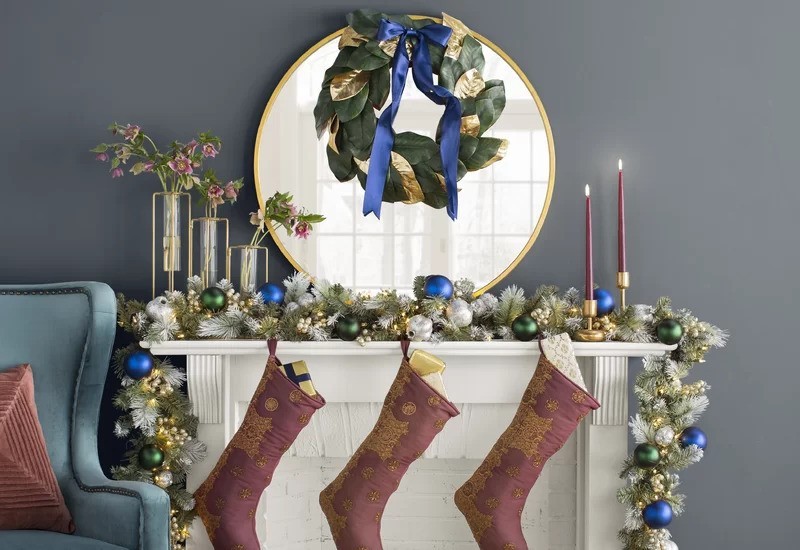 Modern/Rustic
Modern rustic is a great look for Christmas, giving your living room a laid-back homely look, without appearing dated.
Opt for traditionally festive red and dorn your room with red stars in a new take on the traditional gold or silver one. Don't place one on the top of your tree, but use them on the main part, as well as in your windows and scattered around.
Knitted cushions in Norweigan style patterns featuring reindeer, bells, and flowers, all with red accents are a great way to bring a warm rustic look to your sitting area. Add a knitted throw, a handful of presents, and some natural wooden ornaments, baskets, or candle holders. Cozy and inviting, this look is a perfect balance of modernity and comfort.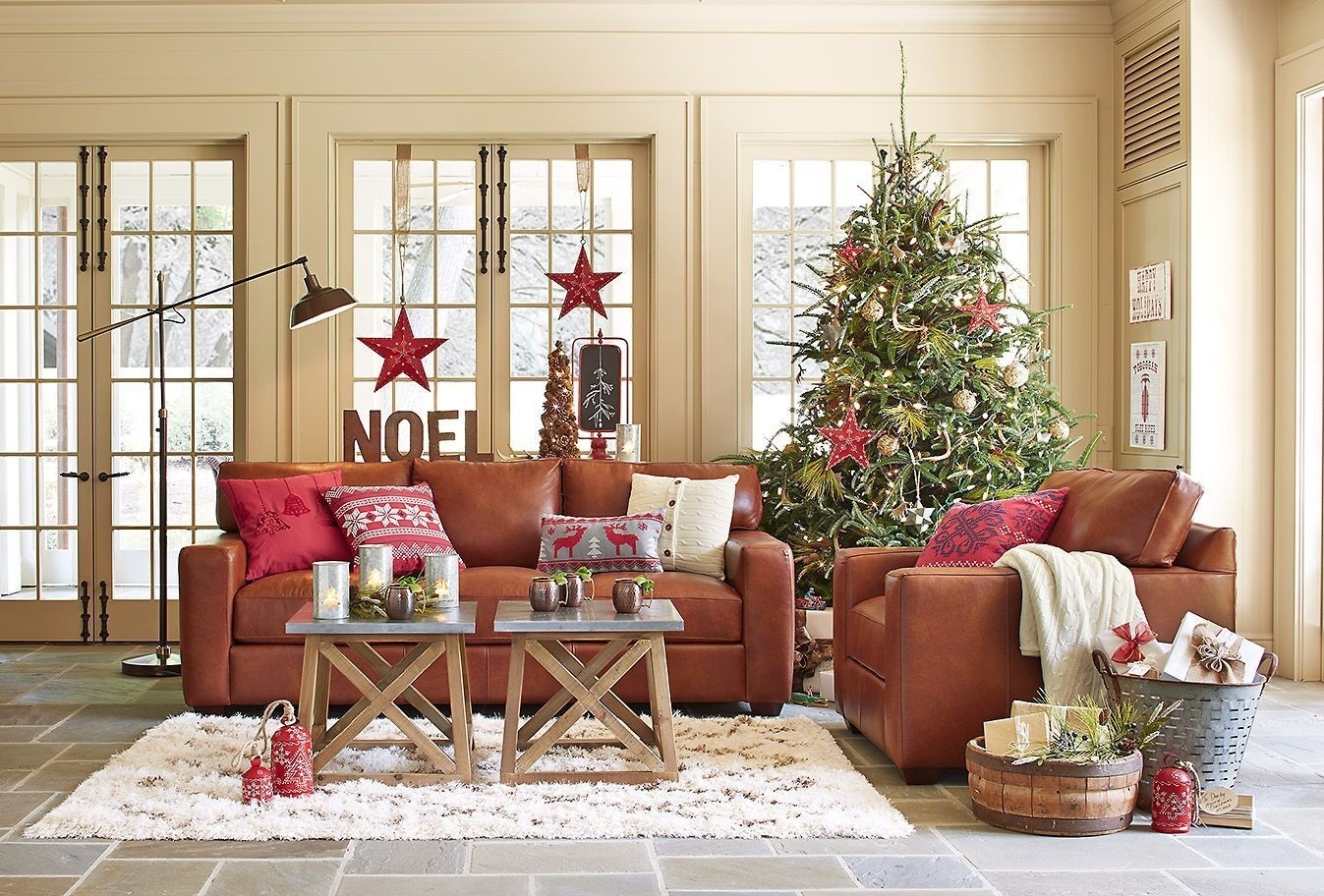 Original Ornaments
Make your living room stand out from the crowd with a selection of original ornaments. Choose a traditional style, green fir tree to create the perfect backdrop for your ornaments, where they can truly take center stage.
Feathers are a great way to decorate your tree in an unusual way. Select large, single plumes and attach them to your tree at regular intervals. White feathers are a good choice as they have connotations of doves, peace, angels, and soft, white snow.
Match your large individual feathers with a feather pom-pom garland of fluffy balls that could easily be mistaken for snowballs.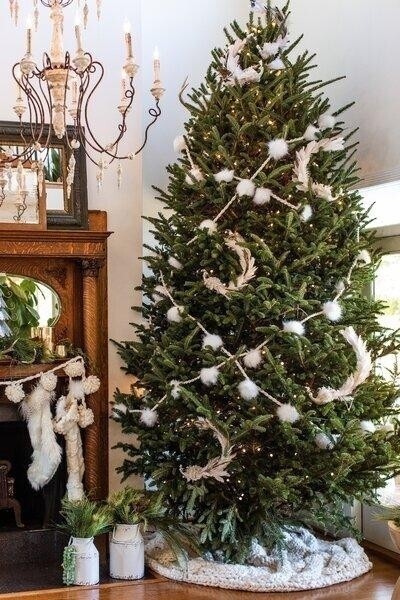 Modern Metallic
Add a touch of festive decor without losing your modern edge. Metallic Christmas decorations are a great way to decorate your home in style.
Ball ornaments are the obvious ones to go for here, but as you're looking to emphasize modernity over tradition, look for garlands of ball ornaments in a bright silver shade. Ball wreaths are another popular modern metallic Christmas decoration.
You should also look to add festive embellishments throughout your room in the form of silver shiny tree or reindeer models. For the best results go for versions that have very little in the way of detail, a basic figure will more than suffice, with the emphasis firmly placed on the metal and its bright sheen.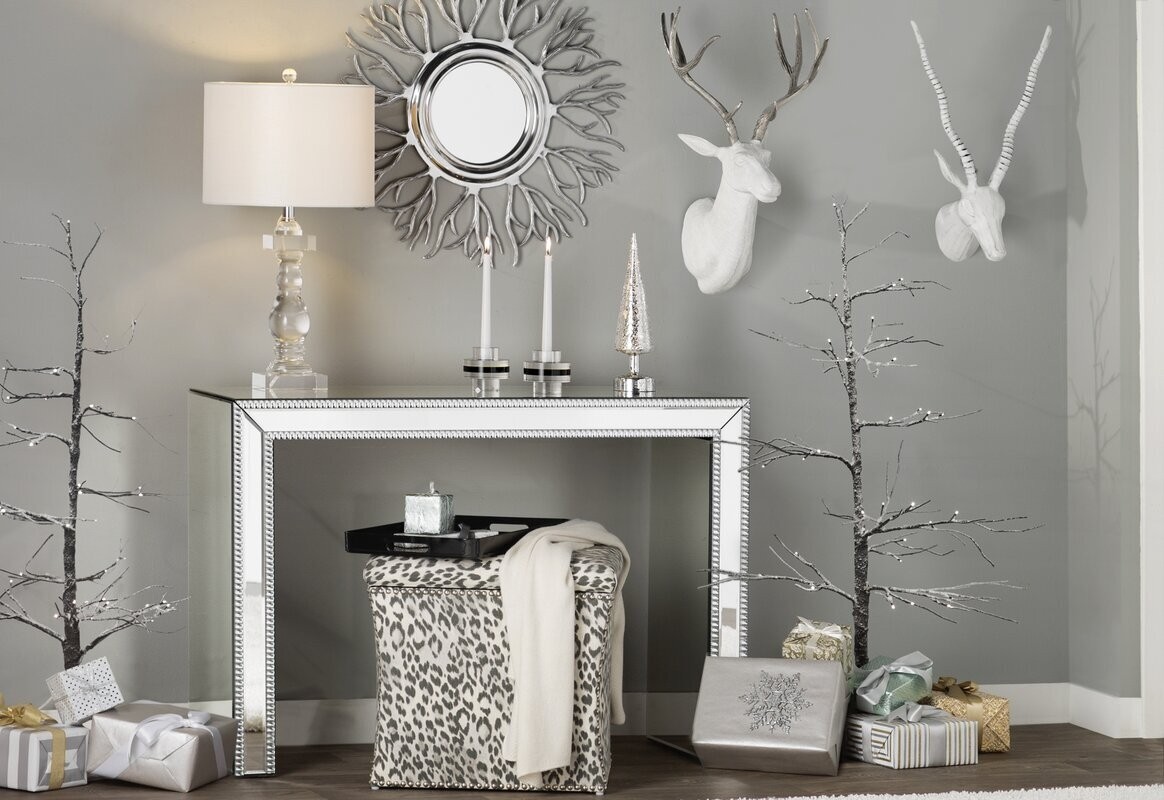 Scandi
If you are looking to capture the Scandi vibe this Christmas, then you'll want to have plenty of natural wood on show, some warm knitted fabrics, and a large green Christmas tree.
Think cozy and natural. Steel or wooden planters filled with presents make a good focal point, while a knitted throw and cushion covers add that wintery warm element.
For your tree, traditional ball ornaments look best, select red or gold versions, as well as some warm-toned tree lights. Add a sheepskin-style rug, some festive themed mugs, and settle in to enjoy those long winter evenings.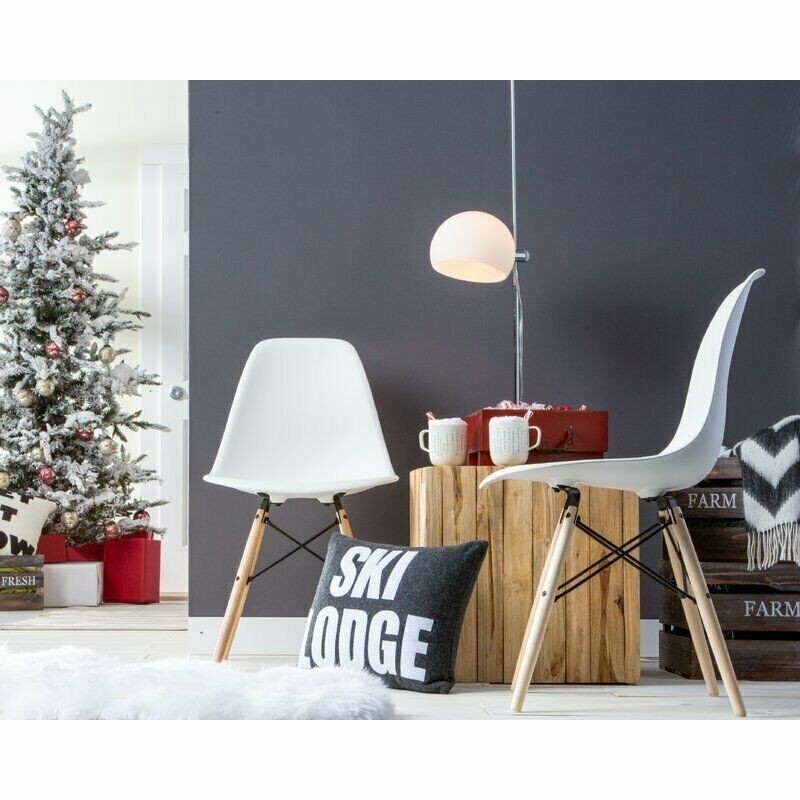 Coastal
You may think your coastal themed room isn't going to look that great decked out for Christmas, but it's actually really easy to make a beautiful coastal Christmas theme.
Take your inspiration from the pinelands that naturally border our coastlines. You can easily find natural-looking pine garlands that will look great with your coastal inspired living room. For the best results, look for sparse versions with long tufts of needles and realistic, discreet pine cones.
Aside from pine garlands, ocean-themed stockings are another essential. Choose blue versions with starfish motifs to replace the traditional Christmas star. You can also use other blue-tinted Christmas decorations and any wooden Christmas ornaments that have a distressed look resembling driftwood.
Balls of string dyed various shades of blue and green or left in their natural state, evoke fisherman's netting as well as being an unusual take on standard ball ornaments.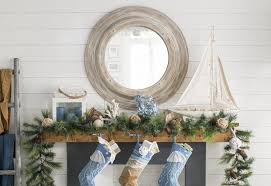 DIY Christmas Style (imaginative decorations)
Imaginatively decorate your living room this Christmas with a selection of words that sum up what Christmas means to you.
Whether it's how you feel or words that are typically associated with the festive period, whether meant in earnest or in jest, your decorations will have a different meaning to each and every person that you welcome into your home.
Decorate your tree with cut out words. Choose white ones that will stand out most against the dark green and also appear as if fallen from above like snow. Against a white wall or on a blank canvas, choose black colored words to make an eye-catching statement.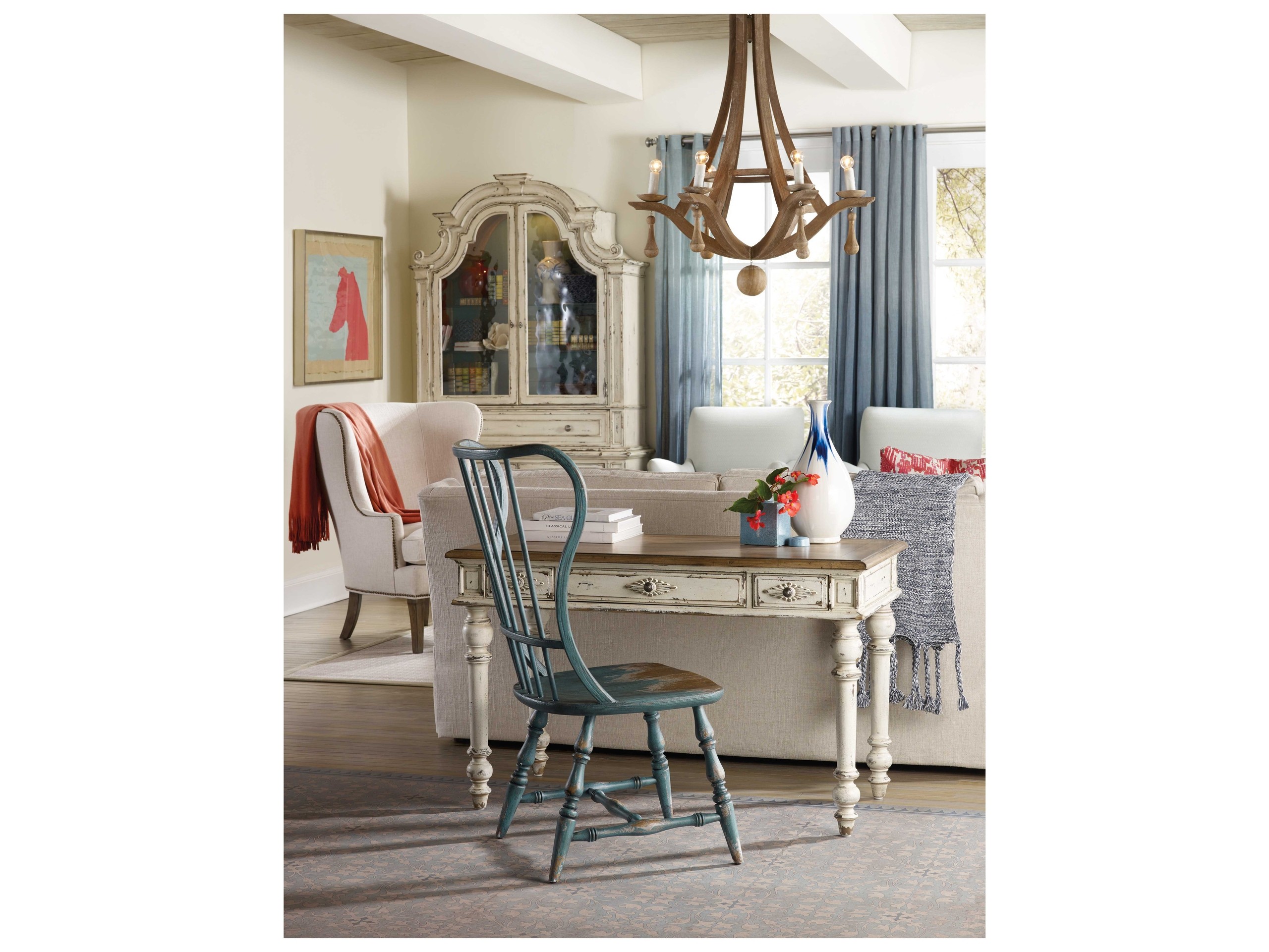 Traditional/Rustic
The traditional rustic look is one of the all-time most popular Christmas looks. You'll want to achieve a lived-in, comfortable look that is both cozy and welcoming, without being over-the-top.
Animal prints are a popular choice, especially deer, bears, and birds. Snowy natural scenes of mountains and forests help to bring the great outdoors into your living room, as do pine garlands and a large green Christmas tree.
Knitted stockings are a great traditional choice, especially when they feature reindeer patterns. Gold, red, and green are the most popular traditional colors, with plaid blankets and cushions, traditional ball ornaments, and natural wooden carvings all adding to the rustic vibe.