Putting up Christmas decorations is the best moment of the entire year if you ask us.
However, just because it's a tradition, it doesn't mean that you're limited to the same old-style displays and themes that we've all seen thousands of times!
If you want to add a contemporary spin to your festive display, here are some modern Christmas décor ideas to choose from.
1.

Neutral tones and a focus on winter

If your room already relies on a neutral color palette, here's how to maintain it throughout the Christmas season while still adding a festive touch:
Reinforce the contrast between dark or grey and the more wintery white;

For example, you could add white pillows to your couch or even white blankets with a cozy texture or feel, like wool or fake fur;

You can also decorate with dark green pine branches or add a festive foliage garland to your door frame, handrails or fireplace;

For this specific modern style, we recommend opting for a smaller Christmas tree and decorating it with simple ornaments in one or two of the colors of your main palette;

The cherry on top? A limited number of monochrome Christmas accessories with sleek lines.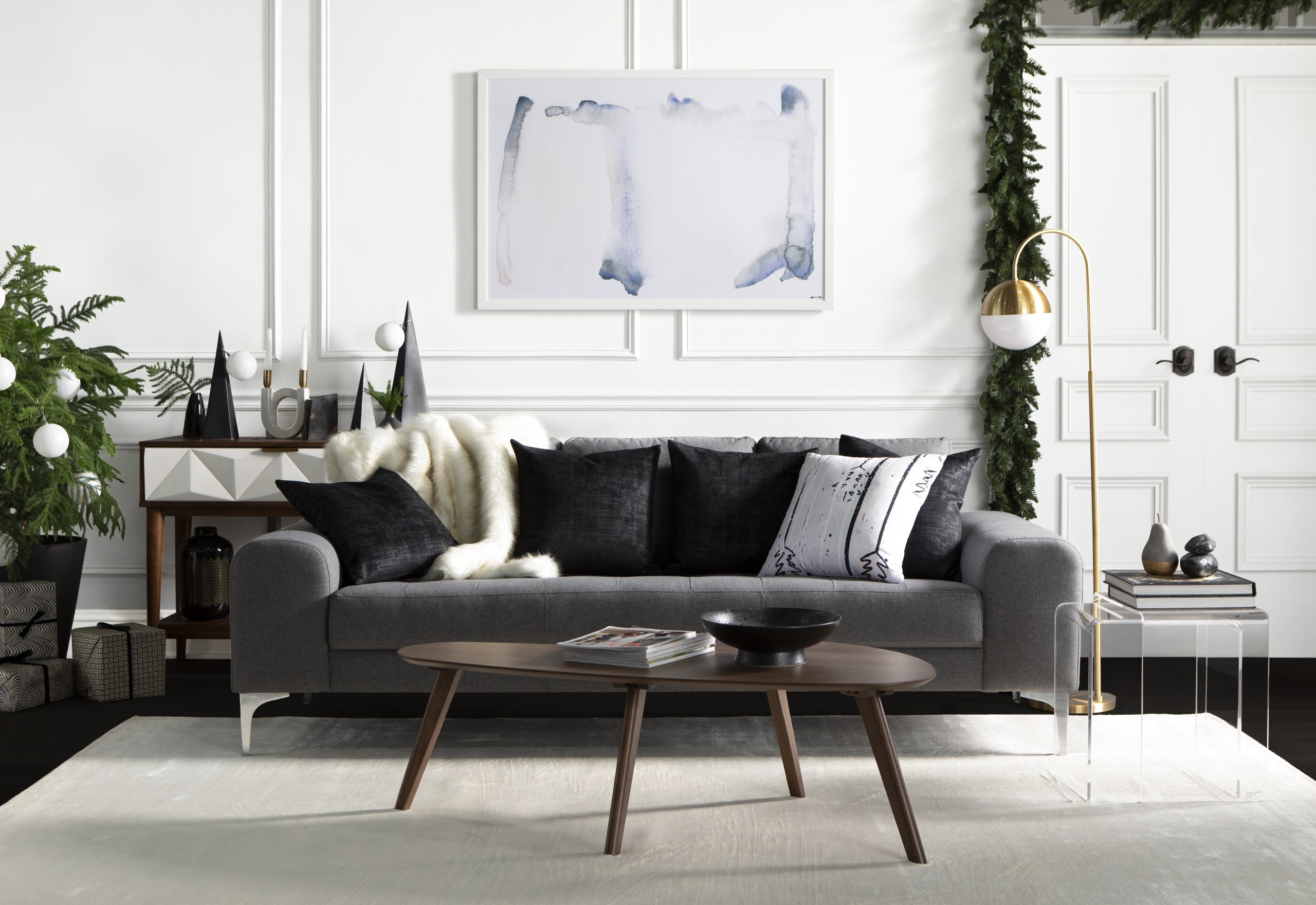 2.

Contemporary pastel dream

Does your room's palette look like that of a Wes Anderson movie?
Instead of the classic, more traditional festive colors, maintain your existing hues (such as pale pink or light blue) but choose festive themes and prints, for example on your cushions;

To reinforce this pastel palette, you can stick to your main colors even when you wrap the presents, either with the wrapping paper or the ribbons;

Another idea is to use pastel-colored balls to decorate your display by placing them in a glass container on your living room table;

Or why not make Christmas candies part of it? Whether you choose a pastel-colored container or a glass model that showcases their actual hue, you're guaranteed to turn your guests' head;

Don't forget to add a tiny Christmas tree to your table display, too!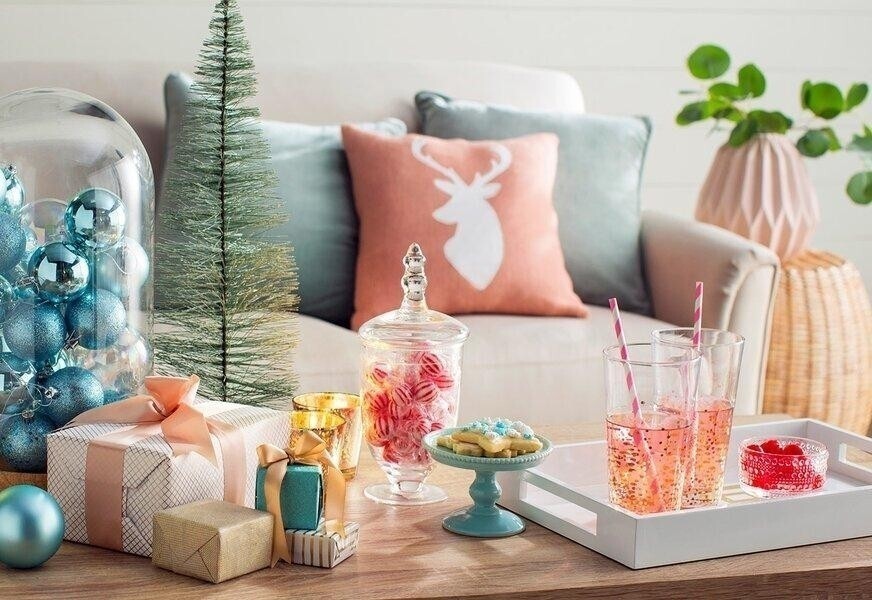 3.

A symmetrical fireplace

This style is ideal for those who love to create a balanced look but who also know how to break it consciously and strategically:
To match this look, reinforce the symmetry of your fireplace with two small Christmas trees and a central element between them: we love this reindeer because it helps reinforce the white of this area's palette, but there are so many festive ideas that you can choose from (Santa? A snowman? Get creative!);

For the same reason, let some bunting or decorations dangle from one side of the fireplace to the other;

To maintain this geometrical effect but break up the symmetry to create a meticulously crafted display, add some wall decorations. We recommend choosing some that rely on a repeated or regular pattern (like these perfect snowflakes) but hanging them in an asymmetrical way.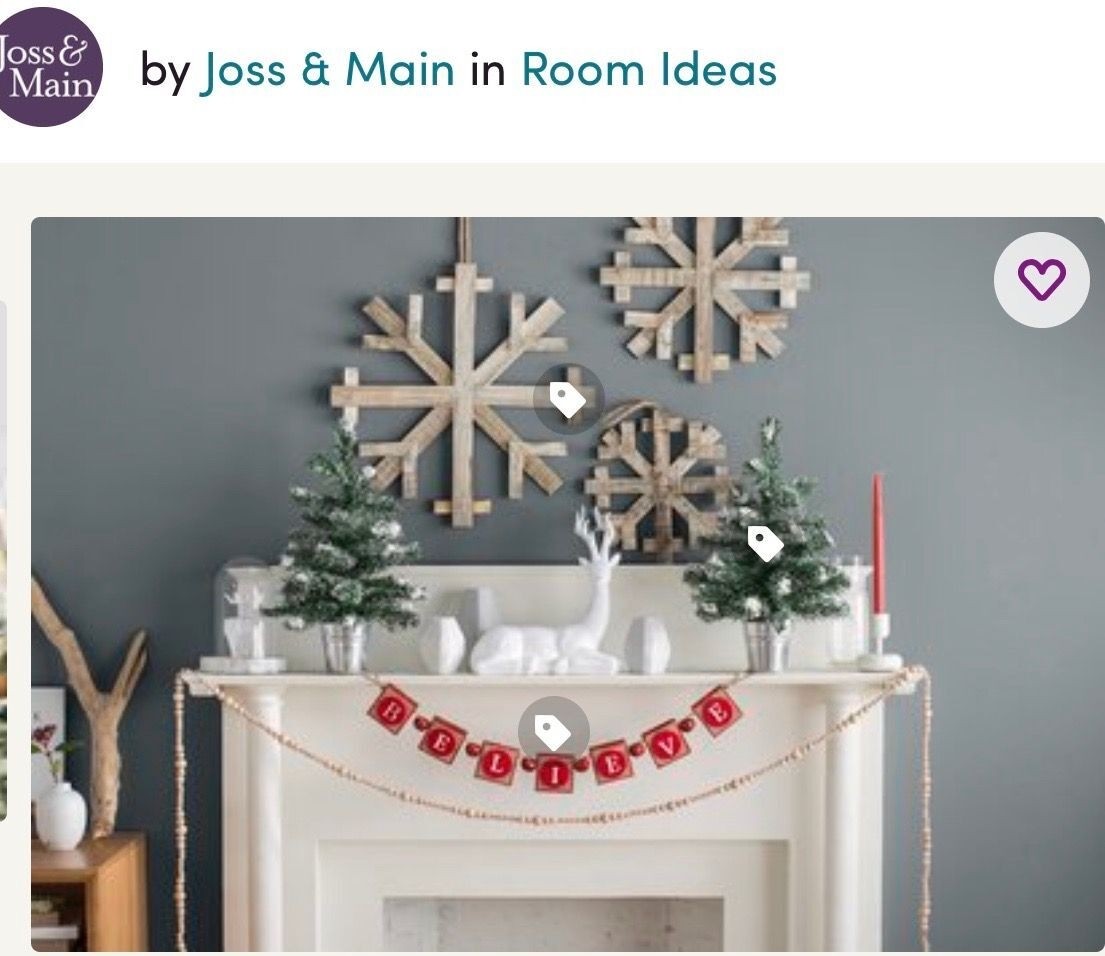 4.

A retro mid-century modern display

If your living room adds a minimalist, contemporary twist to some mid-century modern vibes, you can easily maintain this effect during the Christmas season:
For example, you can surprise everyone with a bright white tree full of pastel-colored balls and ornaments in geometric shapes;

Don't forget to buy some wrapping paper in the same colors!

To reinforce the 50s and 60s inspired feel, add some classic, instantly recognizable figurines to your shelves, like these adorable nutcrackers in the same hues.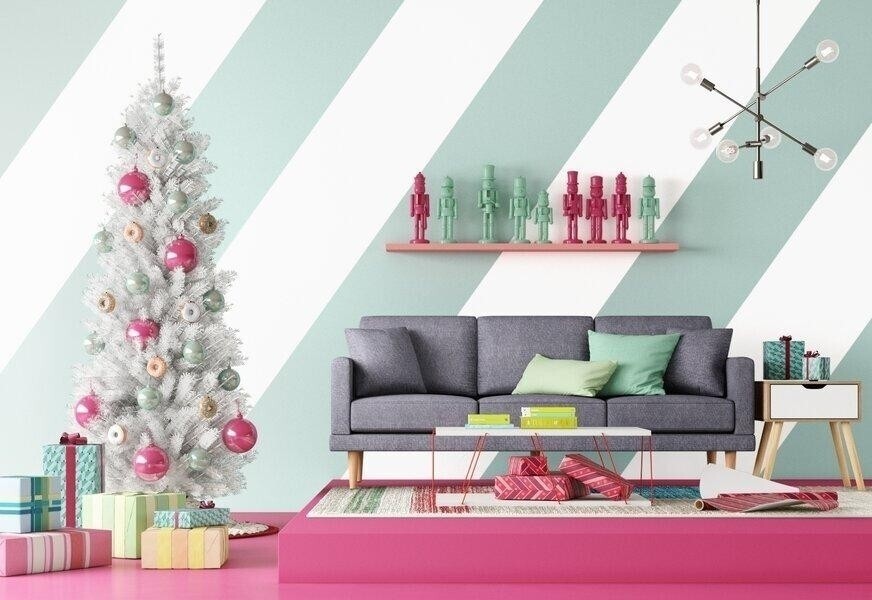 5.

A white & blue bohemian Christmas

The main perk of white and blue is that, while they're a versatile color combination that works all year round, they can also look festive when needed:
For example, you could use them in a unique macramé, perhaps above your fireplace;

Other handy spots for this white-and-blue style are your cushions, stockings and even the presents poking out of their top;

Finally, to add a sprinkle of color, consider introducing some green branches and garlands with balls in other hues.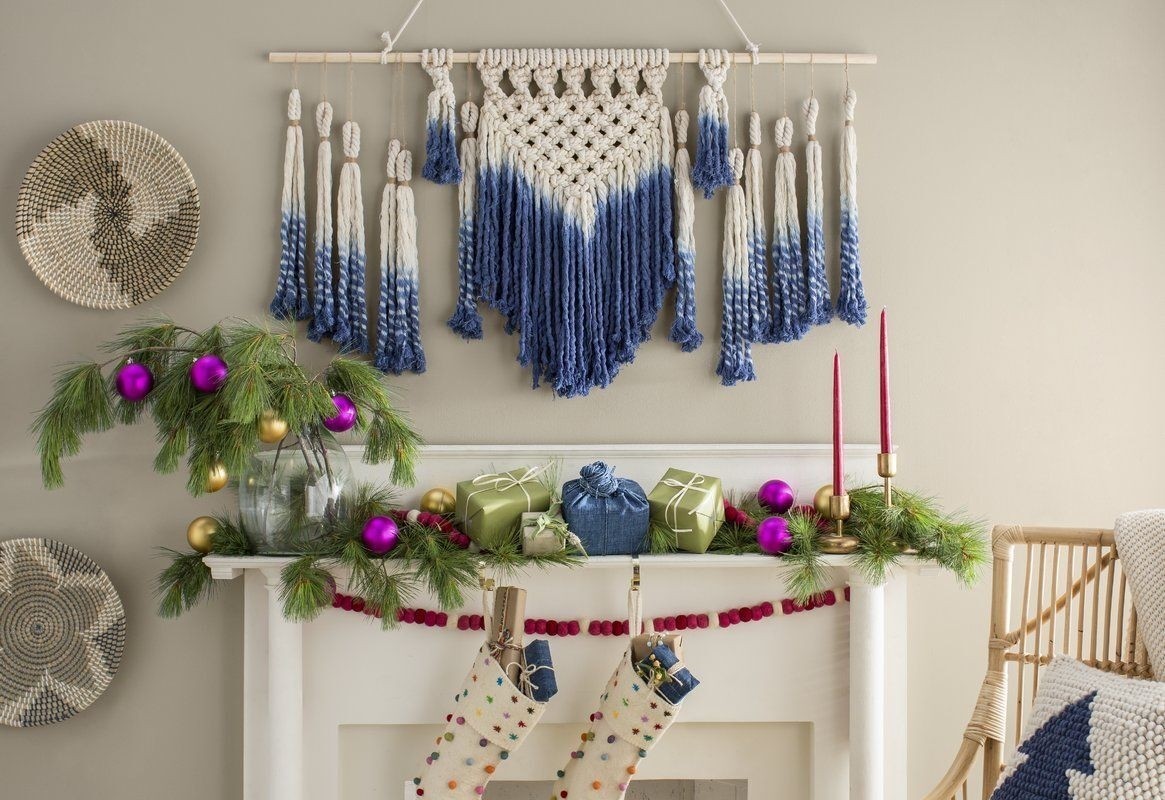 6.

Monochrome combinations

Is your living room based on a carefully thought-out combination of separate monochrome elements? Then we've got just the right festive idea for you:
Maintain your signature décor style by choosing a bright green tree and adorning it with lights instead of ornaments in different hues;

You can make your wall colors pop by choosing minimalist decorations in white or neutral tones, such as this big snowflake with fairy lights;

To give your front room a more festive vibe, you can always add a selected number of traditional ornaments, like nutcrackers or stars.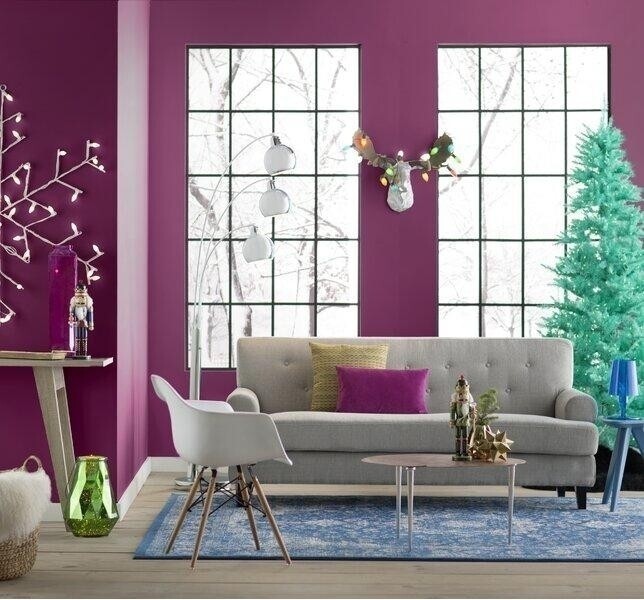 7.

White & black contrast

When you focus on white and black elements, not only do you create an aesthetically pleasing and balanced combination, but you also help emphasize your more colorful elements, such as walls and accessories:
To maintain this over Christmas, why not opt for a one-of-a-kind tree that combines white and black in a harmonious way?

You could then decorate it with elegant golden balls that don't steal the focus from the tree itself;

Minimalist ornaments with clean lines (such as small geometric trees or futuristic stars) are perfect for this type of display;

To reinforce it even further, consider adding simple cushions with basic patterns or messages in modern sans fonts, perhaps introducing an accent hue in a festive color like red.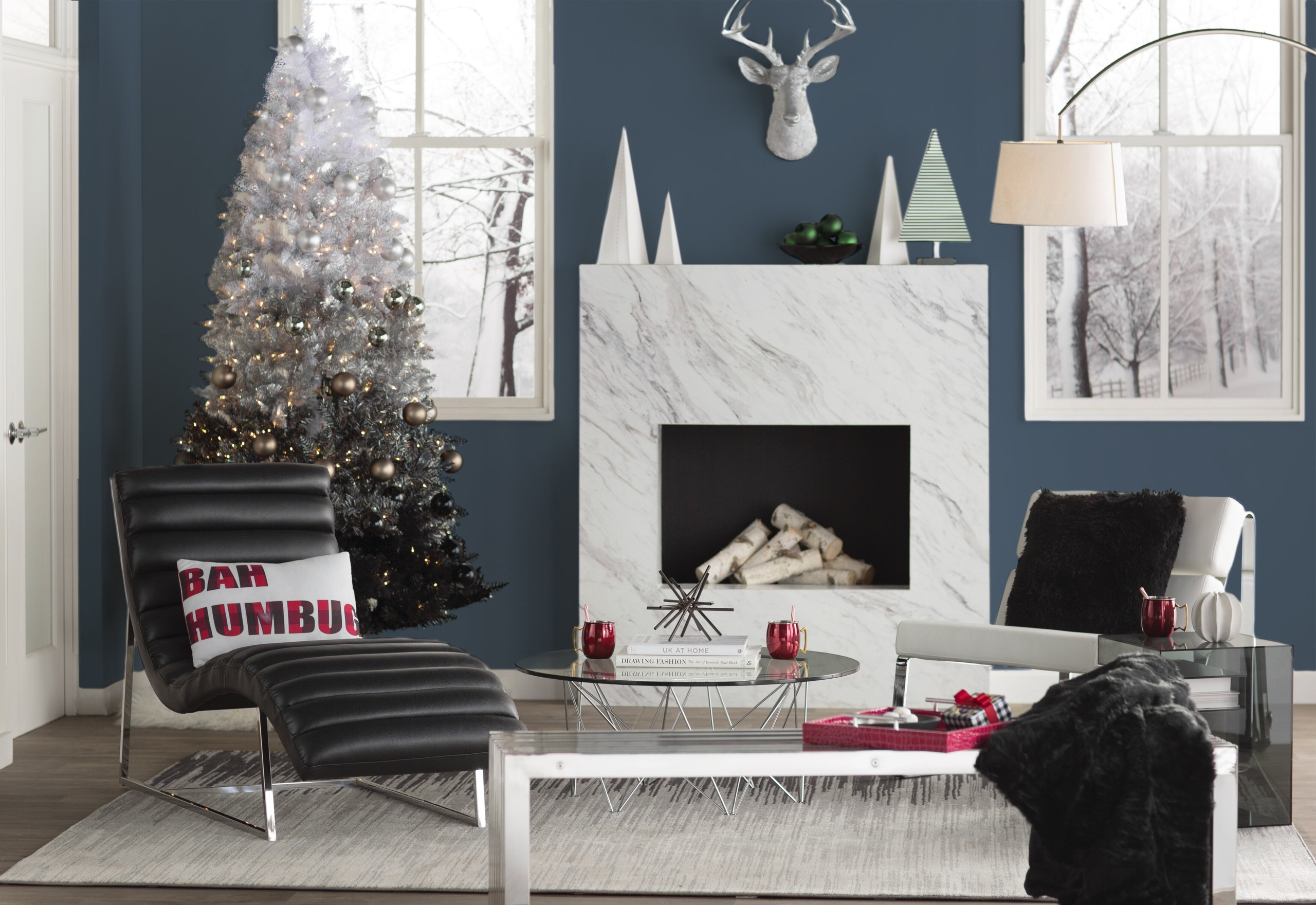 8.

Minimalist white elegance

Your Christmas display is also an opportunity to showcase your good taste in décor. If you prefer minimalist interiors, here's a creative way to give it a festive spin:
Celebrate the essence of winter by opting for a bare tree with intriguing bony branches and make it festive with some simple lights;

You can also choose neutral wrapping paper with ribbons in an accent color and place your presents at the bottom of the tree to create a unique composition;

As for ornaments and accessories, you can reinforce both your white palette and minimalist approach with slender candles or trees.