Making the most of a corner space in a living room, bedroom, or kitchen is challenging. Sometimes furniture that fits in the corner ends up looking cramped or is forgotten about entirely. However, you can choose beautiful and useful furniture and accessories that add to your room.
The best corner storage for you partly depends on the shape, layout, and lighting of your room. Squeezing dark-colored corner furniture into a small space may end up hurting your overall design. Light-colored furniture usually coordinates well and doesn't make your room look smaller, but may not match the overall atmosphere of your decor.
With a little careful thought and creativity, you can create a functional and attractive corner storage space for your family. Here are the seven best ideas for corner dressers, shelves, and cabinets.
1.

Corner TV Stands

One of the most popular kinds of corner furniture is a corner TV stand. Even if you don't intend to place a TV on it, this type of cabinet is perfect for living rooms and bedrooms where additional storage is needed. They're perfect for storing electronics, books, and other everyday essentials.

If you have a large room, look for a corner TV stand with a cabinet or drawers in front. Opt for a unit with adjustable interior shelves to accommodate a broader variety of items. Smaller rooms can benefit from the illusion of more space created when the stand has open, light-colored shelves.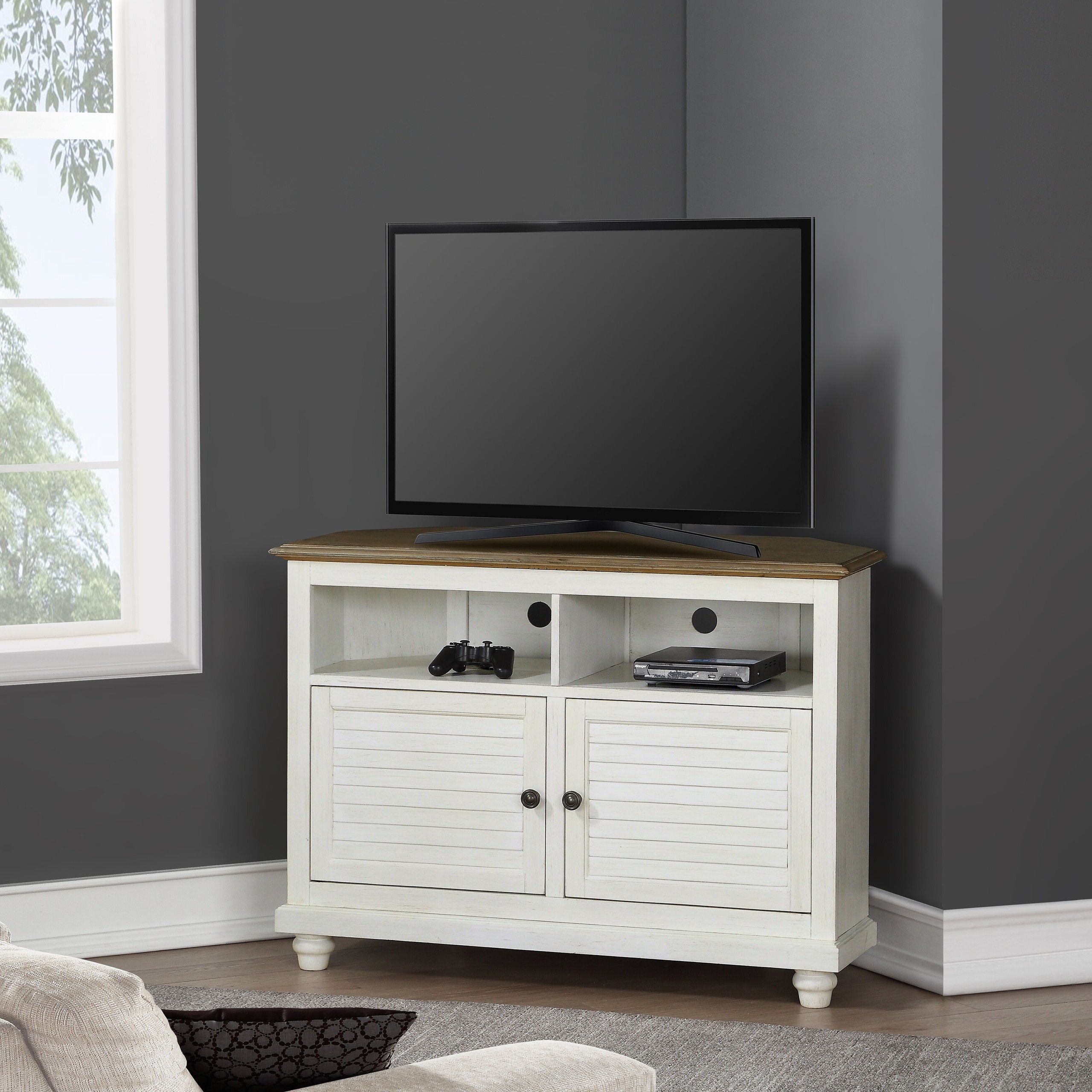 2.

Corner Dressers

Dressers that are designed to fit perfectly into corners are a beautiful way to add functional storage to your bedroom. They still have rectangular drawers, but their corner-friendly design looks seamless and avoids wasting precious space.

You can set lamps, mirrors and other objects on top of these dressers safely since their tops are designed to meet the wall with minimal gaps. Try pairing a light-colored corner dresser with an antique lamp or faux flowers for a beautiful and fresh look.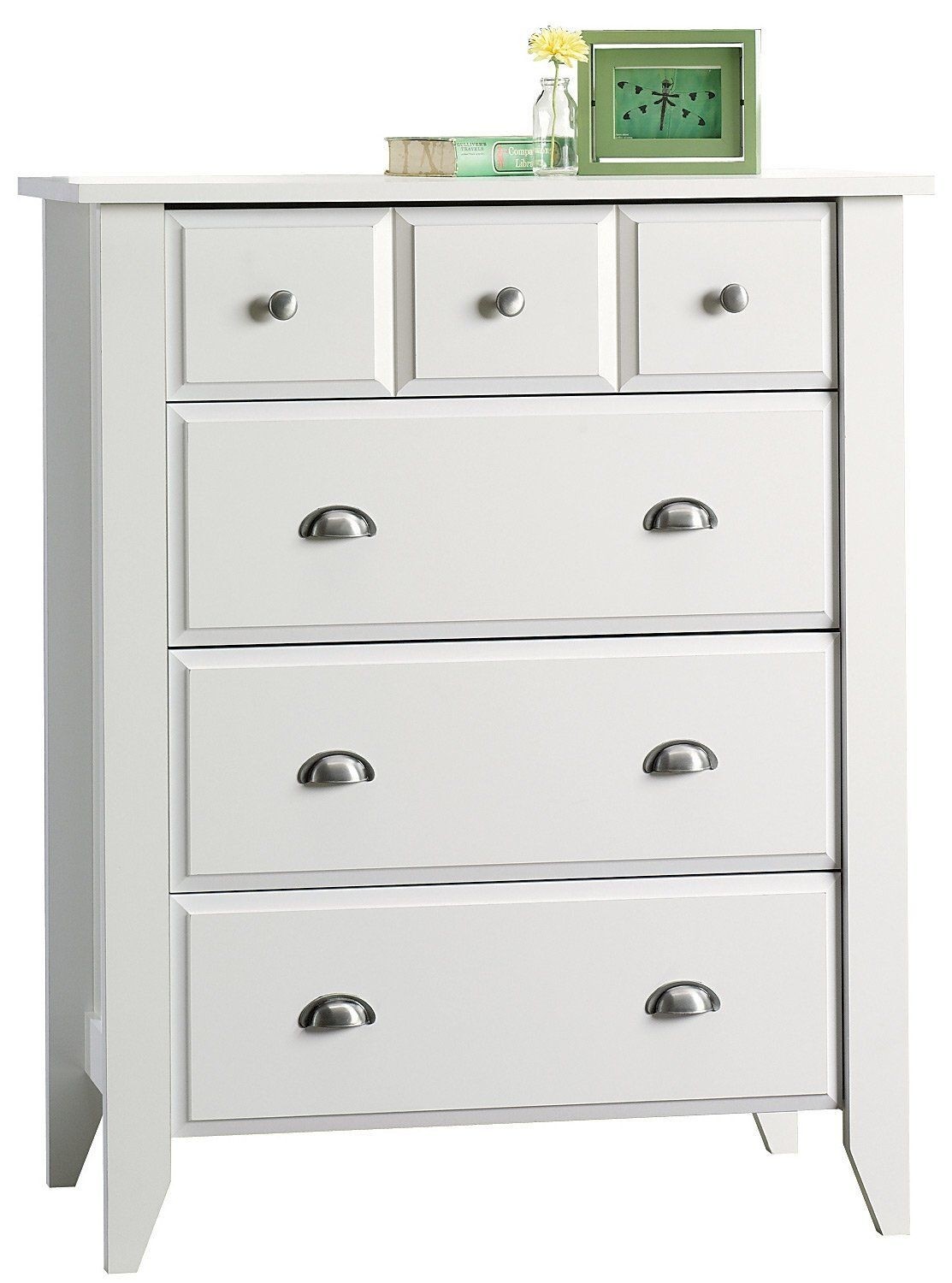 Although some corner dressers are over 60" tall, most are between 42-54" high. This gives you enough room to store plenty of clothing but leaves room for objects on top. Also, keep in mind that taller corner dressers must be secured to the wall to reduce the risk of accidents, especially in an earthquake or small children or pets in the house.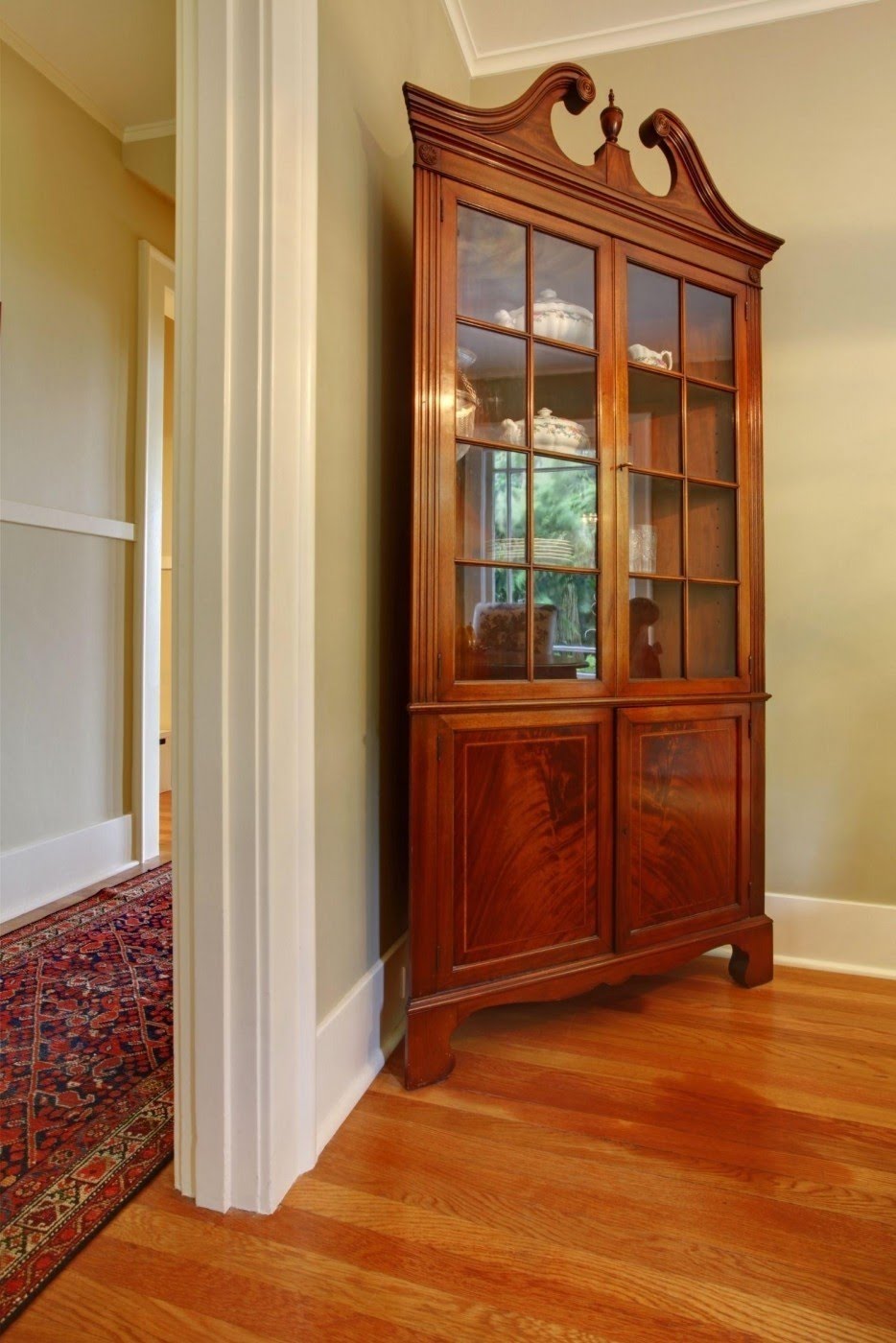 China cabinets lend vintage charm to a space, but many models now have a more modern flair that fits perfectly in contemporary rooms. These are most common in kitchens, but they work well for storing crystal or family treasures anywhere in the house.
4.

A-Frame Shelves

A-frame shelves add graceful angles and convenient open shelving to your room. Although their weight capacity is typically limited, they're sufficient for books and keepsakes.

Look for A-frame shelves that are actually designed to fit into corners. A tall A-frame structure with round shelves may also work if it's a color that matches the walls. Squares and other geometric shapes can make attractive corner shelves if they are positioned and sized correctly and coordinate with other shapes in the room.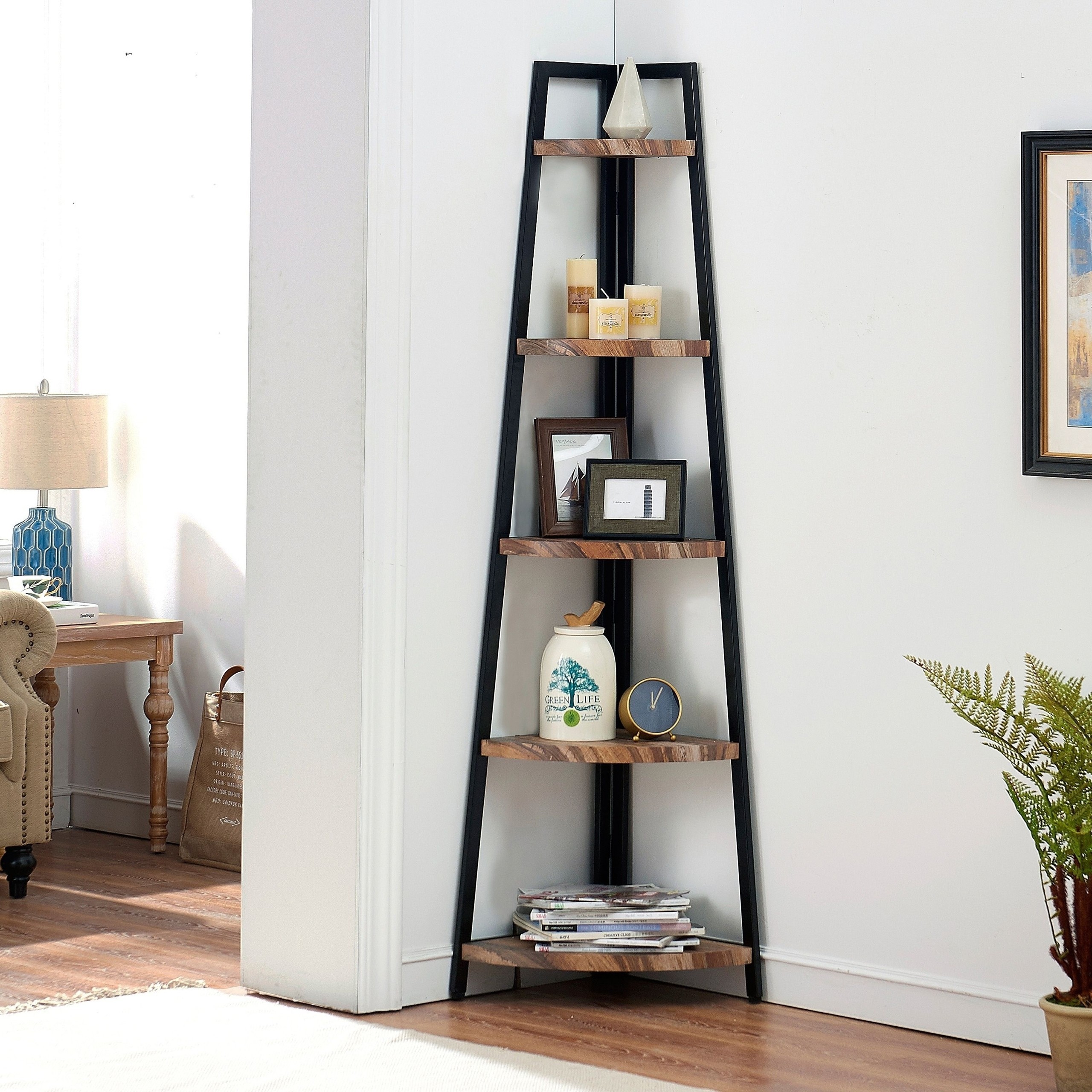 5.

Asymmetrical Wall Shelves
Shelves don't necessarily have to be rectangular. One way to add modern charm to a room is to install asymmetrical shelves. Triangles work particularly well for this, but you can also find curved asymmetrical shelves in funky modern colors.
This is an excellent option for awkward corners where one wall has much less space available than the other. For example, you can have a shelf that's 8" on one side and 24" on the other side to create a smooth, tapered look. Since this reduces the amount of usable space on each shelf, this is a good idea if you plan to install several layers of shelves.
6.

Layers of Wall Shelves

No matter what shape you end up deciding on, having multiple levels of floating wall shelves adds visual interest and gives you even more usable space.You can put shelves on one wall or both, and you can keep them level with each other or stagger their heights for creator visual interest.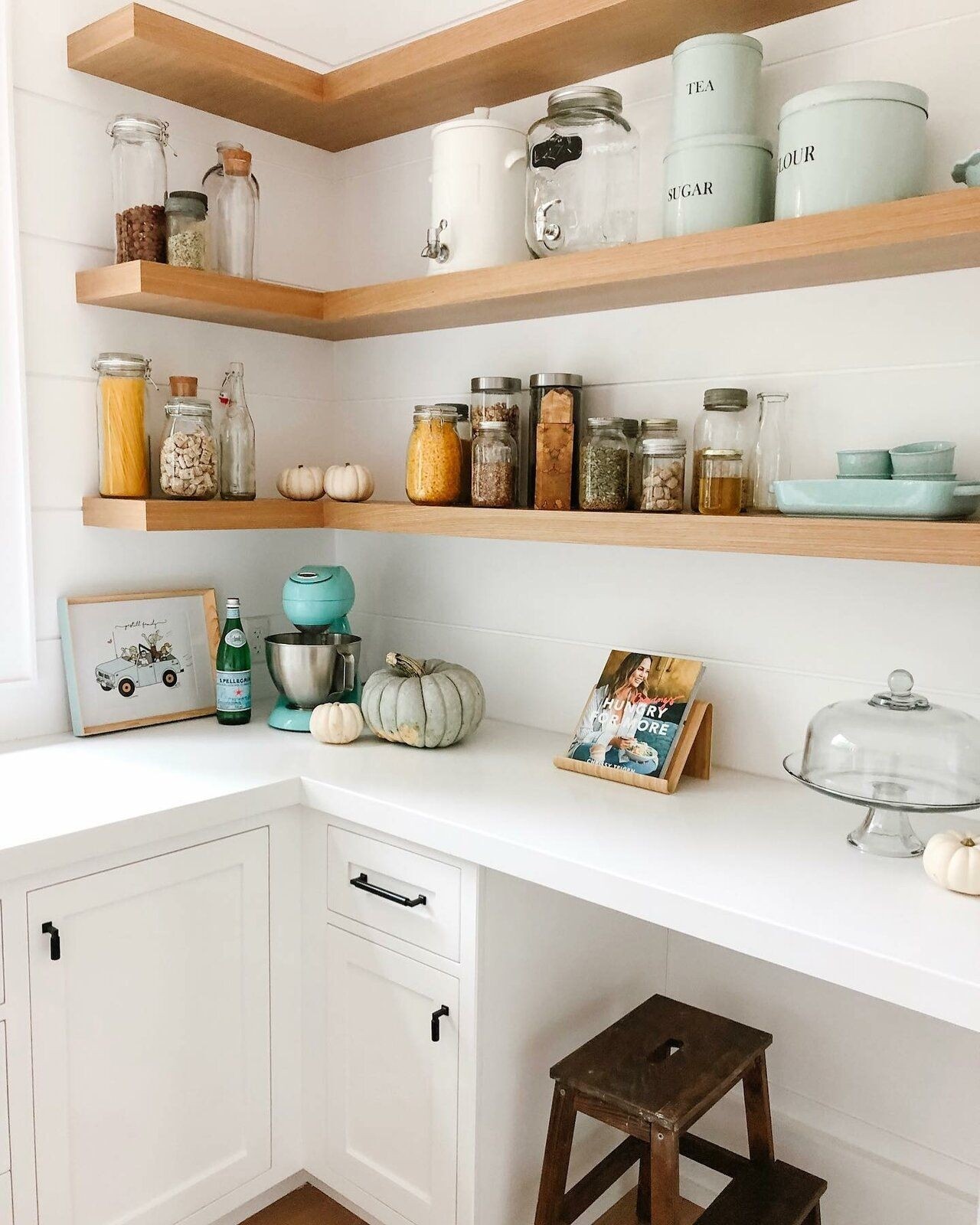 Wicker or metal baskets make excellent corner shelves. Round baskets or square baskets with rounded corners are best for this, but you can get creative and experiment with shapes. Attaching actual baskets to your wall can be a challenge, so look for baskets that are actually designed for use as shelves and have hardware built-in.
For a quirky vintage look, try using a variety of coordinating shelf shapes and sizes. You can pair rustic barnwood floating shelves with wicker basket shelves, or mix and match different wood finishes with coordinating brass hardware.
7.

Multiple Hooks

Hooks are a great addition to walls because they take up very little space and can fit almost anywhere. You can squeeze some into tiny corners next to doors and windows or fit them above cabinets or low dressers.
Customizing Your Storage
The good news is that even though corner storage is a challenge, there are plenty of products out there you can mix and match to meet your needs. Start by determining the type and quantity of objects you want to store, then look for furniture that meets your needs.
You can find a massive range of furniture and accessories to match your existing decor by shopping online. Corner dressers, cabinets, shelves, and hooks are all an important investment, and using online stores gives you the biggest selection possible. With just a little searching, you'll find the perfect products for completing your dream home.