You've decked the halls and your living room, dining room, and landing are all ready for the festive season to welcome your guests in style.
Don't forget to make time during this busy period to bring some of the magic of Christmas to your bedroom, so you can relax and reflect on the most wonderful time of the year from the comfort of your bed.
Here are seven beautiful ways to decorate your bedroom for Christmas this year.
Traditional Christmas Decor
Bring a cozy, festive look to your bedroom this holiday season with a traditional-style Christmas decor.
Treat your bed to a bright red or green throw and add on some reindeer scatter cushions, plus a few others with traditional holiday greetings. Plaid detailing and sparkling Christmas tree silhouettes are also great choices for your Christmas bedding set.
A wreath with berries hung above your bed, or on any bedroom wall adds a nice touch of festive cheer, bringing the outdoors in and picking up the red or green of your bedding. For a finishing touch, add some candles with natural-style wooden-look holders for a rustic homely look that really ties the room together.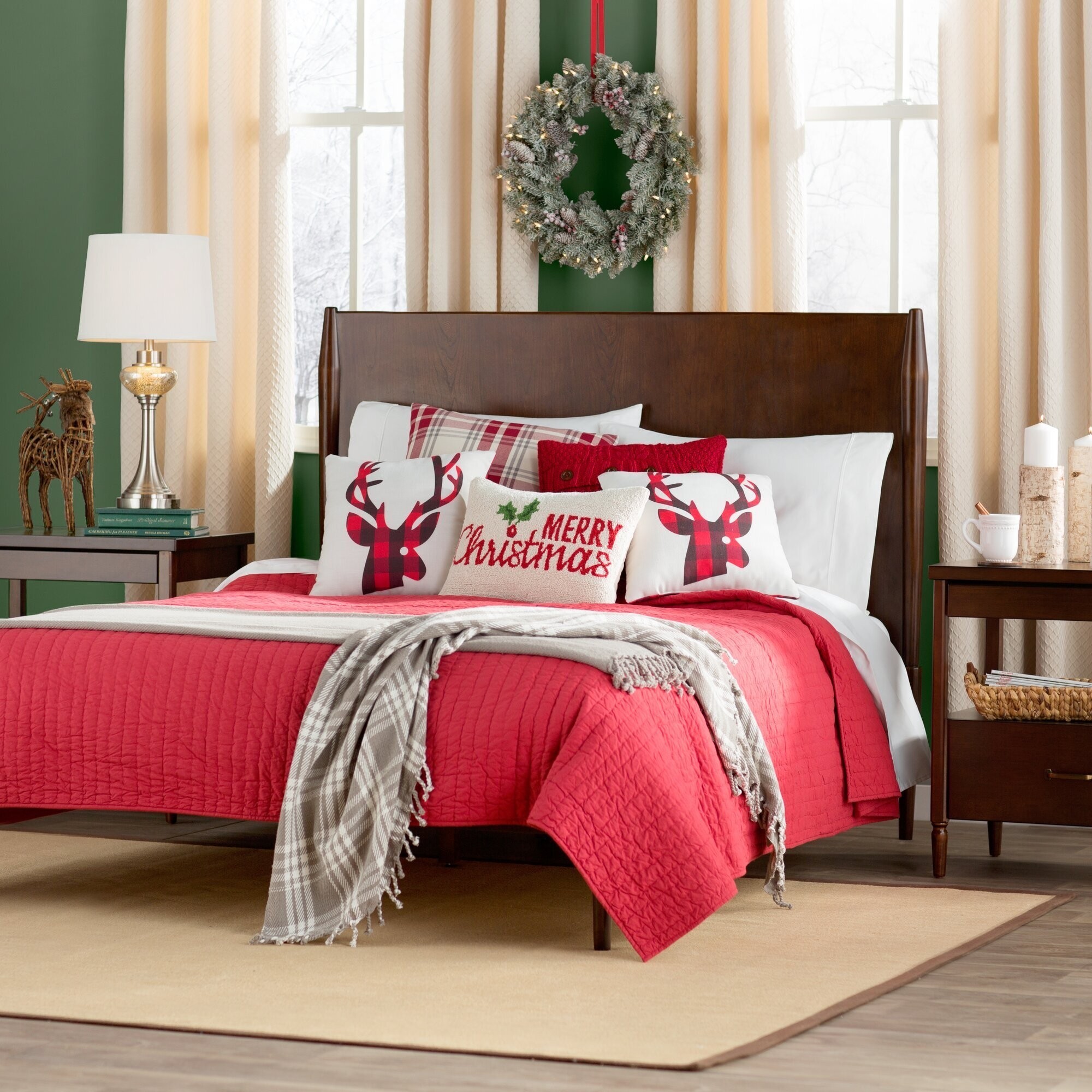 Bohemian, Warm Atmosphere
Make this Christmas the coziest of all Christmases and upgrade your holiday bedding. Think large knitted throws, faux-fur fluffy cushions, and natural, neutral tones that will turn your bedroom into a haven of peace and tranquility this festive season.
Add a small Christmas tree to the corner of your room with minimal decorations. Warm plain tree lighting looks great, especially when lit up in the evening when you snuggle down after a busy day wrapping presents and planning your Christmas arrangements.
Understated, yet subtly festive, treat your bedroom (and yourself!) to a bohemian makeover this Christmas. It's a great way to destress and promote relaxation and wellbeing.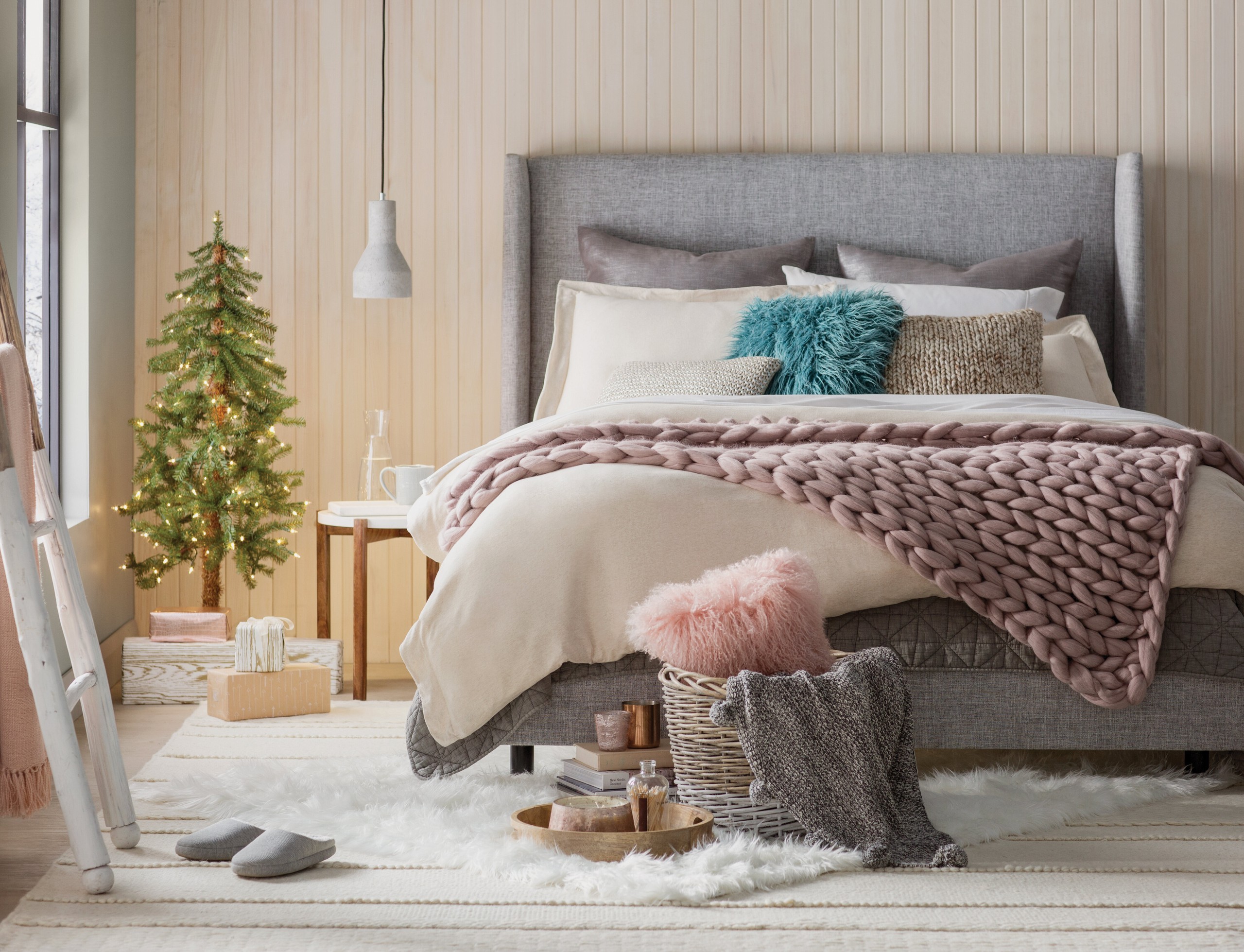 Minimalist Christmas Decor
Even minimalist bedrooms can be livened up with Christmas decorations, albeit in moderation.
One of the most effective ways to bring a hint of festivity to your minimalist bedroom is to add a simple green pine garland. Place it above your bed or over any mid-height item of furniture.
Another great way to subtly decorate your bedroom for Christmas is to add a plain colored ornament with festive connotations. Carved wooden pine trees make an excellent choice, or you could opt for a white plastic tree set with minimal details.
As with all minimalist settings, it's important not to overdo it and one or two subtle hints speak volumes.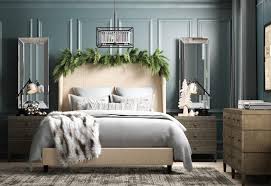 Whimsical Decor
What better excuse than Christmas to release your inner child? Go crazy with a whimsical Christmas bedroom decor for a light-hearted, fun way to celebrate. Think bright colors, festive slogans, and plenty of gift-wrapped presents!
Liven things up with a display of miniature Christmas trees in contrasting colors and different sizes, pink, lime green, yellow, or even blue. The more pops of color, the more eye-catching the effect.
Add some bright colored bedding or a throw to match one of your trees, some festive humorous cushions, and don't forget to scatter some presents around your room in anticipation of the big day.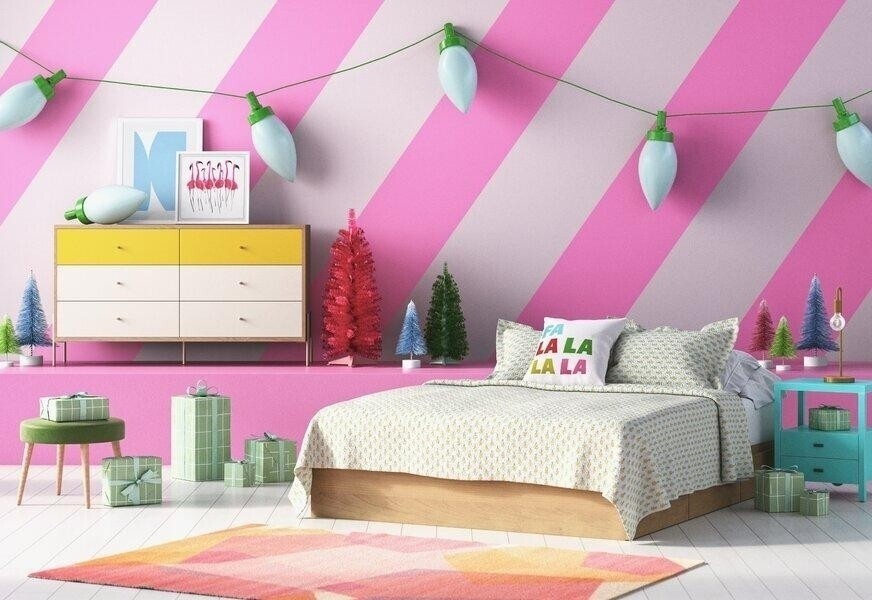 Warm, White Christmas
If your bedroom is predominantly white, then what are you waiting for? It's the perfect backdrop for your very own winter wonderland. Add several frosted miniature Christmas trees for a snowy scene from a greetings card brought to life - well almost.
Keep your crisp white bed linen, but add a subtle pop of color with a single red or green festive cushion. Add other more subtle cushions in white or grey tones with tree prints or animal silhouettes, to continue your winter wonderland theme. Set it all off with a discreet festive garland and small wreath above your bed. Choose either natural green or a snow-frosted finish with red berries, depending on your choice of cushion color.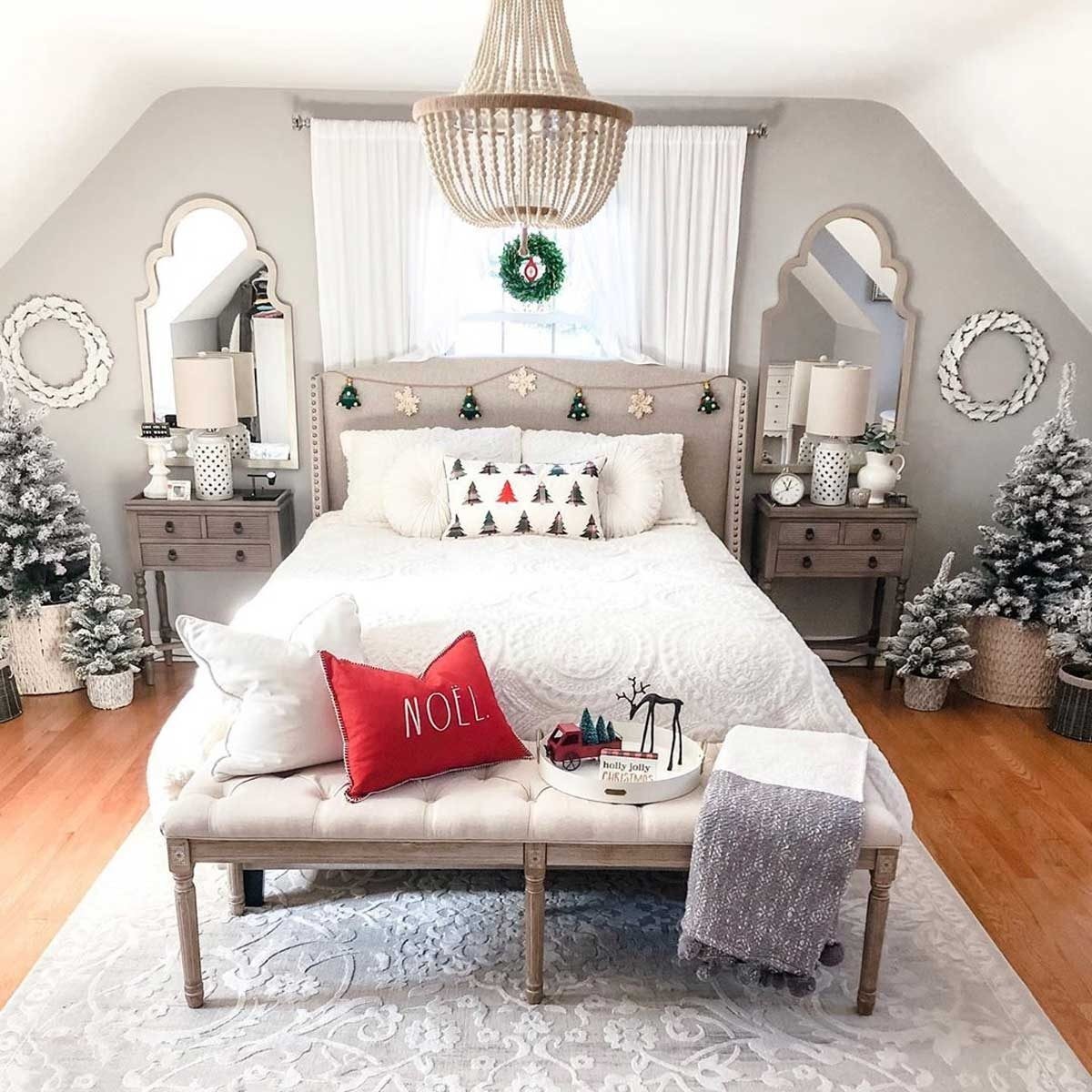 Modern/Glam
Turn your modern bedroom into a glamourous festive bolthole with our top glam Christmas decor ideas.
Nothing says glamour quite like fur, so dress up your bed with a luxurious faux-fur throw to snuggle down with on those cold winter evenings. Add a cushion in either green or a red plaid print for a dash of festive color. Reindeer are a popular choice, or you could go for a printed word such as "peace" or "angel".
Pick up your red or green color with a ball wreath over your bed. The glossy balls arranged in a traditional wreath shape makes a perfect festive decoration for your modern, glamorous bedroom. You could also add several gift-wrapped presents, plus some scatter cushions in faux-fur to complete the luxuriant look throughout the entire room.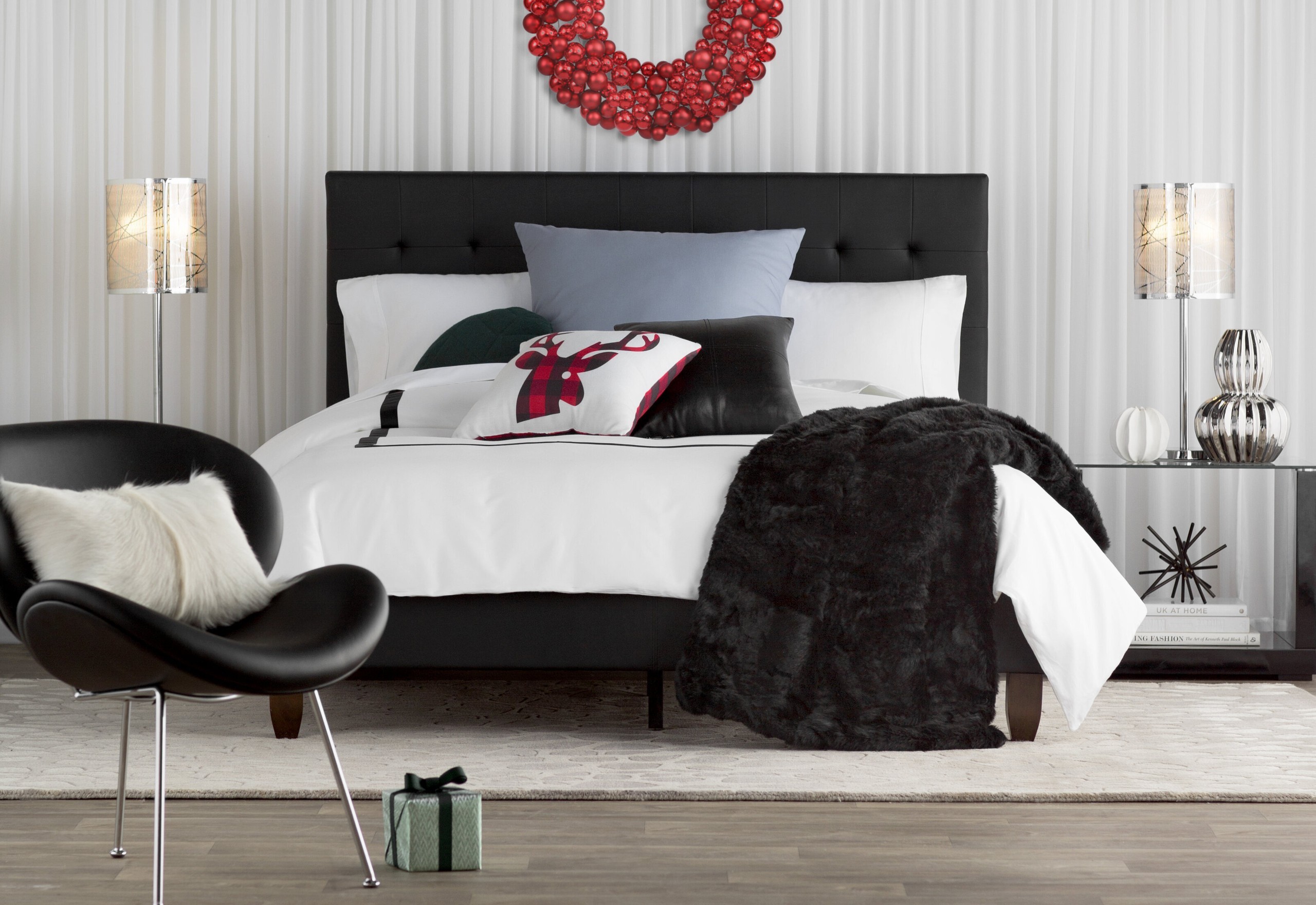 Warm Farmhouse
Go for a rustic, warm farmhouse Christmas decor in your bedroom and bring past memories of Christmas holidays in the mountains to life.
Red plaid bedding is a great way to get started and will bring that extra cozy feel to your room without any effort. Next, add some knitted stockings to a wall, either in neutral tones or bright red or green for a vintage look from days gone by.
You'll want to bring the outdoors in, so be sure to add a rustic pine garland with berries or a ribbon, as well as a tastefully decorated small Christmas tree complete with ball ornaments and lights. Lastly, add some cushions with forest animal motifs and relive happy memories of Christmases past in the mountains, even if you're now living in the city.