With their characteristic rounded corners, pastel colors and smooth lines, one thing's for sure: vintage-style appliances aren't done charming us, even in the 2020s! Retro mini fridges are no exception.

Instead of settling for a bland mass-produced design, they can help you turn your practical need for cool drinks and food into a quirky, unique statement.
Whether you'd rather draw inspiration from the 60s, another vintage decade or something that reminds you of your childhood, you can find the right retro mini fridge here, as they're available in a large variety of designs.
But why not travel back in time together, first?
Get inspired by looking at the very best vintage mini fridges currently on the market.
Vintage Chic Coca Cola Countertop Mini Fridge
Be it for their Christmas commercials or the fact that we all have a summer memory tied to its instantly recognizable bottles, nothing screams 'nostalgia' and 'vintage' louder than Coca Cola!

From its rounded shapes to the familiar colors of its brand, this small retro mini fridge is a fantastic choice for those who're after a nostalgic and iconic model that homages a pop culture classic;

This 4L mini fridge is also a budget-friendly choice that won't break the bank and it can fit virtually anywhere;

As well as the usual power cord, it includes a USB option to give you even more flexibility;

This retro mini fridge is also energy-efficient and incredibly quiet, so you can place it in your dorm room or home office without having to worry about that annoying humming sound that plagues some other models.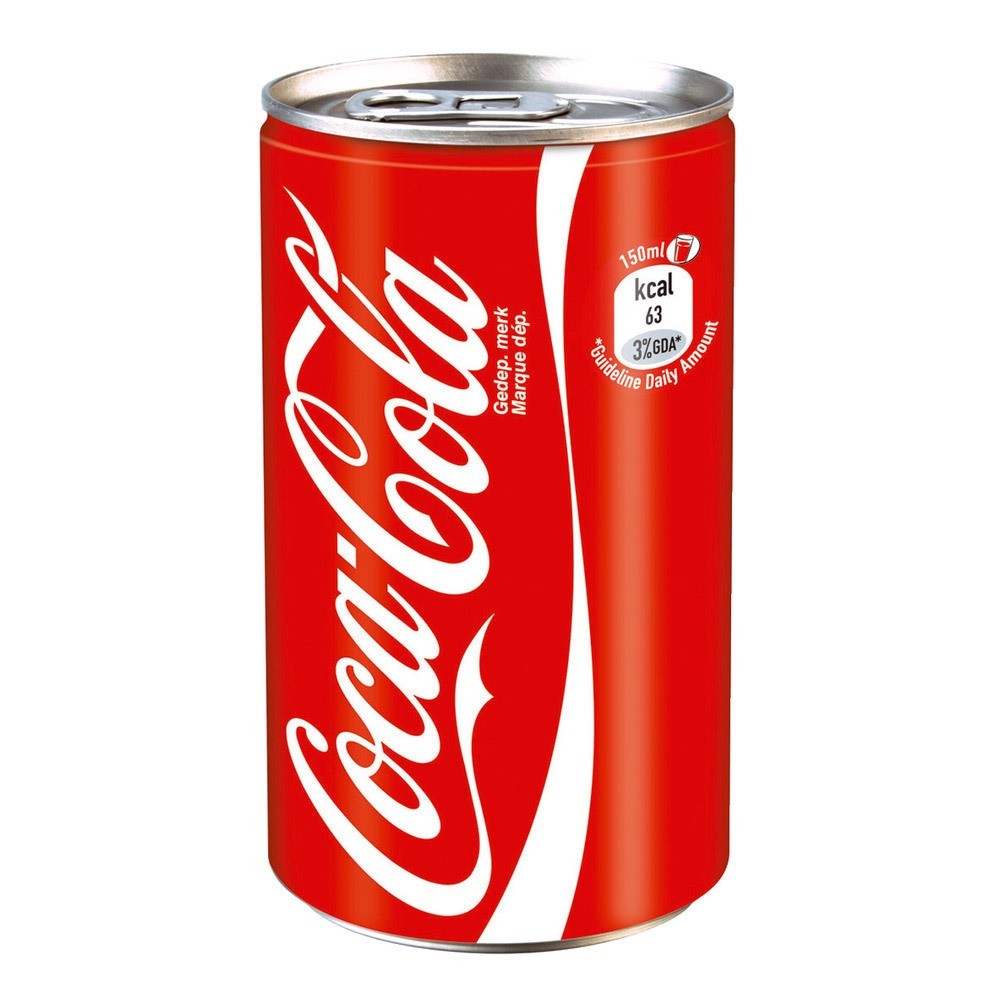 Marshall Amp Freestanding Retro Mini Fridge with Freezer
Well, this is a conversation starter for sure! With the famous Marshall branding and shaped like an actual amp, this retro mini fridge is a bold statement for rockstars at heart;

It also offers plenty of room to store both food and drinks thanks to four wide shelves and some additional door compartments;

It also features a small freezer for last-minute emergencies;

Thanks to the reversible door, it can easily adapt to the layout of your room… or of your rehearsal garage, of course.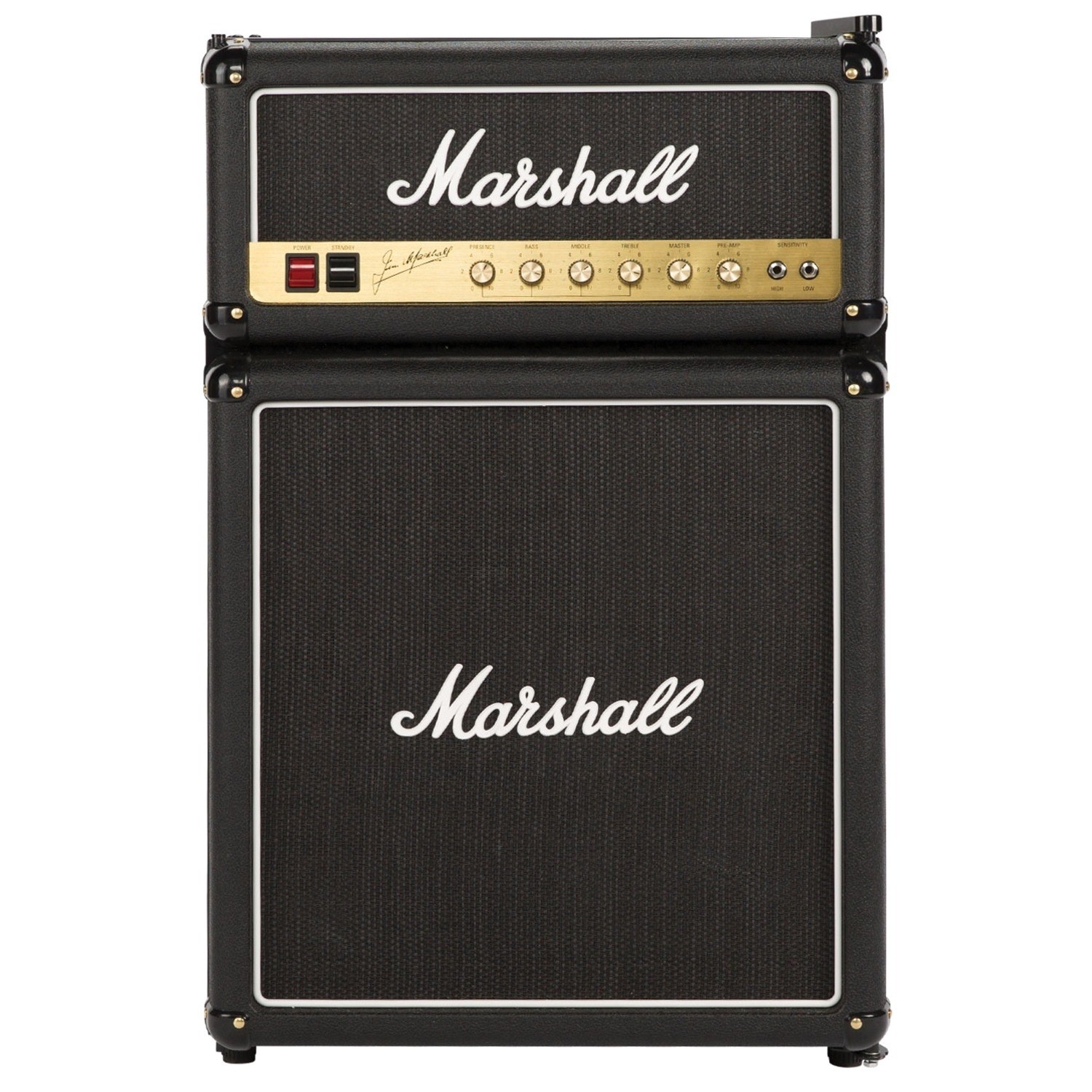 Nostalgia 6-Can Cooling & Heating Vintage Mini Refrigerator
When you're looking for a vintage mini fridge, you can't go wrong with a pastel-colored model that literally has the word 'nostalgia' written in a retro font!

This 6-can model is rather compact, so we only recommend it if you were looking for a mini fridge for essentials or a particularly portable option (look at that adorable top handle!);

As the name suggests, it can fit six regular cans, but, alternatively, you can even store a travel cup and small food items and snacks. By removing the little shelf, you can easily fit a taller bottle or bulkier items, too;

What we love the most about it is its cooling and heating feature. As well as keeping drinks chilled down to 45°F, you can also warm them up to 130°F. How handy is that?!
Frigidaire Blue Retro Fridge with Side Bottle Opener
This retro mini fridge has an ace up its sleeve that can really impress your friends, especially if you're planning on using it in your dorm room or home bar: a practical bottle opener!

We absolutely adore this retro mini fridge's design, and especially the way its branding and handle make it look like a vintage car door… a reversible one, too!

While it looks small from the outside, its inside is bound to surprise you as it's incredibly space-optimizing. With two main shelves, a small freezer section and two door compartments placed at different heights, you can fit a lot more than you'd think.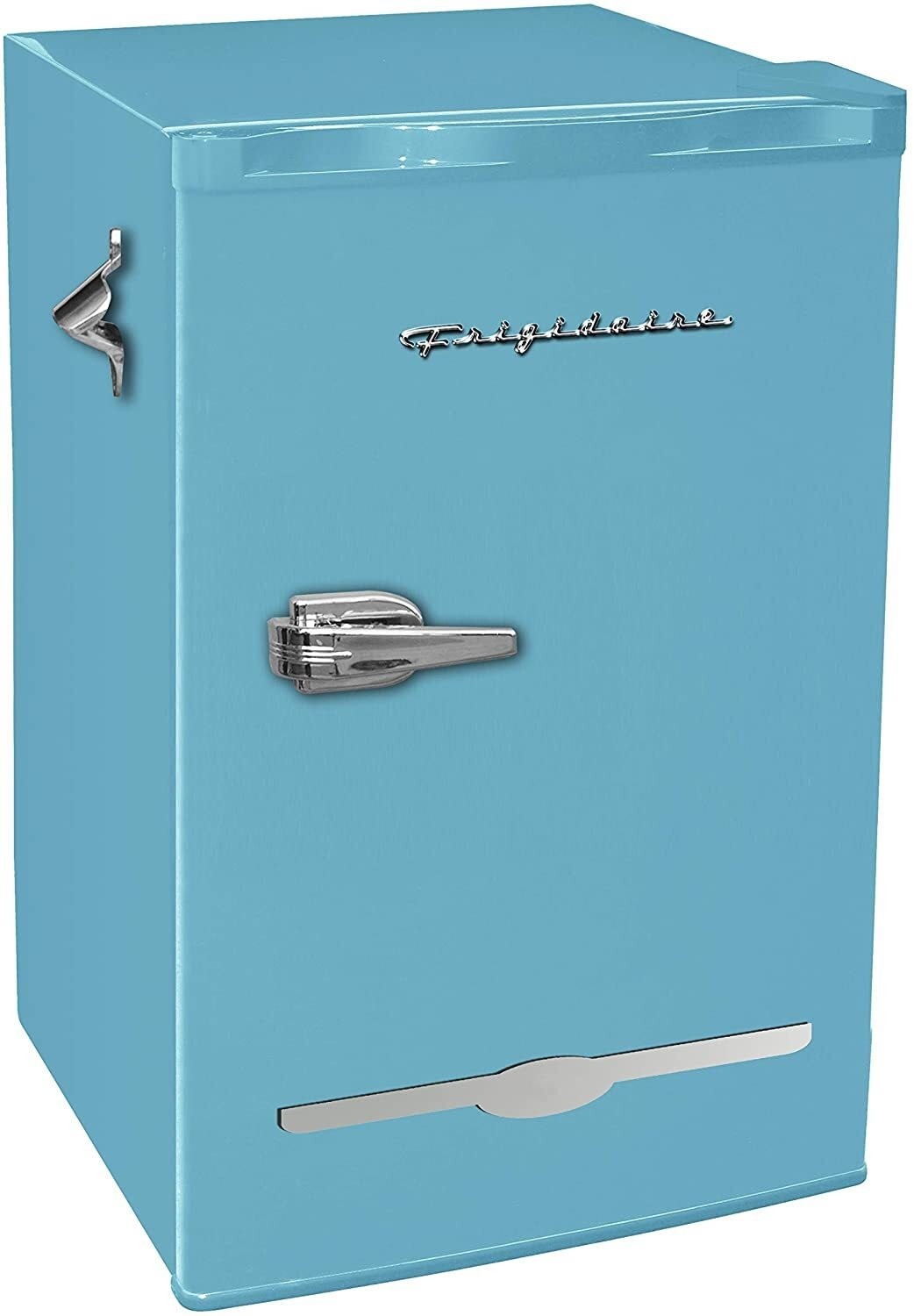 Gourmia Thermoelectric Vintage Mini Fridge Cooler and Warmer with Bluetooth Speaker
What's even better than a vintage mini fridge? A vintage mini fridge that you can use to blast some retro music… or any kind of music, for that matter! This little dude comes with a hip Bluetooth connection;

Just like the other 6-can model that we've recommended, it's compact, portable and can keep your drinks chilled or warm;

Another feature that struck us is the fact that it can also be powered through a cigarette lighter. You're thinking the same as us, right? Best road trips EVER!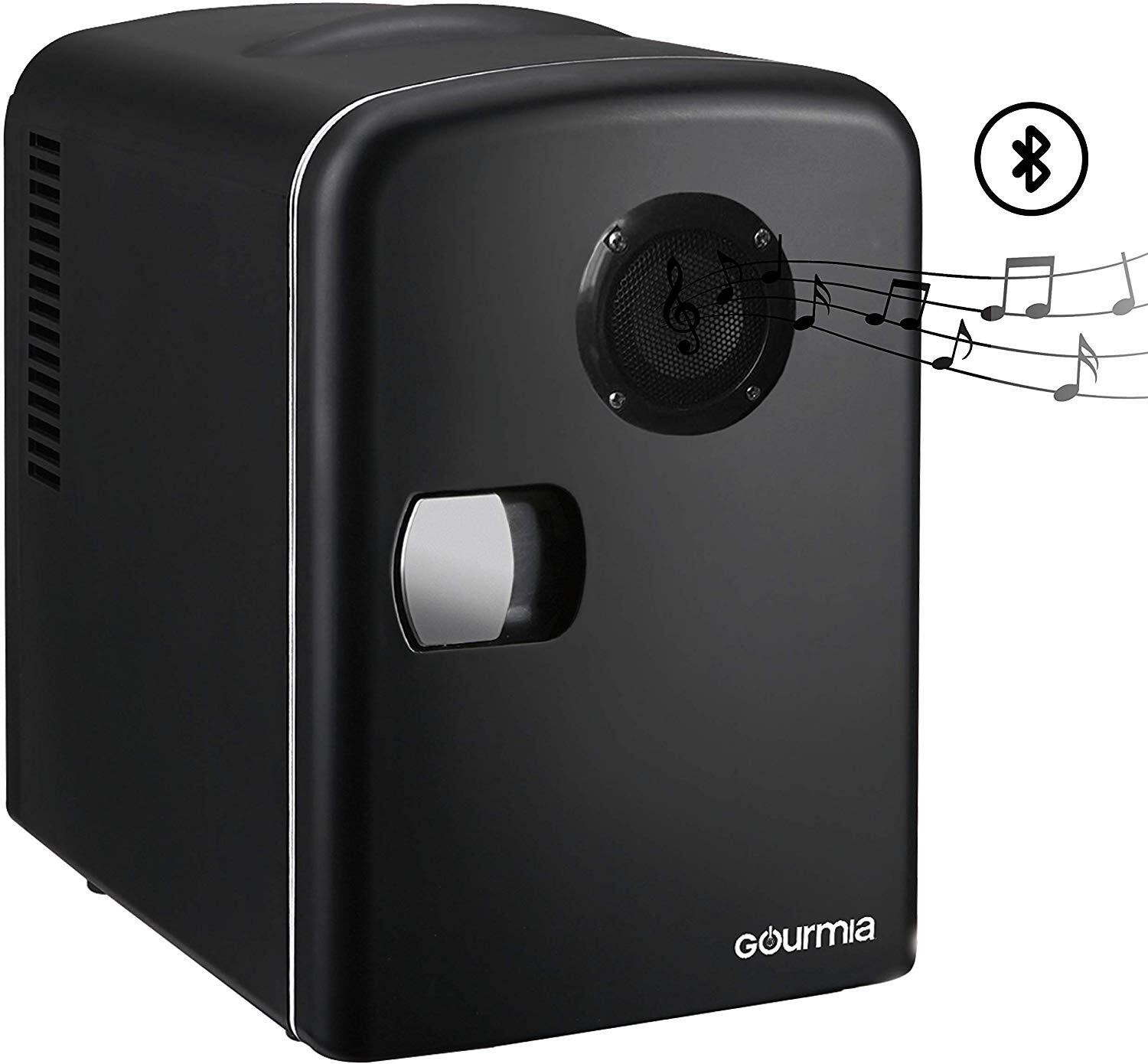 Classic Freestanding Retro Mini Fridge
If you were hoping for a mini fridge that blends modern and retro features, this is the one. It offers wide storage and it comes in a versatile white design with an ergonomic handle, but it maintains the classic vintage font that we all can't get enough of;

The four main shelves offer lots of room for drinks and food and, next to two extra door compartments, this space-optimizing model features room for eight cans (yes, you've read that correctly);

Thanks to its layout and temperature control feature, it's the best choice if you're after a retro mini fridge to store a variety of different-shaped drinks and food items.