If you have pets or small children, you can understand how invaluable it is to have a dog gate for stairs. This safety accessory can help train your dog to stay off the stairs, keeps them safely away from hazards, and saves your home and furniture from the wear and tear of pet ownership.
Some aspects to consider when you're in the market for dog gates are accessibility, stability, permanence, and price. Many barriers that are ideal for some pets will not be useful for others. Take into consideration your pets' habits and temperament, and what you need the gate for most.
Here are six dog gates that make your life easier if you have senior pets, multiple pets, or even small children.
Evenflo Position and Lock Tall Pressure Mount Wood Gate
This simple dog gate is tall and easy to install. It is wooden, which may be a problem if your furry companion enjoys chewing on wood. Standing at 32", it is taller than the average pet gate, which stands at 22" making it ideal for larger dogs or pets who are excellent jumpers.
Since this is pressure mounted, it is probably not the best choice for the top of the stairs, where an exuberant canine could bowl it over. However, it is ideal for renters, as the rubber bumpers and pressure mounting will not damage the walls. You can also take it with you when you travel, which is convenient if you want to keep your pooch contained on vacation.
It can expand from 26" to 46" across, so it fits almost any doorway without hardware. A locking bar is notched for easy set-up. Best of all, your pet can still see and hear you through this pet gate due to the wire mesh, making them feel they are still with their pack.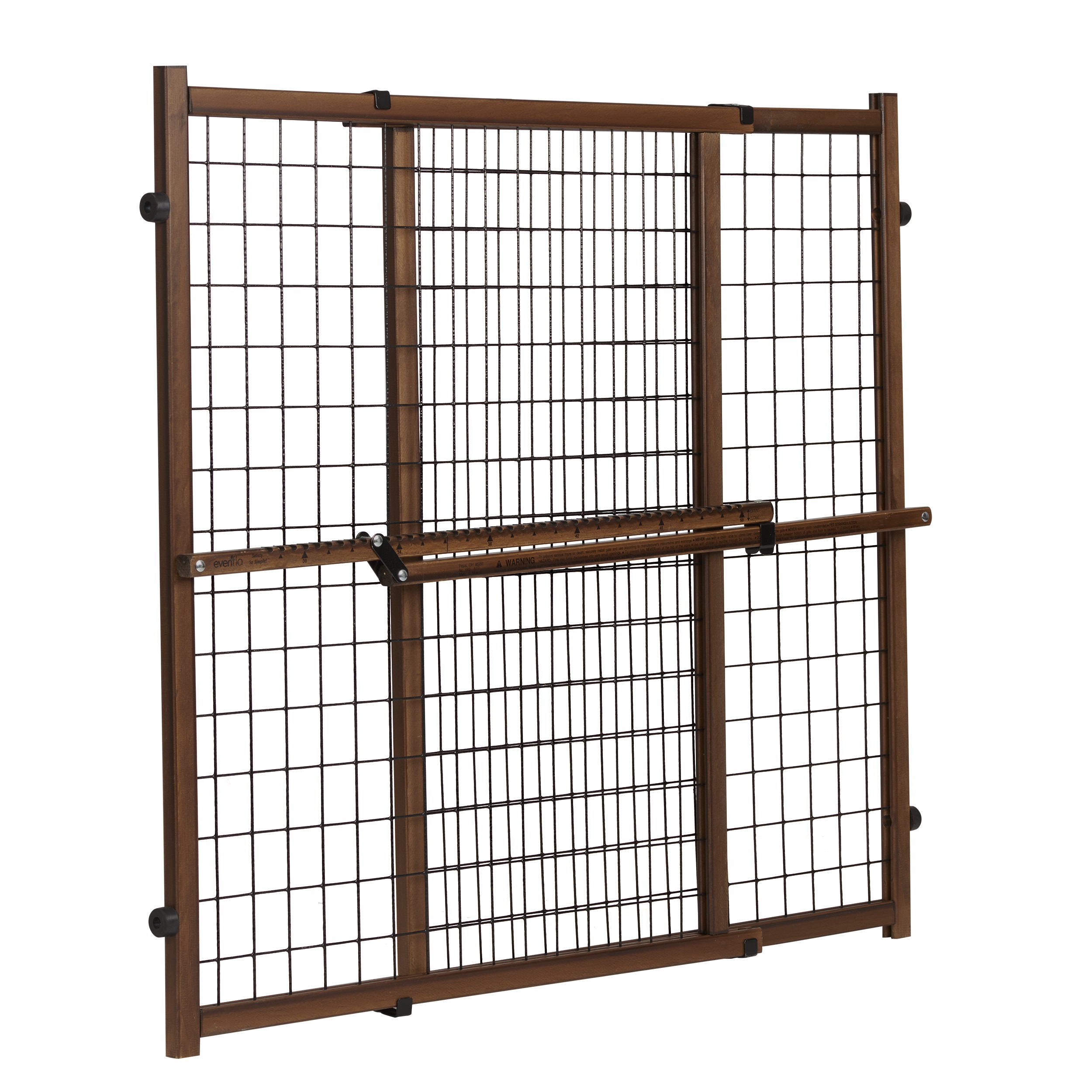 Richell Wood Freestanding Pet Gate
This freestanding wooden gate has side panels to more effectively control your pet. The wood and metal construction gives this gate with an elegant appearance while also providing optimal functionality.
The gate expands from 39.8" across to 71.3" to fit almost any doorway and there is an added stability screw that prevents unintentional expansion. This pet gate also has a broad, sturdy base to prevent it from being knocked over accidentally.
To access your space, you can choose between sliding it out of the way or stepping over it, and this gate is an ideal choice for families with small to medium-sized dogs.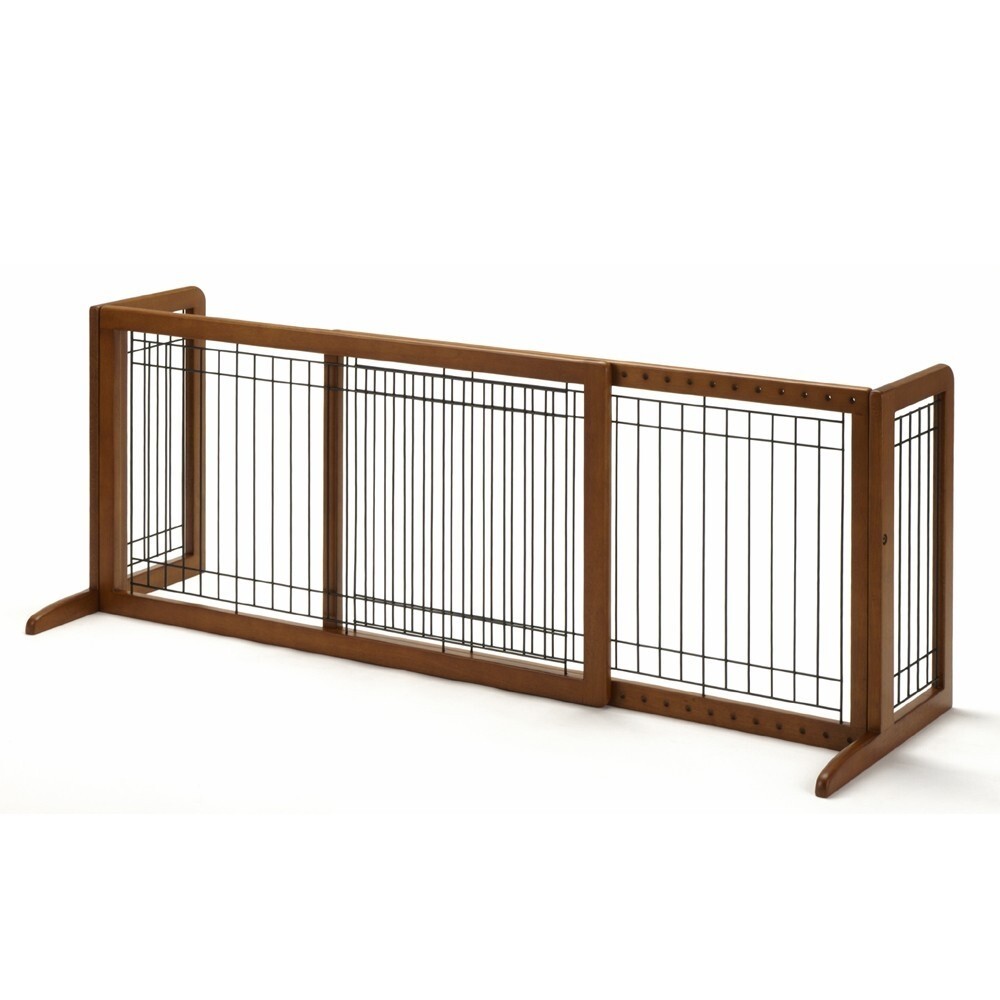 Lil' Tuffy Expandable Gate with Small Pet Door
For the stability and accessibility, this pet gate offers safety at an affordable price. The Lil' Tuffy stands 18" high, making it perfect for smaller pets but not as useful for larger dogs. It expands between 22" to 38" and is pressure-mounted, so it's easy to install and gentle on your home walls.
The one feature on this pet gate that isn't standard is the small pet door built. It is 9" by 9" and is meant to let smaller animals like the cat get through but contains larger pets. The pet door even has a locking mechanism to keep all your pets away from hidden dangers.
The 100% steel frame and reinforced horizontal crossbar makes this gate more sturdy then you might think despite its compact size.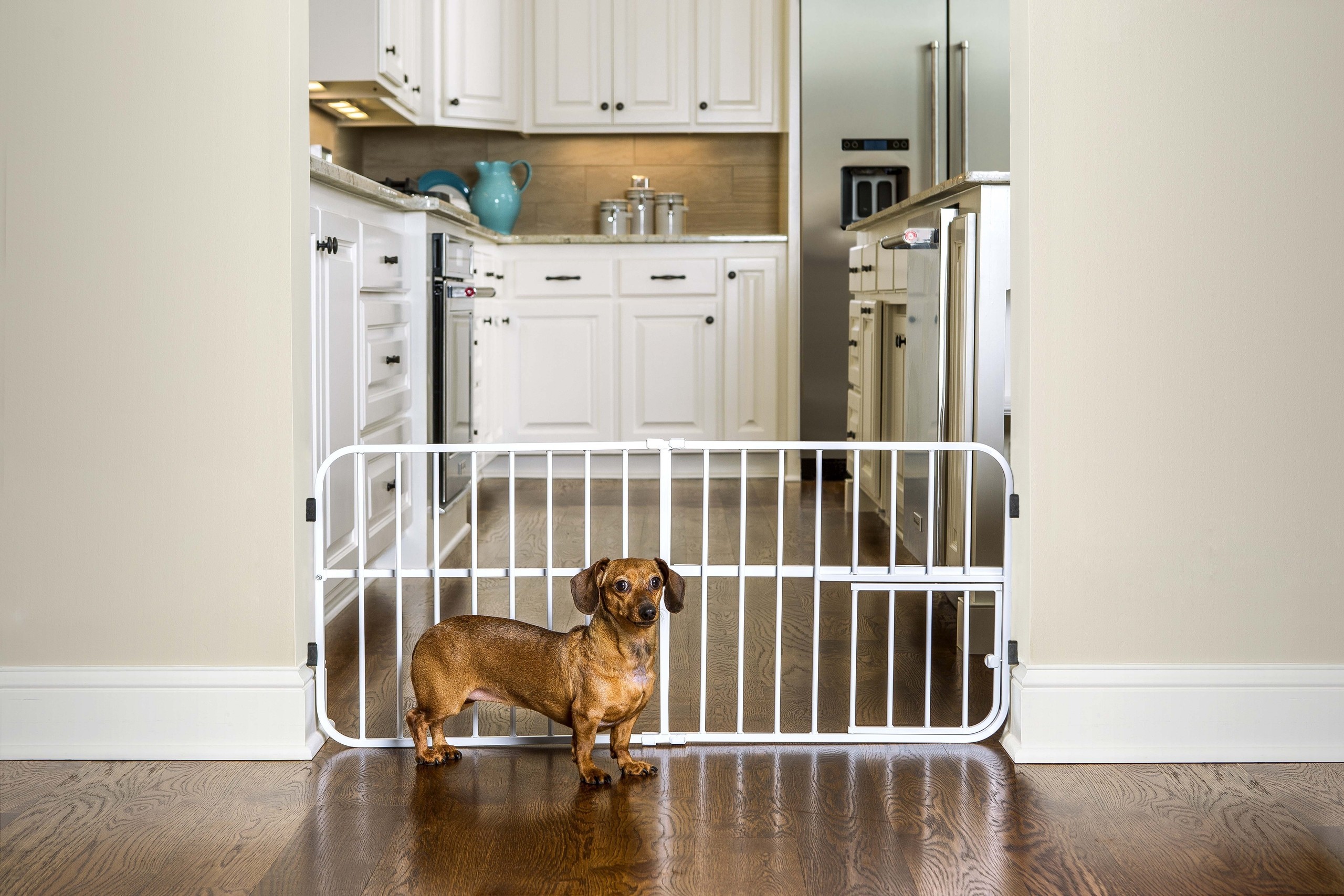 Evenflo Soft and Wide Gate
Made from breathable mesh on a durable metal frame, this pressure-mounted gate provides your pets with outstanding visibility while still keeping them out of places they aren't allowed.
At 27" tall, this is an excellent gate for larger dogs that merely need a barrier as a physical reminder of the rules and the mesh is machine washable, which makes cleaning this gate a snap if you're using it as part of your more extensive training routine with your puppy.
The pressure mounting system makes it quick and easy to install and allows you to take it with you when traveling with your pet.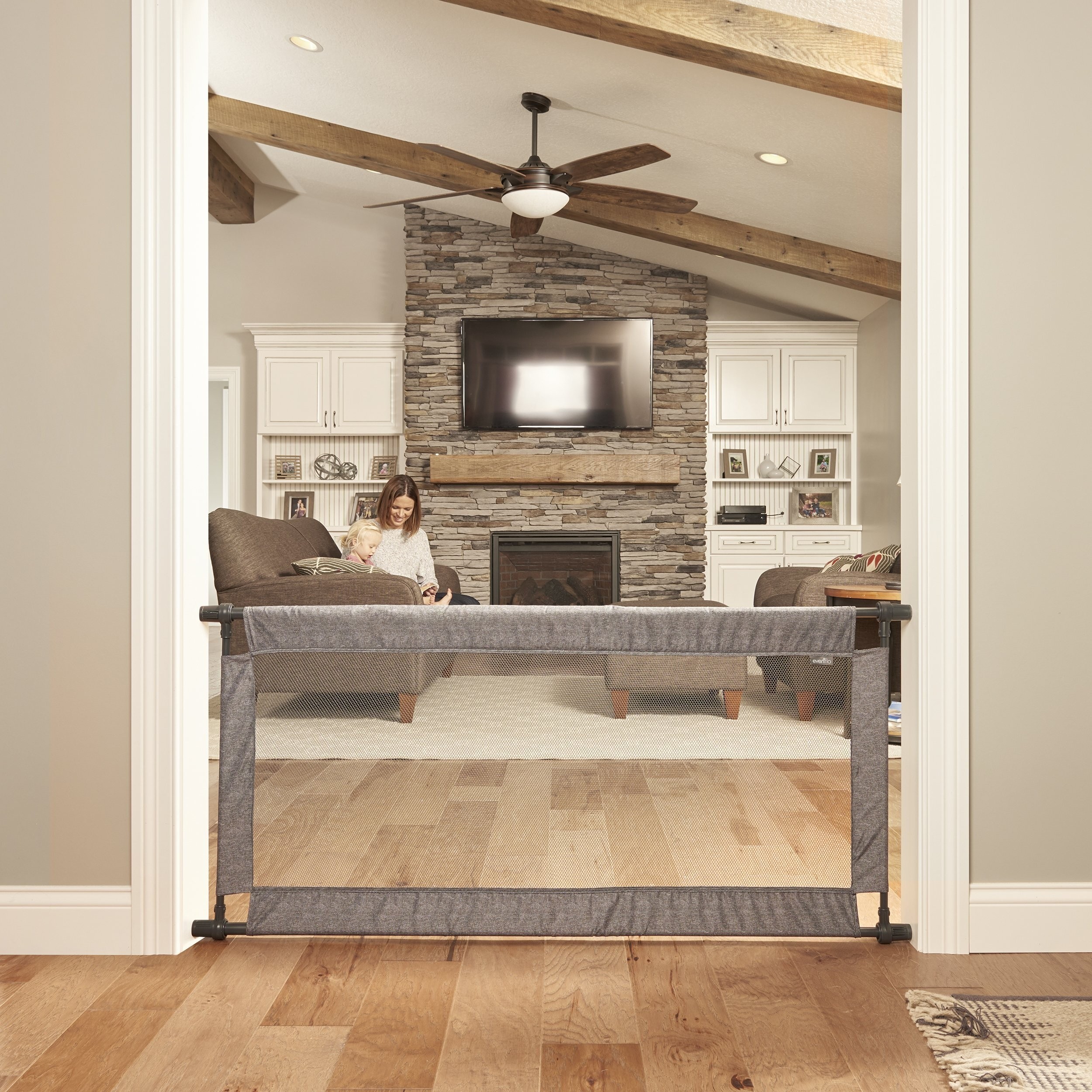 Regalo Easy Step
Standing at 30" tall, this is a great gate for any size pet. The only anomaly about this gate is that it fits widths of 29" to 34" and then 35" to 38.5". You will not be able to make this gate fit if the space you're trying to span is 34" to 35" so measure your doorway before purchase.
This gate is a superb choice for hallways and staircases and comes with a 6" extension kit and 4 pressure-mount spindle rods, so you can tailor it to fit your space. One-handed accessibility is handy for a pet owner who needs an effective barrier that they can get through quickly and easily.
It locks with a latch to prevent accidental opening if your pet bumps the gate. While this gate is pressure mounted, you can also drill rubber bumpers into the wall to deter damage to the walls, making the gate semi-permanent. Its all-steel construction makes this gate an excellent choice for larger or unruly animals.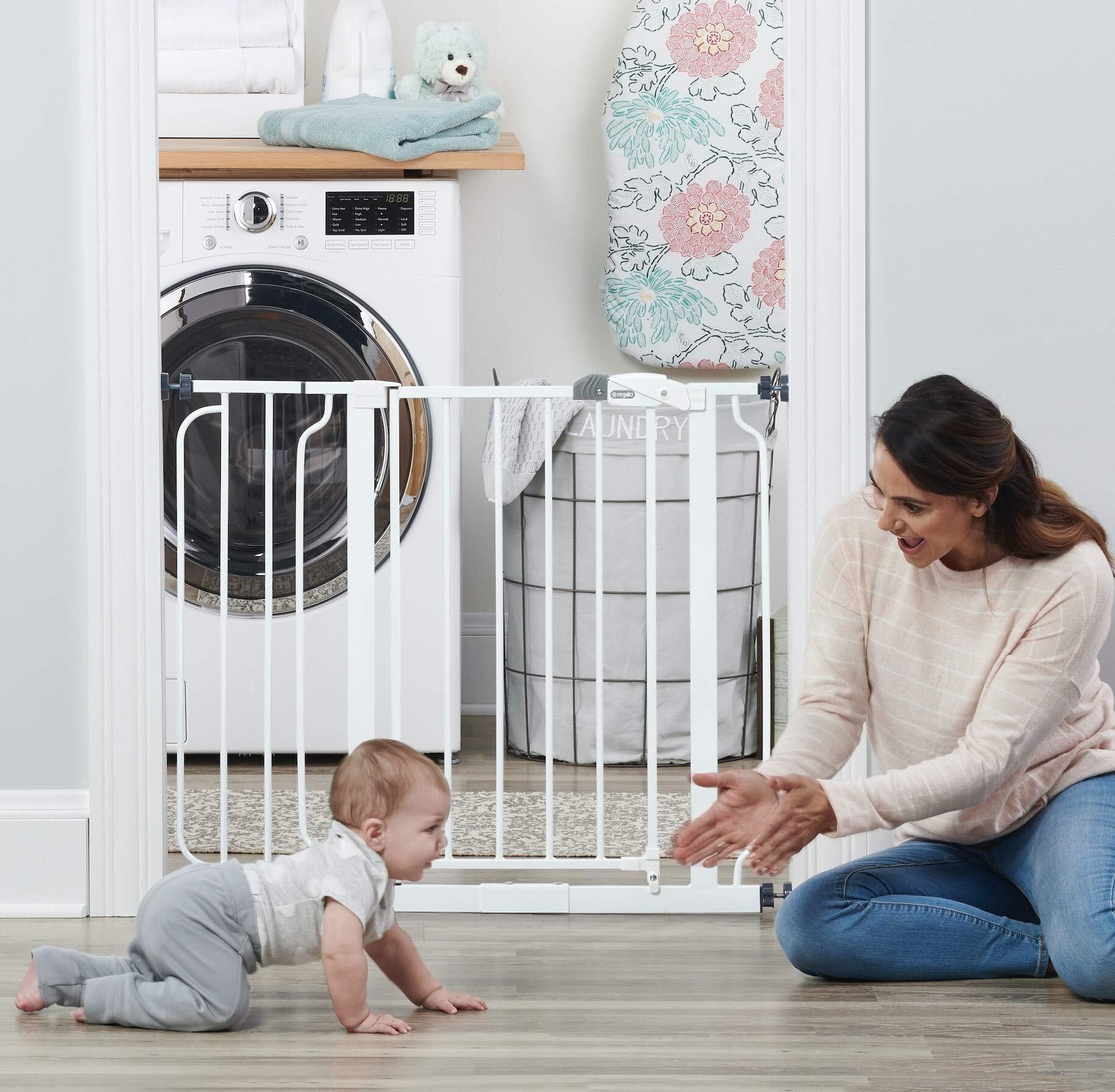 Toddleroo by North States
Although the name implies that this gate is for children, it also makes an excellent barrier for your dogs, large or small. It is a tall gate and finished in matte bronze for a modern, winsome appeal.
This pet and baby gate is hardware mounted, and so it is incredibly sturdy and makes it an ideal choice as a dog gate for stairs.
You can open the locked gate with one hand, so you can still easily access various rooms in your house and your pet cannot. This is a reliable and sturdy gate that would work well in a multi-pet home.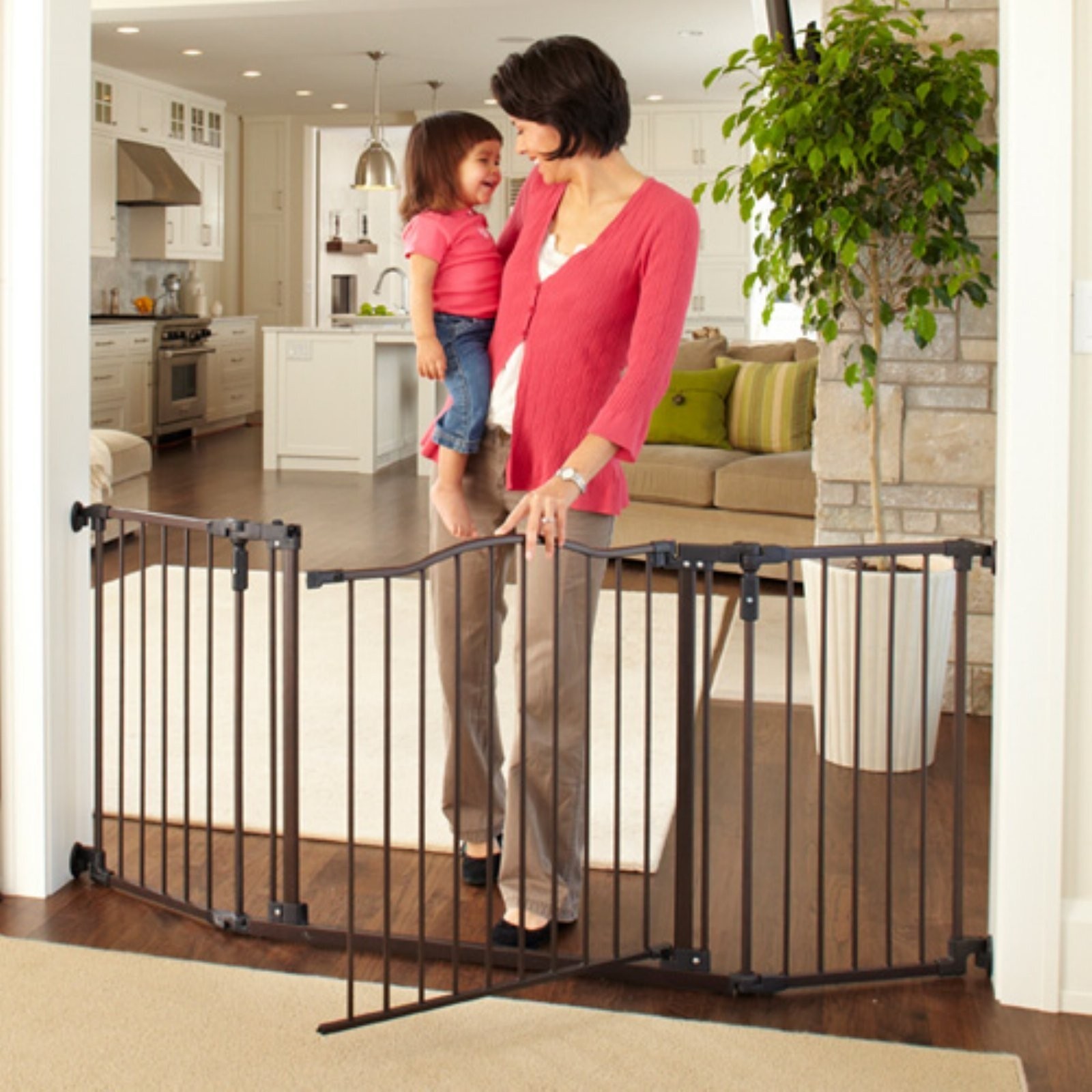 In Sum
If you need a pet gate for your furry companions to keep them safe, separated, and to keep the rest of your home tidy and off-limits, you need to consider installation, accessibility, permanence, and price.
These six pet gates are suitable for a range of sizes and temperaments. Your pet gate choices will largely depend on what you need it for, and your dog's personality.