A computer armoire is an innovative and stylish place to work. Its compact footprint enables you to complete your tasks in a tight space comfortably. After you've finished, you simply push in the drawers and close up the cupboard, removing your work from sight as you relax for the evening.
Before purchasing a computer cabinet, it's useful to know a few things about the quality of wood, the type of doors, or the components included, so you can make the right decision to suit your style, budget, and functionality needs. Here is a comprehensive list of features to look for when buying a computer armoire.
1.

Type of Wood and Finish

Some of the best-quality computer armoires are built from solid hardwood. These pieces tend to be more durable than particleboard, fiberboard, and other composite wood products, but they require extra care and maintenance to keep them looking good.

Engineered wood products and veneers cost less than authentic wood but are less robust and durable. However, they make a great choice if you are decorating on a budget but don't want to compromise on style.

Laminate and melamine finishes are scratch-resistant and durable. In contrast, a paint finish can be less shiny and superior in appearance.

Check to see the wood has been stained and varnished. If not, it could be vulnerable to marks and color changes over time. It's also worth checking to see if the wood has been lacquered with a protective coating as it may alter the coloring of the stain finish.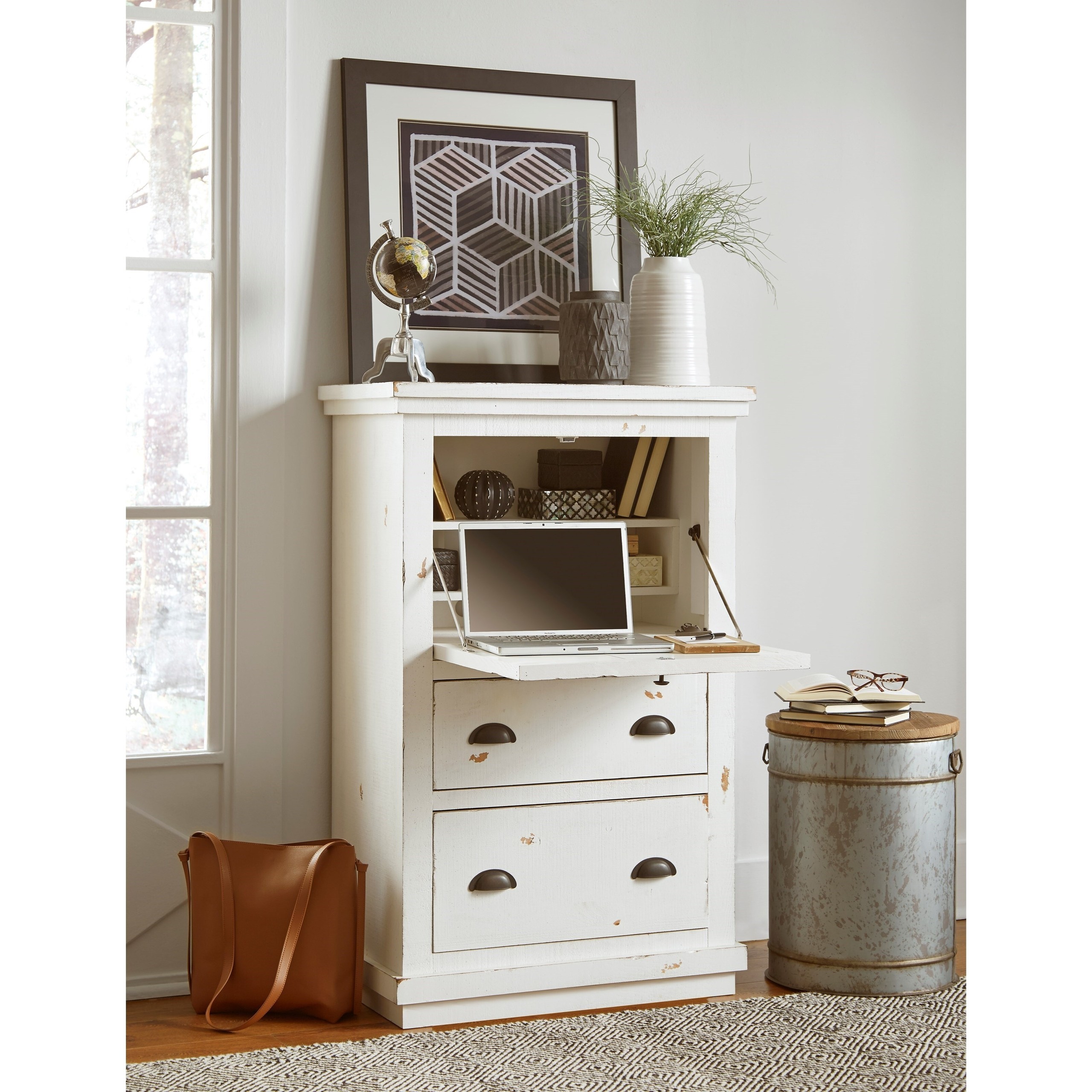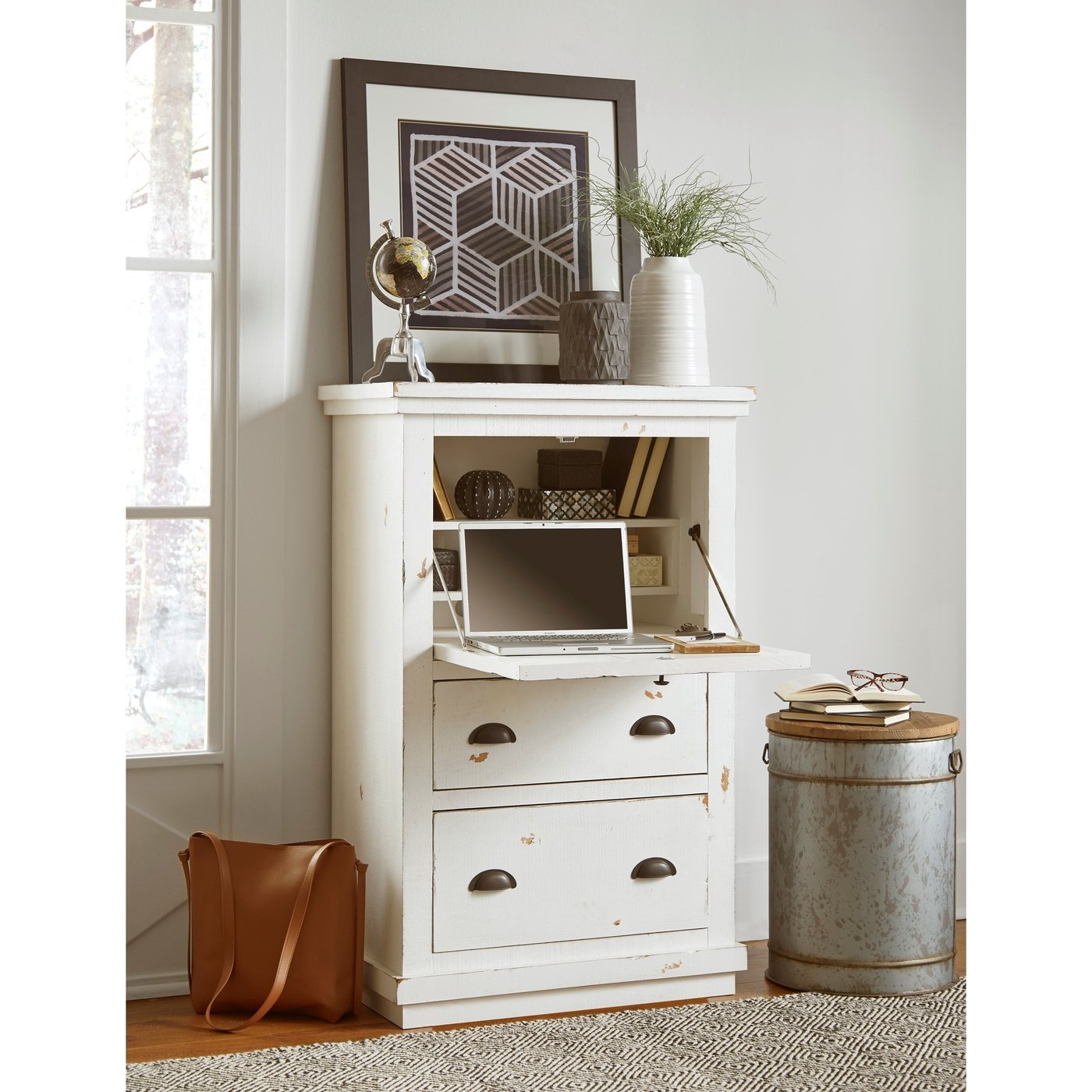 2.

What Component Parts it Has

The armoire parts are essential to consider, especially if you're planning on storing different things in the unit. Useful components to look out for are:
A computer compartment where you can keep your monitor. Think about the height of this compartment in relation to your office chair as well: you don't want to be straining to reach the keyboard when you're working.

A keyboard drawer can pull out when you're working and slide back in to make optimal use of space.

A printer stand located in a space that won't impinge on your legroom while still providing easy access to printed documents.

A CPU tower compartment to store your computer's modem away from potential damage due to bumps or scrapes. It should provide ample ventilation at the back to prevent overheating.

Adjustable drawers and shelves so you can customize and create your own storage space. The shelves will often sit on wooden pegs and move around to change the height or number of the shelves. Look for special wooden drawer dividers, which are ideal for organizing stationary or paperwork.

Grommets allow you to pass the computer, keyboard, and router cables down the back of the computer compartment for an ideal cable management system.

Adjustable levelers are attachments on the base of the armoire, which allows you to make minor changes to the unit's height on any side. This feature is ideal for thickly carpeted floors or uneven surfaces as they provide stability and reduce the risk of tipping.
You should also ensure the cabinet's desk section is deep and wide enough to hold your computer monitor. It's worth measuring your monitor's dimensions before purchasing any storage unit.
In terms of the armoire's depth, you don't want anything less than 20" because you need enough space for the monitor and files.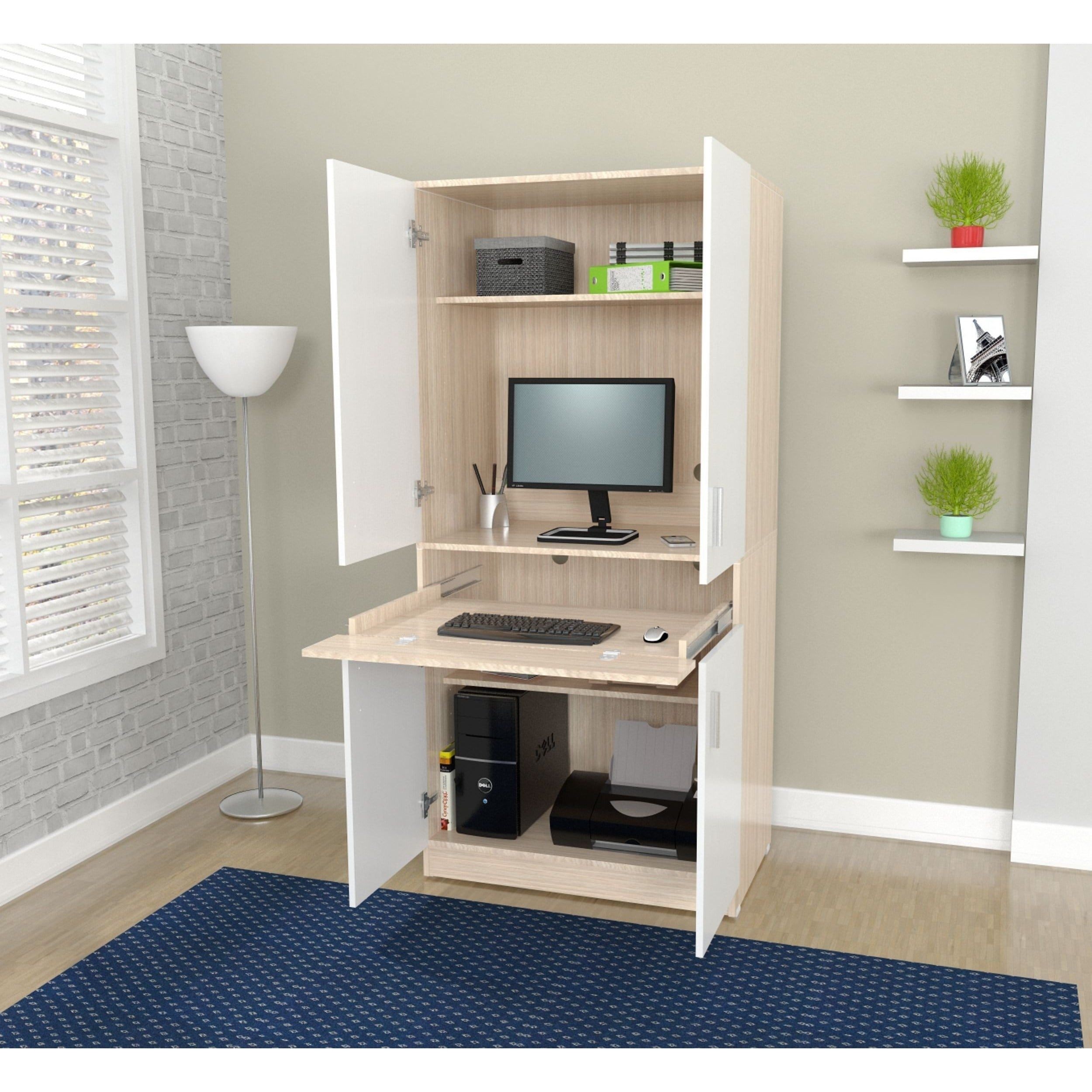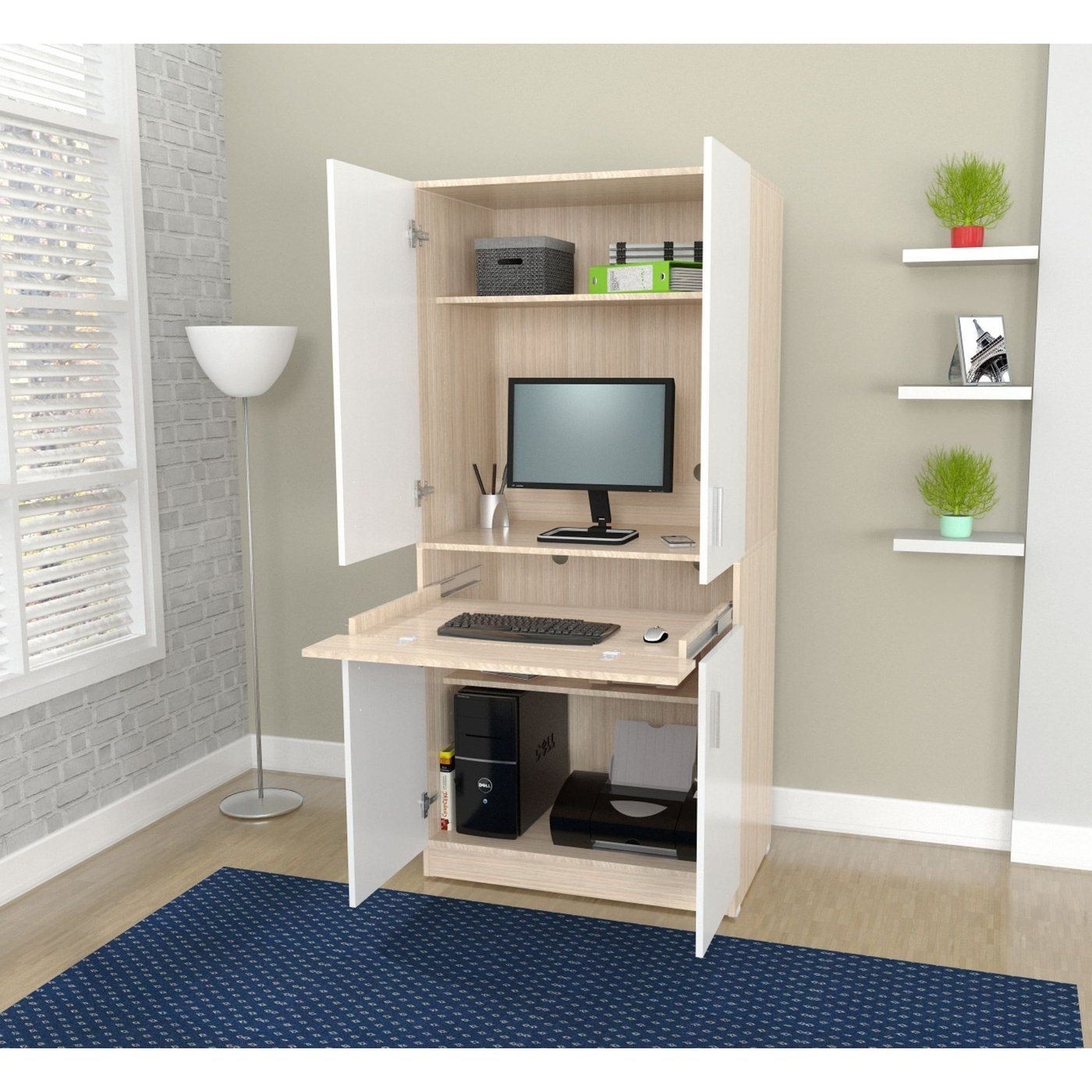 3.

Where You're Going to Put It

Before you consider the type of computer armoire you want to purchase, it's essential to give some thought as to where you're going to put it in the house. Many people keep their armoires in the kitchen or living room, but you may decide to place it in the spare bedroom or make it the focal point of your home office.

If you want your armoire in a busy room like the kitchen, think about where exactly it's going to go. Remember, you're going to be sitting down at the unit: you don't want to block a thoroughfare while working.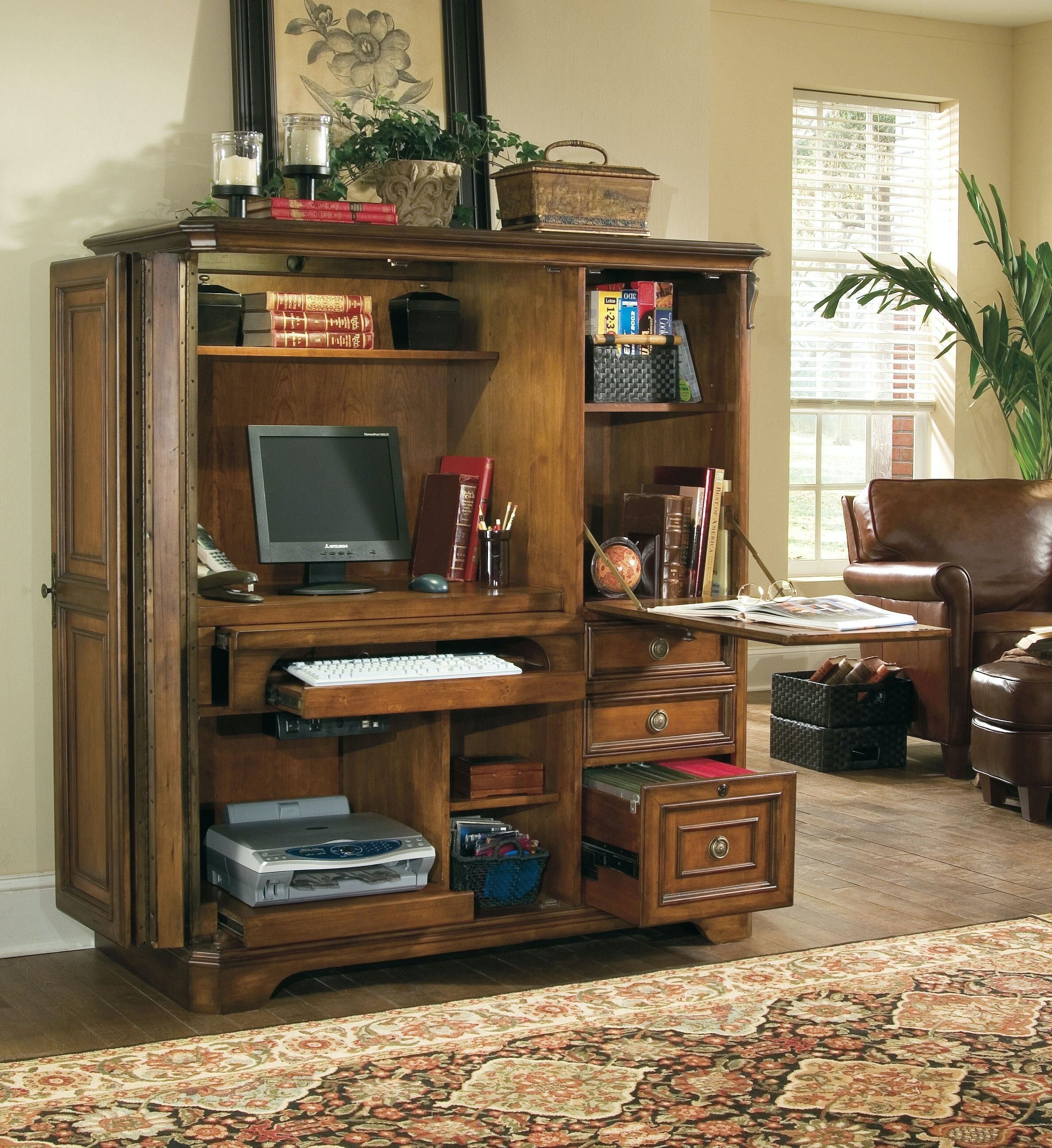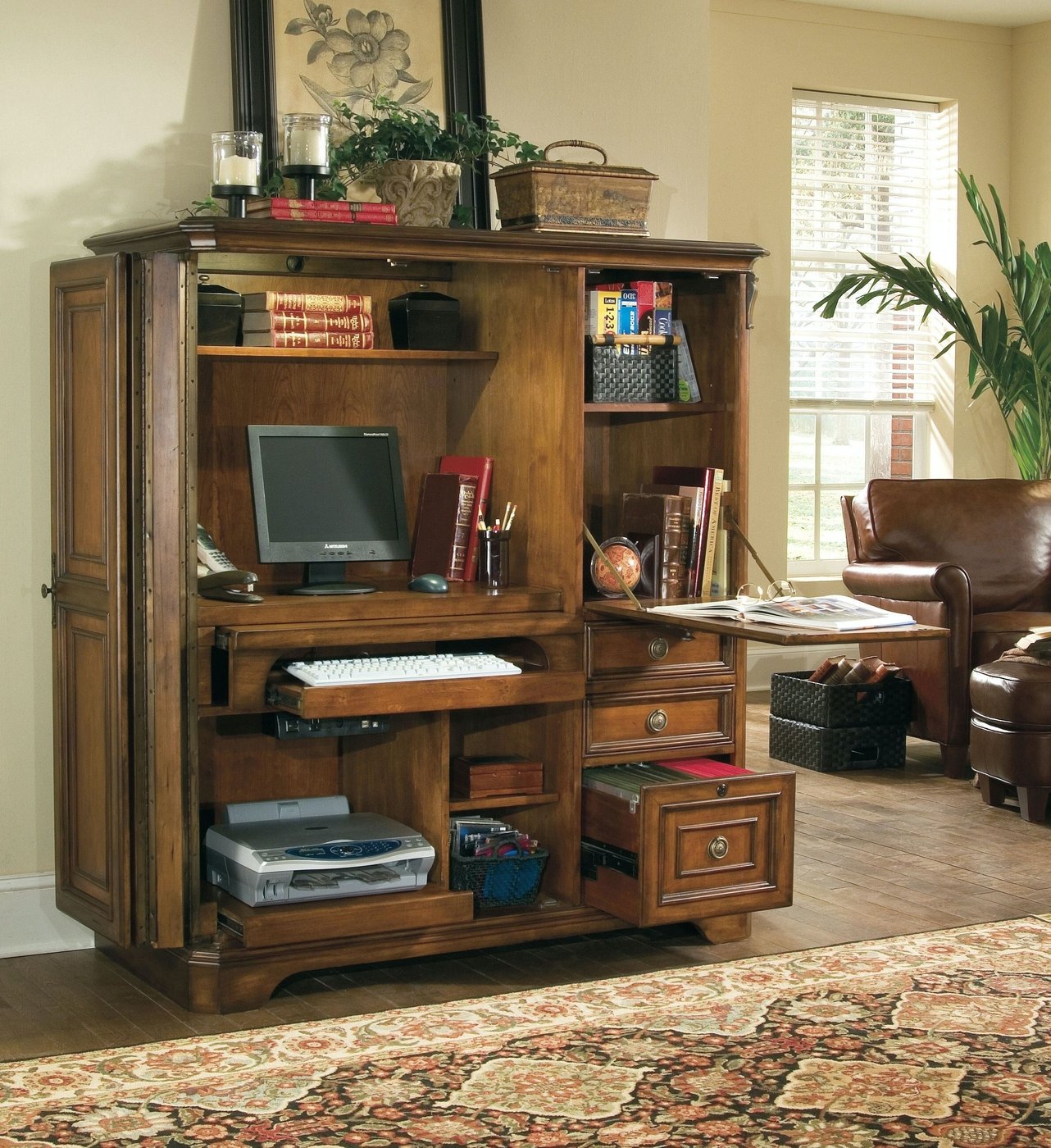 4.

What Type of Doors it Has

The type of door can impact how much space the armoire takes up. You could opt for an armoire with standard doors, which open out at either 90 or 180-degree angles. Units with these doors generally take up more space than armoires with foldable or pocket doors.

Folding and pocket doors fold out around the cabinets' sides or be pushed back into the unit to keep a compact footprint. However, if the doors fold around the sides, make sure you've left enough clearance around the armoire to prevent bumps and scratches.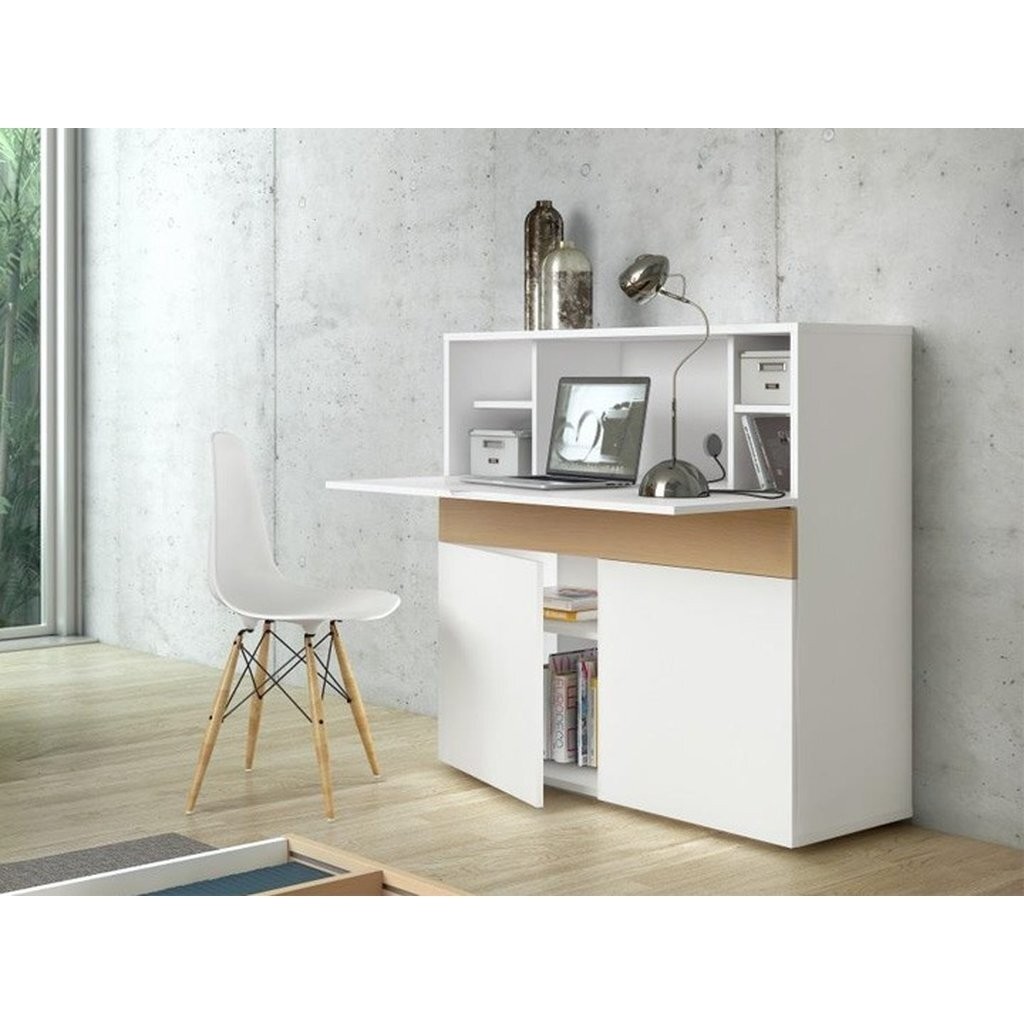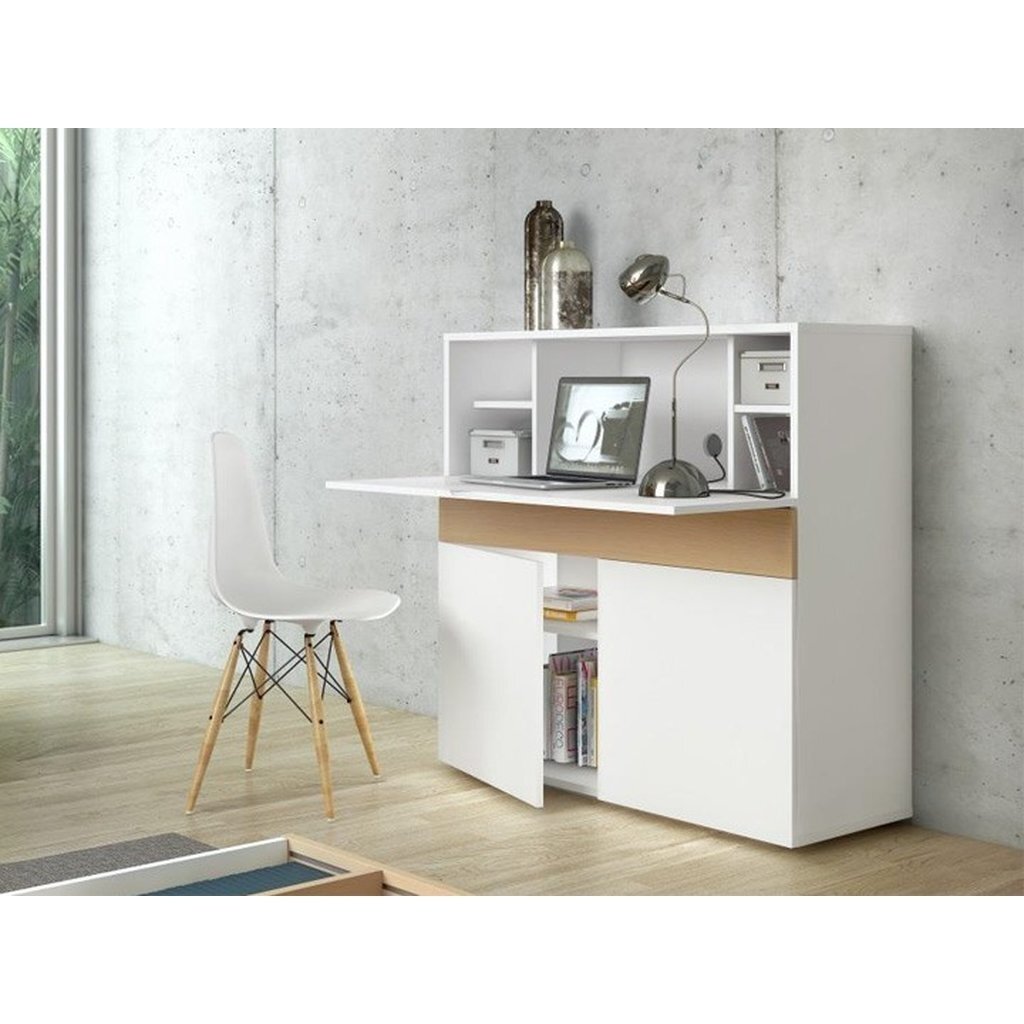 5.

What Extra Features It Includes

You should always check what special or bonus features the armoire includes before purchasing. Here are some useful features to look out for:
Fabric in the drawers so your valuables are well-protected, and your stationery doesn't mark the wood.

A finished edge that has been lacquered or varnished to complement the rest of your armoire's wood.

File drawers explicitly designed to store papers, letters, and school folders.

CD storage, for blank CDs, albums, and gaming discs.

Ventilation at the back of the cabinet keeps air circulating around the armoire and prevents your CPU tower or laptop from overheating.

A solid wooden back panel to increase the cabinet's stability.
It's worth investing in an armoire with louvers on the doors for air circulation when it comes to extra features. The adjustable slats dissipate the monitor's heat and prevent the cabinet from getting too hot. The increased circulation also helps keep your important documents and letters from discoloration or the damp.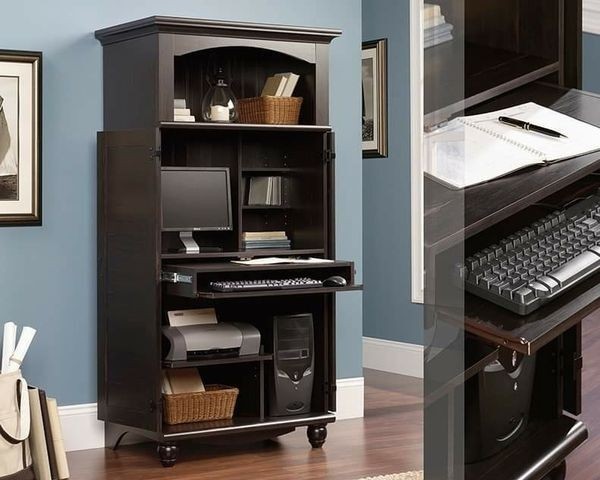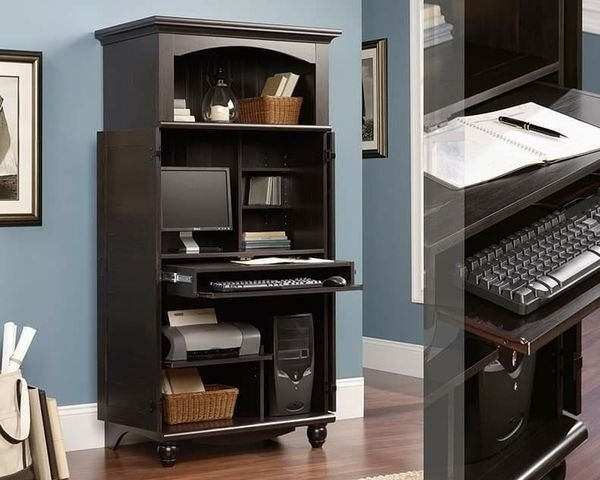 In a Nutshell
When purchasing a computer armoire, it's crucial to bear in mind several factors. These include the type and quality of wood, its size and dimensions, and bonus features.
Make sure you know exactly where you want your computer armoire to go and consider how much you'll use it. If you're planning on using your computer a lot, look for armoires with built-in ventilation and air circulation.
As long as you take the time to consider all these contributing factors, then you'll end up satisfied, whatever the type, shape, or style of computer armoire you purchase.