Cats are fascinated with the outdoors and many spend hours staring out the window in a patch of sunlight. There are some cats that live both indoors and outdoors, but unfortunately outdoor cats tend to live much shorter lives than their indoor counterparts because they face hazards such as diseases, predators, and vehicles.
If you'd like to provide outdoor stimulation for your cat while also keeping them safe and healthy, an outdoor cat enclosure is the solution you need. A great variety of outdoor cat enclosures can be found listed at Foter. Here are five outdoor enclosures your cat will adore.
1.

Best Large Outdoor Enclosure

BWM.Co Large Wood Cat House is a spacious place for your cats to enjoy the outdoors. It has areas exposed to the elements as well as some enclosed portions so your cat can choose whether they want to be directly in the sun or relax in the shade.

With four tiers, this enclosure is perfect for multiple cats. It can house them all at once, providing each feline with its own space. It can also be used to separate cats who might be having behavioral issues, providing a decompression space outside.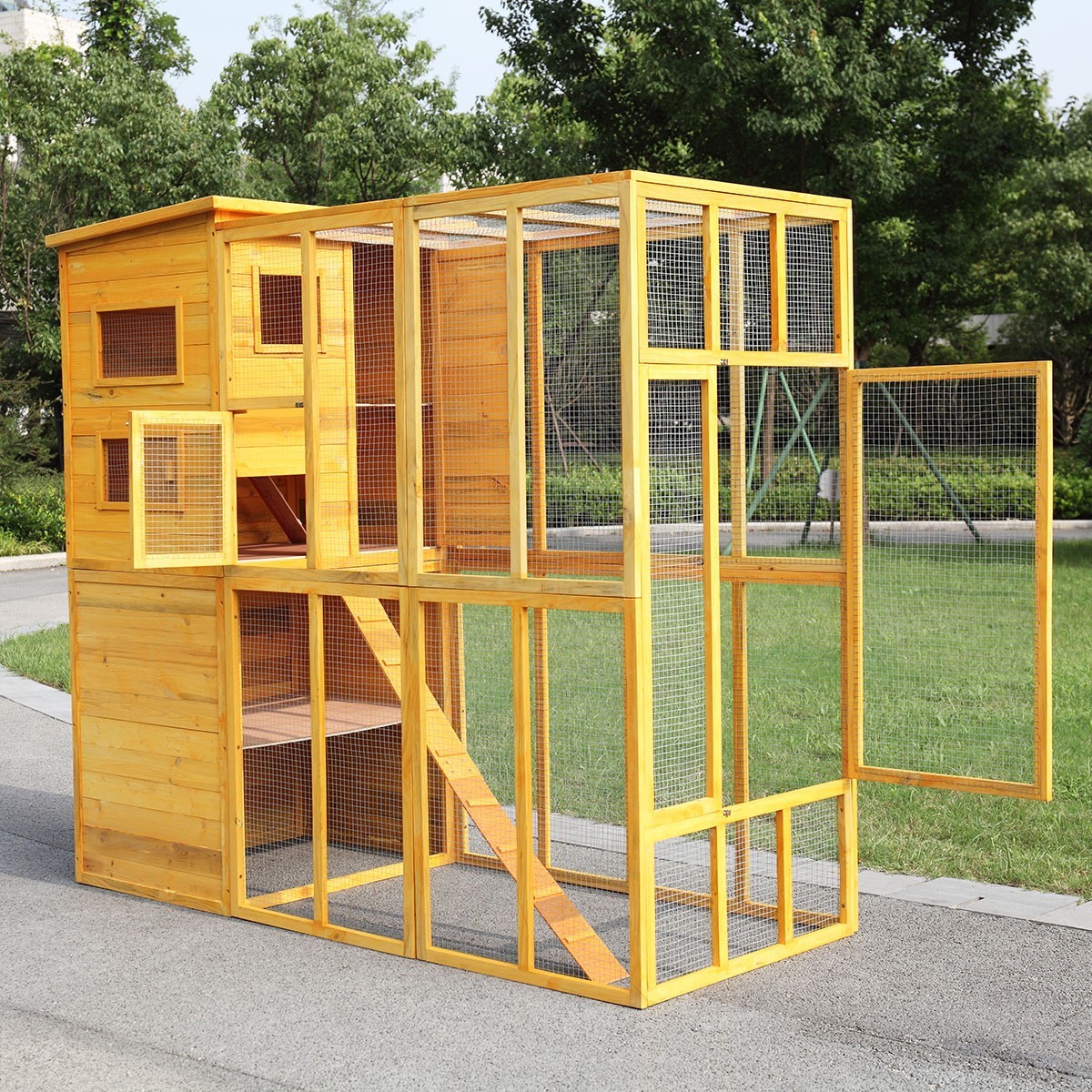 2.

Best Portable Outdoor Enclosure

Catio Outdoor Pet Enclosure Playpen is not quite as spacious as a stand-alone, wooden cat enclosure, but it is portable and easy to set up. Constructed out of high-strength PVC mesh and flexible poles, this cat enclosure lets you bring your cat with you on camping adventures, picnics, and keeps them safe in your backyard.

This is a comfortable, sturdy playpen that will provide your feline companion with a space to experience the outdoors. With mesh sides and flooring made for comfort, this is the perfect area for your cat to relax and enjoy the sights and sounds of nature.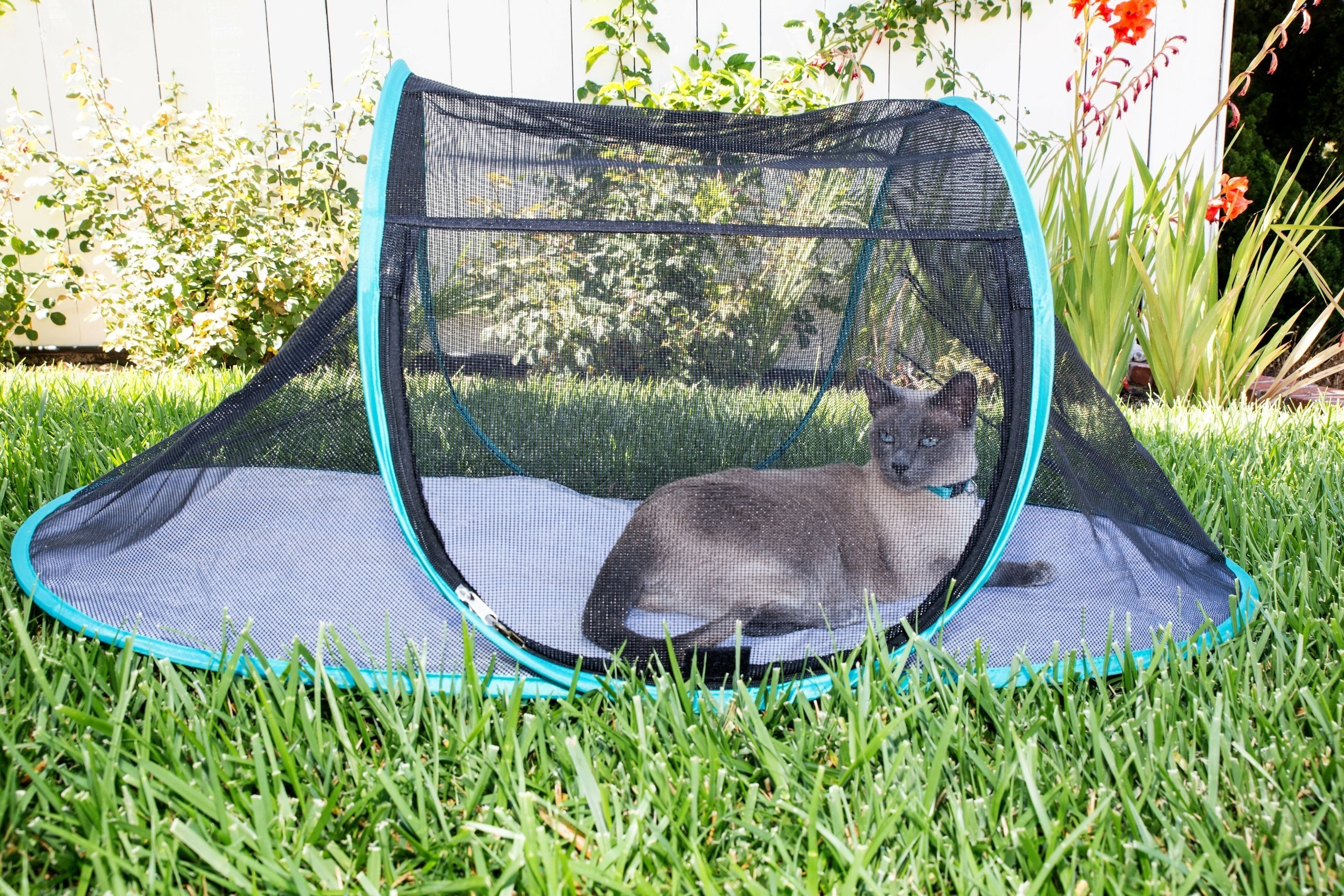 3.

Best Enriching Outdoor Enclosure

The Penthouse™ Outdoor Pet Playpen from Kittywalk Systems lets your cat choose their view with its multi-tiered design.

Hammocks hang from three different levels in this tall enclosure, so your cat can hone their natural jumping and climbing abilities. Its tall, slender profile and minimal footprint make it ideal for small apartment balconies and condos.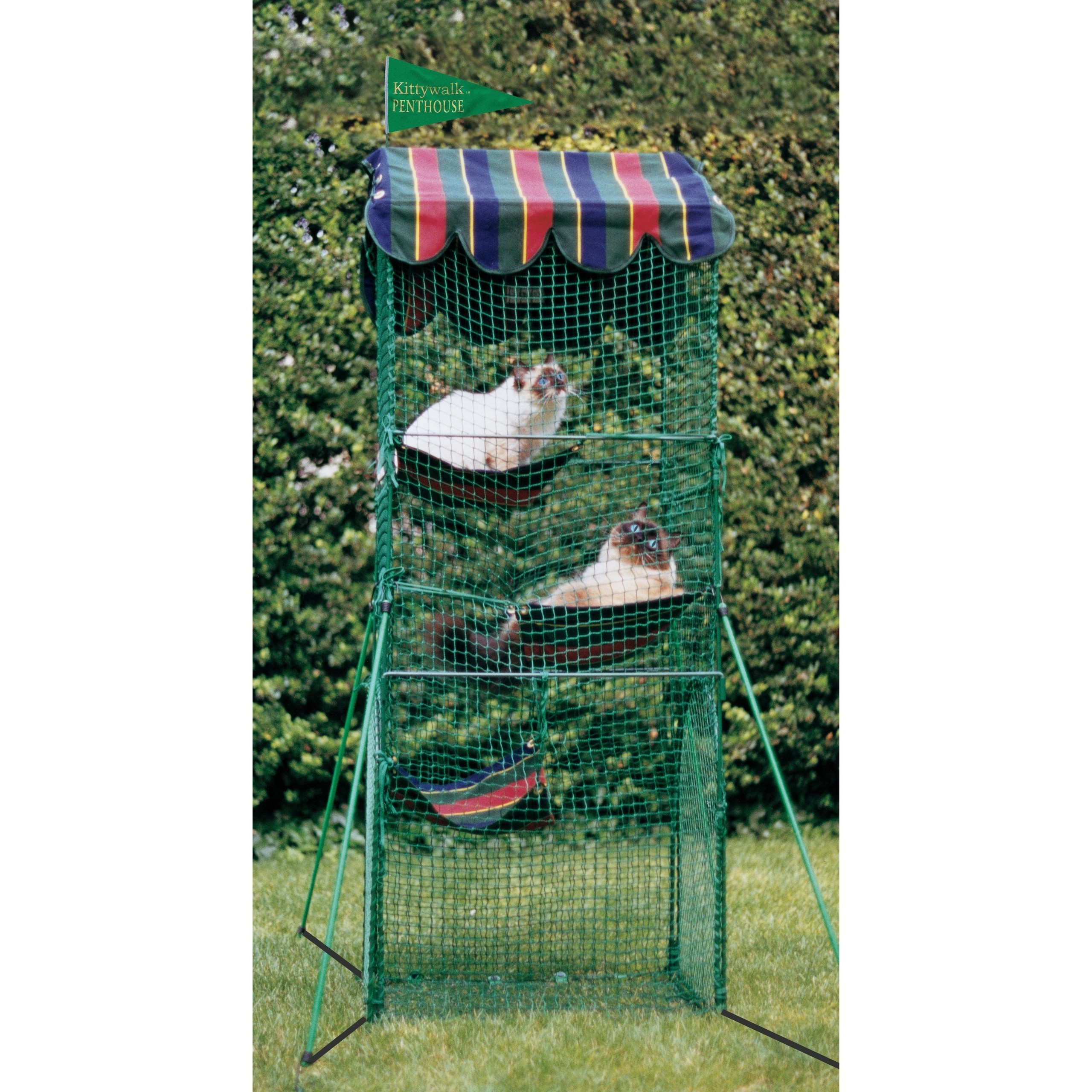 4.

Most Versatile Outdoor Enclosure

The Outback Jack Outdoor Cat Enclosure has a playpen-style structure with mesh walls and a tent-like shape. It also comes with tunnels that you can add to the main area, giving your cat new places to explore.

The 5' tunnel, which firmly attaches to the enclosure's main body, is also made of mesh, providing sensory enrichment. The tube adds an extra dimension and, depending on how you configure it in your outdoor space, you can let your feline companion move from the indoors to outside as they please.

This outdoor cat enclosure is also very easy to set up, and it is machine washable.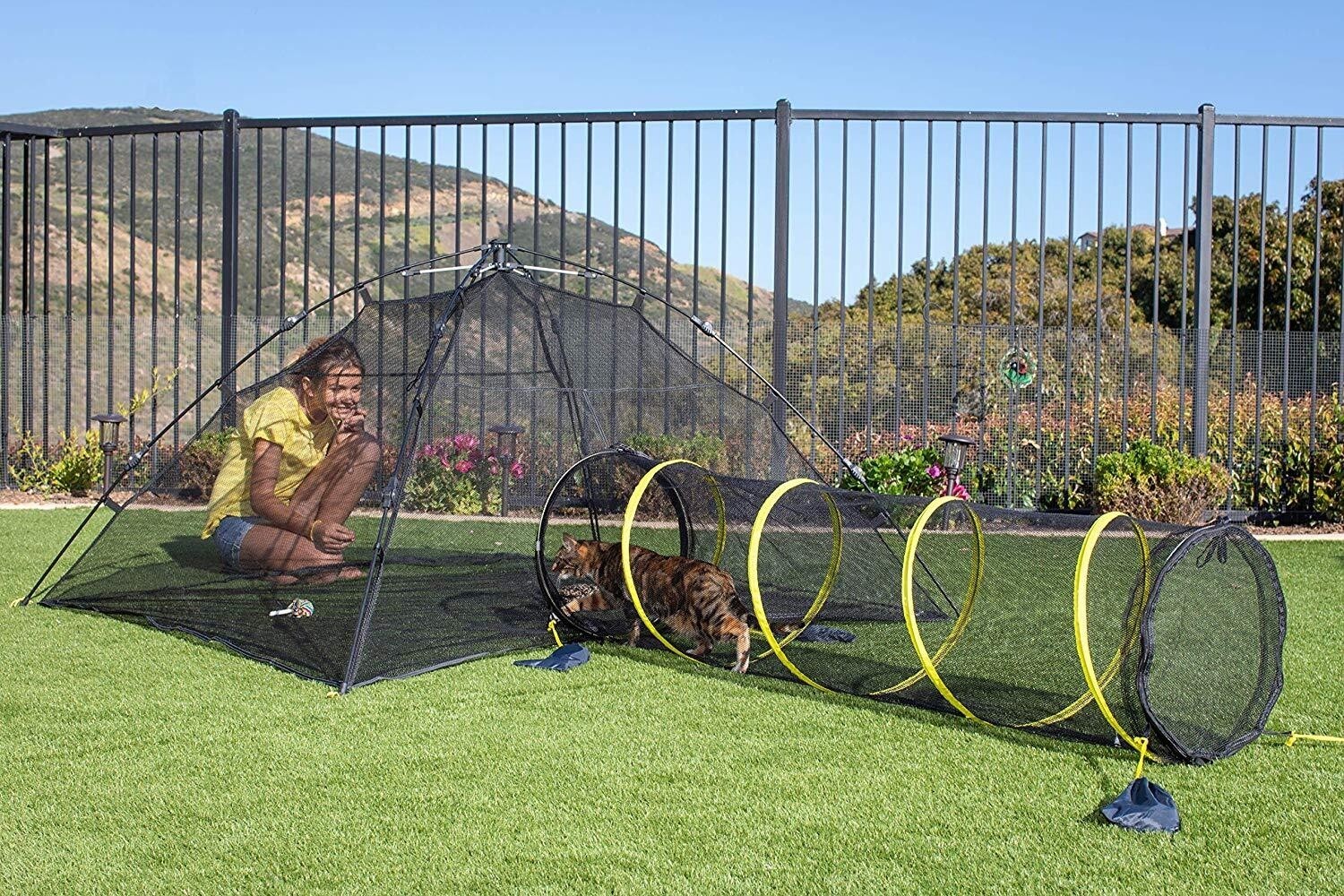 5.

The Fanciest Enclosure

This outdoor cat enclosure outshines all the others. The Kittywalk Grand Prix provides vertical height as well as tunnel space for your furry companion to roam.

Your cat will never feel claustrophobic in this enclosure as it has multiple places to lounge and experience the great outdoors.

With a central space reaching 5' tall and a tunnel running around the base, your cat can pick and choose its location in this outdoor cat enclosure. It is also compatible with other styles in the Kittywalk collection so you can create a glamorous outdoor adventure park for your cat.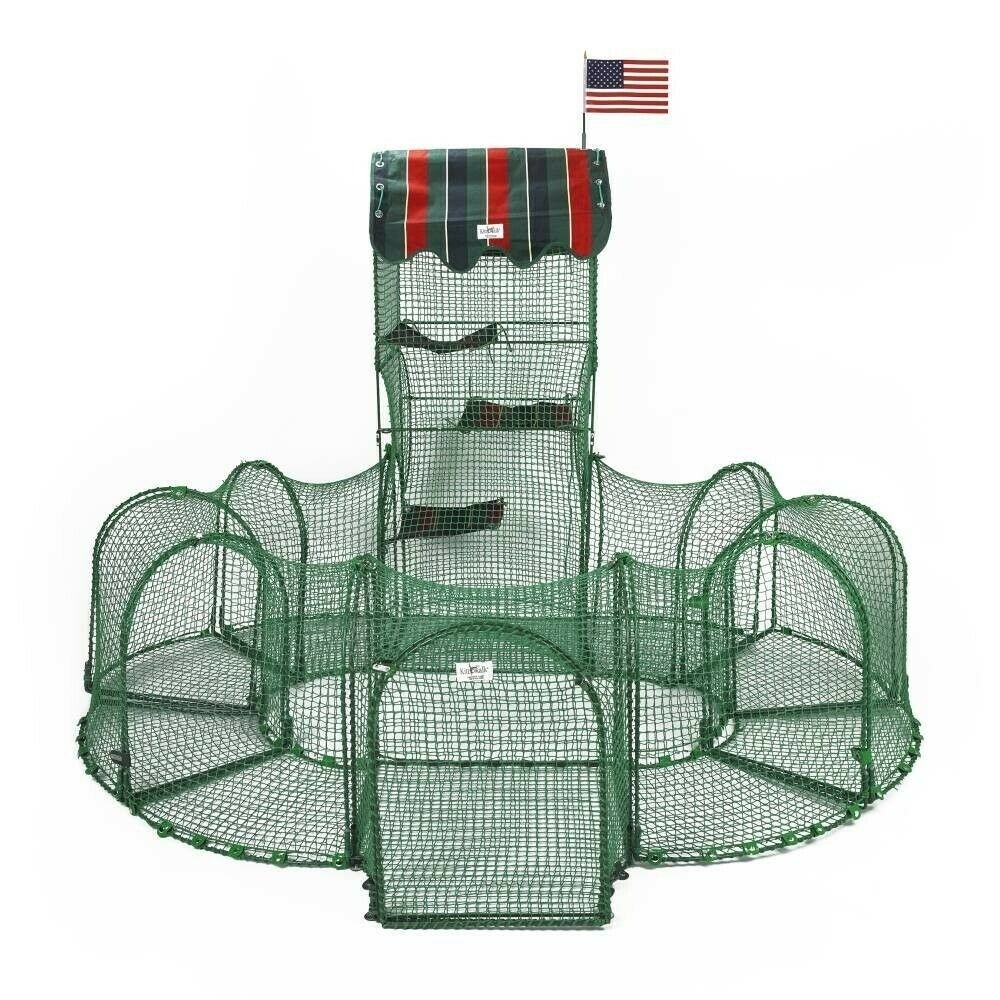 If you have a feline companion, you want to keep them safe and healthy while still providing the opportunity for exercise and stimulation. Outdoor cat enclosures offer a safe space where your feline can explore the sights and sounds of nature without any of the risks.
Depending on your needs, your cat's personality, and the number of cats currently living with you, you can opt for a smaller, more portable tent or playpen-like enclosure, or you can try a more permanent one made of wood, metal, and mesh. Tunnels, height, and hammocks are all add-ons that your cat will enjoy in their outdoor enclosure.
If you'd like to keep your cat safe while at the same time letting them fulfill their feline instincts, an outdoor cat enclosure is ideal.