When you think of classic Christmas family experiences, what do you see in your mind's-eye? Do you see mountains of presents under a gorgeously-decorated tree? Do you see platters of milk and cookies left out for Santa? Do you see you and your loved ones gathering in blankets and chicly coordinating festive pyjamas to celebrate Christmas morning together?
We can help you create that cozy environment, all in the comfort of your own home. In this helpful piece, we'll debut the comfiest, most beautiful, and most fun-to-wear sets of mating family Christmas pyjamas! We've carefully curated each set so that everyone will love to wear them. The memories you'll make and the incredible pictures you'll get will be well worth it, we promise!
Matching Plaid Bear Family Pyjamas
Whether your family loves the great outdoors or you're simply a fan of a gigantic bear hug with those you love best, this set of matching pyjamas is cute, soft, and coordinating. The fact that they match, but still allow each family member to have their own specific look will make sure that everyone's excited to join in on the fun.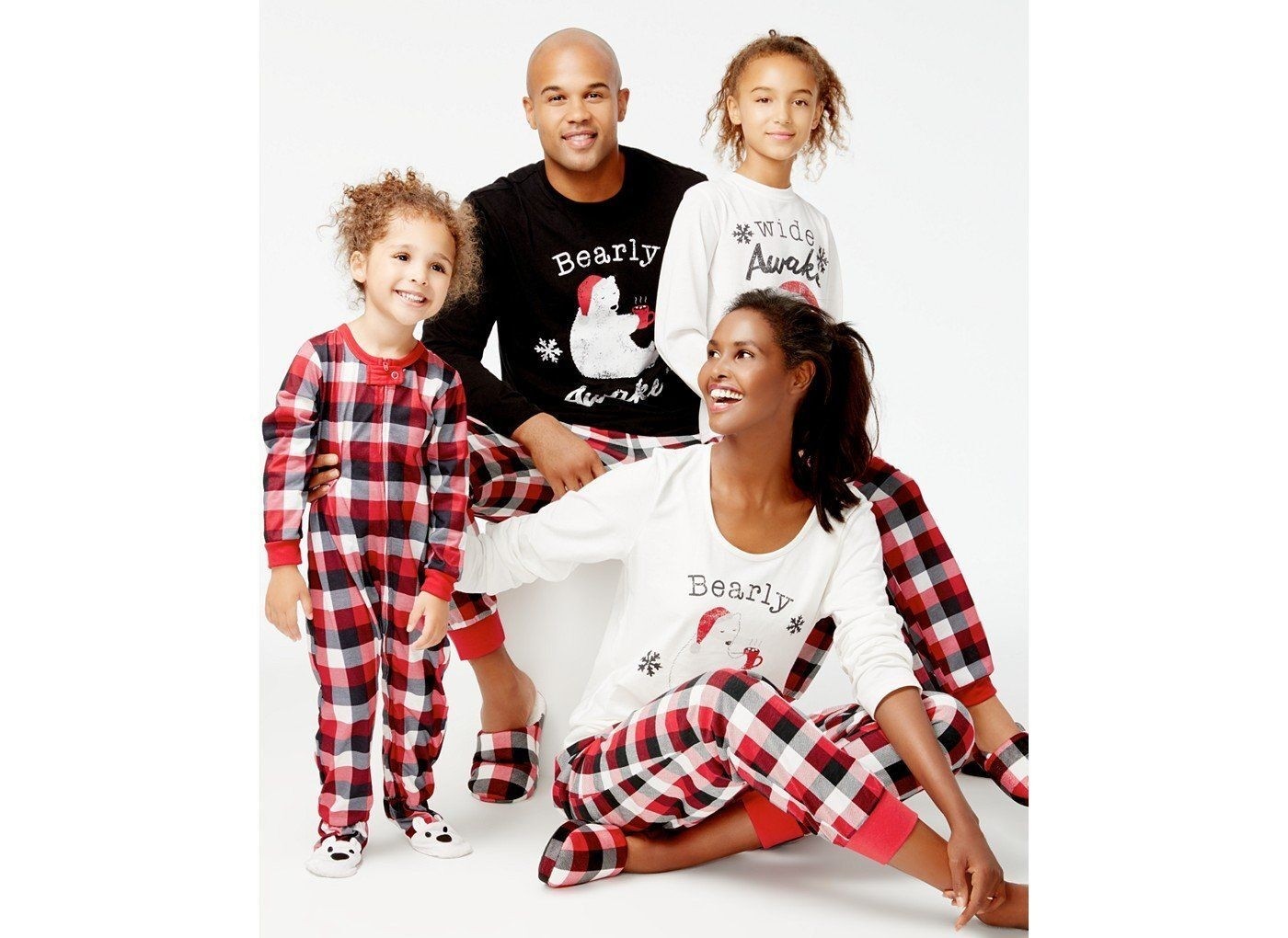 Reindeer Family Pyjamas
If you're all-in on more of a cohesive look, but still want separates for easy wear, check out this sophisticated reindeer set. The colors of the navy tops and checkered red bottoms set each other off very well, and the regal reindeer silhouette looks good on larger shirts and littler ones alike.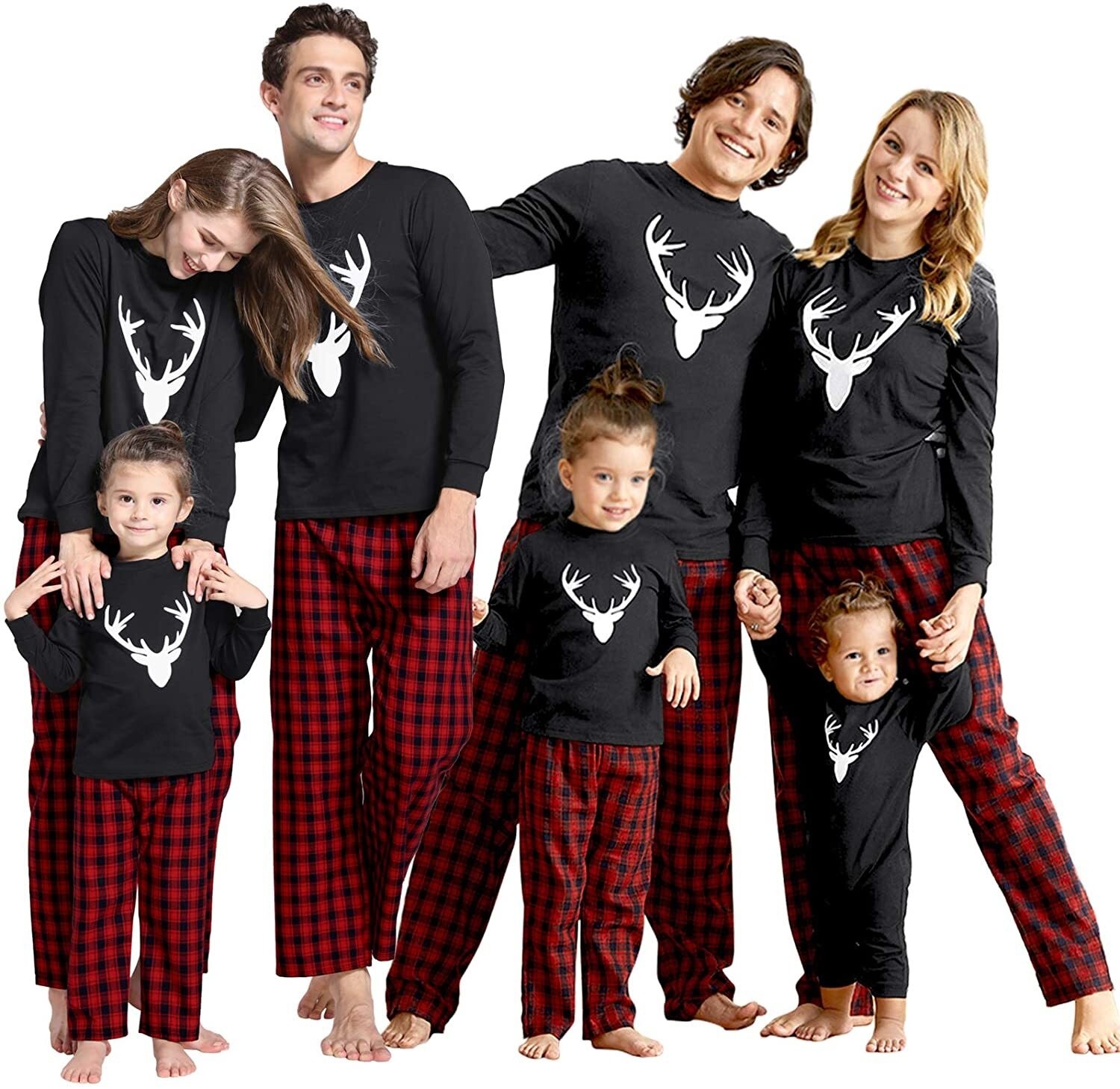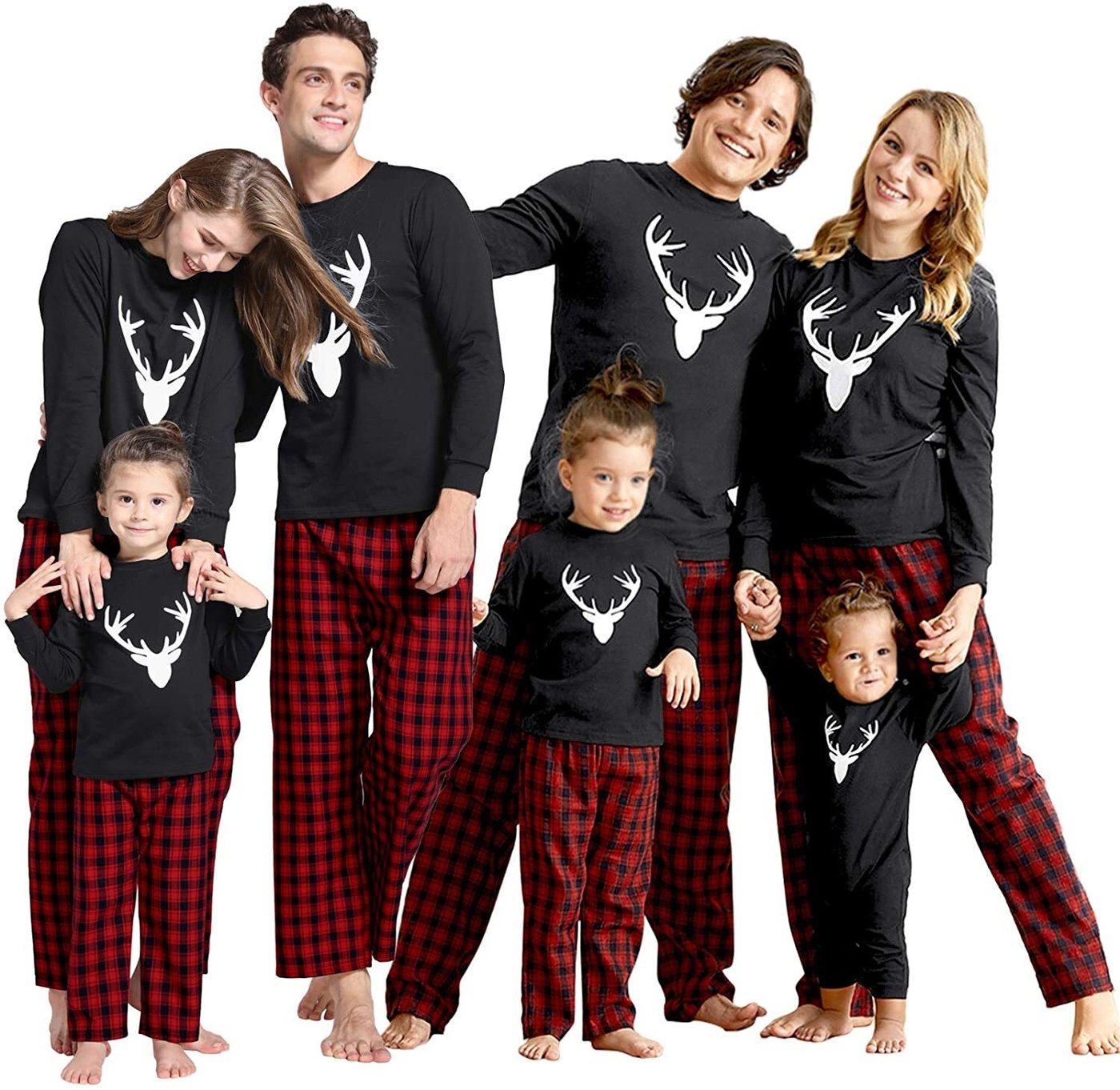 Classic Sleep Shirt Pyjamas
Want a more classy, traditional take on matching family pyjamas? These navy sets with subtly muted prints, piped lapels, and nicely-sewn cuffs are high-quality, and have the timelessness you'll appreciate when looking back on these pictures in the future. As an added bonus, these separates will look just as good on adults as they will on toddlers (and even pets!).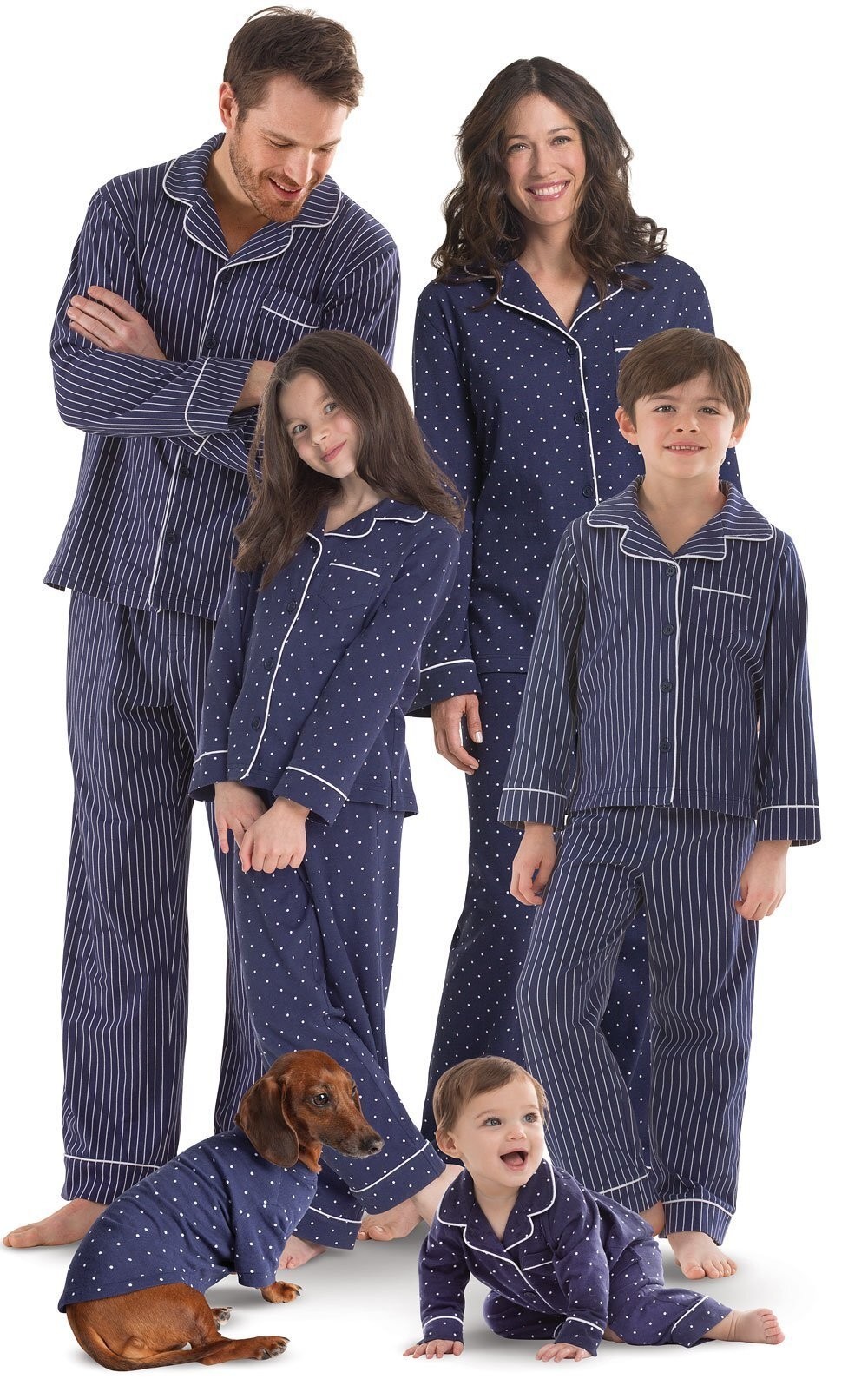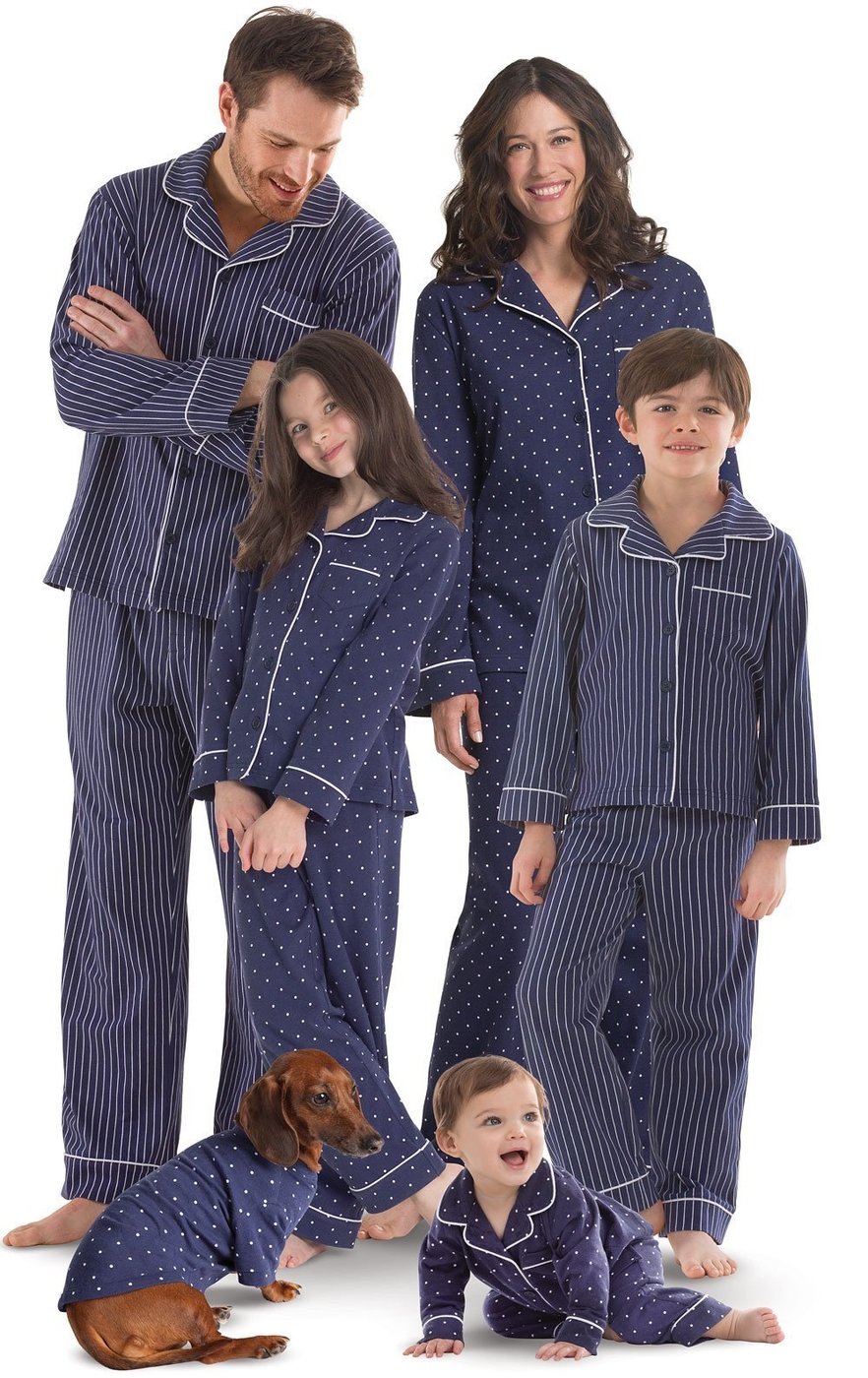 Black and White Tail Gate Pyjamas
Looking for something a touch more whimsical? These black, white, and red matching family pyjamas with hilarious drop seats will make for an adorable Christmas morning. The snuggly red cuffs will ensure that you and your loved ones are warm, no matter how cold it is outside.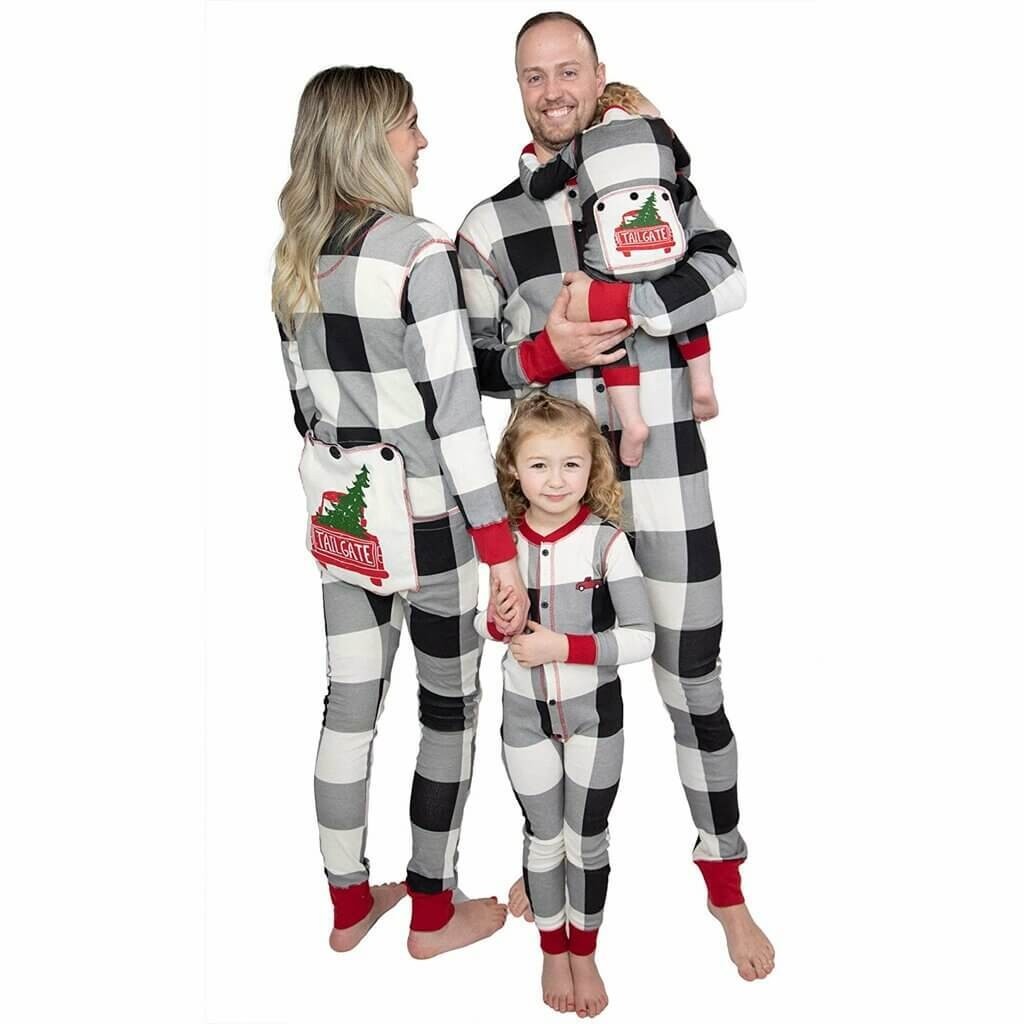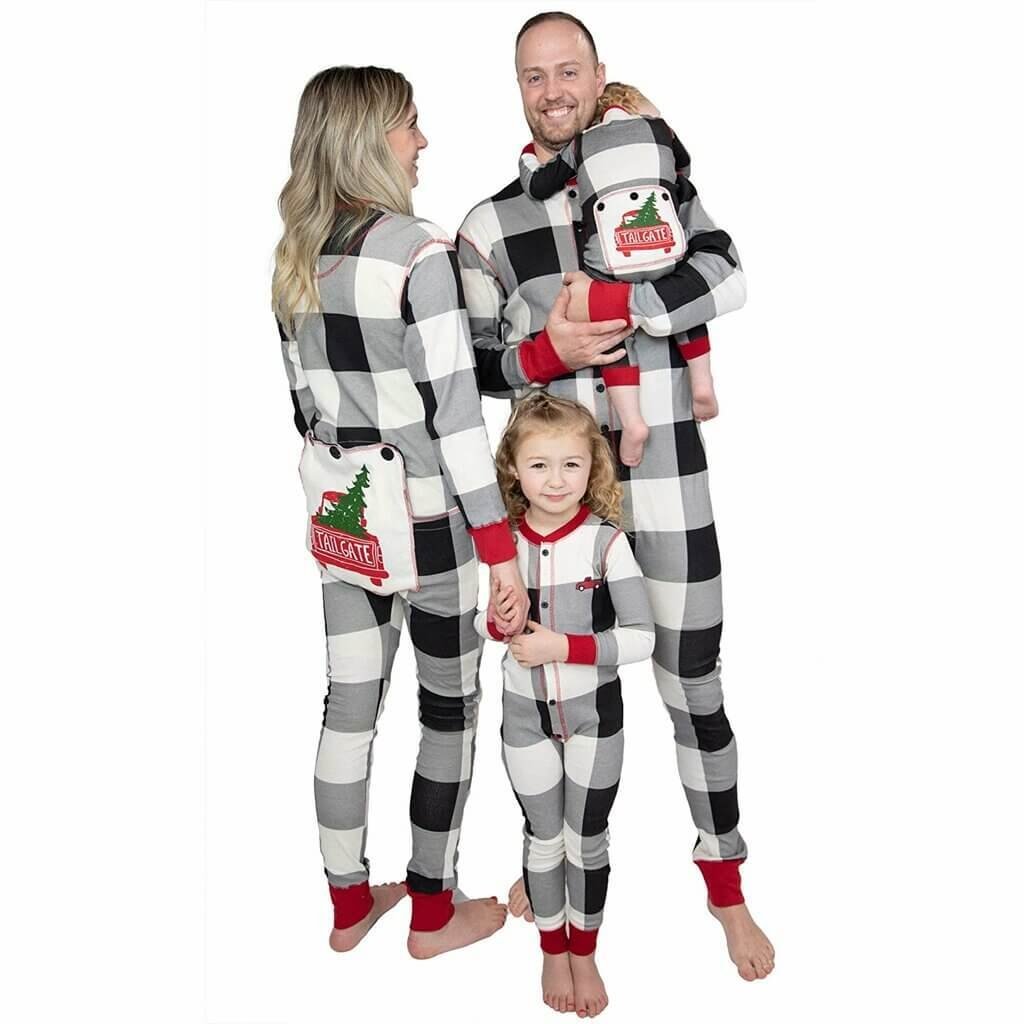 Blue Plaid Matching Pyjamas
Want everyone in your family to match, but need to make sure that everyone can be comfortable in just the way they choose? With this ingenious set of coordinating pyjamas, everyone in your family can choose whether they want separates, sleep shirts, nightgowns, or more - but everyone will look fantastic. Plus, the fabric is soft and stretchy - precisely what you want for family pyjamas on Christmas morning.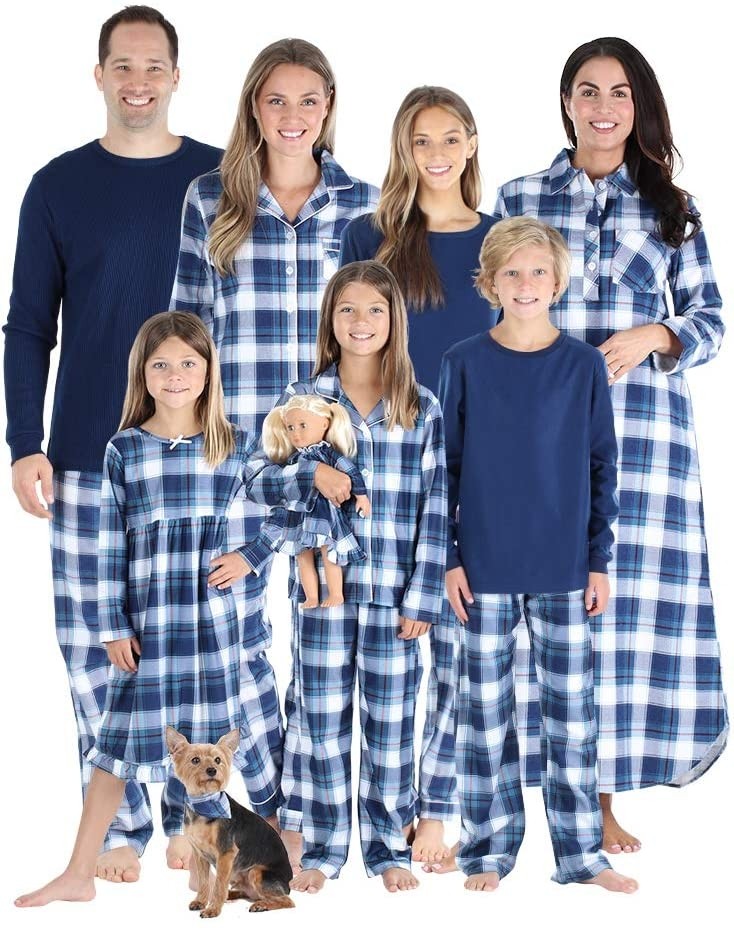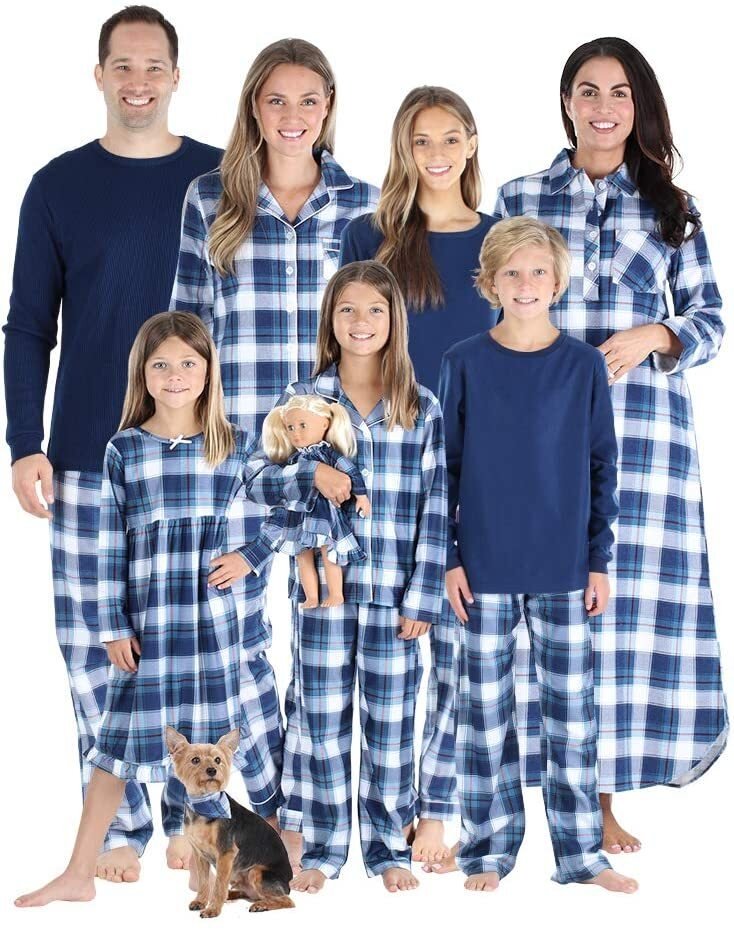 Big Bear, Little Bear Matching Pyjamas
With these gorgeous separates, everyone will know exactly where they sit in the family lineup! Each shirt features four bears, with one bear colored in respective of the rank of the person who wears it. It's such a fun, clever way to coordinate family pictures without adding more words into the image! The soft red plaid and baseball sleeves that come with these pyjamas just add to their cozy allure.
Bearly Awake Matching Pyjamas
Are your children the type to wake up far before dawn on Christmas morning, excited to open their presents and spend time enjoying holiday festivities as a family? If your household is one in which the parents would just as easily enjoy some shut-eye, you'll love these coordinating family pyjamas that express the amusing difference that age makes when it comes to waking up early.
Fleeced Onesie Matching Pyjamas
Perhaps you're looking for something a little more snugly and soft. In that case, turn to this set of matching family footed onesies that are lined with impossibly cozy fleece. These pyjamas might feel a little goofy, but it's impossible not to relax when you're wearing them! Your entire family will feel special all day when you're wearing these pyjamas.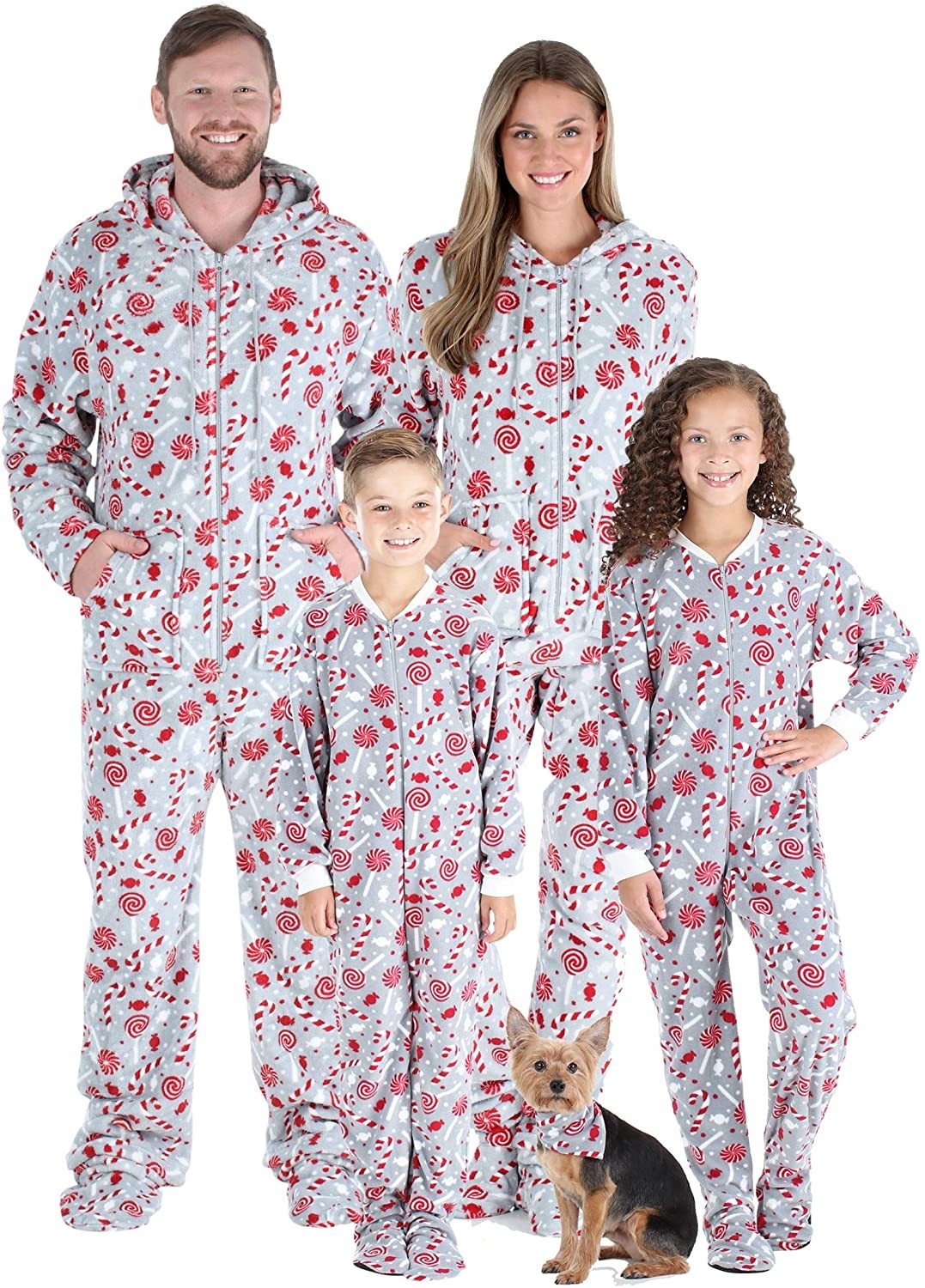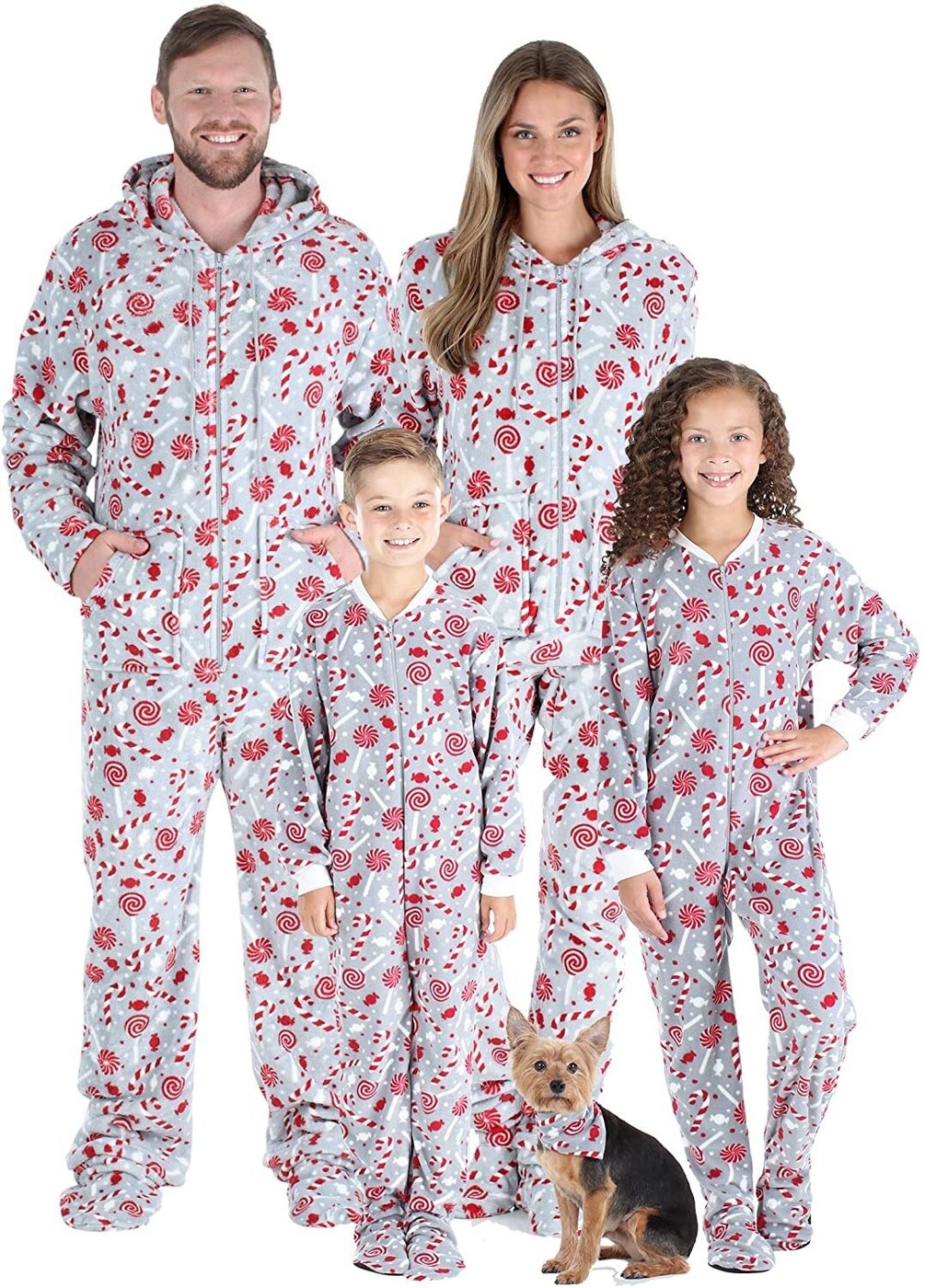 Coordinating Christmas Family Pyjamas Set
Want the look of matching family pyjamas, but don't actually all want to be wearing the same thing? Turn to a coordinating set, instead - one in which everyone's wearing colors and patterns that organically go with each other. That way, everyone in your family will feel that they still are able to have their own look, while still maintaining that photogenic sense of fun that comes with matching pyjamas.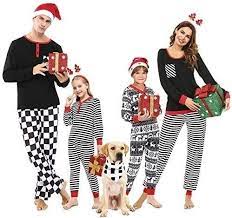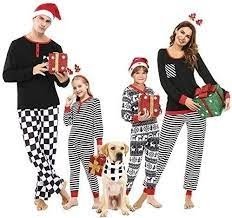 Candy Cane Christmas Family Pyjamas Set
It's simple, it's timeless, and it won't go out of style: This super-soft set of family matching pyjamas that features red and white stripes, just like a classic candy cane, will always look good - in photos, and year after year. Plus, the fabric with this set is particularly soft and strong. They'll feel so nice on your skin, no matter the season!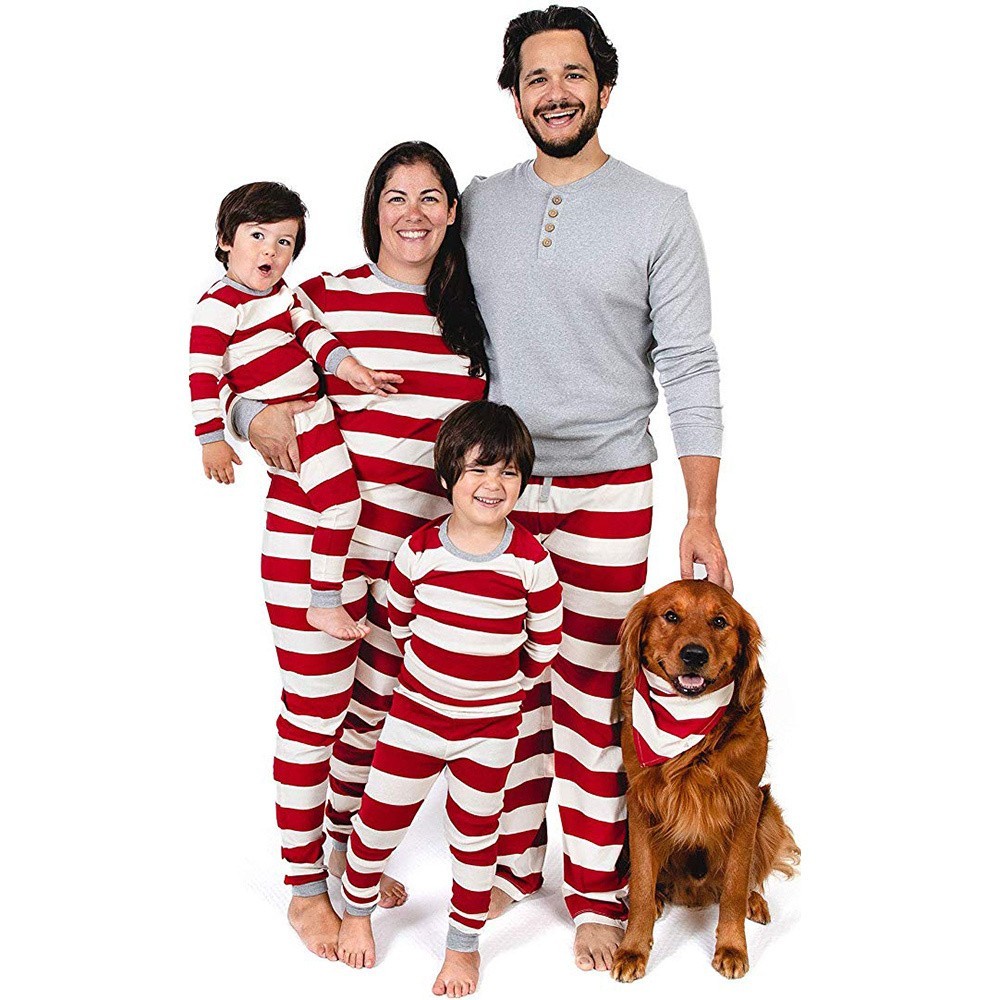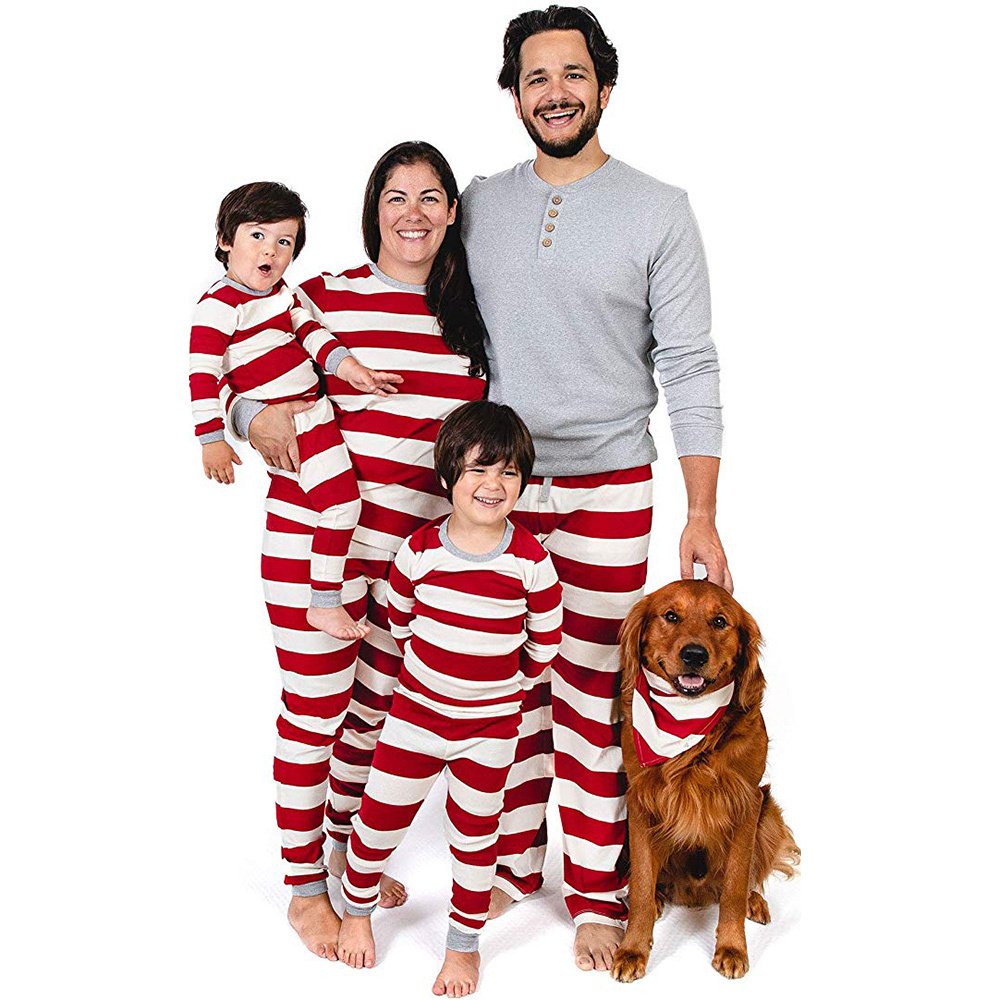 Green and White Striped Christmas Family Pyjamas
Perhaps you want to concentrate less on red and white, and more on green and white to go with your decor, your family's color preferences, or any other reason! In this case, select these green and white striped pyjamas for your family. They have the same thermal feel that will make your family warm and cozy, and they'll never go out of style.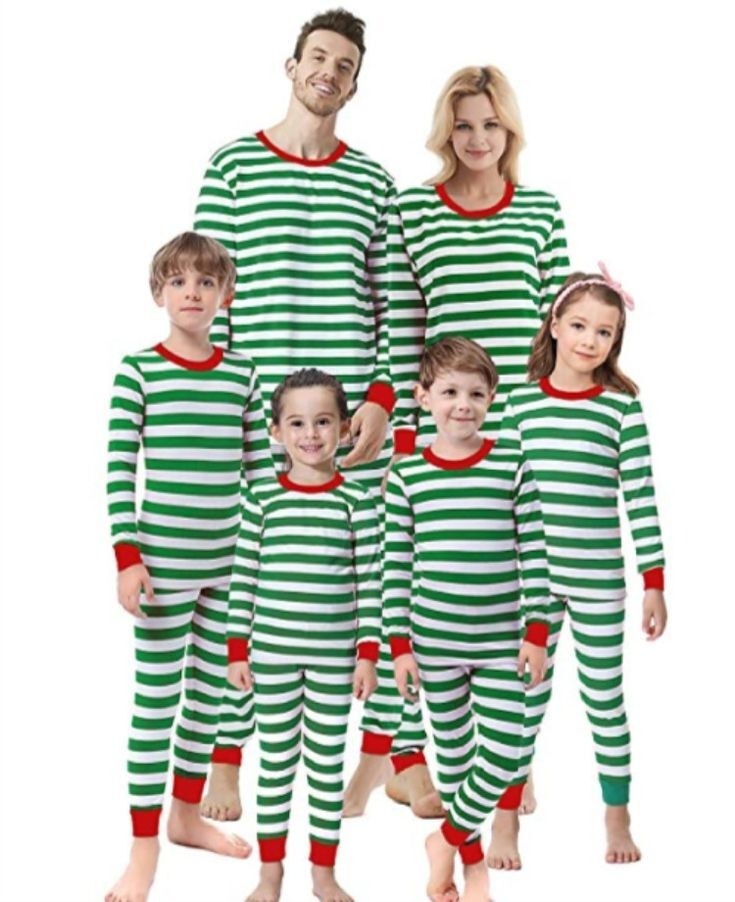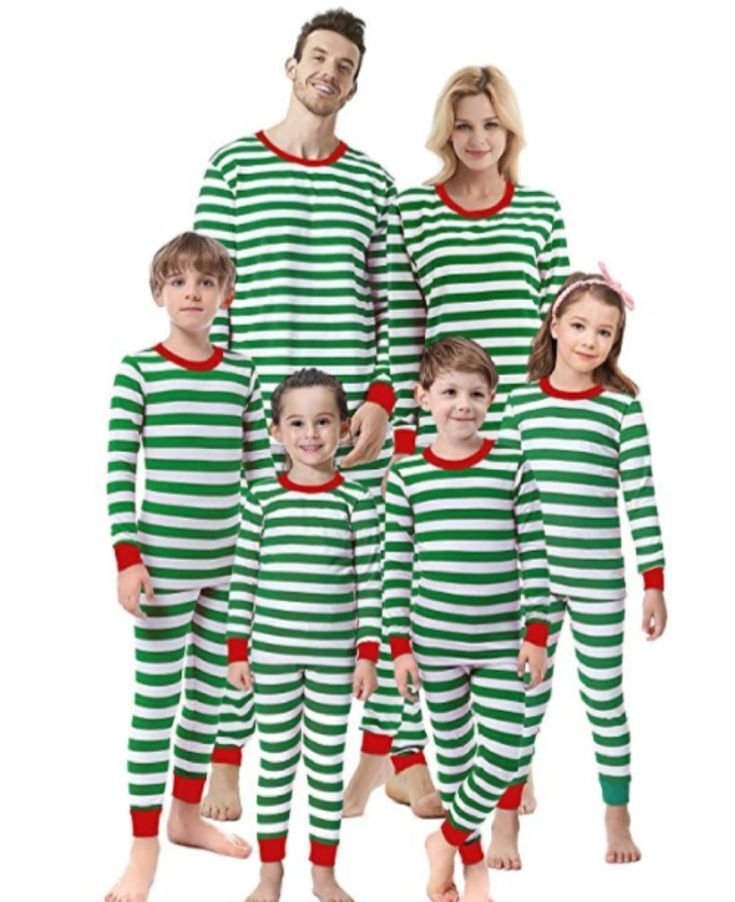 Classic Grinch Christmas Family Pyjamas
If you're looking for a gift that expresses your general reluctance to celebrate the reason of the season, look no further! This classic Dr. Seuss poem will resonate with every member of your family, from the tallest of the tall to the smallest of the small. Slip on these family pyjamas and you'll be guaranteed a magical celebration, one and all!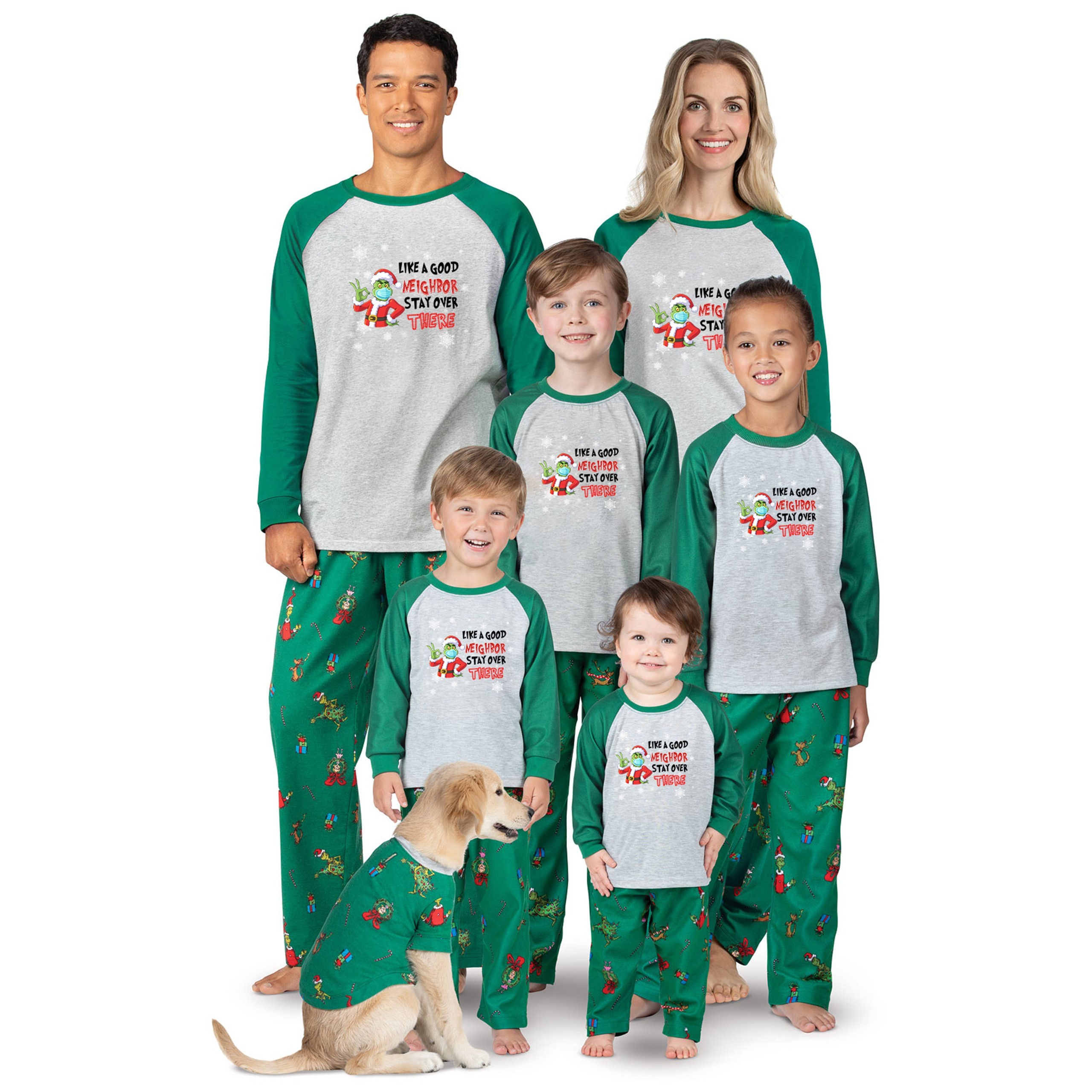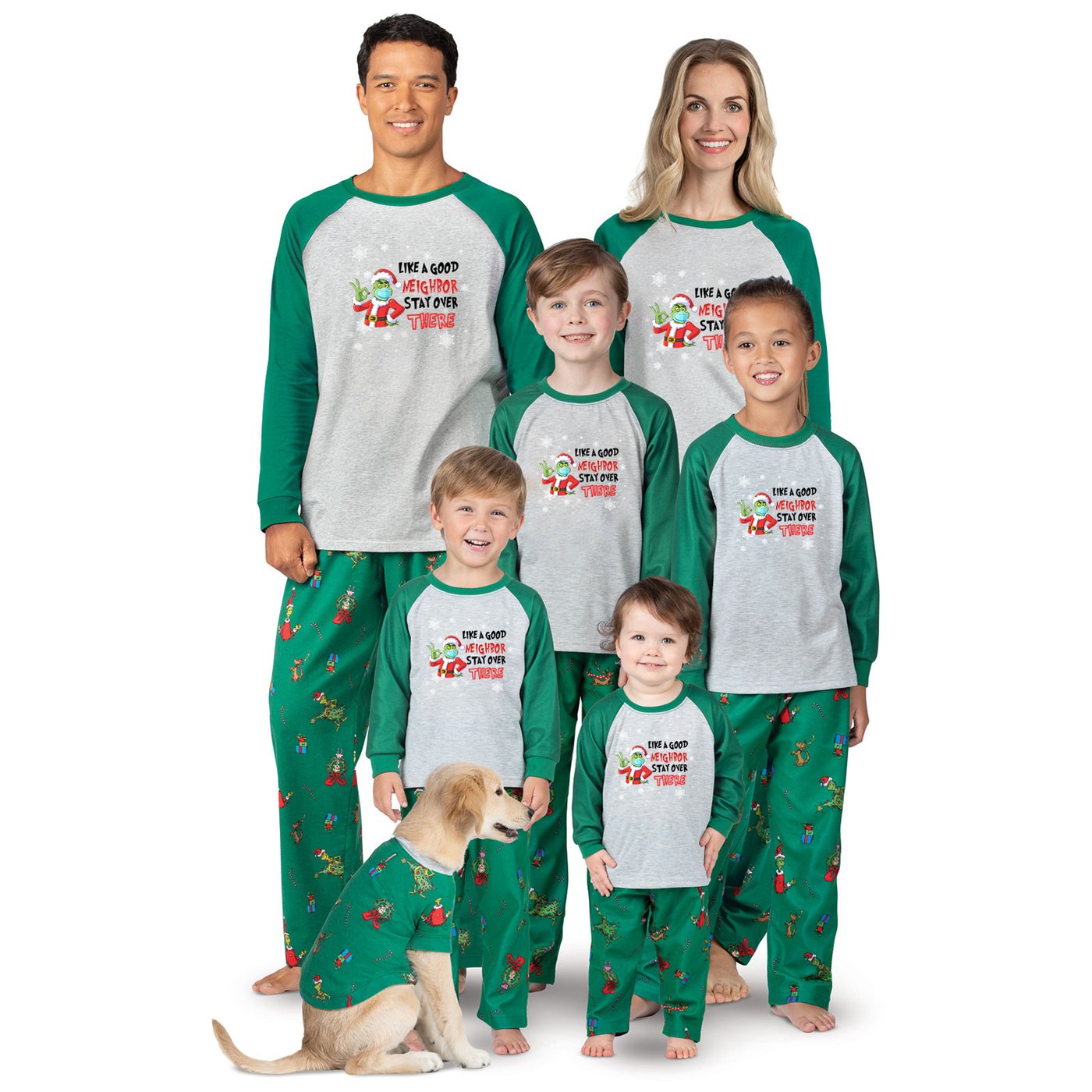 Burt's Bees Family Jammies
If the regal reindeer theme isn't so much your family's vibe, but you want to have a reindeer-themed family look, this funny, cute take on a reindeer pattern will be perfect for you. With your choice of cozy separates, this adorable yet simplistic reindeer print will look good on adults and toddlers alike - and can be mixed and matched with other tees for a modern matching look!
PopReal Family Pyjamas
Are you into that modern-day-Scandinavian look? If so, you've got to check out this gorgeous set of patterned, printed reindeer pyjamas. Their bright red color will make them instantly recognizable for the season, and the soft material is perfect for all skin types - even sensitive ones. Your whole family will love this set of matching family pyjamas.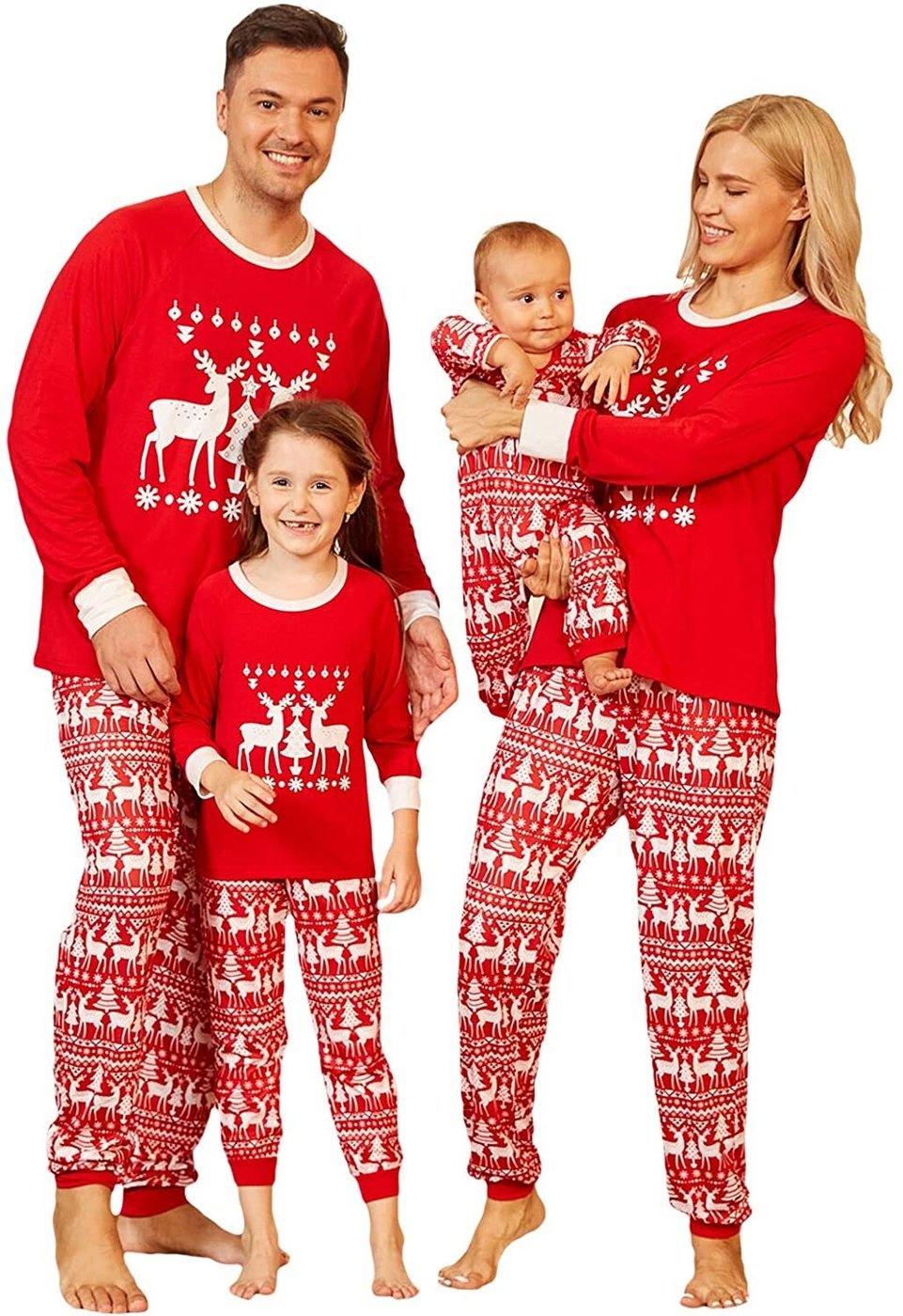 Family Christmas Matching PJs
Many sets of family matching Christmas pyjamas have abstract, pixellated designs that can be hard to recognize as reindeers, Santas, snowflakes, or any of the other Christmassy pictures they're supposed to represent. With this fun set, the screen-printed, hilarious animated figures will be easy for you and your children to recognize easily. The cream graphic tops are paired with classic plaid bottoms for a look that'll work for the whole family!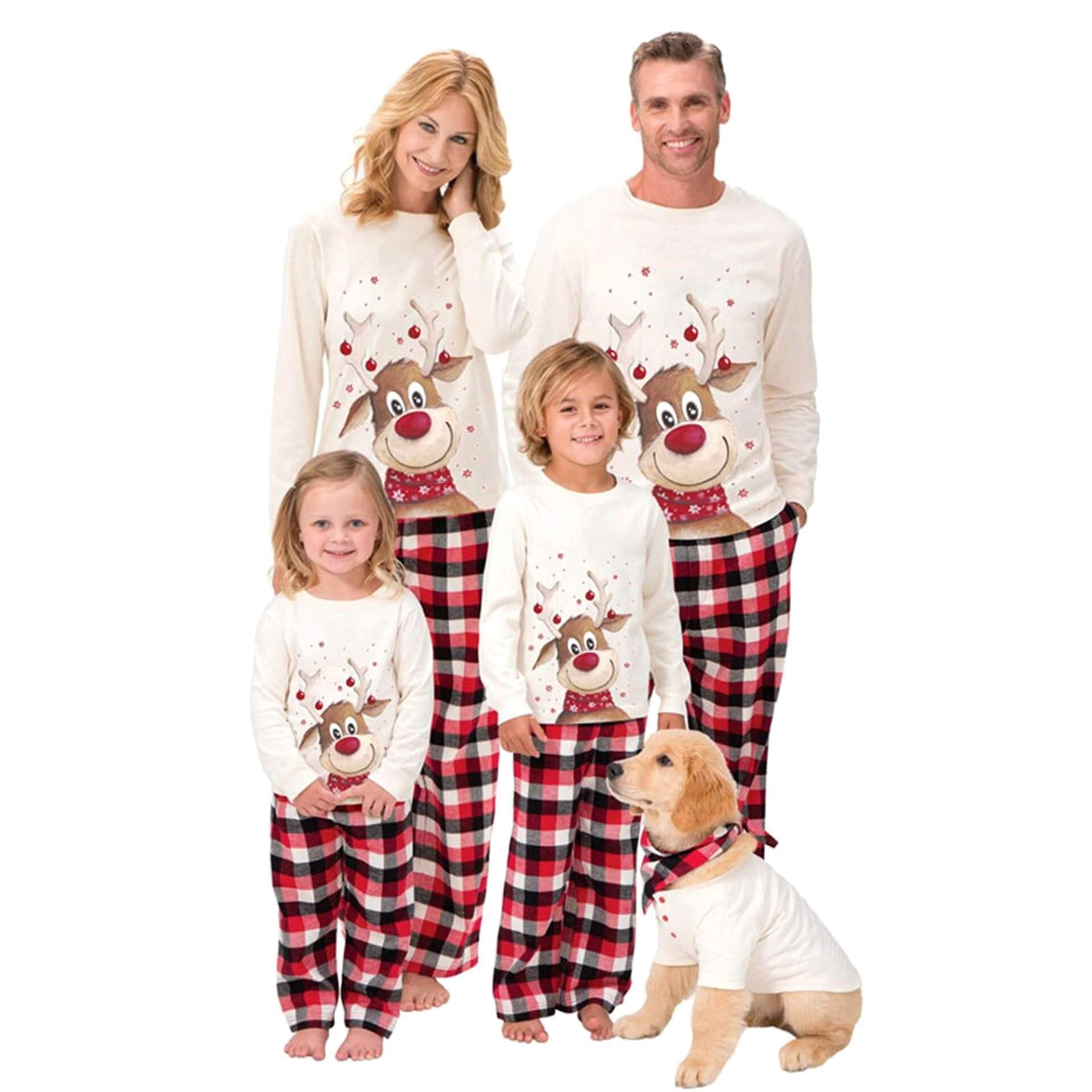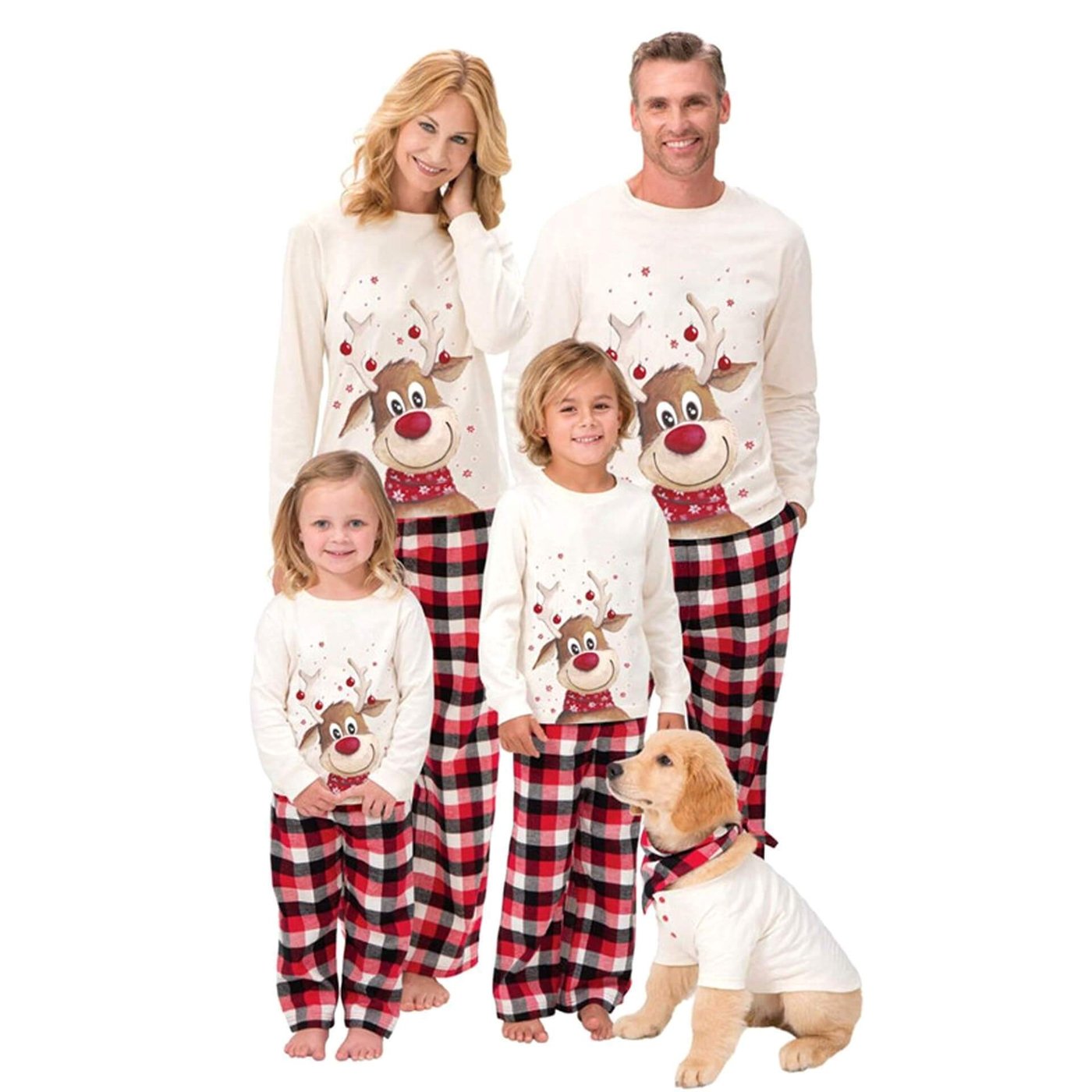 Matching Family Christmas Pyjamas Tree Jammies
There are some sets of holiday pyjamas sets that are subtle enough that you can use them the rest of the year without it being very clear that they're holiday-themed. These are not those pyjamas! With a torso-sized Christmas tree on each member of your family, however, you'll find it impossible not to feel the joy of the season. (This set also comes with a bandana so your pet can match, as well!)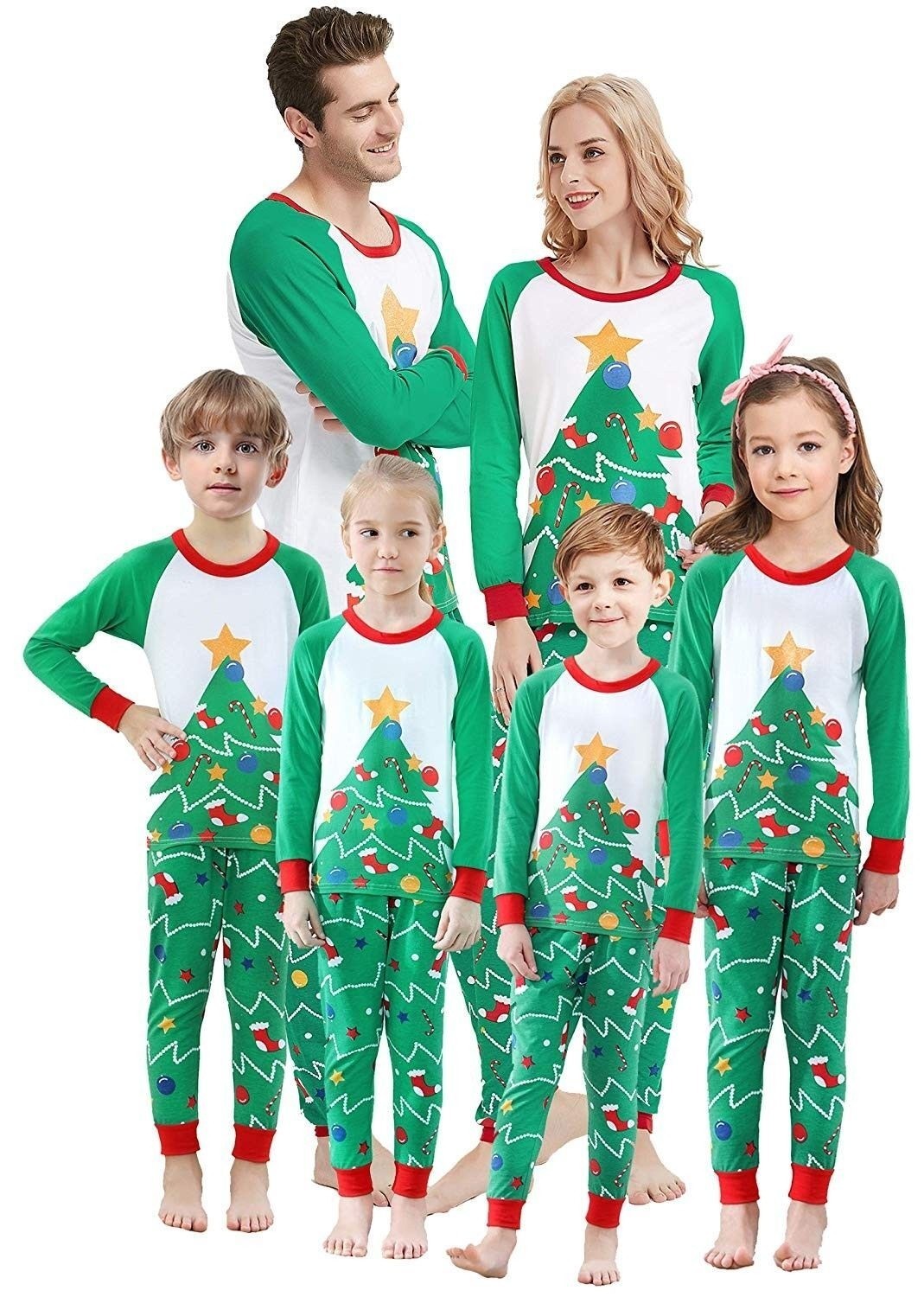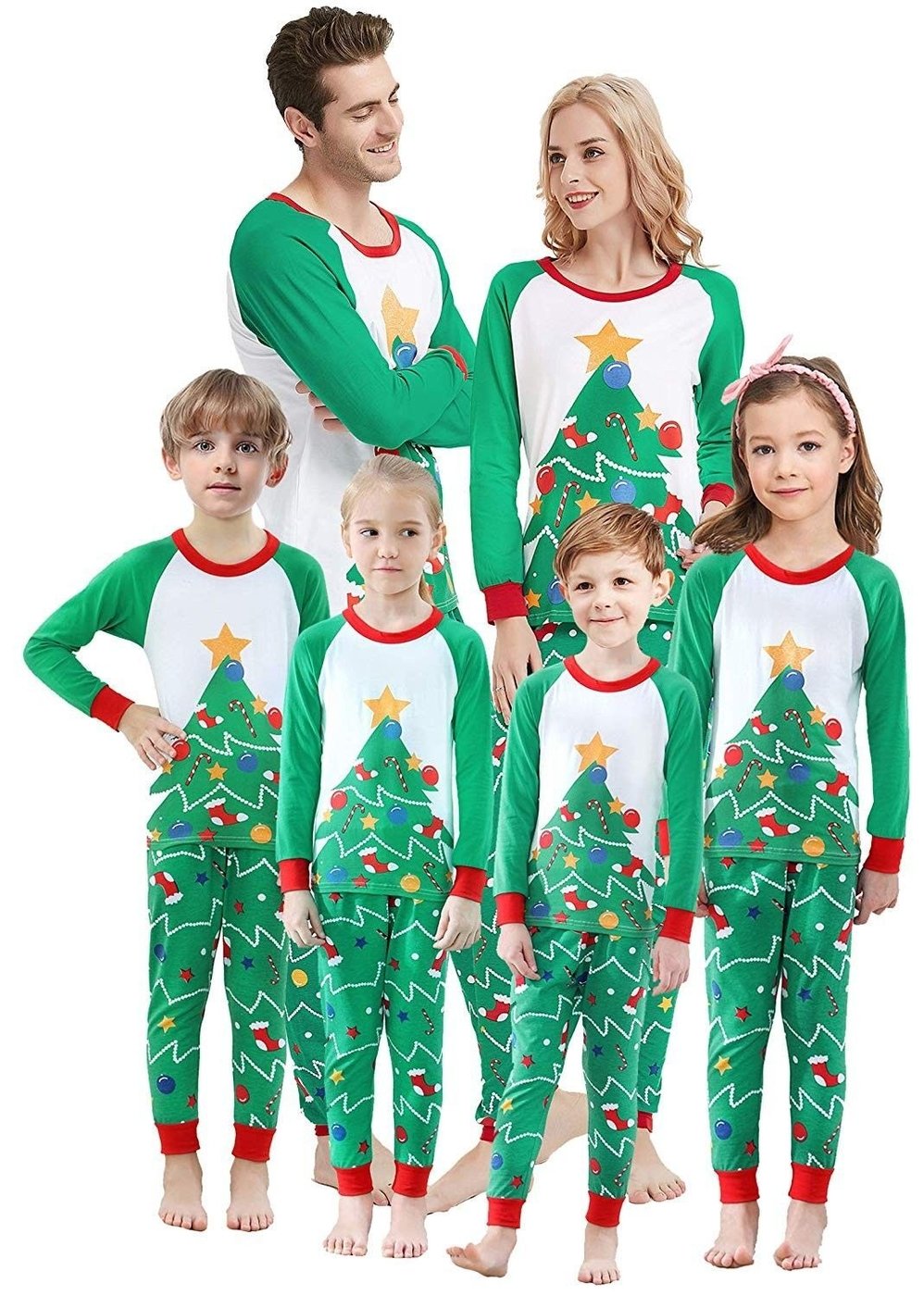 And there you have it: the Christmas pyjamas that you'll love to wear this year - and the Christmas pyjamas that you'll smile when you see them in pictures for years to come.