Are you planning on turning your house into a Winter Wonderland this year? Then you must think beyond your front room. So how do you ensure that everyone who walks through your threshold is in a Christmassy mood?
Simple: you get the Christmas magic to start in your garden with the brightest lighted display!
Not only will the front of your house look sparkly and whimsical, but it can even complement the rest of your street's decorations. And, if nobody else has put them up just yet, it will certainly inspire them and motivate them to do so.
To help you find the right outdoor lighted display for your garden and needs, we made a list of our favorites, from the most traditional ones to some unique designs and characters that are guaranteed to turn heads.
1.

Lighted Dachshund Christmas Display

There's only one thing cuter than sausage dogs, and that's sausage dogs wearing little clothes or accessories:
Featuring a Santa hat and a cozy scarf, this dachshund display is woofing perfect for households who want to showcase their love for dogs;

For the best results, place it right outside your front door or gate to make it look like this giant dachshund is waiting for you to go for a winter walk.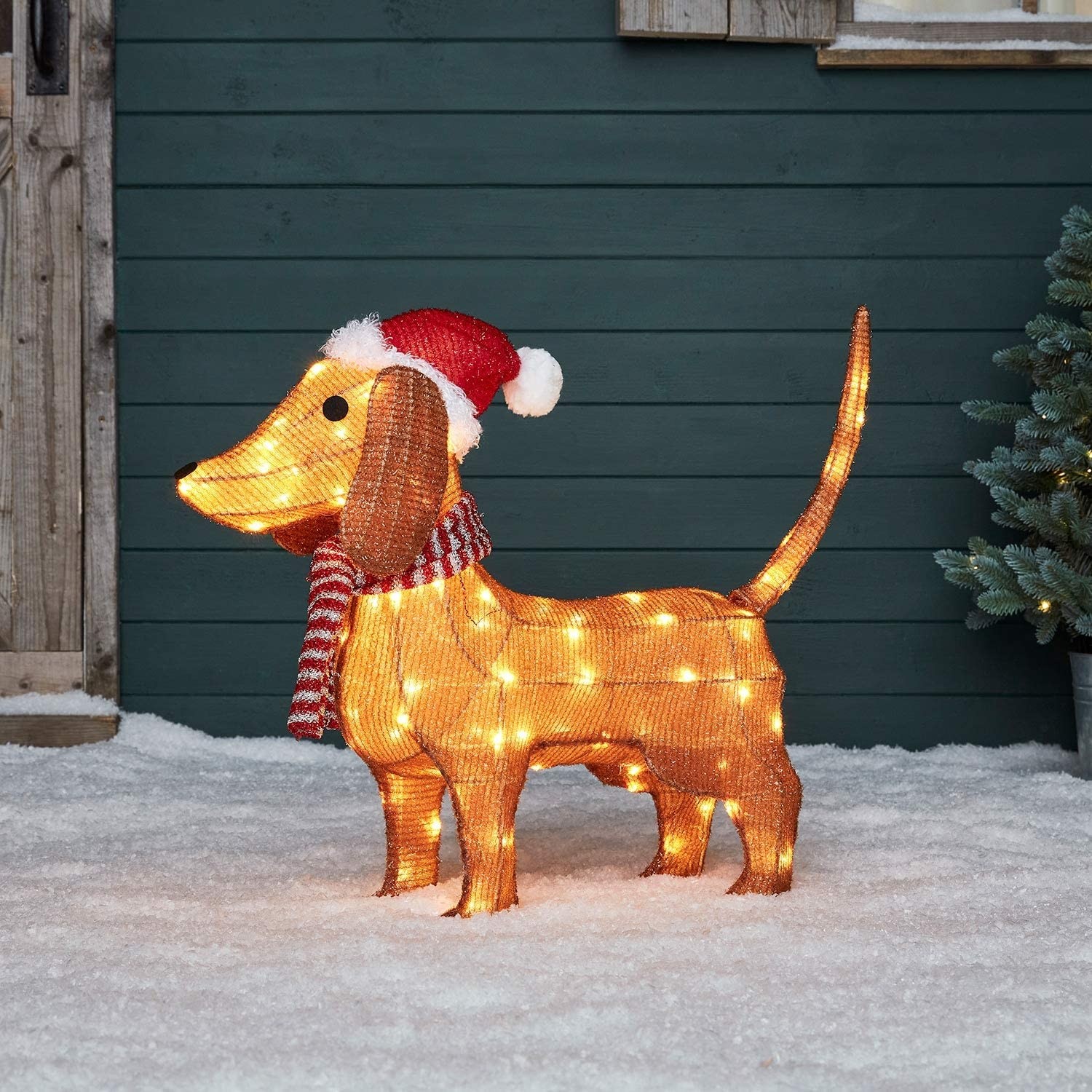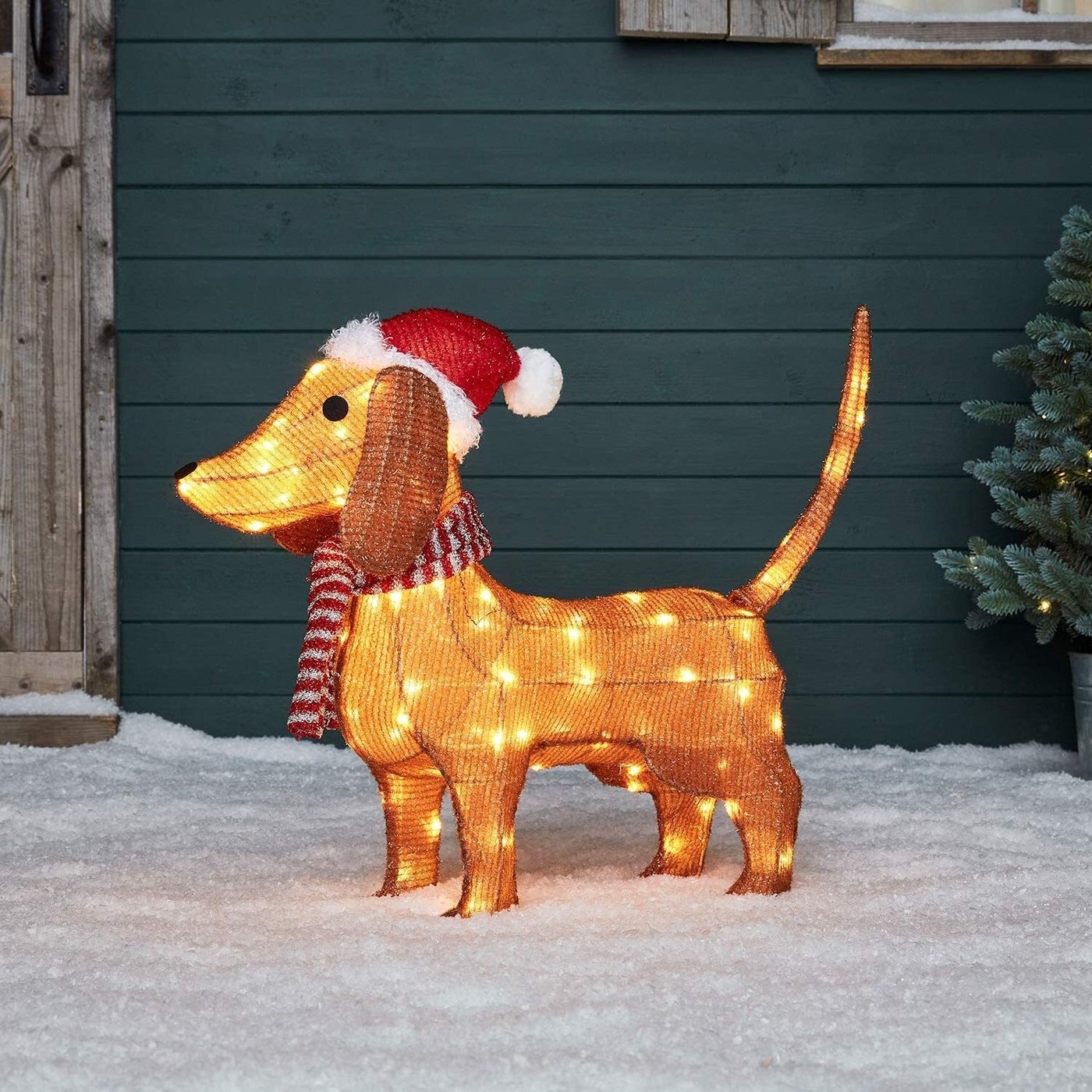 2.

Angel Christmas Decoration Lighted Display

Are you looking for traditional and timeless decorations that will last you for many Christmases? Then you can't go wrong with angels:
This winged, trumpeting angel makes for an other-worldly display that, combining silver metal and warm lights, results in a triumph of Christmas sparkles;

We especially recommend it in snowy locations or if you're planning on adding some fake snow to your garden. That way, you'll hide the pedestal and make it look like the angel is actually floating in the crisp winter air, even when the sun is still out.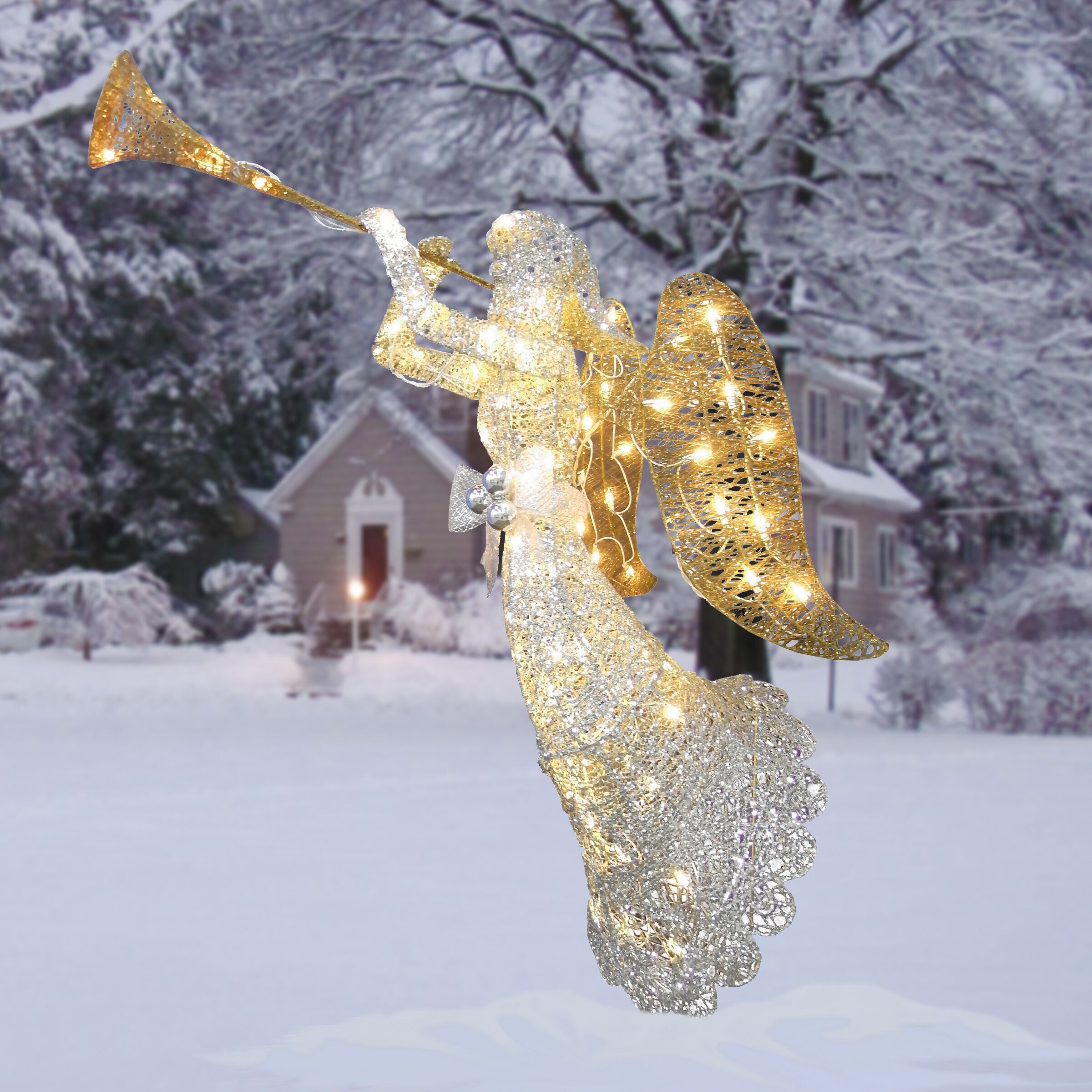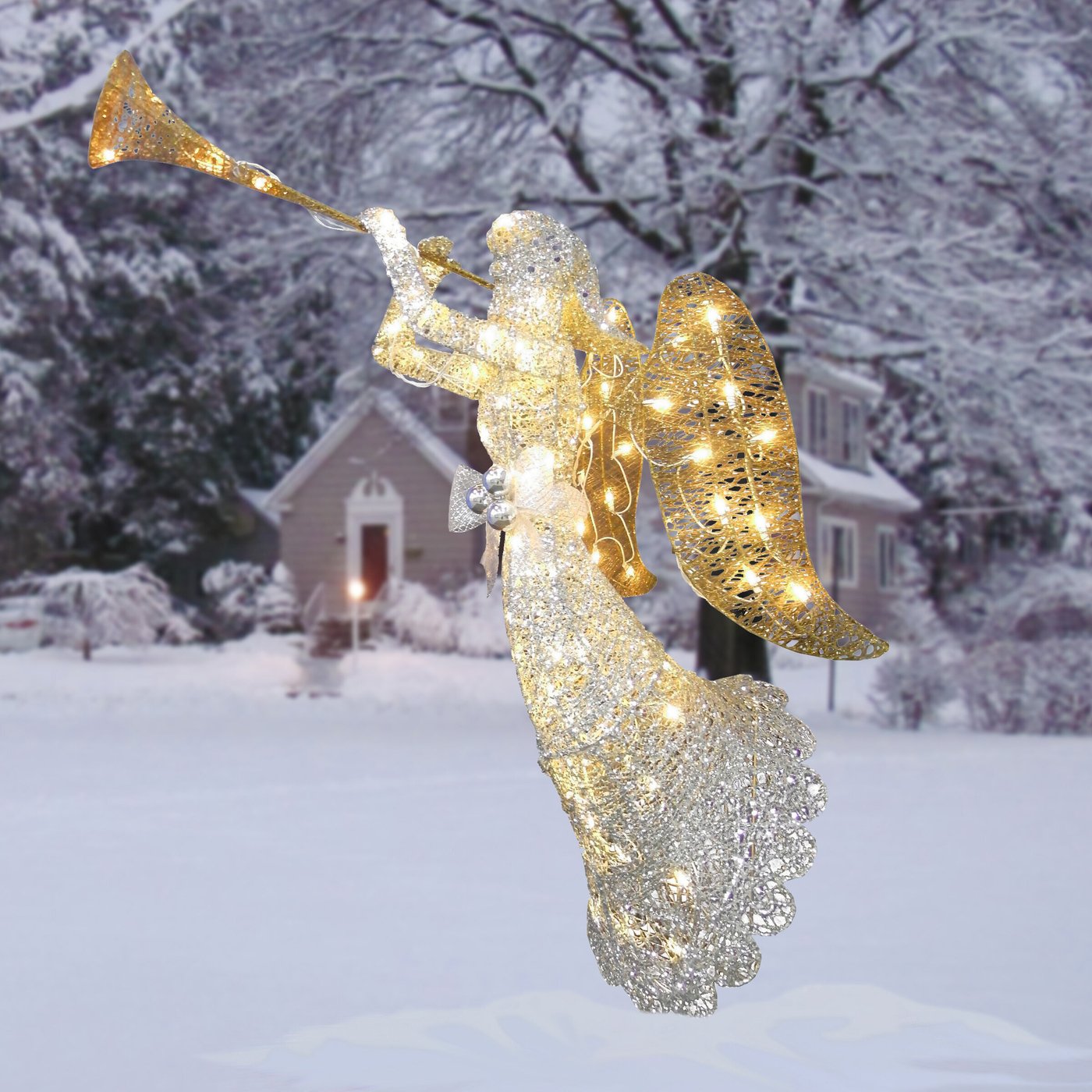 3.

Nativity Scene Lighted Display

To celebrate the original, religious meaning of Christmas, nothing better than a traditional nativity scene:
Featuring Mother Mary, Joseph, Jesus and a bright star, this lighted display is uplifting and full of sparkles;

Because it's not very wide, it's also ideal in houses with a large, bare facade but a small garden.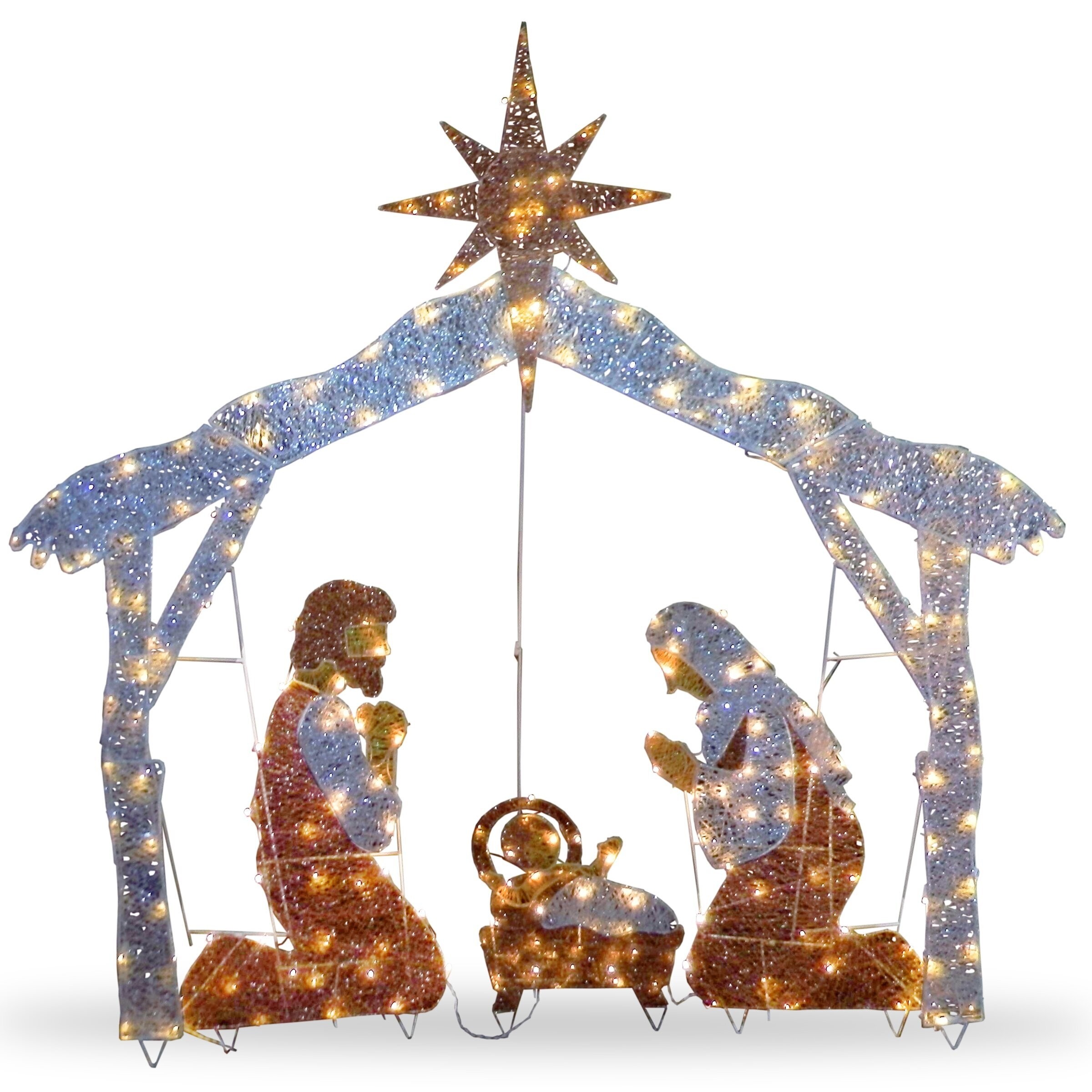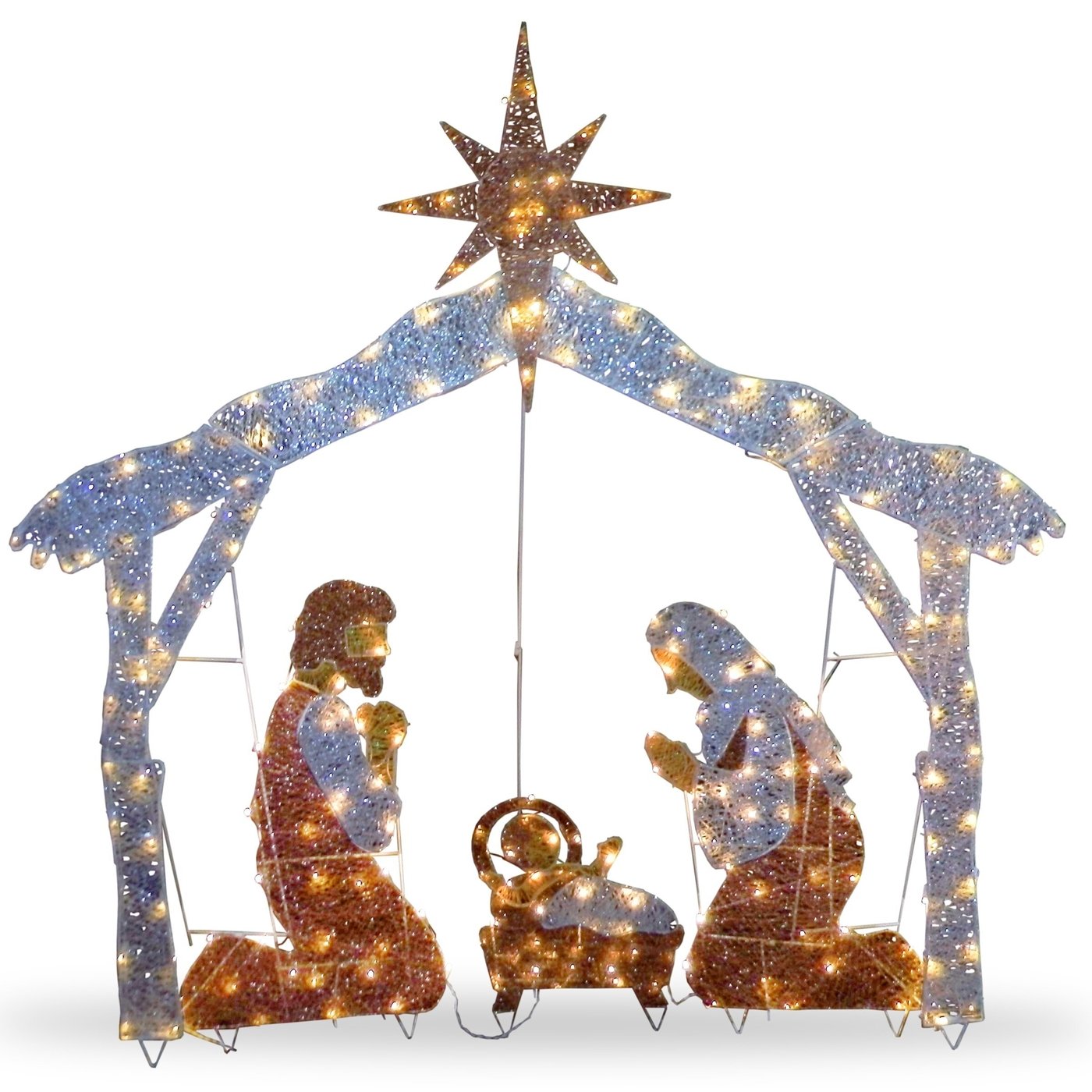 4.

LED Lamp Post Lighted Display

Have you got a little path that goes from your gate to the front door? We're about to make your walk back home a lot more magical:
Consisting of a white metal frame with sequins, glitter and LED lights, these Victorian-style lamp posts are guaranteed to add a nostalgic touch to your Christmas display;
They're freestanding and come with ground stakes, so it'll be a breeze to set them up and place them in the most strategic places in your garden.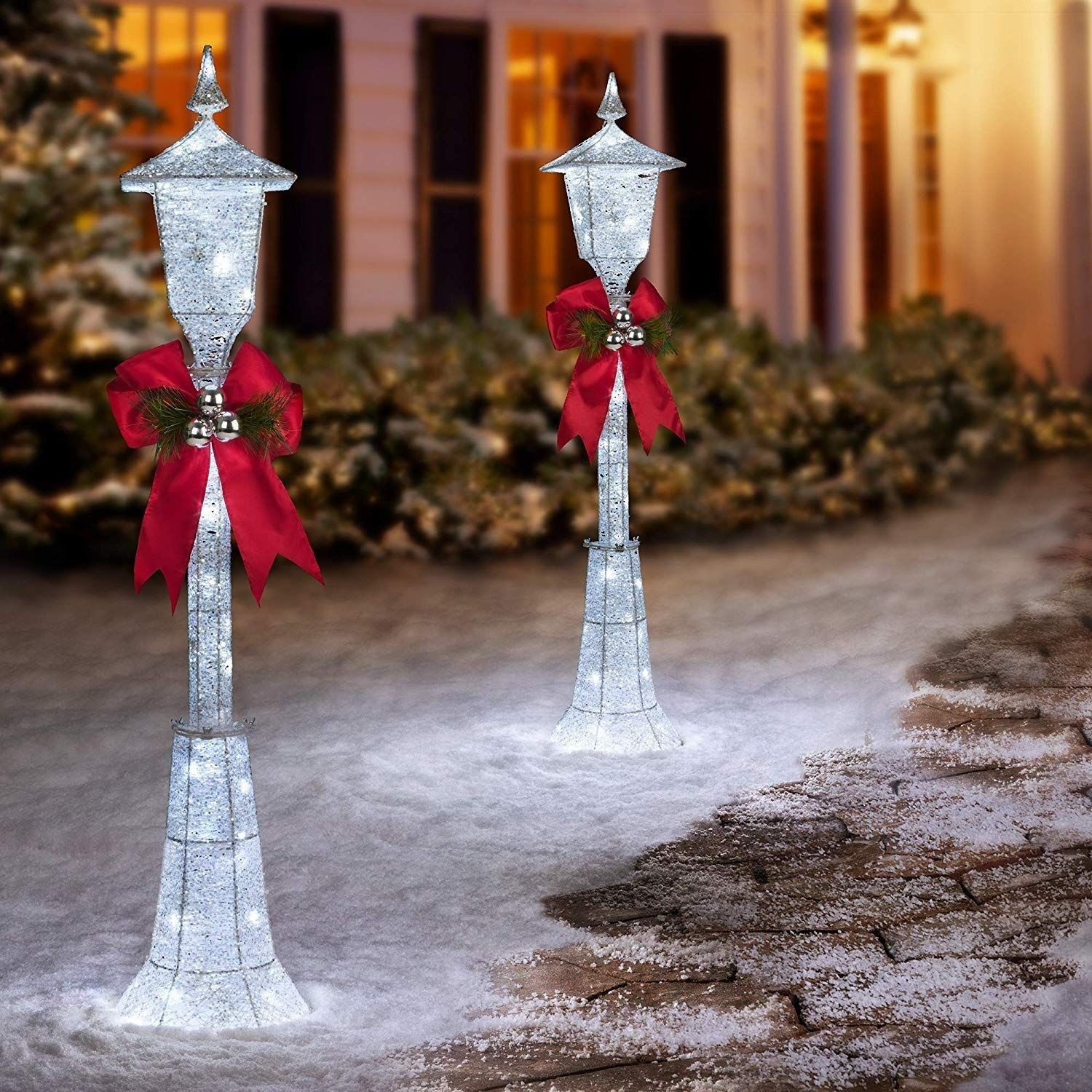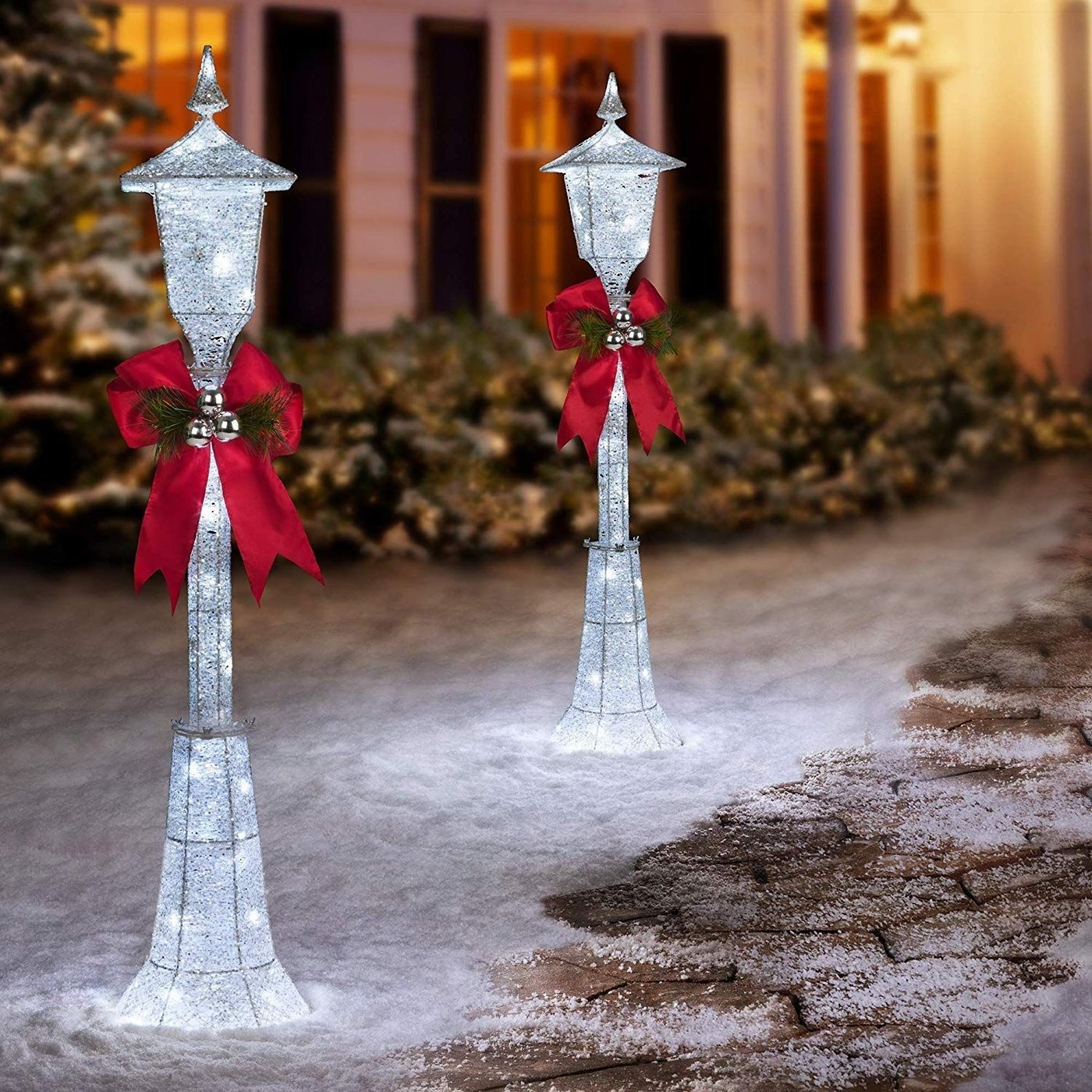 5.

2 Piece Polar Bear Lighted Display Set

Santa isn't the only one who comes from the North Pole!
**Bring an Arctic vibe into your garden **by introducing the cutest mum and baby bears, complete with Christmas hats and scarves;

Thanks to their weather-safe fur, you won't have to worry about the weather getting too harsh for your outdoor display (after all, polar bears are used to it!).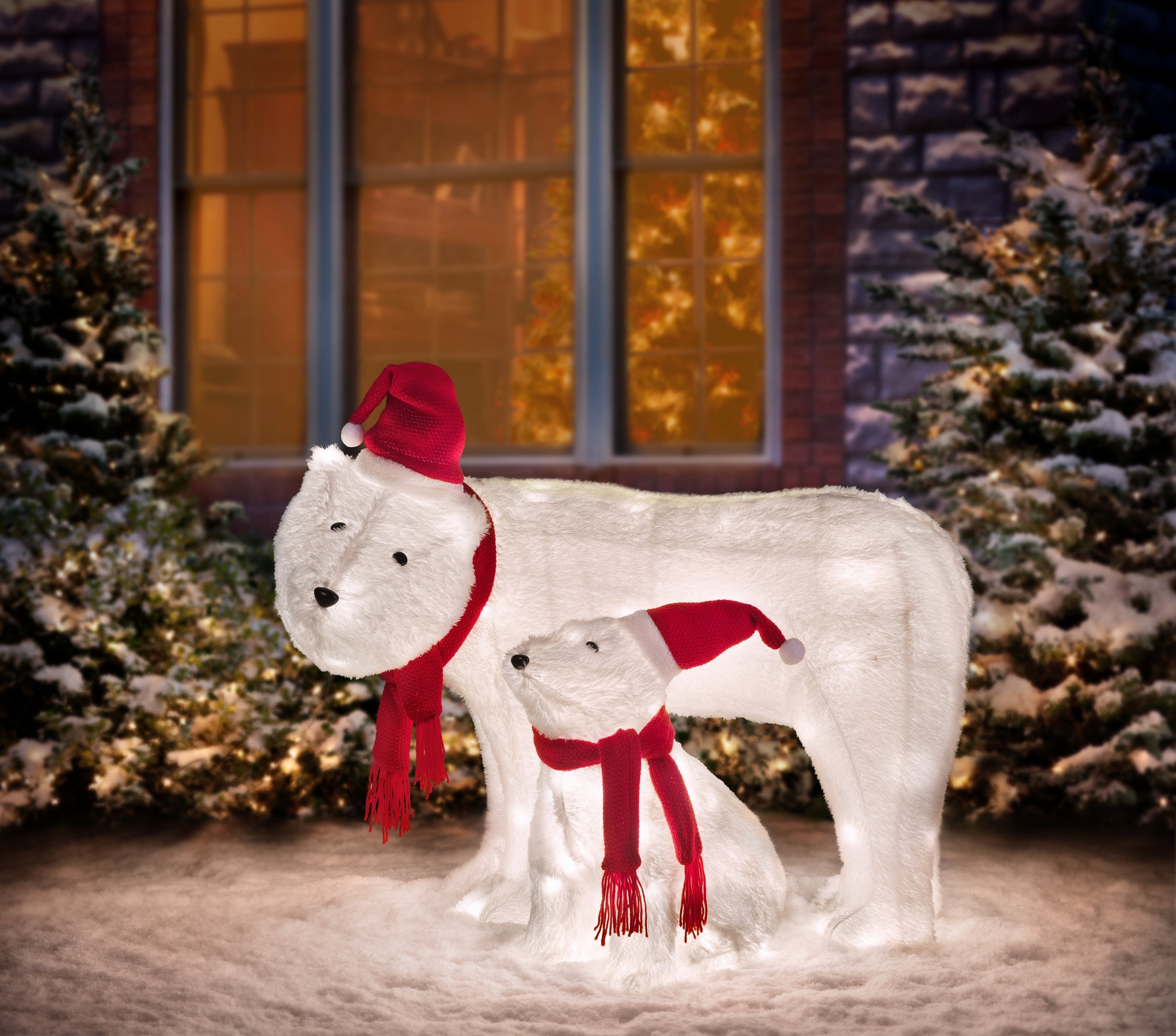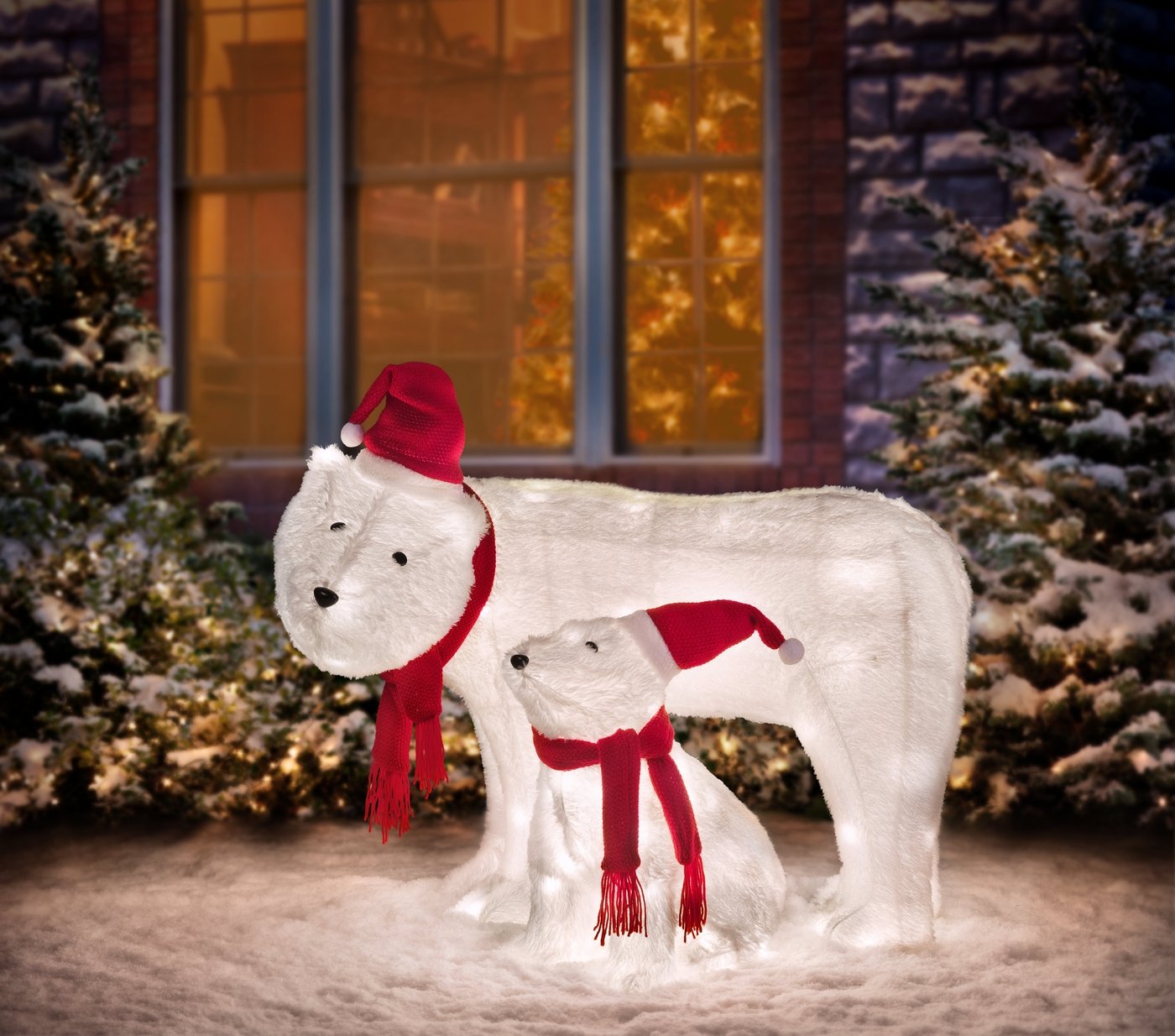 6.

Penguin with LED Lights Display

Or maybe you were thinking of the other pole? Penguins might live far from Santa, but this Christmassy outfit can fix that!
Elegant and charming, this penguin is ideal to place next to your door, as if it were showing your guests the way;

Thanks to its tasteful design, it can work in pretty much every garden, but we especially recommend it if you have little kids: it'll probably become their new best friend.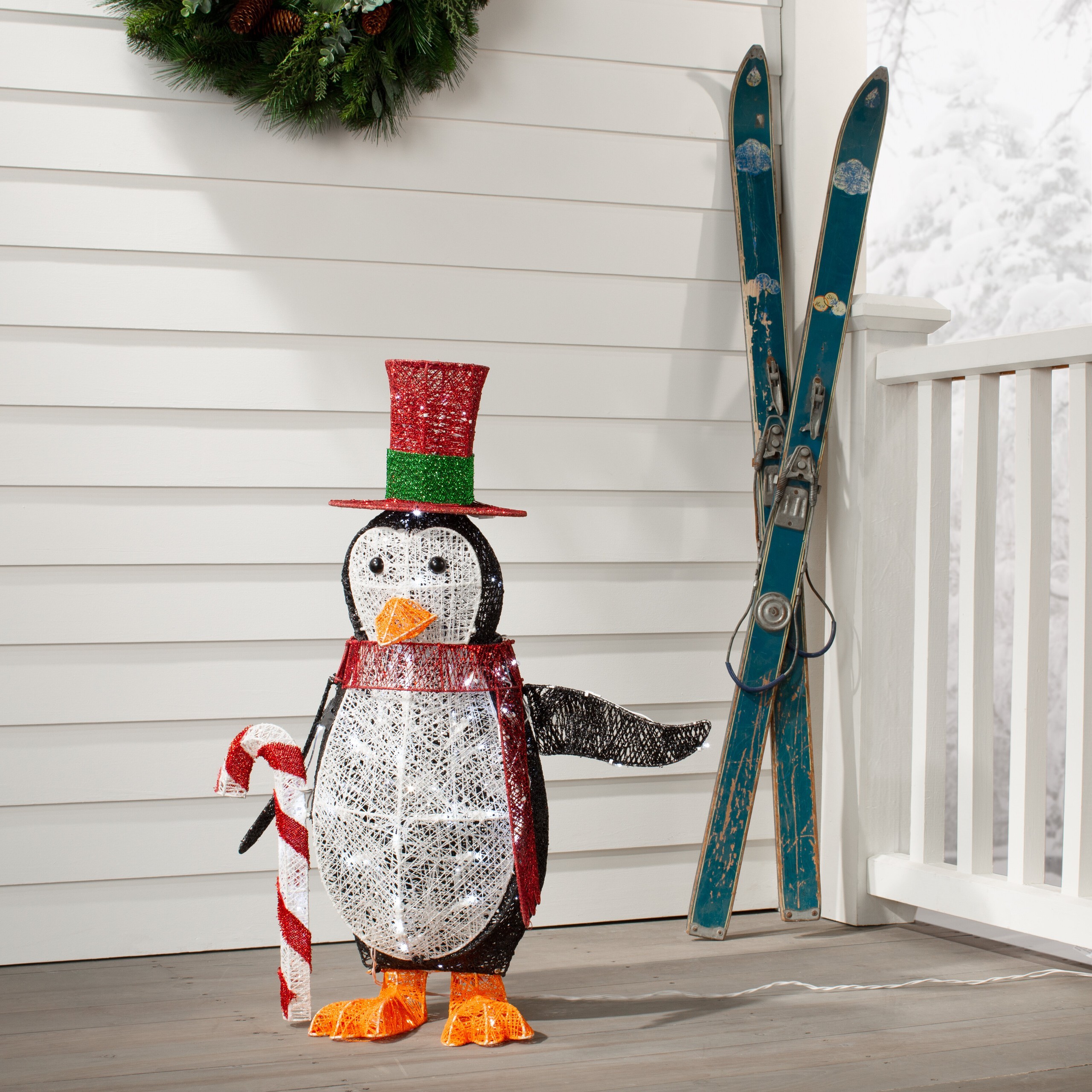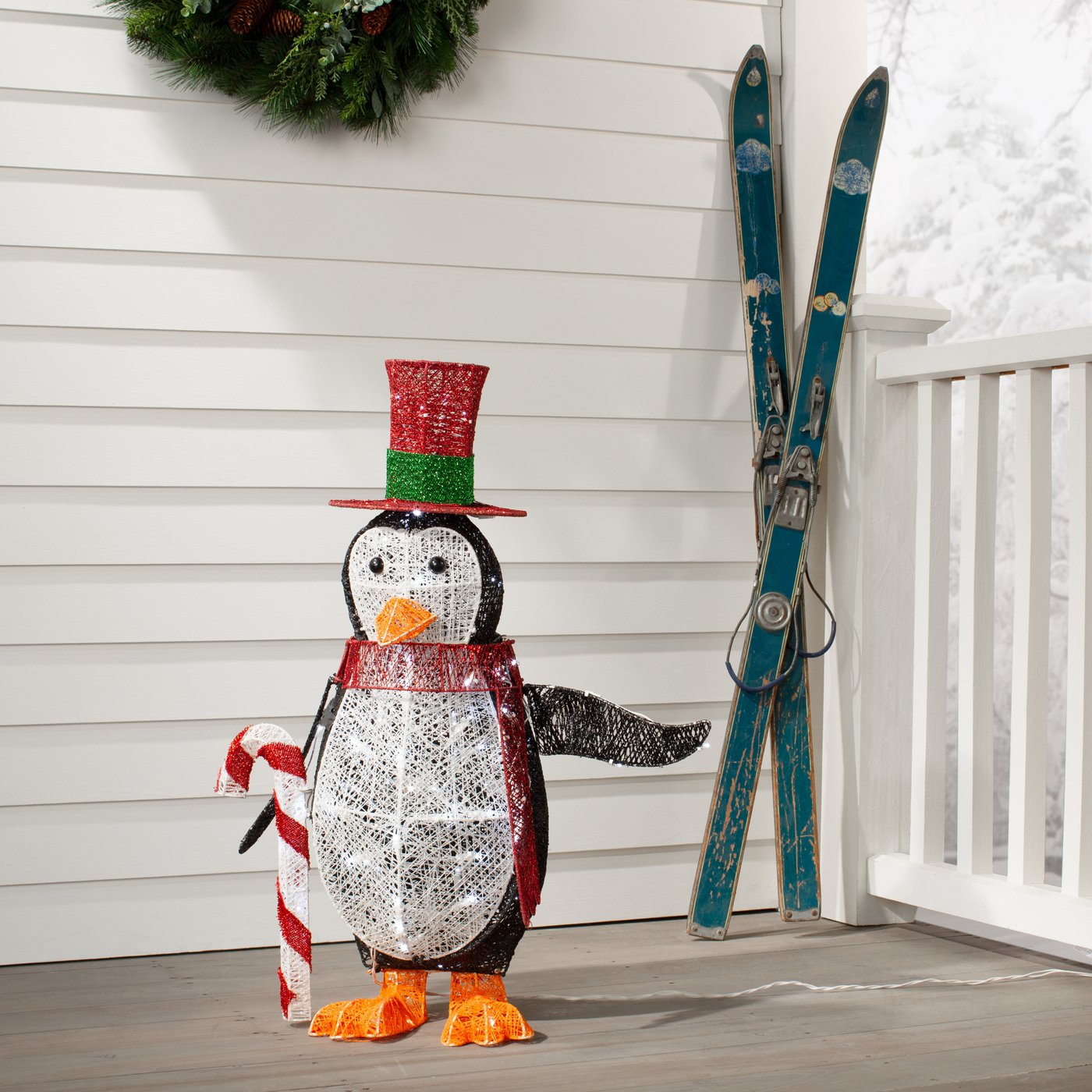 7.

Snoopy and Woodstock Lighted Display

Did you grow up rewatching the Peanuts' Christmas special? Then bring your favorite characters to life with this unique lighted display:
This model featuring Snoopy and Woodstock exchanging presents is possibly the most heartwarming design you can pick;

You will be able to relive your childhood and introduce these iconic characters to a new generation.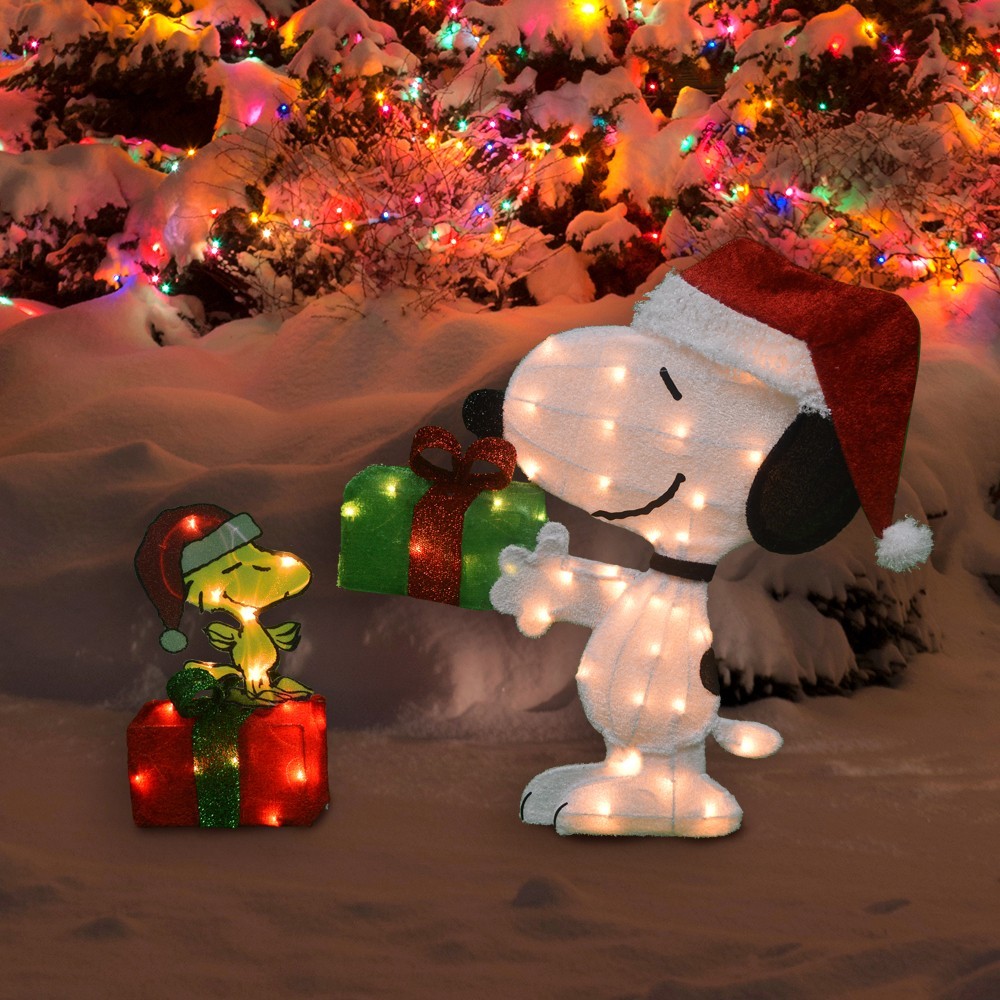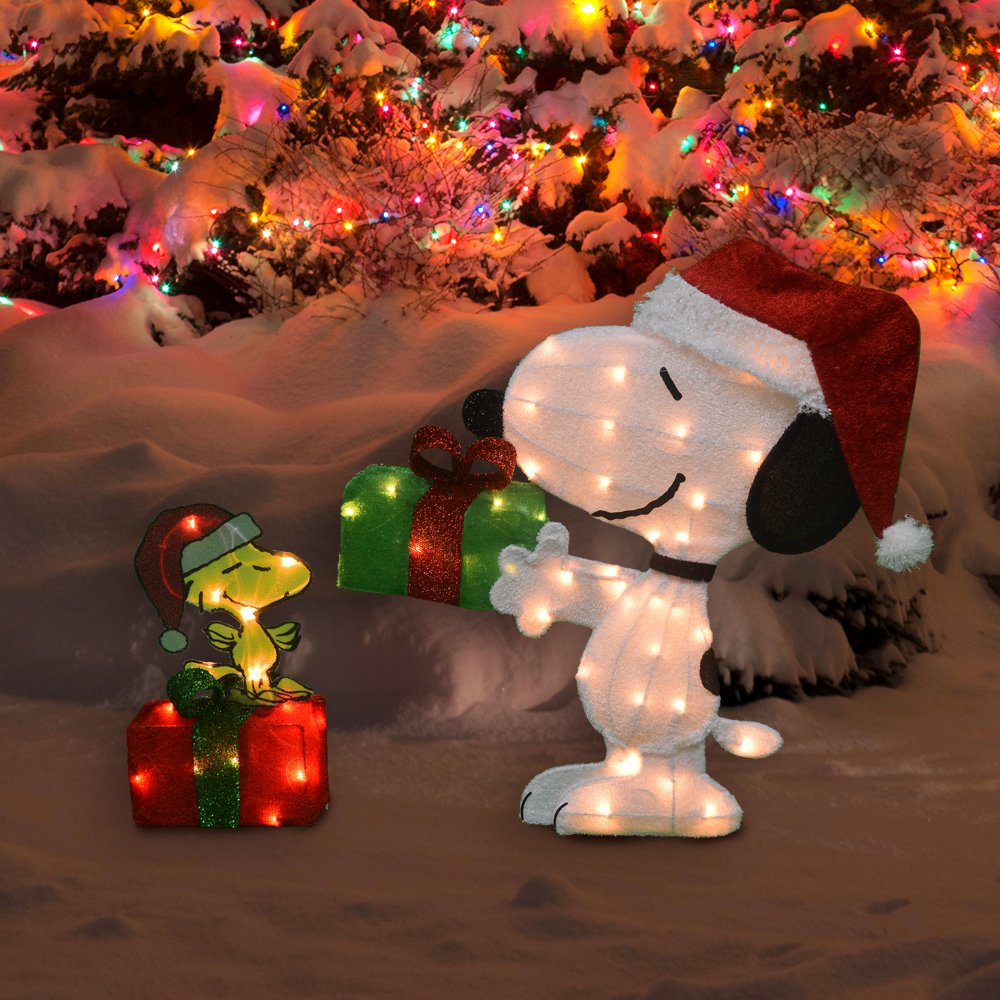 8.

Santa with 2 Deer Sleigh Lighted Display

If you were hoping for a traditional display that could be spotted from the end of the road, make your house Santa's first stop:
Ideal for the largest gardens and, especially, houses with kids, this cartoonish version of Santa and his reindeer is one of the best things you'll see this Christmas;

Thanks to the colored fabric and lights, it's just as magical during the day as it is when the sun goes down (and the sparkles are on).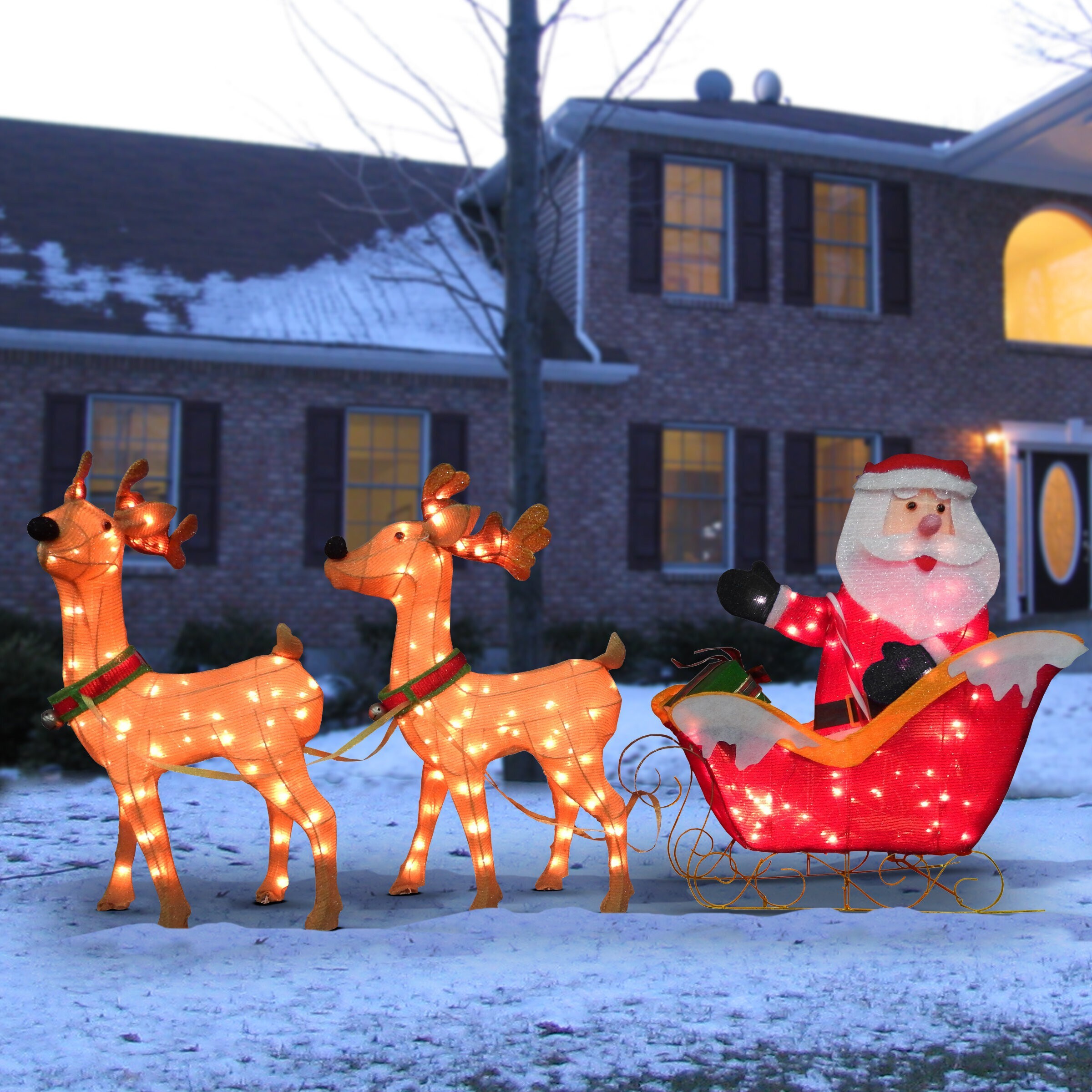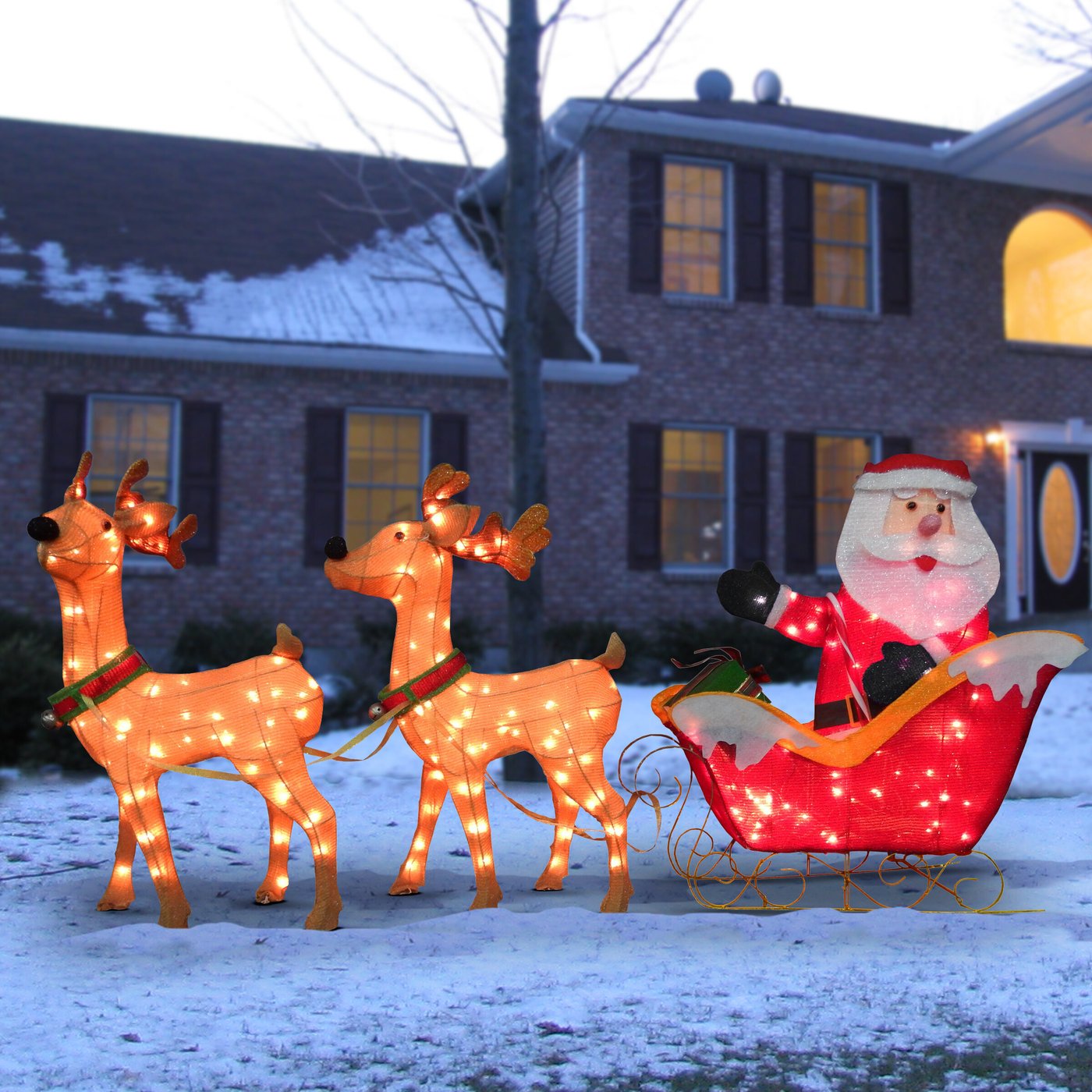 9.

Elf Pulling Wagon Lighted Display Set

Don't you think that, while Santa always gets all the credit, Christmas wouldn't be possible without his little helpers?
Celebrate the elves by adding this playful lighted display to your garden;

This elf pulling a wagon full of presents is guaranteed to make your kids' Christmas even more special.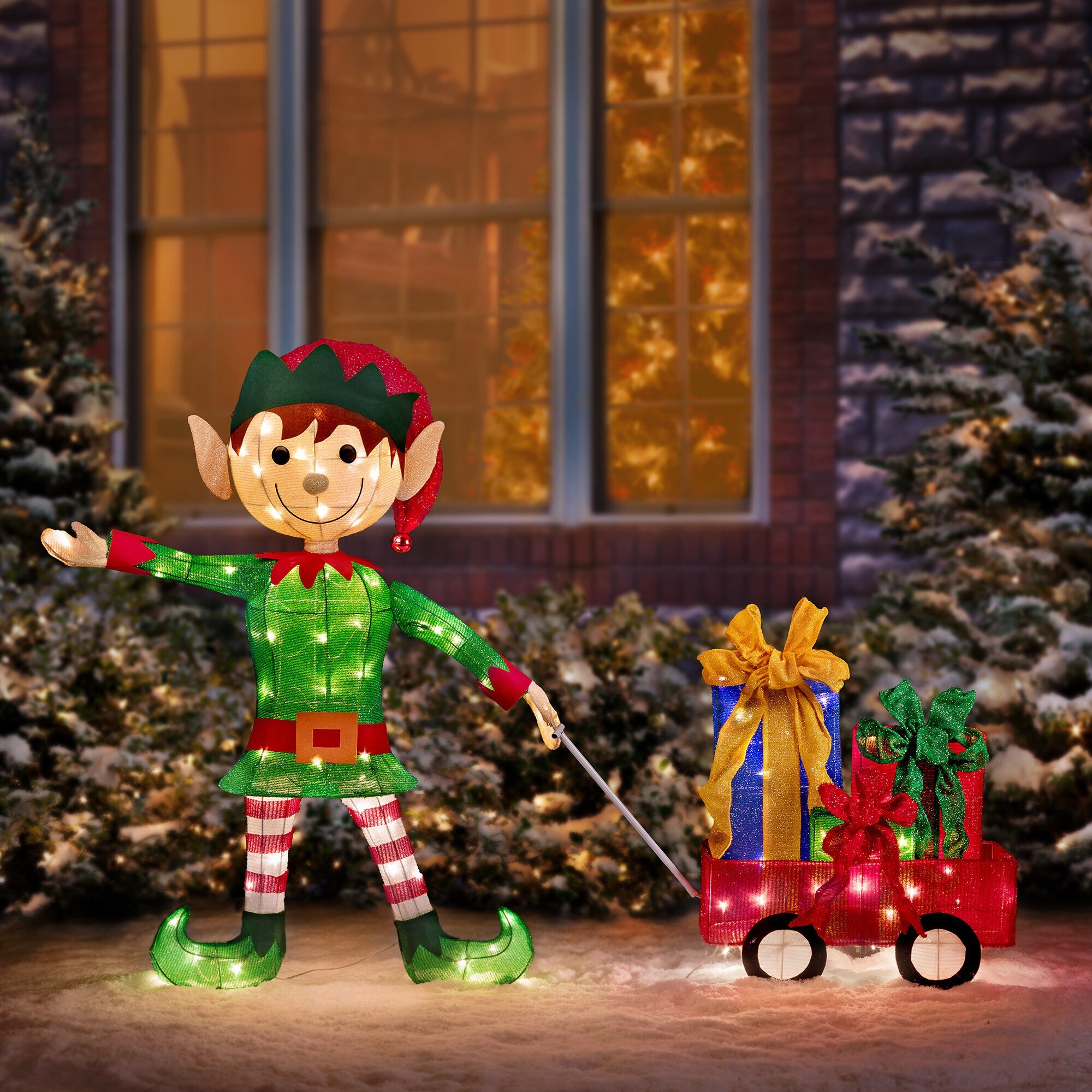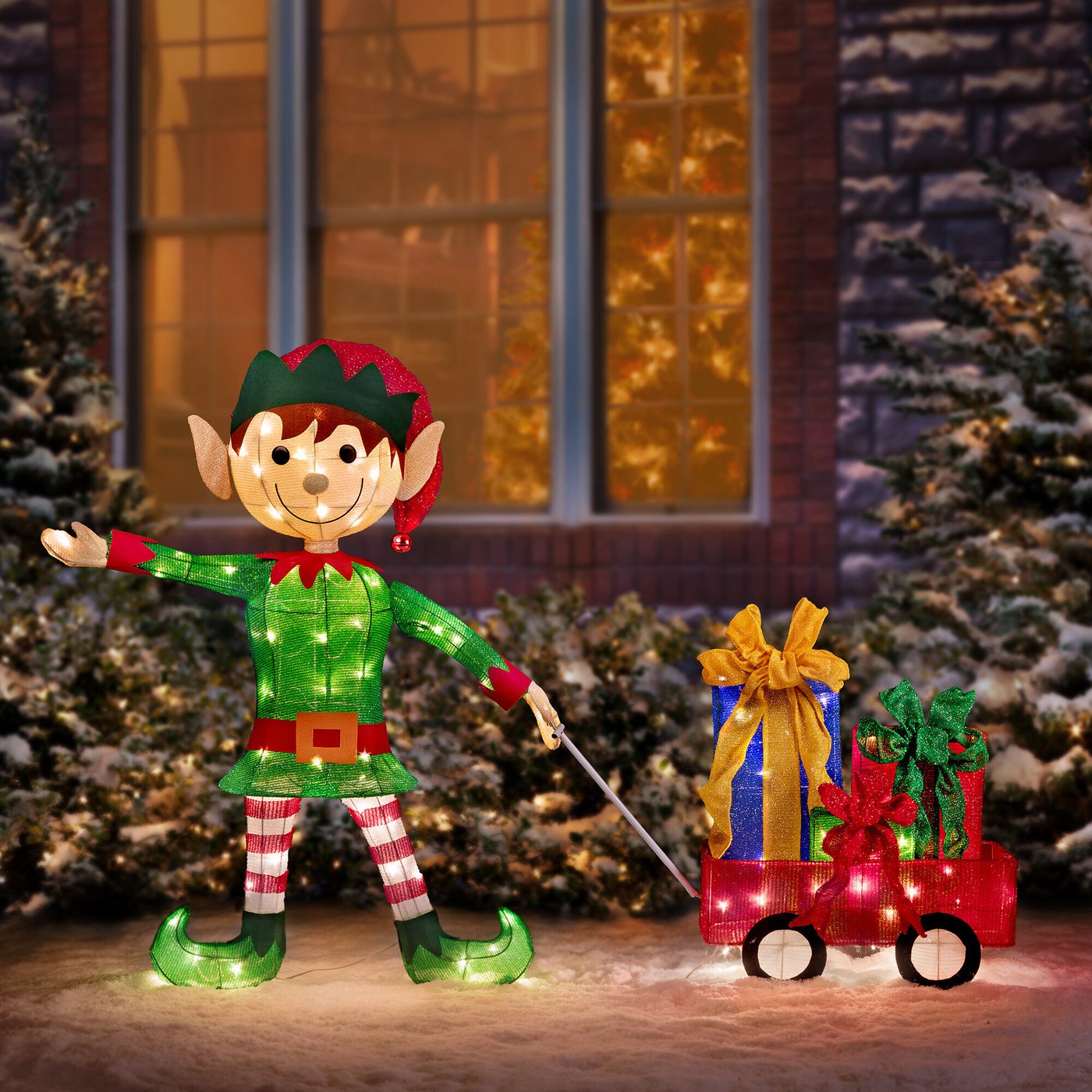 10.

Reindeer Pulling Sleigh Lighted Display

It's easy to see why the classic reindeer & sleigh combo is still such a popular Christmas display:
This elegant design is just what you need to add a touch of sophistication to the traditional santa sleigh display: combining warm lights and festive colors, it results in a well-balanced palette full of sparkles;

Since it's 5' 8" long, it's perfect in larger gardens but, if you want to make it work in a smaller setting, make sure you free up some room around it so that it doesn't look cluttered.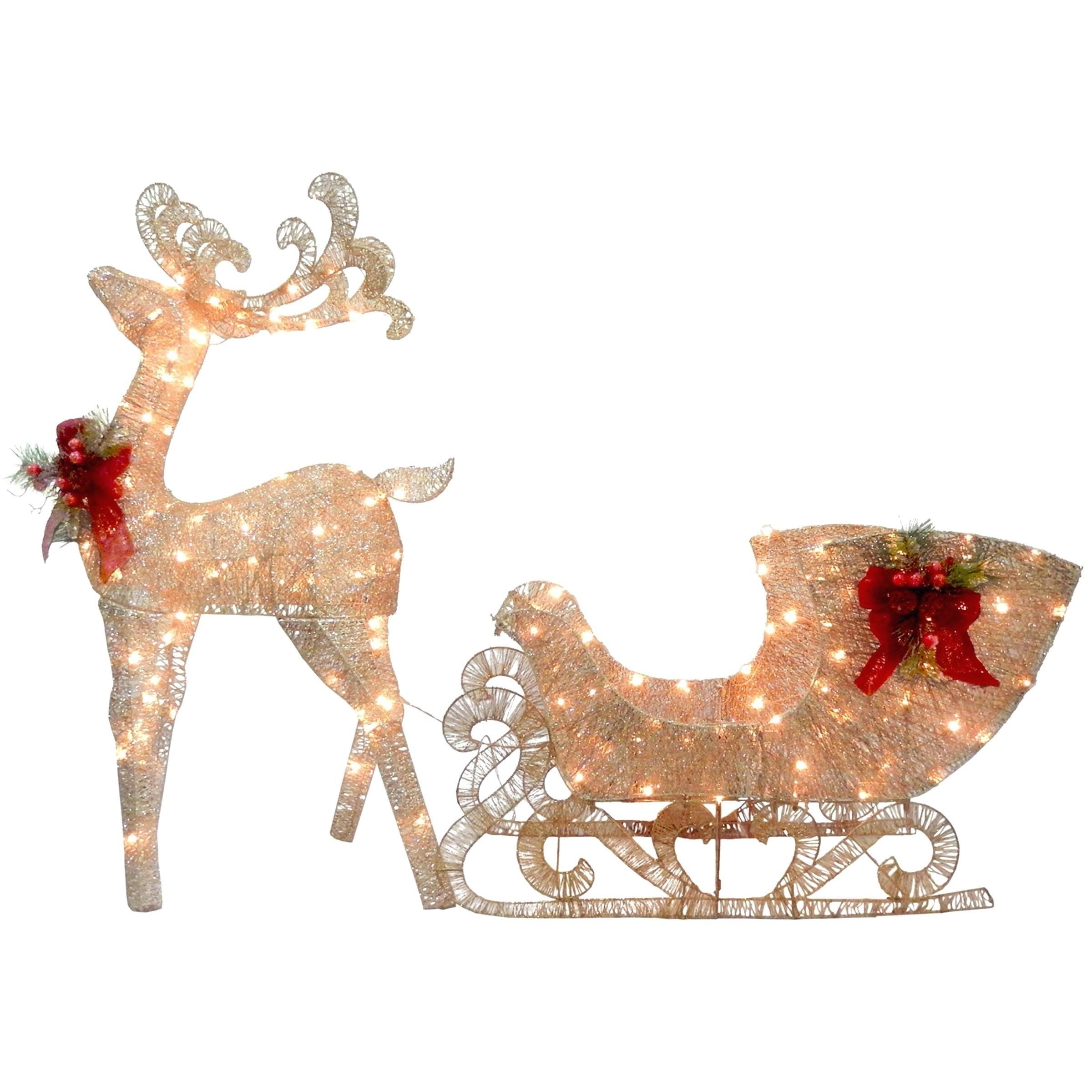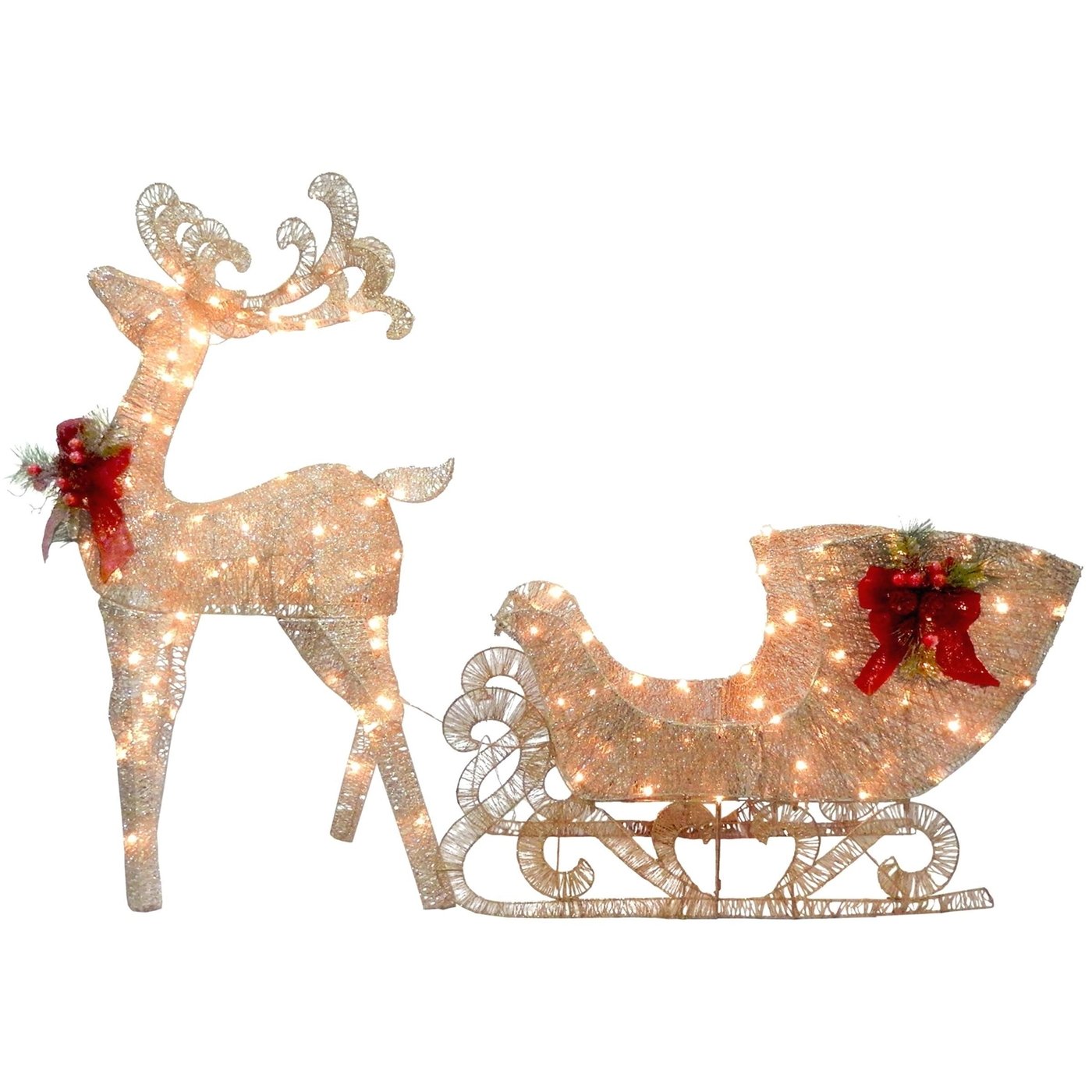 11.

Candy Lane Santa Claus Lighted Display

Perhaps your garden isn't big enough to fit a whole sleigh with reindeer? Don't worry: Santa himself won't mind!
Just stick to a Santa display like this one: two-feet tall but not too wide, it can fit virtually anywhere, whether you prefer to keep him next to the gate or by your front door;

It's the most festive way to welcome your guests and let them know that your house is all about the Christmas cheer. Plus… look at that cheeky face!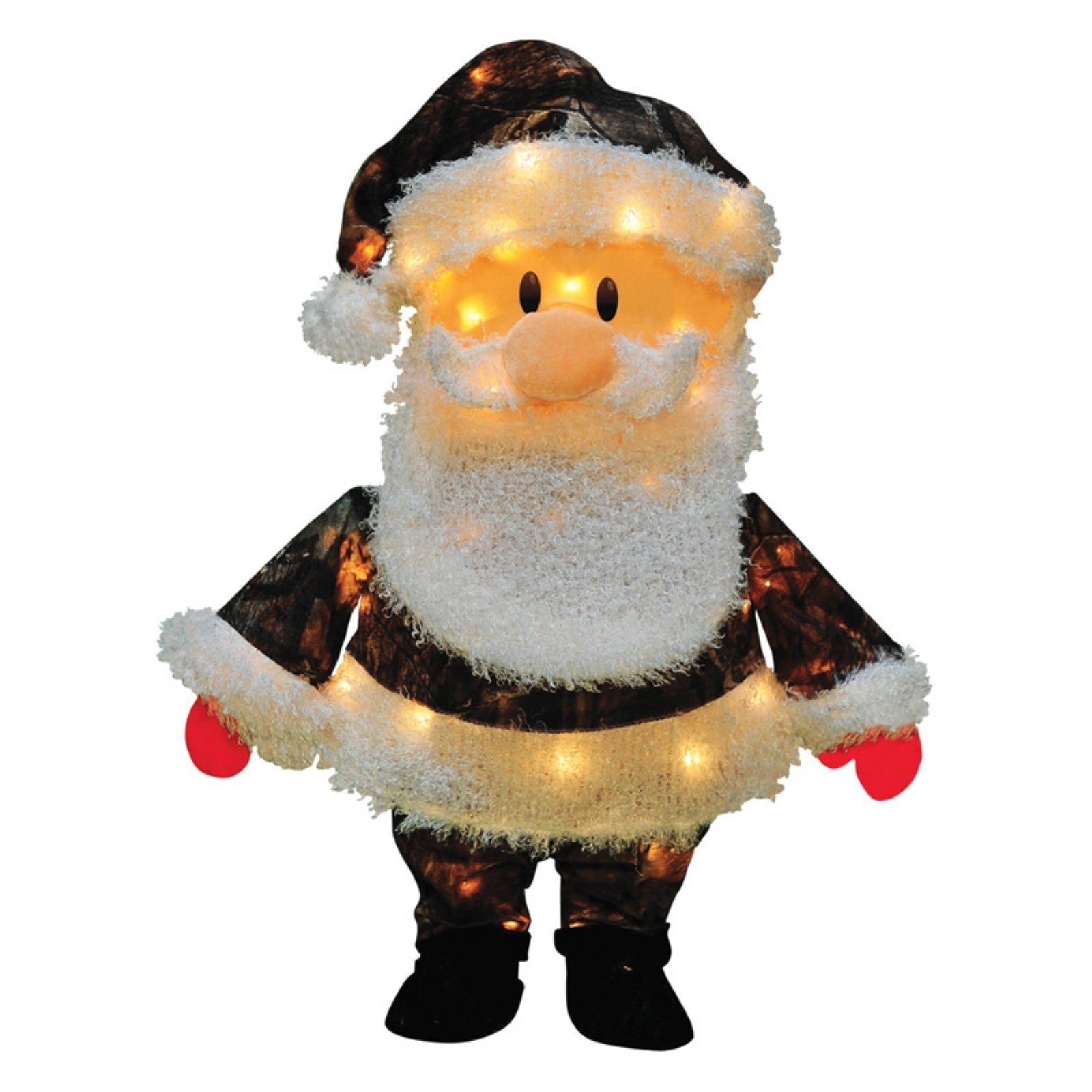 12.

Carnival Horse Lighted Display

Looking for something that's both a bit different and yet still traditionally nostalgic?
This majestic carousel-style carnival horse will bring back your sweetest childhood memories;

Thanks to the combination of white and two festive colors, it's a versatile display that can work with any décor style and both in small and large gardens.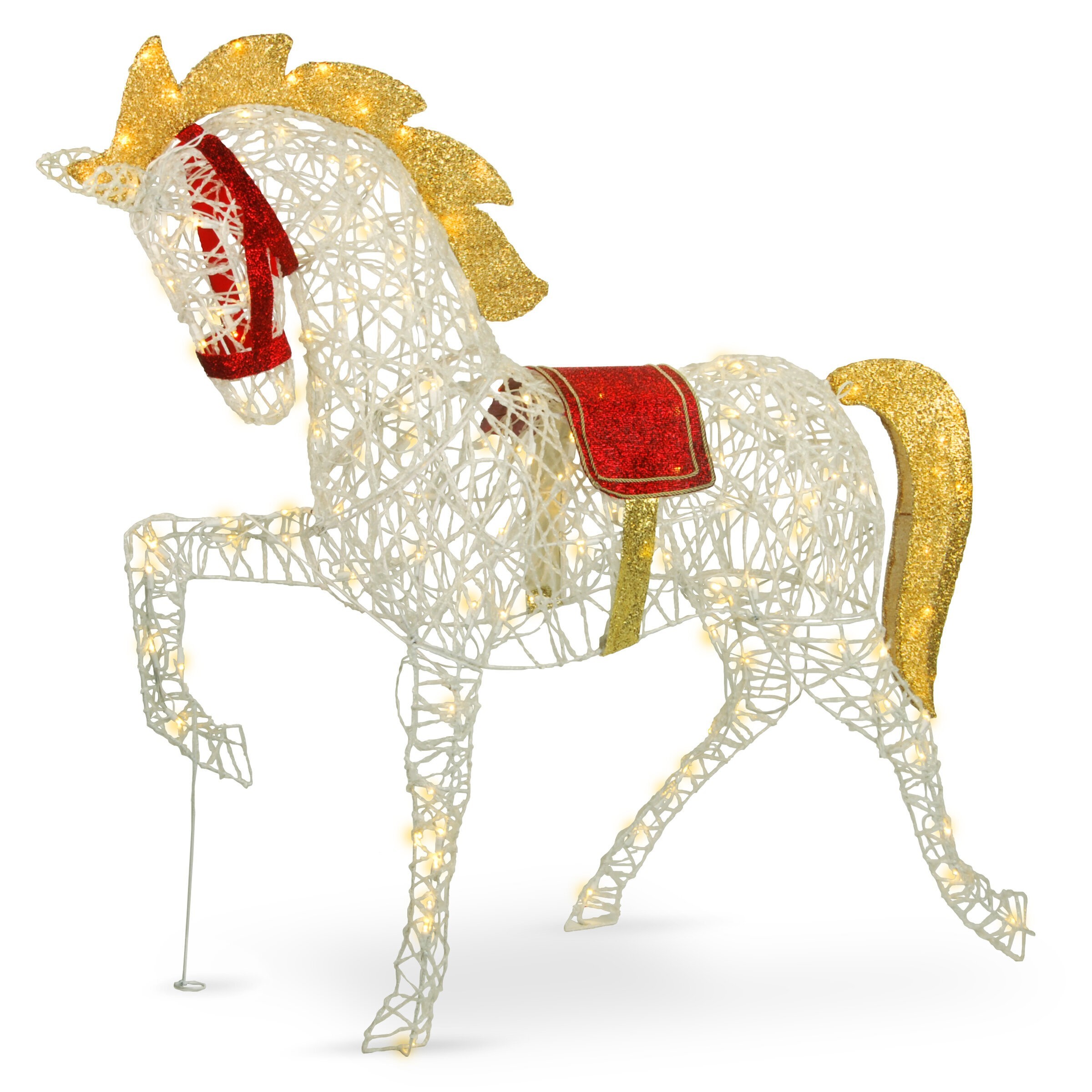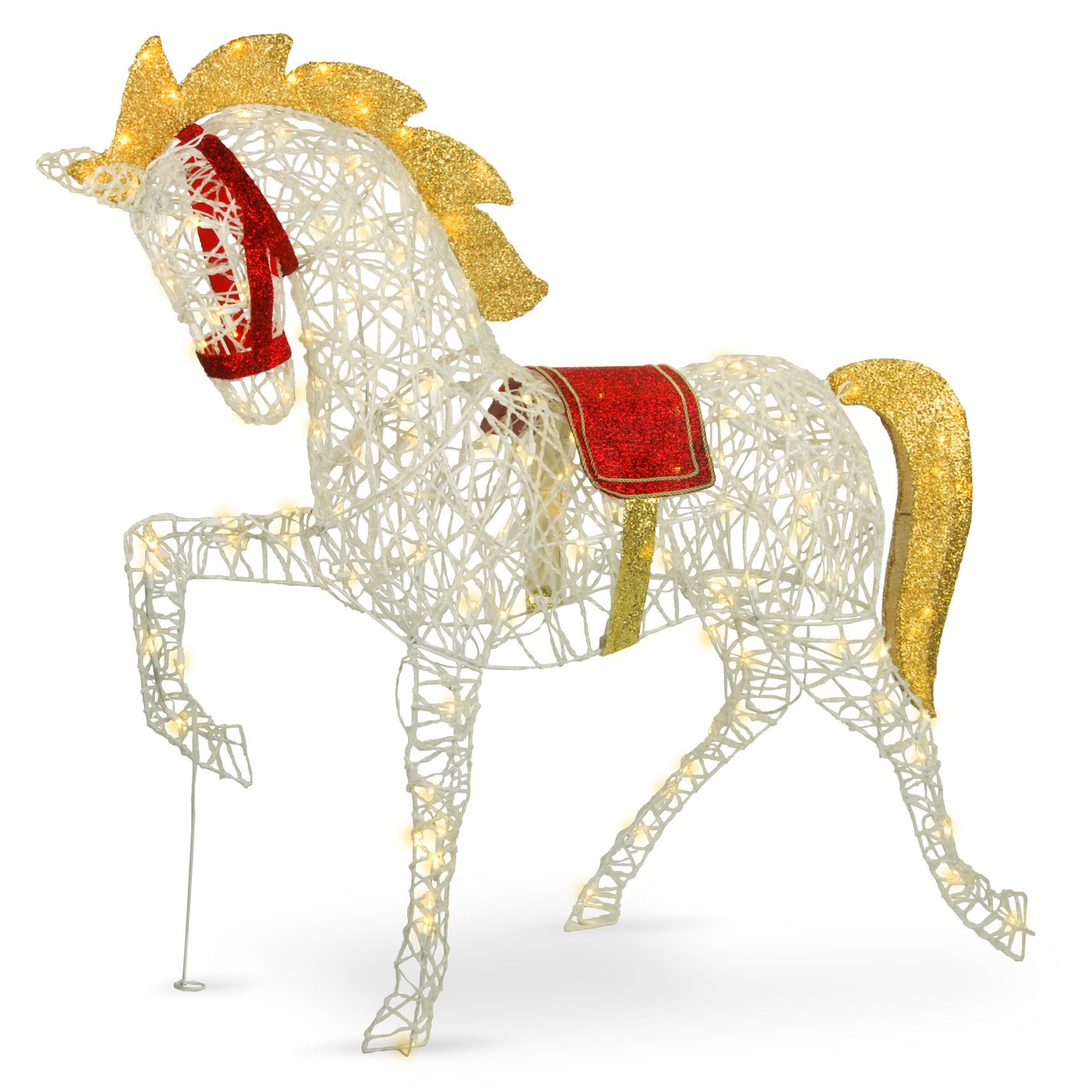 13.

Inflatable Snowman Stacked Display

When you said you wanted a unique solution, did you by any chance mean a ten-foot display?
This snowman totem pole is a no-brainer in large gardens. However, it's especially a lifesaver if you have a small one but were still hoping for a big display;

Thin but super tall, it will certainly turn your house into the most attention-grabbing Christmas display in your neighborhood.