Tangled garlands, cracked baubles and broken wreaths… If this sounds familiar, then you need to re-think your Christmas decor storage methods. Protect your precious family heirloom Christmas decorations and save yourself money replacing broken ornaments each year. With our top 12 best storage solutions for Christmas decorations, you can organize and safely store your holiday decor ready for next year.
Christmas tree storage
Often the most difficult item to store, keep your Christmas tree looking pristine year after year with our best Christmas tree storage solutions.
Clozzers Tree Storage Case
Our favorite low-cost option is this fantastic, ever-so smart-looking Christmas Tree storage case by Clozzers. Available in two sizes, when Christmas is done simply take your tree apart and place the pieces in this secure zippered bag for safe storage.
This case features sturdy handles, so you can easily carry it into your attic. It is also ideal for garage or shed storage, made from a highly water-resistant, tear-free fabric. For style, ease of use, and protection, all at a budget price, this tree storage case makes a great choice.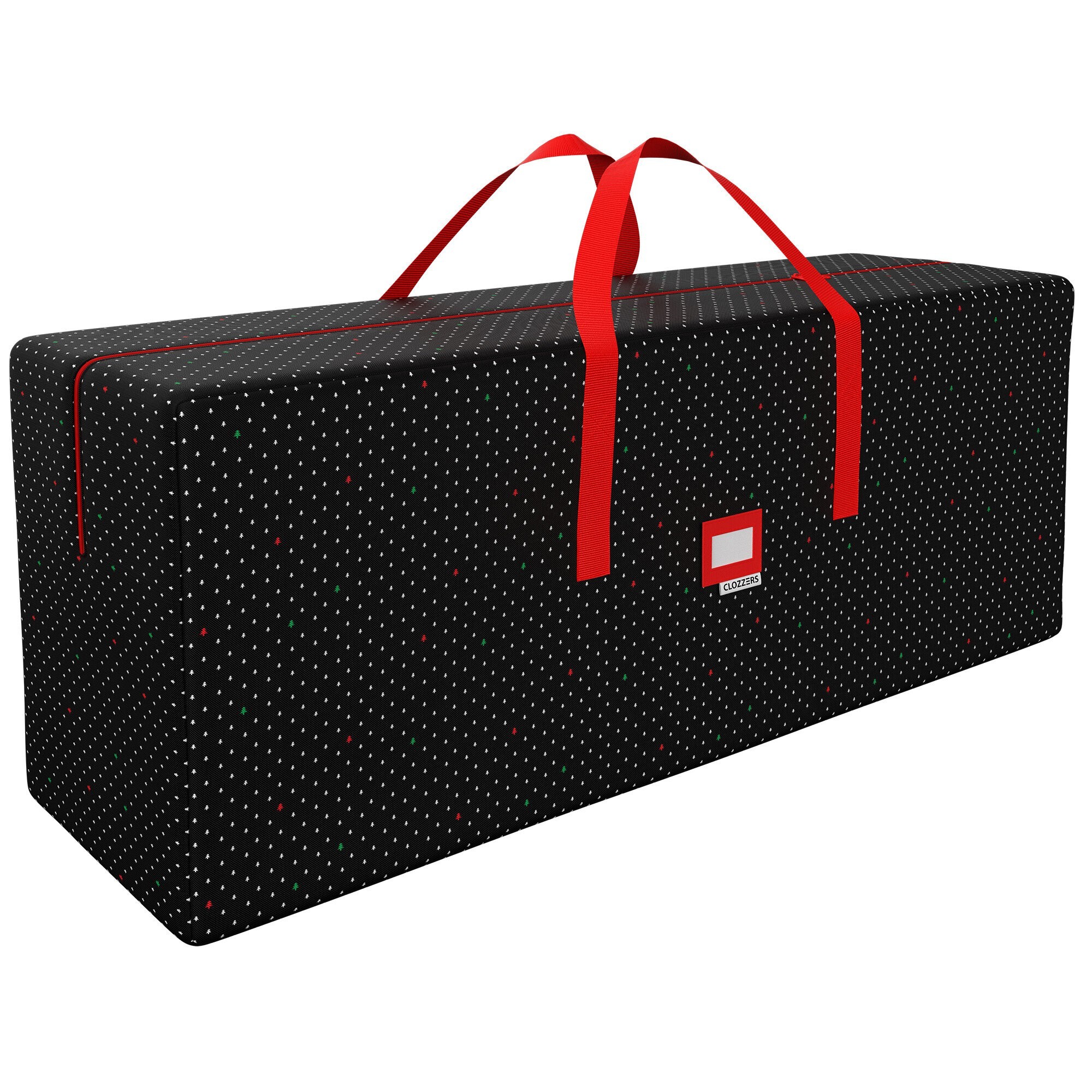 Rebrilliant Big Wheel Tree Bag
Thanks to its oversized wheels, this sturdy tree storage bag by Rebrillant is easy to move across your home and to or from your garage and thus will be perfect for people who cannot carry heavy things. Wheeling your tree also helps to prevent any damage to your floors or Christmas tree.
Highly durable, complete with a convenient zipper opening, this tree bag also features internal compression straps to keep your tree safely secured. Suitable for most Christmas tree sizes, the padded, reinforced handles make it easy to get a hold of and store in other less accessible places. A definite must-have for large homes.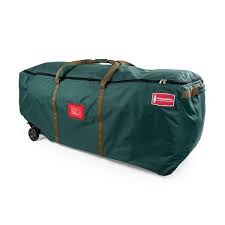 Village Lighting Decorated Upright Tree Storage
Save time decorating your Christmas tree every year, or keep your pre-decorated tree in perfect condition until next year with this revolutionary decorated upright tree storage solution by Village Lighting.
This sought-after tree storage bag compresses down and attaches to your tree stand. When Christmas is over, simply roll it up and zip the bag over your fully decorated tree. It's really simple, yet highly effective. While it is not the cheapest and you'll need enough space to store your tree intact, it's such a fantastic time-saver, you'll wonder why you didn't get one sooner.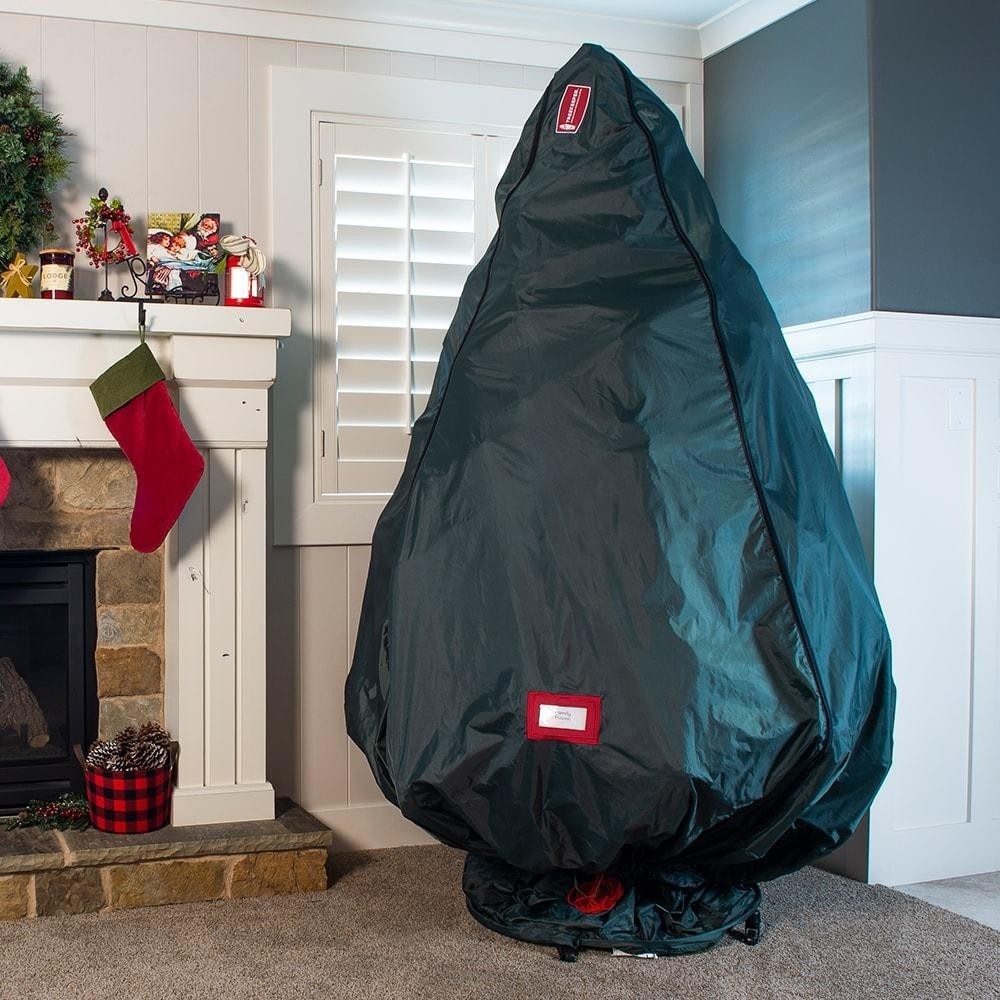 Christmas ornament storage
Essential to keep your fragile tree ornaments intact year after year, everyone needs a good Christmas ornament storage box.
They are also a great way to keep your Christmas decorations organized so you know just what's where and don't lose track of what you've got to hang up 11 months later.
Rebrilliant Christmas Ornament Storage Container
Ideal for small spaces, this handy Christmas Ornament Storage Container by Rebrilliant is just two inches high. Slide it under a bed or dresser, on top of your armoire, there are so many places you can tuck this away.
Complete with two dividers, this container has space for up to 52 ornaments. Or you could remove a divider to free up space for your garlands or tree lights. Whatever Christmas decorations you need to store, with its sturdy handles, zippered closure, and tear-resistant polyester construction, this slim-profile container is a top choice.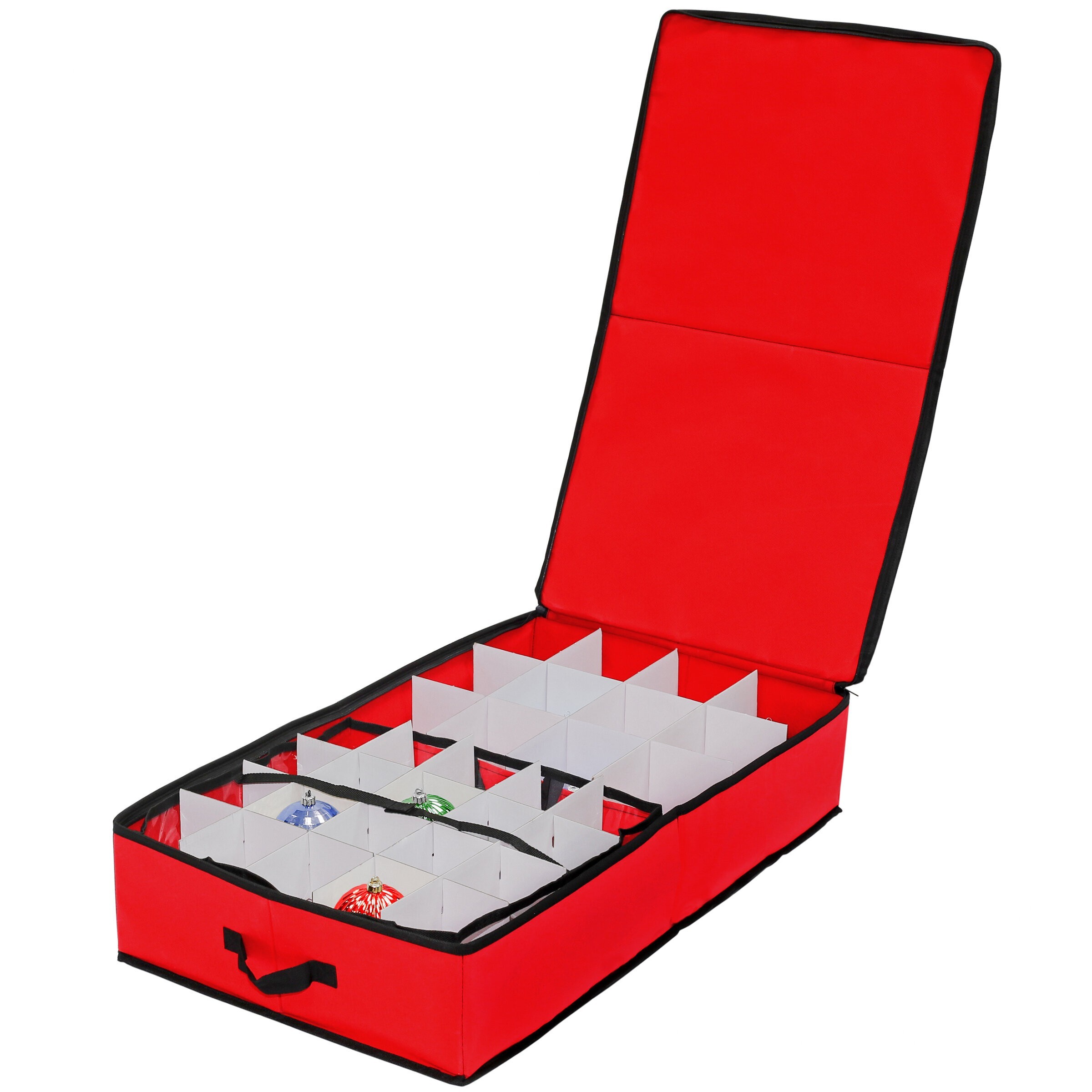 Holiday Aisle Ornament Storage Box
If you've got a large collection of holiday ornaments, then this Christmas ornament box is sure to be just what you need. With three dividers, each organizing and separating 25 ornaments, it can hold up to 75 items.
This storage box fits different sized ornaments and holds them still, so they won't move around and break. Complete with a zippered top, side carry handles, and a front label it's a great value for money buy to keep your ornaments safe all year round.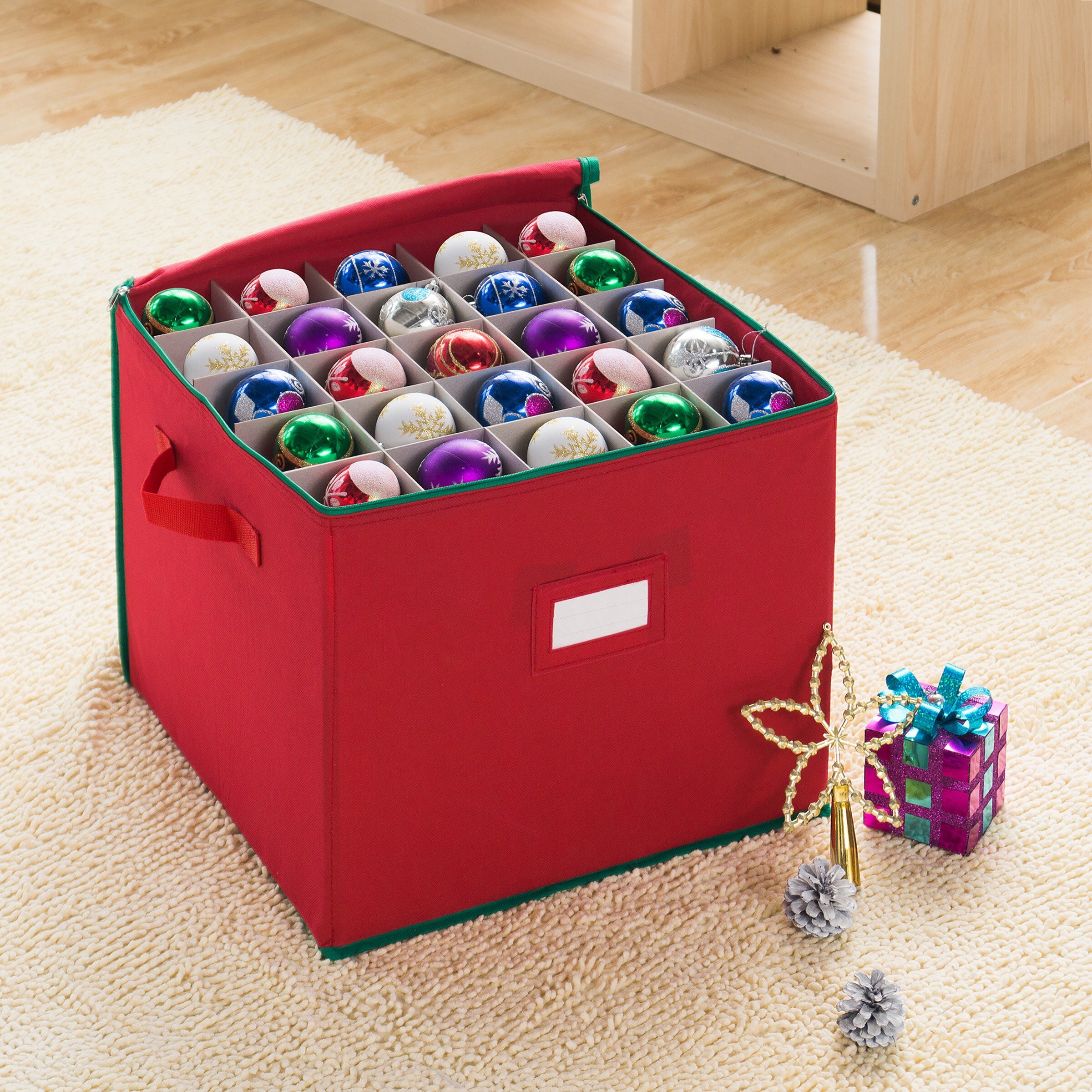 Wing Lid Ornament Organizer Set
Possibly the ultimate Christmas ornament storage solution, this stackable, transparent box set with wing top openings by the Holiday Aisle is one of the best around. Highly practical, space-saving, and affordable, what's not to love? What's more, it's also made in the USA.
Ideal if you havea large Christmas ornament collection, you can see at a glance exactly what's where. Use one box with the included divider to safely store up to 75 ornaments, while the second container can be used for garlands, tree lights, and any other larger Christmas decorations.
As the boxes are rigid, you won't have to worry about your decorations getting squashed or smashed. A highly practical, unbeatable Christmas storage solution.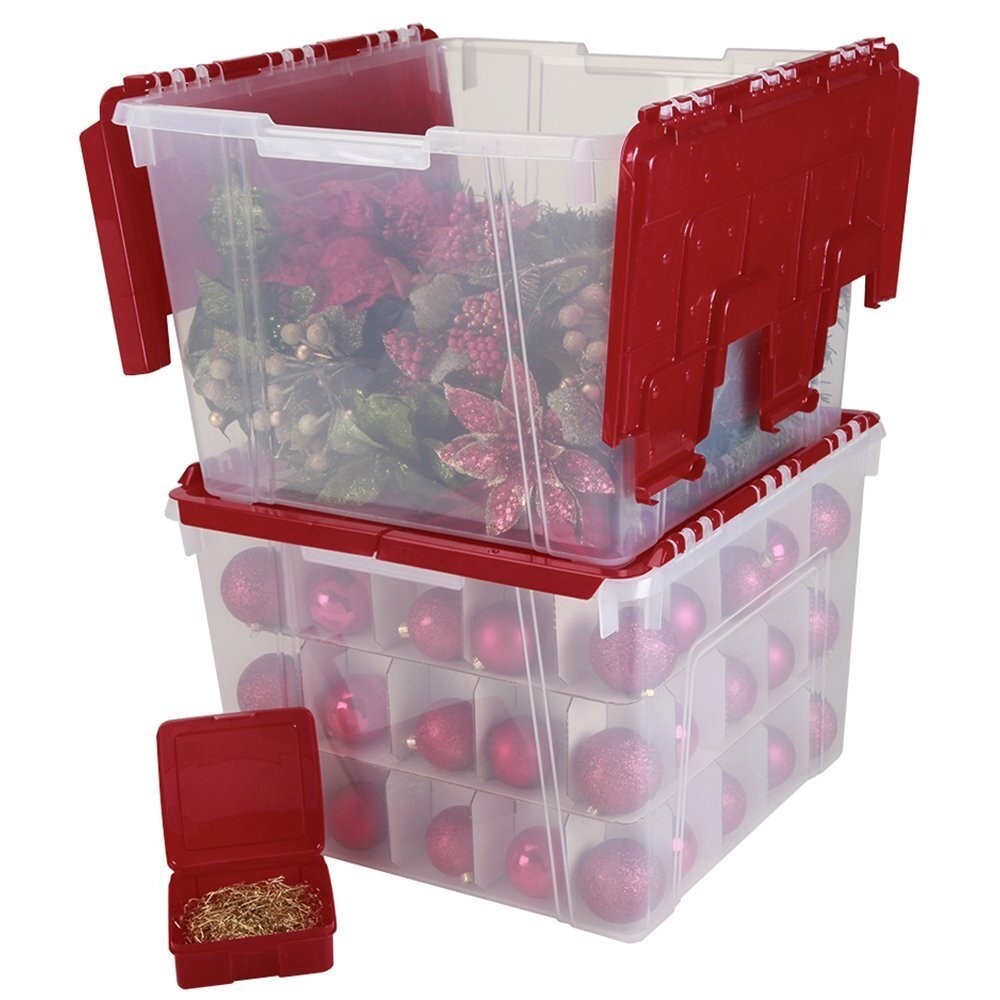 Wreath storage
Keep your Christmas wreath in prime condition and ready to hang next holiday season with our top wreath storage picks.
Rebrilliant Deluxe Wreath Storage Bag
If you are looking for a great budget wreath storage bag, then you won't find many better than this deluxe model by Rebrillant.
Featuring an internal strap and buckle support, as well as a storage pouch for lights or bulbs, there is even a transparent window so you can identify your wreath at a glance. Complete with carry handles to securely transport your wreath, this is definitely a top value for money choice.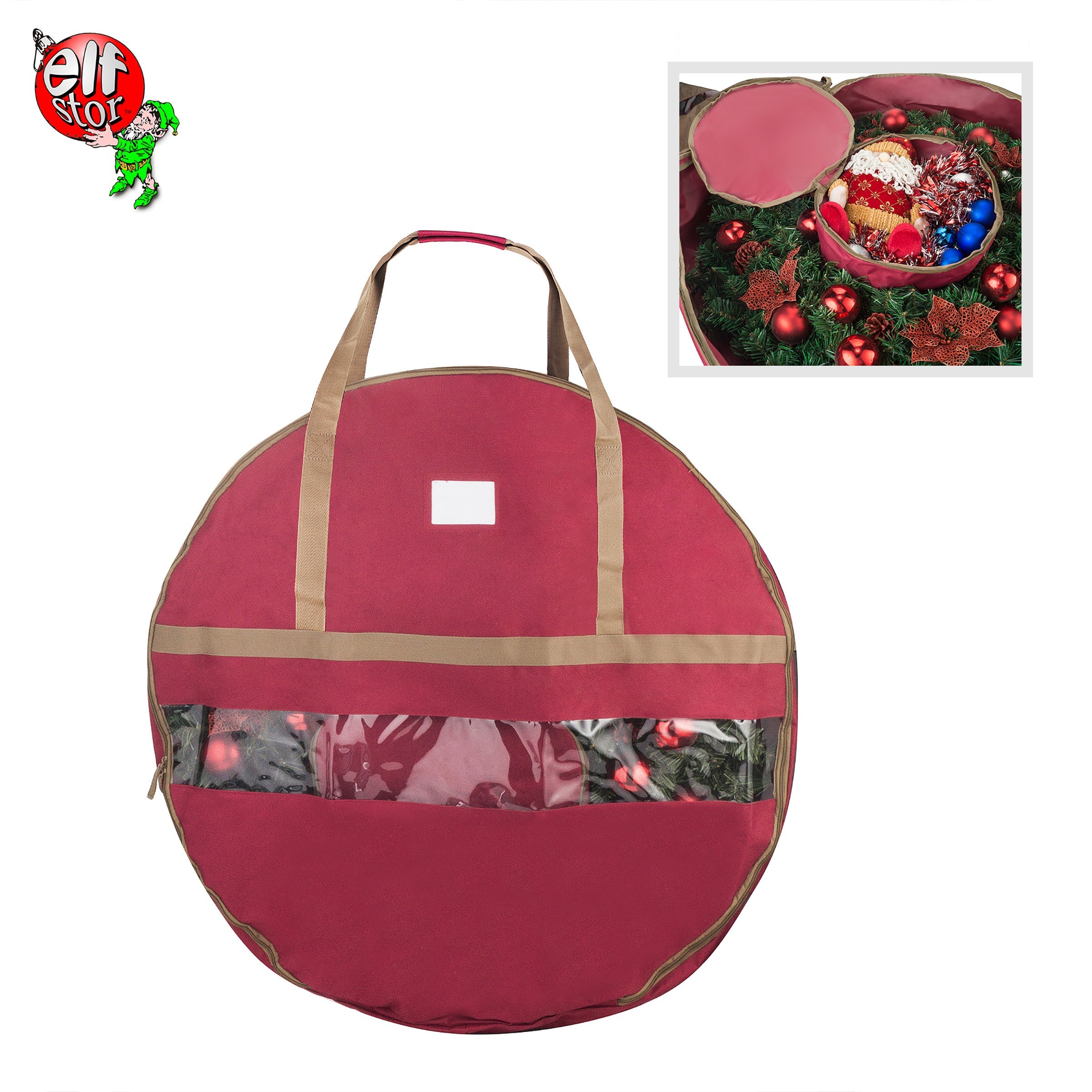 Village Lighting Wreath Storage
Your expensive wreath spends more time in storage than gracing your door or walls, so it makes sense to ensure it's well protected. Not only does this wreath storage bag feature extra deep cushioned walls, it also has a direct suspend system that fixes to your wreath's frame to prevent sagging.
Robust and easy to fit thanks to its wrap-around zipper, this luxury wreath bag is a great model to store your wreath and keep it looking brand new year after year.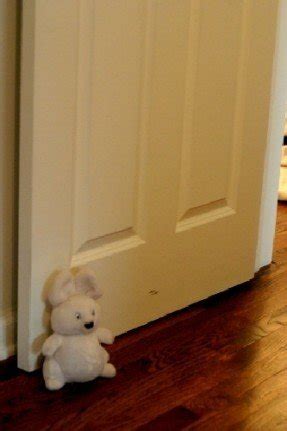 Iris Wreath Storage Box
Made in the USA, the Iris Wreath Storage Box is a highly popular choice. As it is rigid in construction, wherever you decide to store your wreath, it will remain in perfect condition without any disfiguration. It is also moisture resistant and can be stored upright to save you space.
With its easy snap closure fastenings and transparent casing, this highly practical model makes storing and identifying your wreath easier than ever before. It's also available at a highly affordable price, so be sure to check it out.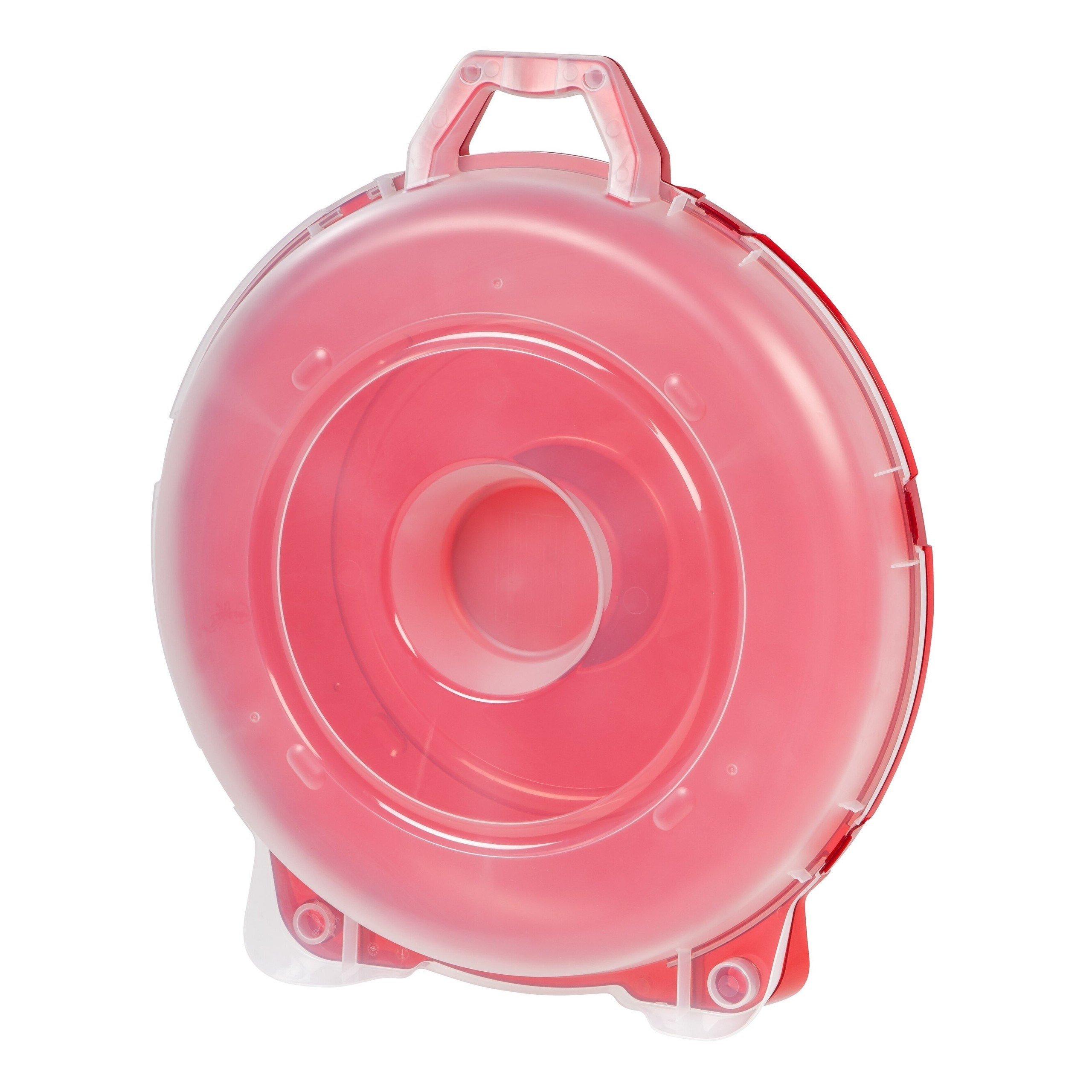 Gift wrap storage
Don't waste time and effort searching for those leftover rolls of gift wrap you safely put away. With our best gift wrap storage solutions, you'll never have to try to smooth out a disheveled roll of wrapping paper ever again.
Closet Gift Wrap Storage
If you're short on storage space, you're going to love this double-sided gift wrap storage solution that hangs neatly in your closet. Use it year-round for all your gift wrapping needs, it has plenty of transparent pockets for storing and organizing your gift bags, tape, scissors, ribbons, as well as four full-length rolls of gift wrap.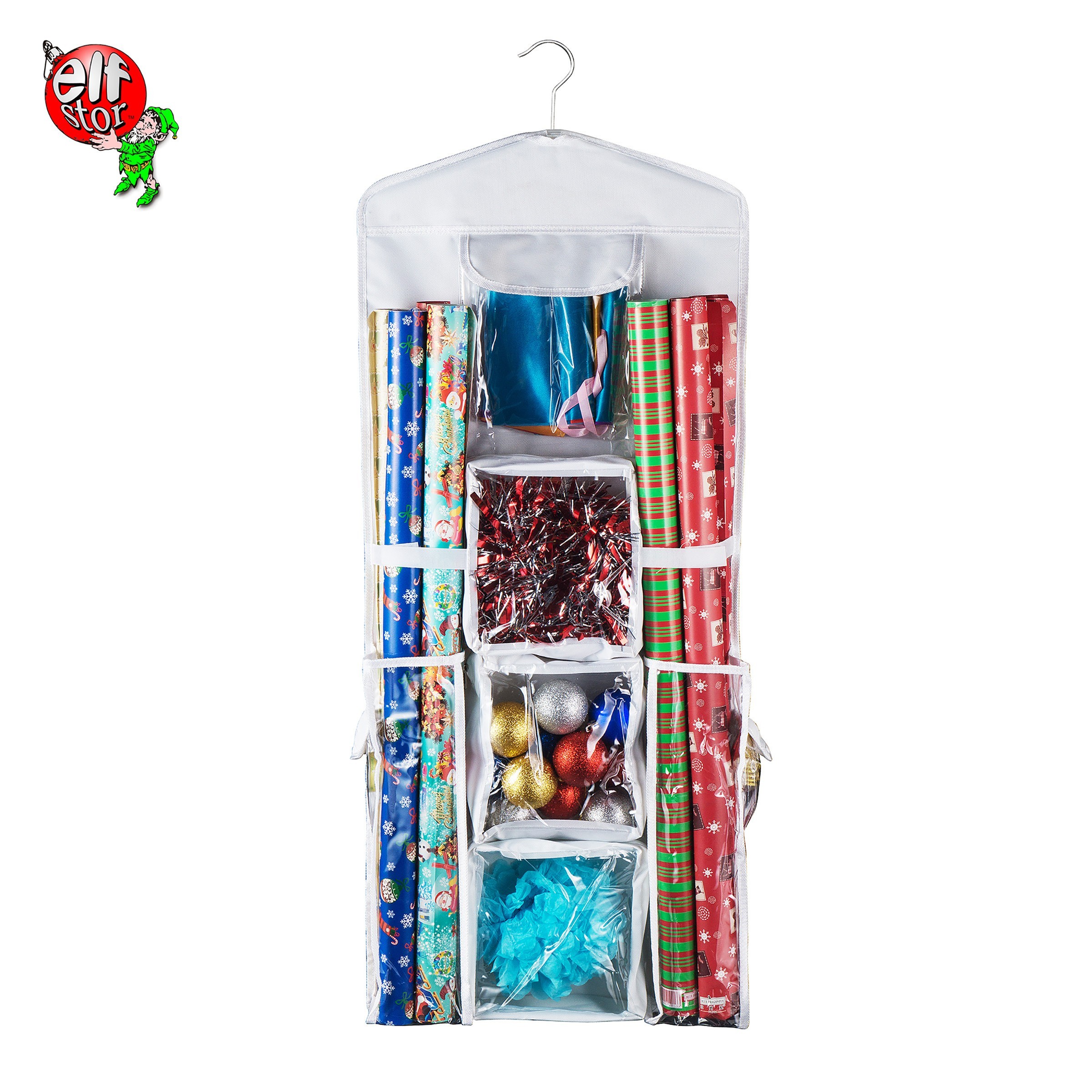 Two-Piece Gift Wrap Storage Set
Whether you have a large family or just like to stock up on holiday gift wrap when you see a bargain, this twin pack storage solution is highly recommended.
Consisting of one large bag, for extra-long rolls, and a smaller bag, both are made from durable, transparent PVC, so you can easily see what you've got in stock for this holiday season.
Complete with large carry handles for transporting and hanging, this two-piece set is ideal for keeping your Christmas gift wrap neat and protected, ready for next year.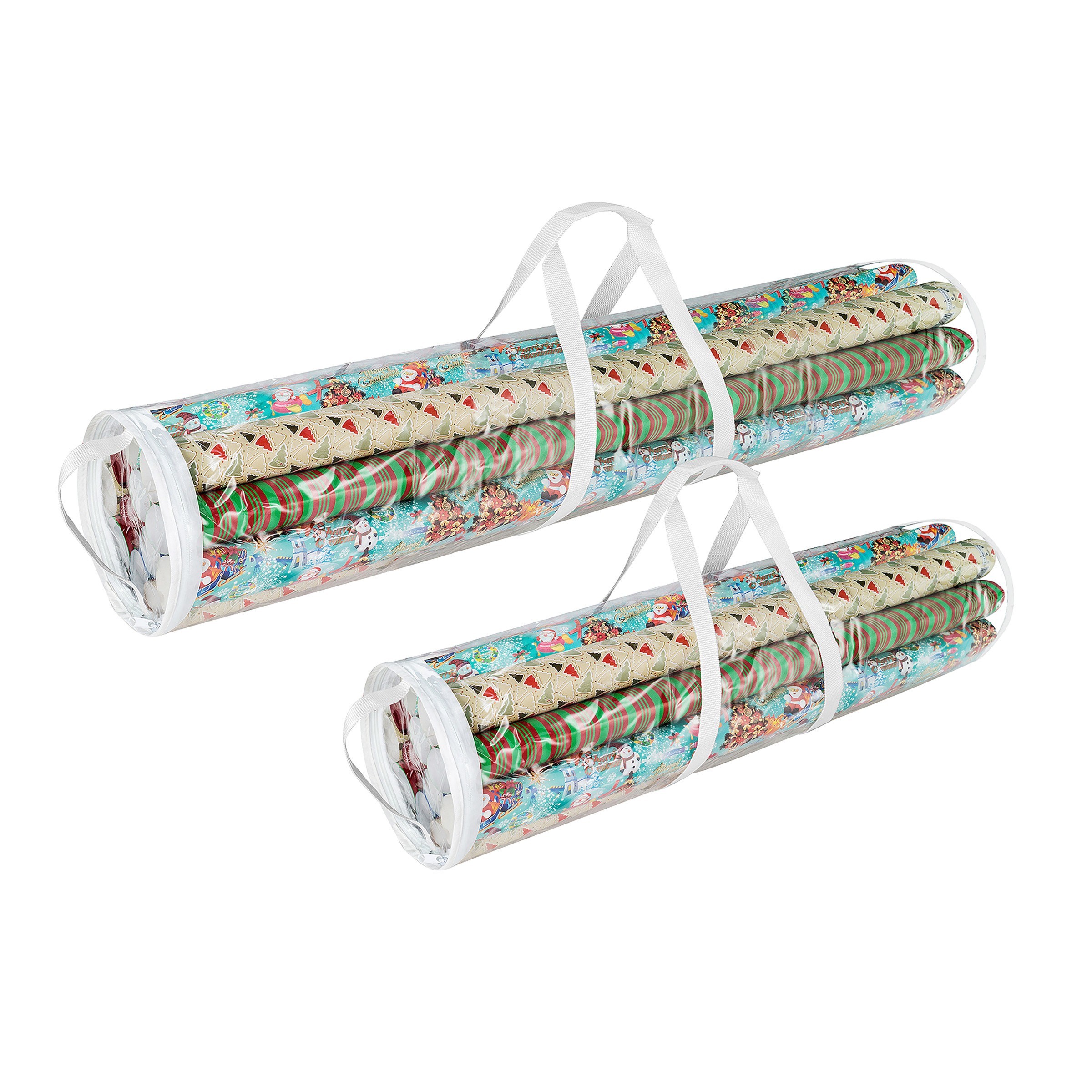 Wickley Gift Wrap Storage Box
Save space and protect your gift wrap with this highly durable gift wrap storage box. Made from moisture-resistant 600-d polyester, this low profile fabric box can be stored under a bed or dresser.
With enough space for up to eight 30-inch rolls, plus a handy divider to store your gift wrap accessories, this box also features two carry handles and a wrap-around zipper for extra ease of use. A stylish way to protect your holiday gift wrap all year round.