Hands up if you've dreamed of sitting in front of your own makeup vanity with lights ever since you've seen one in cartoons or Hollywood movies as a kid! Just so you know, we're raising ours, too.
These pieces of furniture can really turn a simple corner of your bedroom into a sophisticated area for you to shine.
You can find all kinds of makeup vanities with lights here, but we thought we'd make things even easier by showing you our top favorites.
Dinwiddie Vanity Set with Stool and Mirror
Just over 31" in length, this elegant white makeup vanity with lights is a practical option for smaller rooms;

That's also because you can easily turn it into a writing desk whenever you need to, since its mirror, shelf and two top drawers are all attached together but are separate from the surface of the table. How handy is that?

As for the lighting side of things, you definitely won't be disappointed by its light-up touch screen LED mirror;

You also have lots of space to store your makeup and accessories thanks to its five drawers;

It comes with a comfy cushioned stool in a stylish golden color.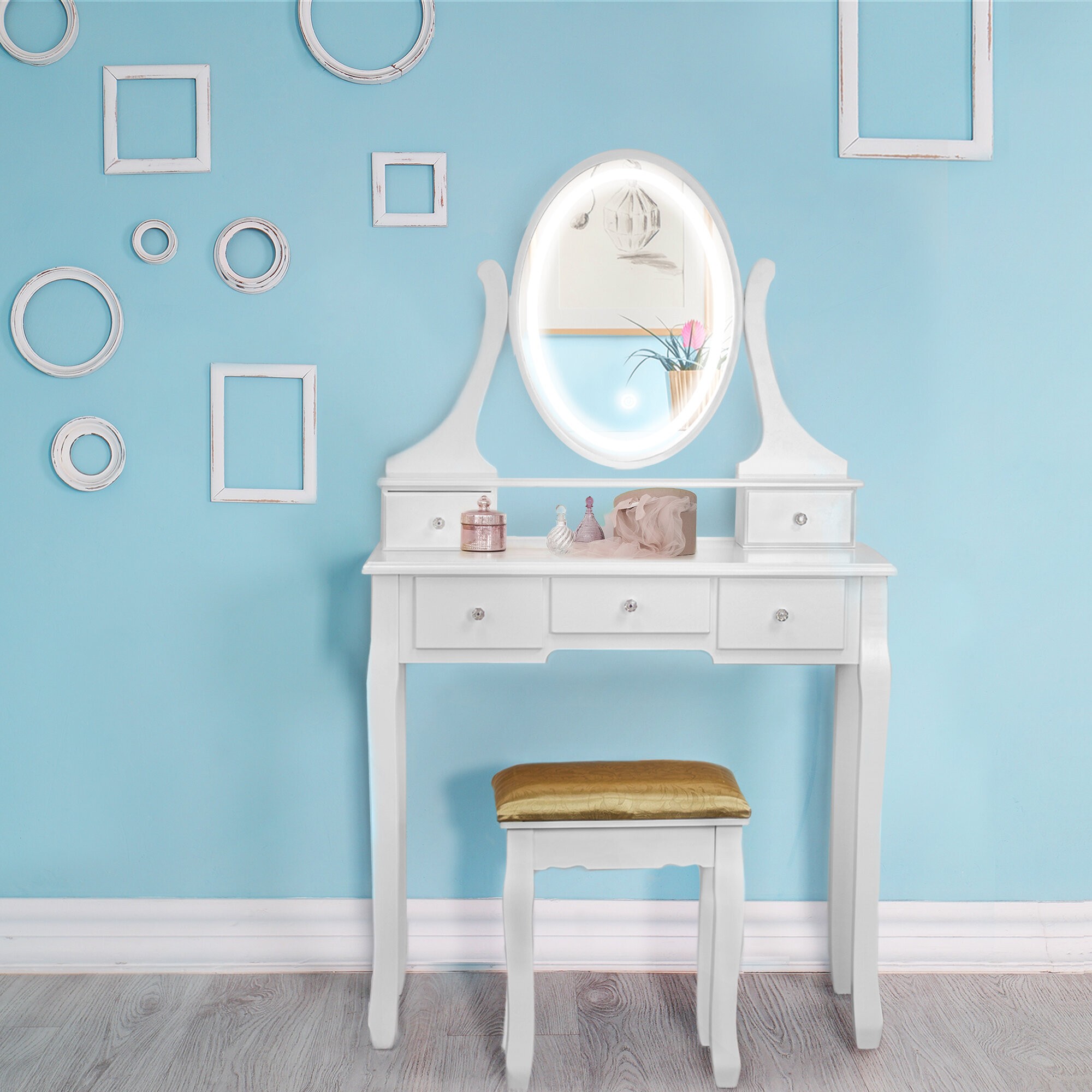 Cenat Solid Wood Vanity Set with Stool and Mirror
This wooden makeup vanity with lights is a delight for minimalists!

Only featuring two large-capacity drawers, it offers enough space to store your makeup without it resulting in a cluttered feel;

The mirror features eight LED light bulbs, but it comes with three spare ones;

We absolutely love this design showcasing pine and rubber wood accents, ideal for Scandinavian décors. However, it's also available in a white or black finish, which might be a better match for your bedroom if you're going for a more modern approach;

Have you got running kids in the house? The anti-topping fitting will give you some extra peace of mind;

Finally, the soft sponge cushion of its adorable stool will allow you to sit on it comfortably for as long as you wish to.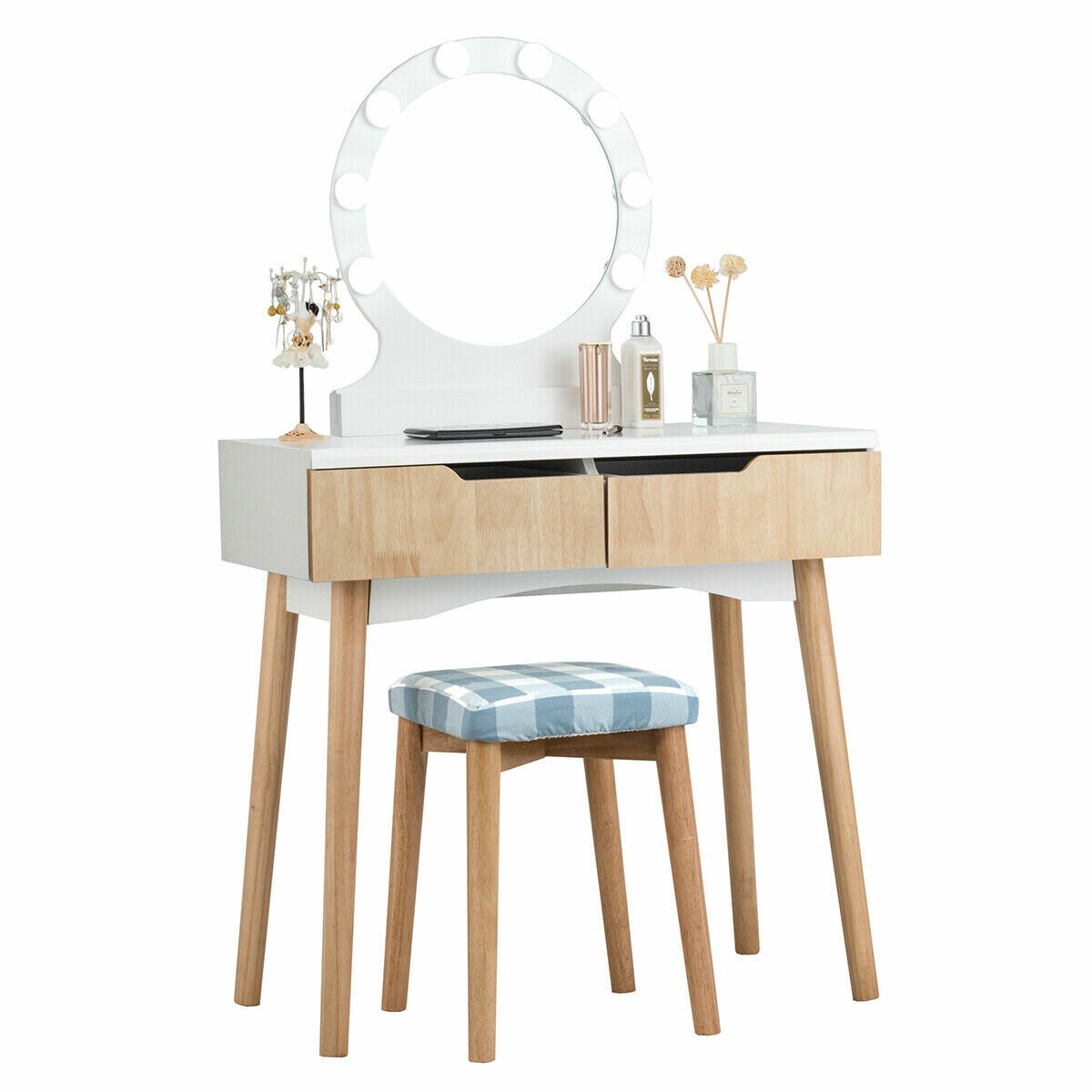 Grubbs Vanity Set with Stool and Mirror
If you're after a compact and budget-friendly makeup vanity with lights, we think you're going to love this model;

Its signature feature is the fact that, as well as two large drawers, it offers you six storage shelves that are perfect to showcase your favorite products or decorate them with pictures or ornaments;

The mirror features an elegant LED strip to illuminate your face from all angles;

The combination of its white top and the gold powder-coated metal frame results in a stylish and attention-grabbing design that can work in modern, contemporary, Scandinavian and minimalist settings.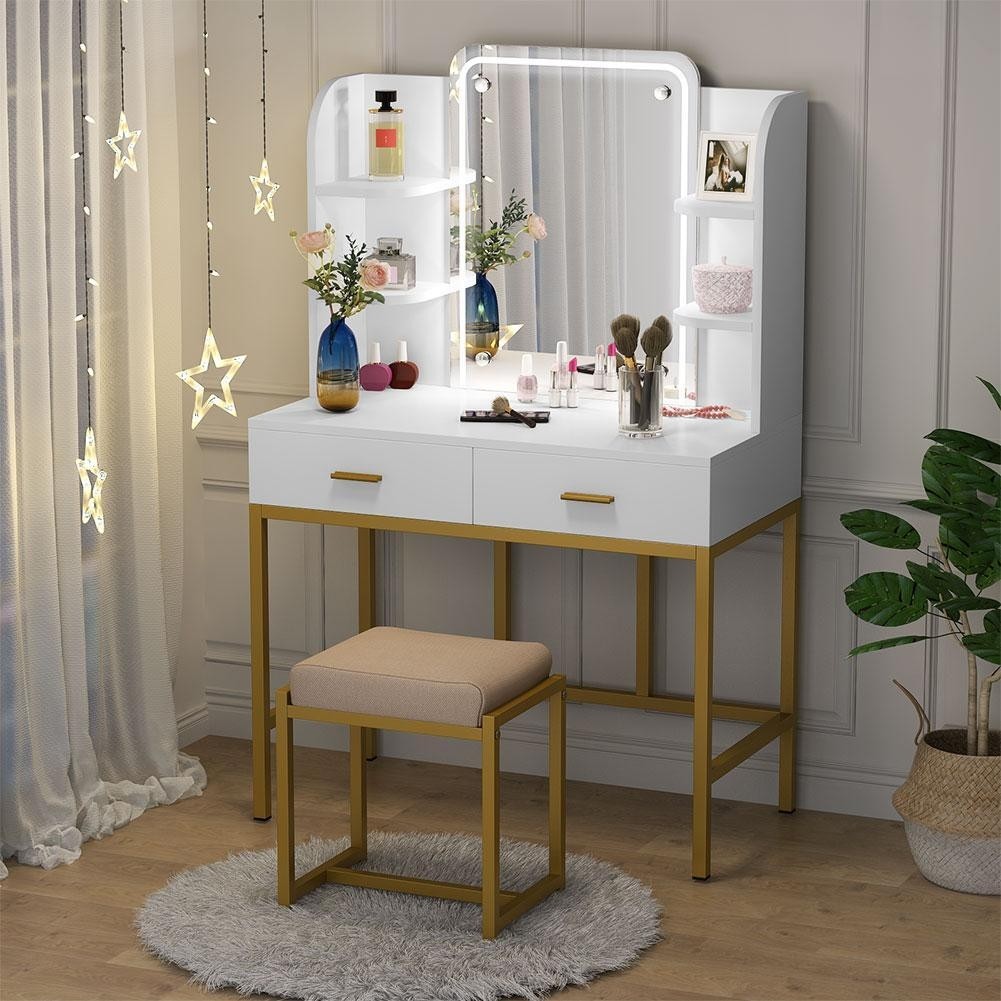 Dunford Vanity Set with Stool and Mirror
This sophisticated makeup vanity is just what you need to complement your shabby chic bedroom;

Elegant and with harmonious shapes both around the oval mirror and along its legs, this reliable makeup station is also a beautiful decorative piece;

It features three larger drawers and four small ones, with the latter offering some additional storage space by acting as two shelves;

The mirror features an LED strip and you can rotate it to get the perfect angle;

The pink cushioned stool is comfy and undeniably cute.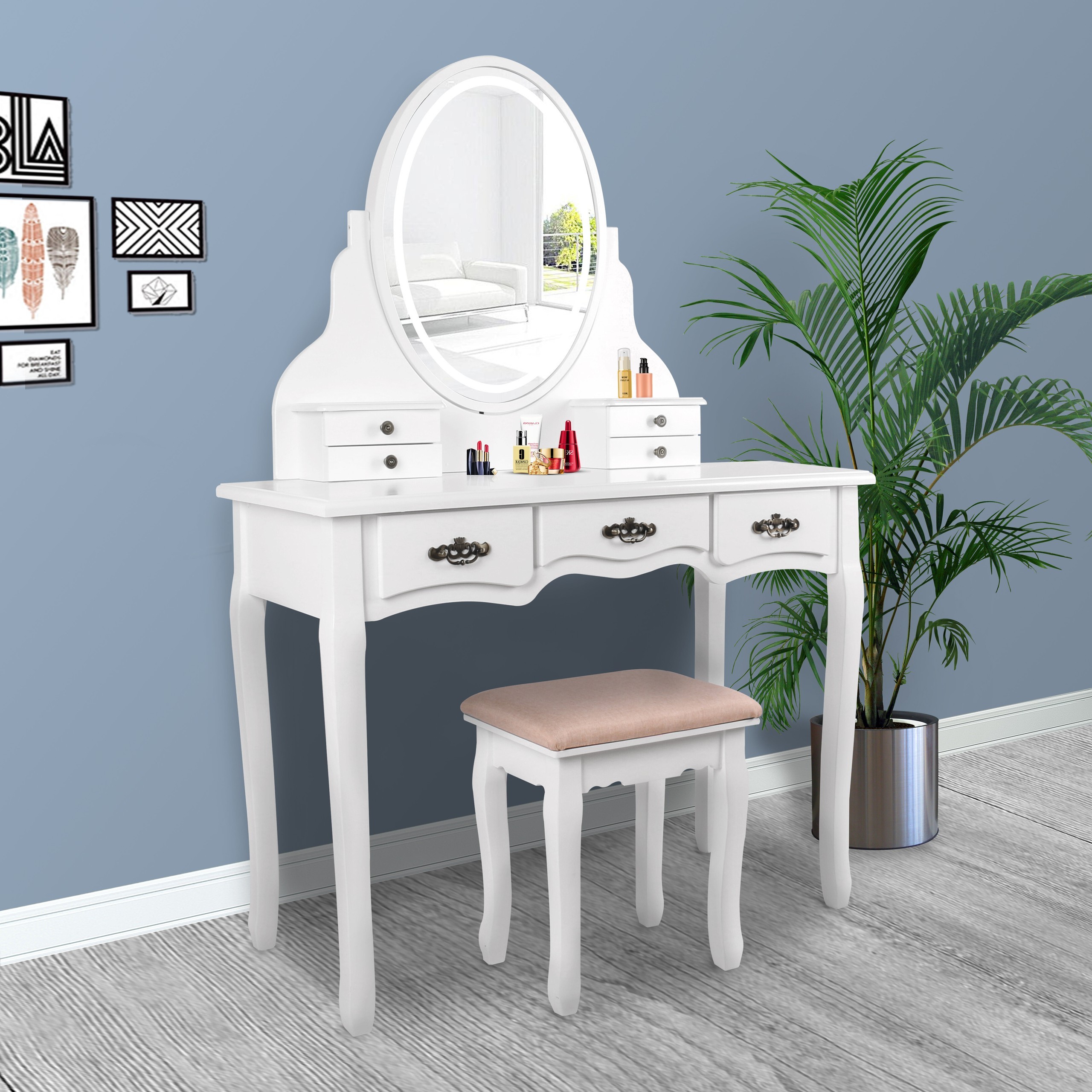 Nicol Vanity Set with Stool and Mirror
Showcasing a sleek design, this makeup vanity with lights is perfect for modern rooms and contemporary settings;

Thanks to the anti-skid pads at the bottom of table and stool legs, you don't have to worry about your precious floor getting ruined by accidental scratches;

The circular mirror features a smart-touch sensor for adjustable lighting;

As for storage, you have two main drawers plus two smaller ones that act as shelves;

This stunning solid beech wood table is also available in three different finishes: navy blue, black and white. Just pick the one that matches your existing palette!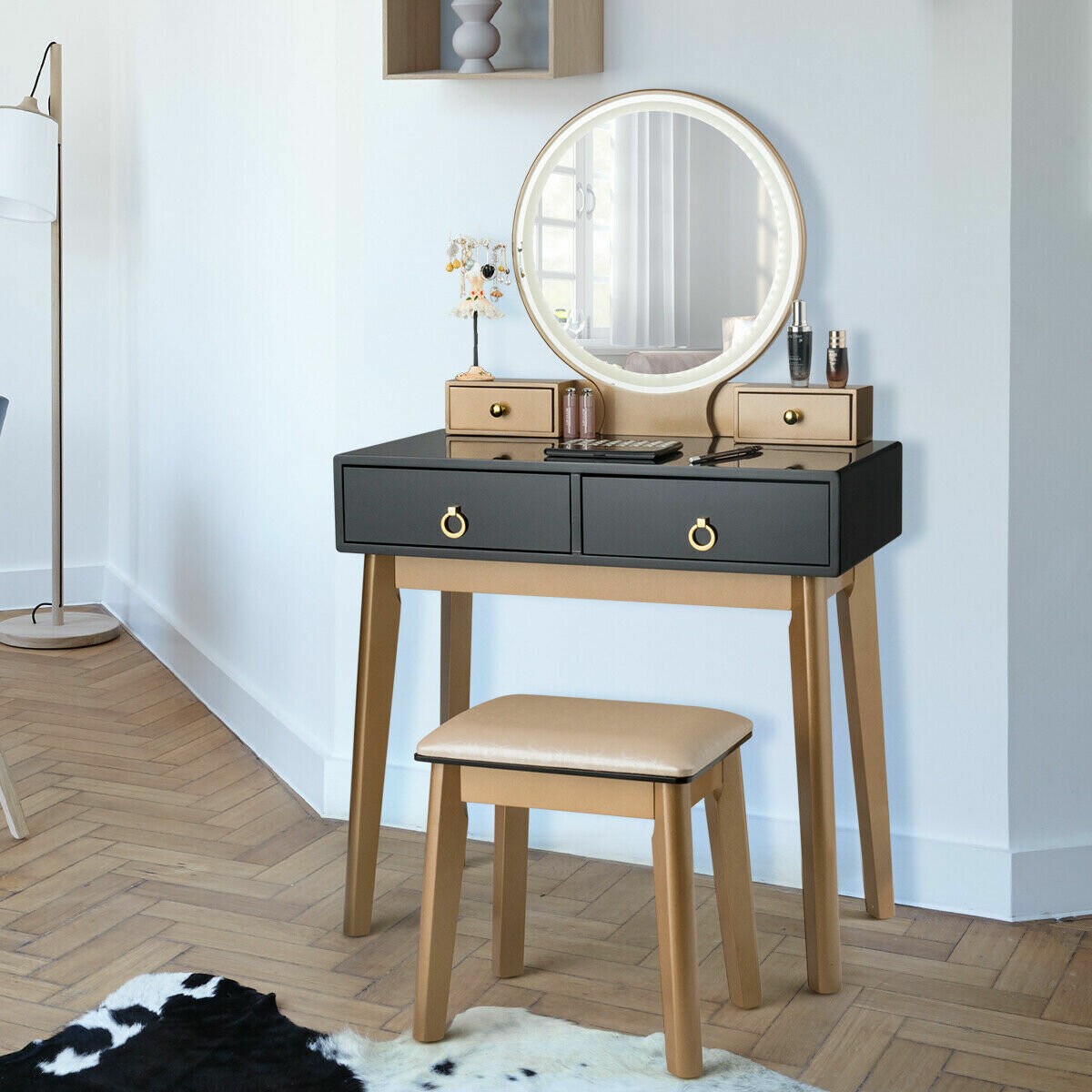 Cindy Corner Vanity with Mirror
Were you worried that your small bedroom or its awkward layout meant the end of your makeup vanity dream? Think again!

This space-optimizing corner model is a fantastic option to make the most of the area where two of your walls meet, offering you plenty of space… without taking over the entire room!

It's also the best option if you're looking for a large mirror, as it comes with an angled three-panel design that allows you to check your makeup from different sides and try new hairstyles;

You also get plenty of storage space thanks to four swiveling drawers and shelves;

Don't forget to purchase a separate stool if you haven't already got one at home.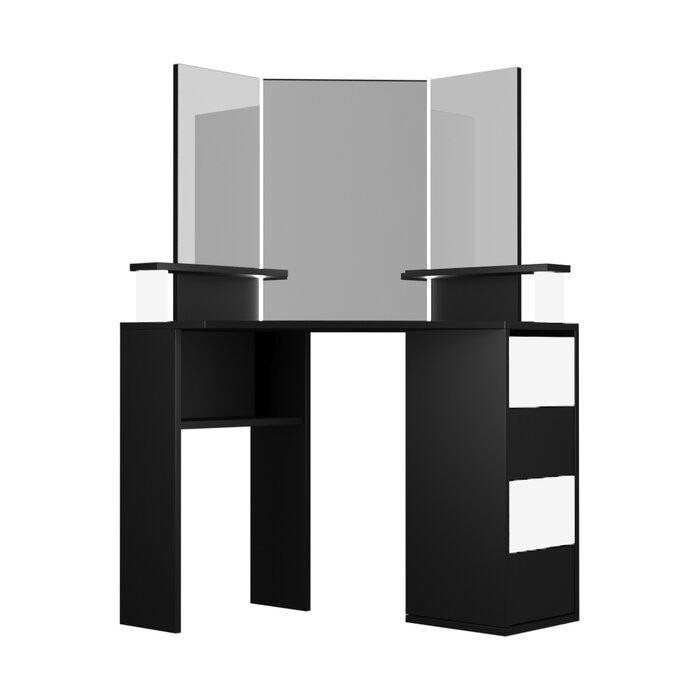 Black Makeup Vanity with Lights and Mirror
If you prefer more modern décors, this versatile black vanity will be perfect to tie your bedroom together;

It follows an intriguing design with metal accents and symmetrical lines, and it includes seven drawers: you definitely won't run out of storage space!

Its signature feature is the dimmable LED mirror: with 14 bulbs and a professional-grade 90 CRI, you can expect outstanding results;

Even better? It comes with a height-adjustable chair!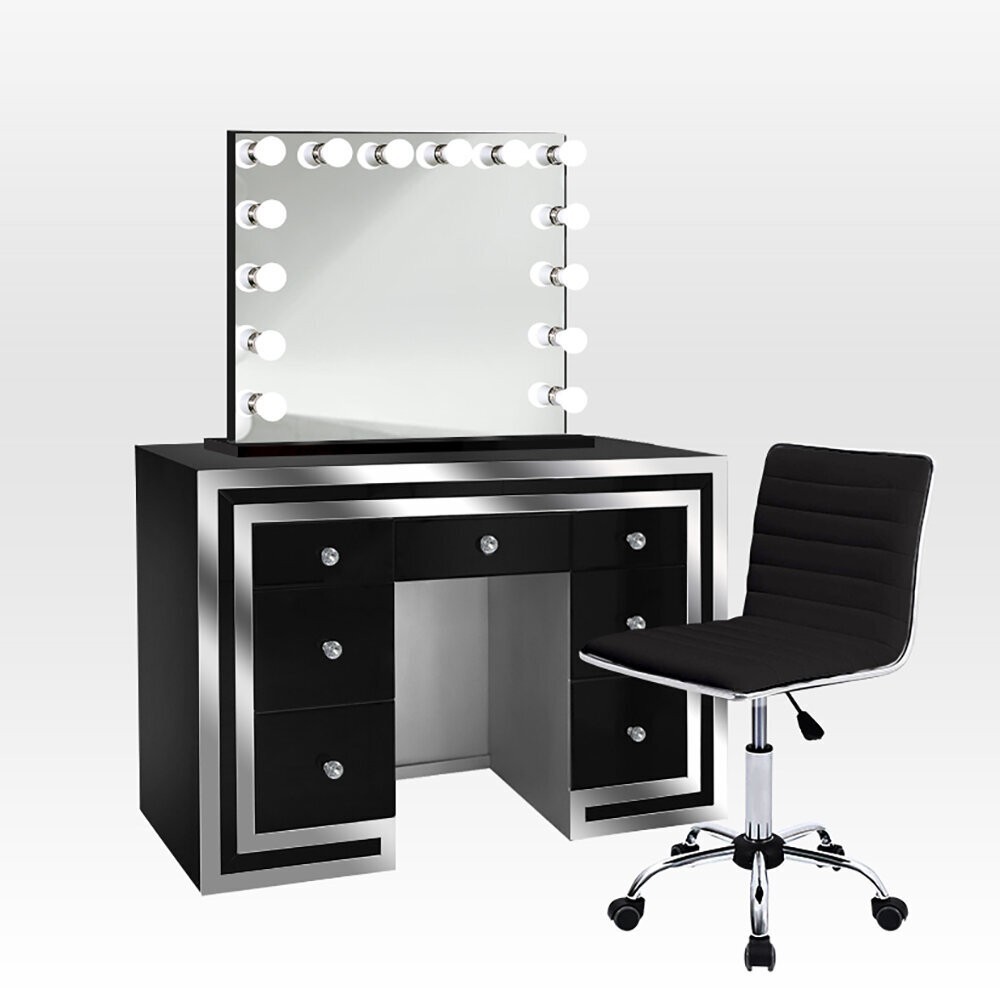 West End Vanity Set with Stool and Mirror
Were you after the iconic Hollywood look? This adjustable oval mirror is surrounded by ten LED light bulbs and follows harmonious lines;

To match the needs of any movie star, there are five drawers, with two of them offering some extra space on top;

The attention to detail that went behind the creation of this vanity can be admired even on its stool, featuring natural cotton upholstery and an elegant pattern;

This is also a dual-use makeup vanity since you can remove the top elements and turn it into a practical desk.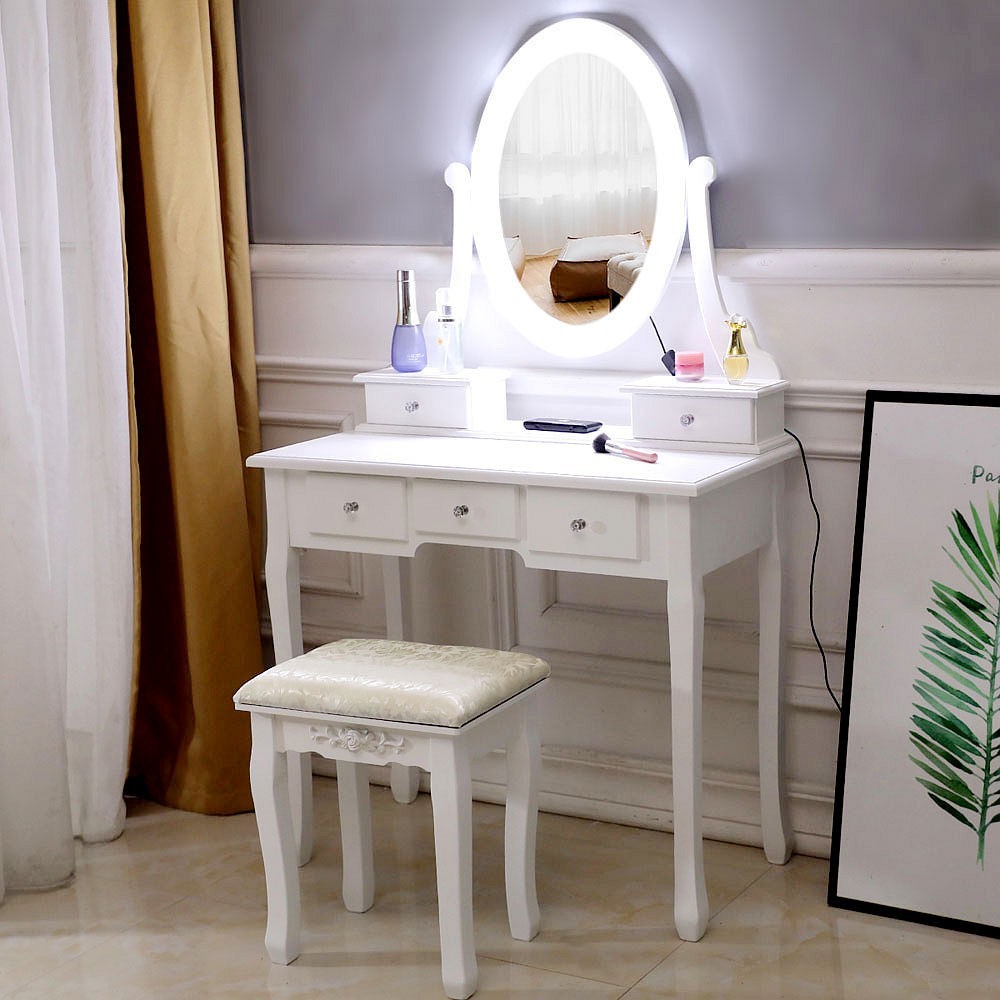 Bevins Vanity Set with Stool and Mirror
Showcasing the beauty of sleek lines and a streamlined design, this minimalist makeup vanity with lights features a single long drawer;

Thanks to its wide surface, you'll be able to use it as a writing or work desk as well;

Its mirror is perfectly round and symmetrical and comes with a smart LED strip;

Instead of the usual tiny stool, this vanity comes with a stunning accent chair made of velvet and featuring a beautiful matelassé finish. You can definitely sit on it for hours comfortably!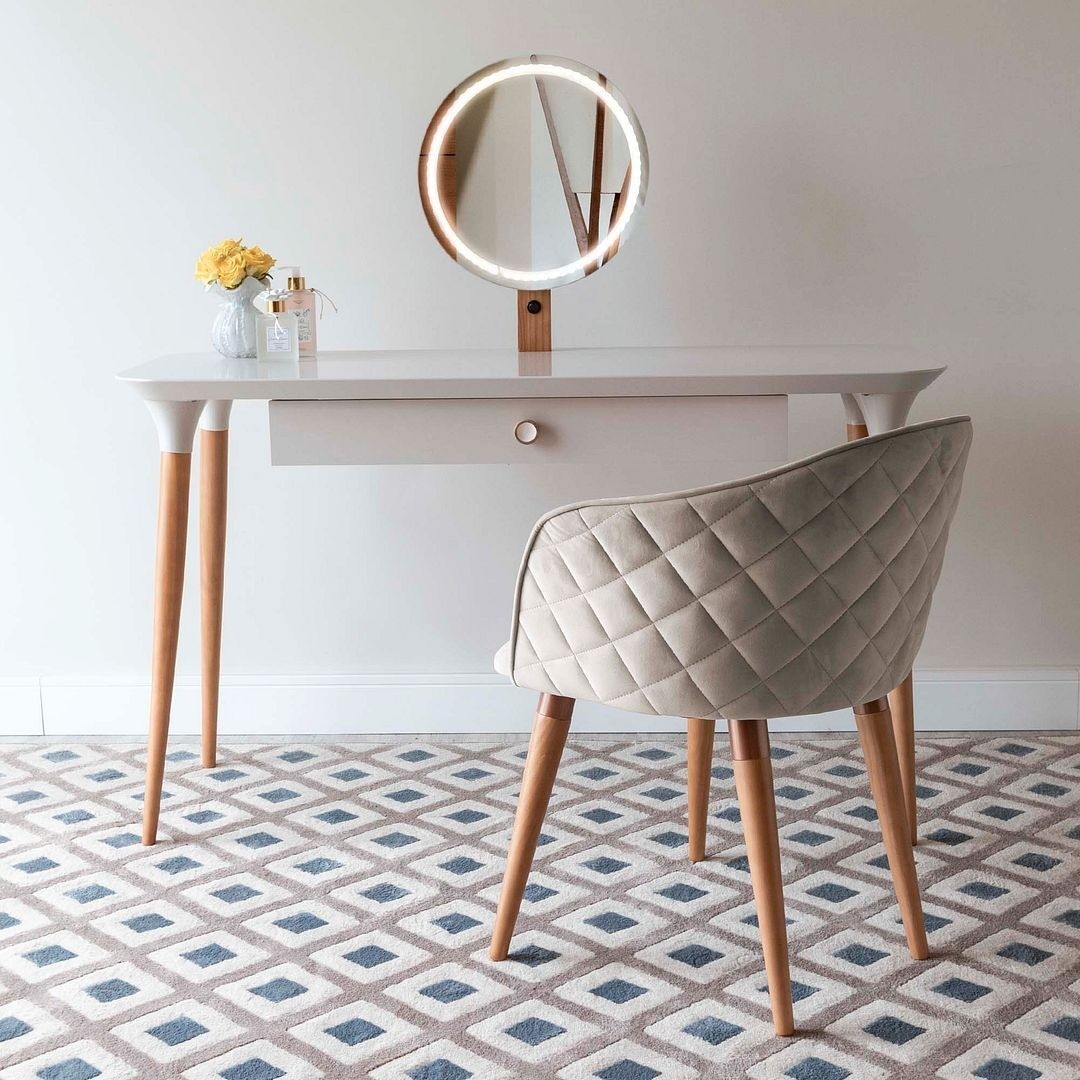 Luckey Vanity Set with Stool and Mirror
Are you after the best of the best - and are happy to pay what it's worth? This luxurious makeup vanity with lights is just what you need to wow your guests and create a sophisticated corner just for yourself;

Made of wood, it follows an unusual and eye-catching design that we haven't encountered in any other model, so far;

It offers plenty of storage space thanks to two wide drawers divided into compartments and two extra ones that support its structure;

The wide rectangular mirror, featuring impressive LED lighting, will actually be attached to the wall, adding to the majestic feeling of this makeup vanity. A real treat!