Wooden baker's racks are an excellent solution to modern-day storage problems. These iron and wooden shelving racks come in all shapes, sizes, colors, and styles and can easily fit into corners or along walls to help store your clutter or showcase special items.
While these great pieces of furniture were originally used to cool pies and pastries in the kitchen, they don't need to stay there. In recent years, professional interior decorators have utilized them all over houses to help homeowners become more organized and serve as stylish options to clean up high traffic areas.
When you're looking to solve any display or storage issue, rest assured that a great variety of baker's racks can be found listed at Foter.com. Find inspiration to creatively organize your favorite keepsakes, collectibles, toys, or jewelry with one of these 10 awesome baker's racks anywhere in your house.
Vasagle Baker's Rack
This fantastic model is constructed from stained particleboard and steel to beautifully store your pots and pans on either the shelf or wire rack. There is plenty of space on both of the lower shelves to store large kitchen gadgets like a slow cooker or standing mixer while the central shelf will hold your microwave or toaster.
The wire mesh panel offers hooks from which to hang utensils or decorations of your choice.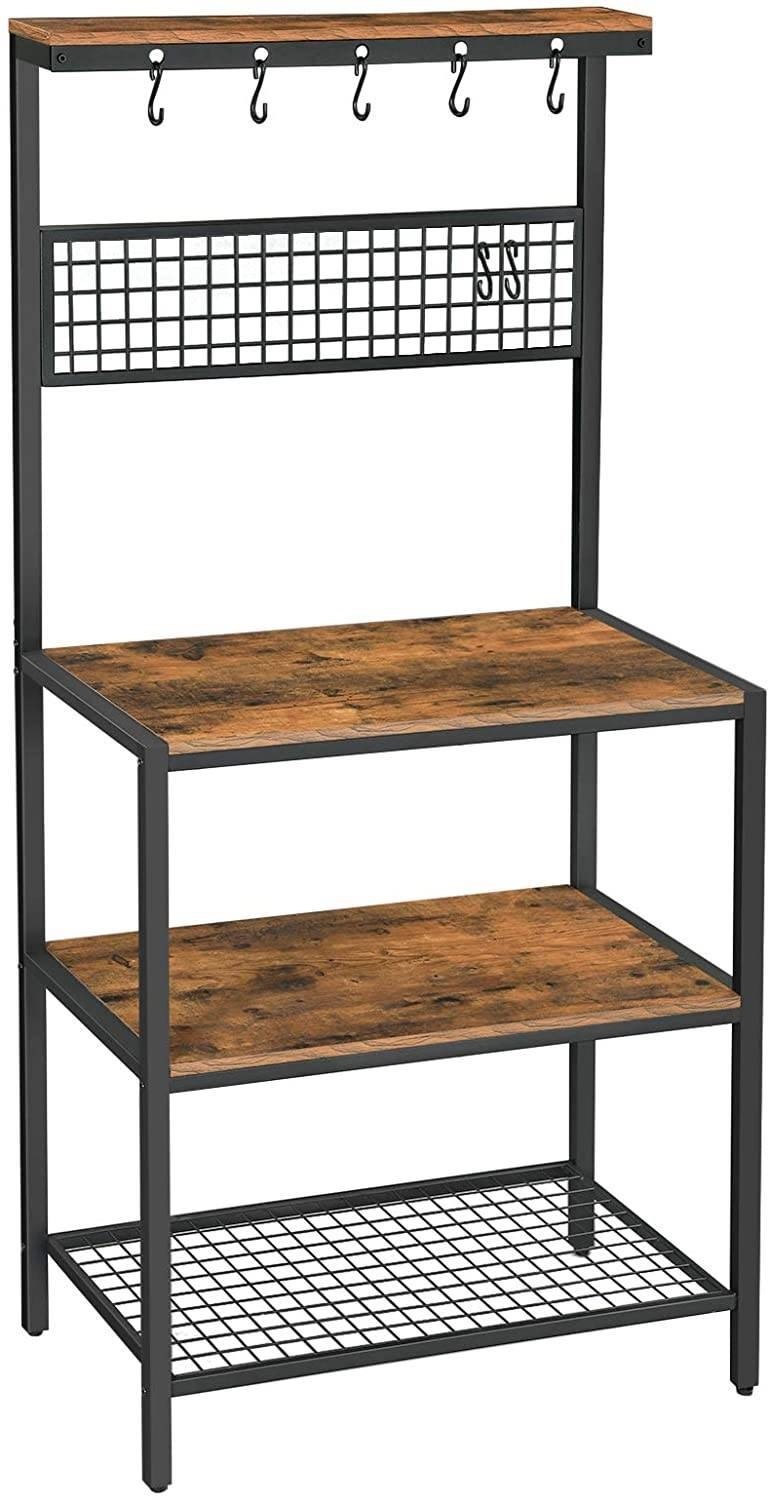 Worton Baker's Rack
Small but mighty, this engineered wood and steel baker's rack still offers terrific storage options with a smaller footprint. This compact baker's rack features six separate wooden shelves and a wire mesh basket to comfortably hold all your favorite art supplies in one centralized craft station.
Store your yarn and needles in the wire mesh basket while proudly displaying your favorite artistic designs on the upper shelves. The steel bars on either side serve as a great spot to hang brushes to dry.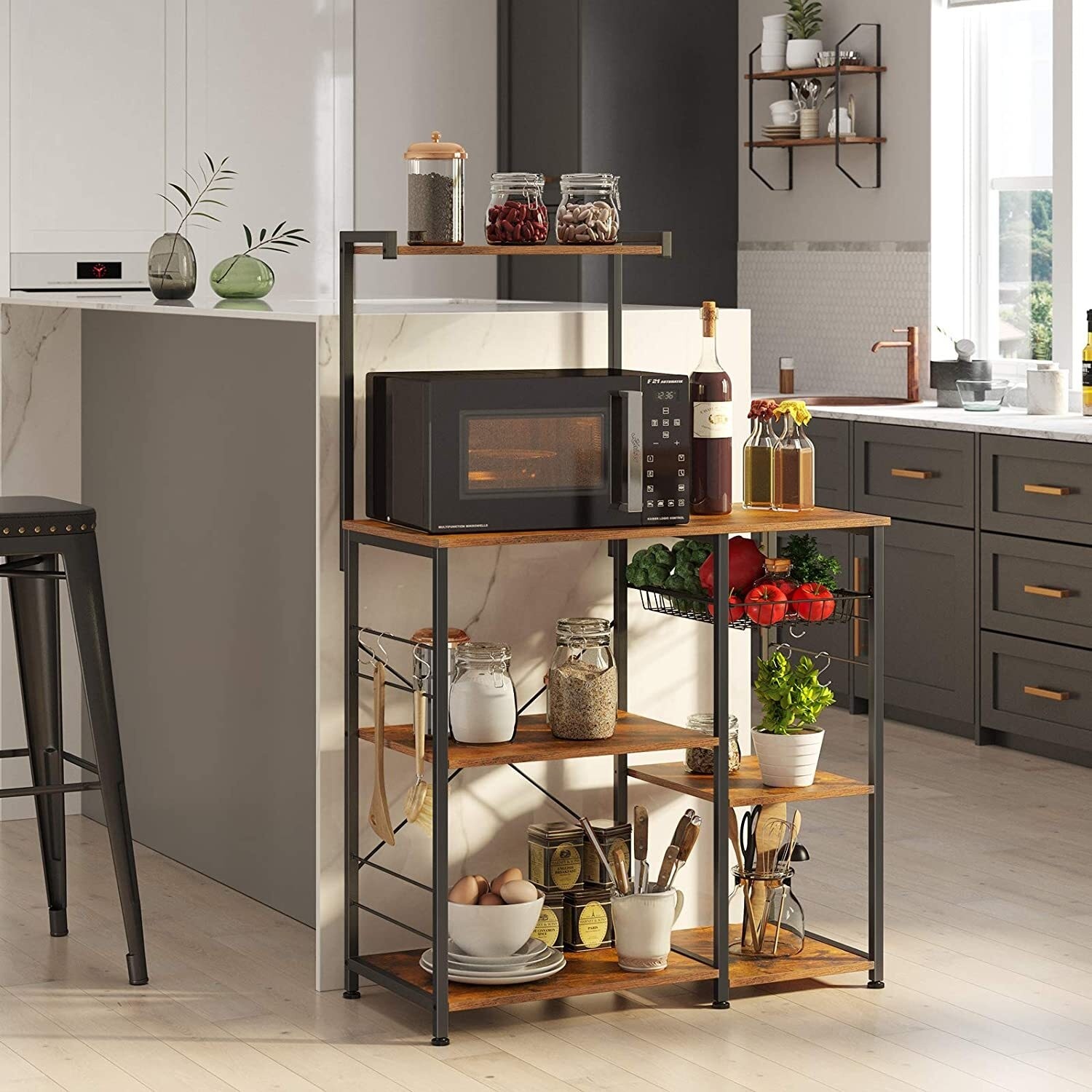 AmazonBasics Storage Rack
A great option for areas that have limited space, this baker's rack comes with a set of casters for mobility. This sturdy, portable rack is made of chrome-plated steel and is the perfect solution for your indoor or outdoor herb garden. The bottom shelf can be adjusted in 1" increments to fit any sized potted plants and the side hooks are ideal for hanging gardening tools.
Wheel your potted plants around a sunroom or patio throughout the day to ensure they get enough sunlight or quickly bring them inside if a frost is coming.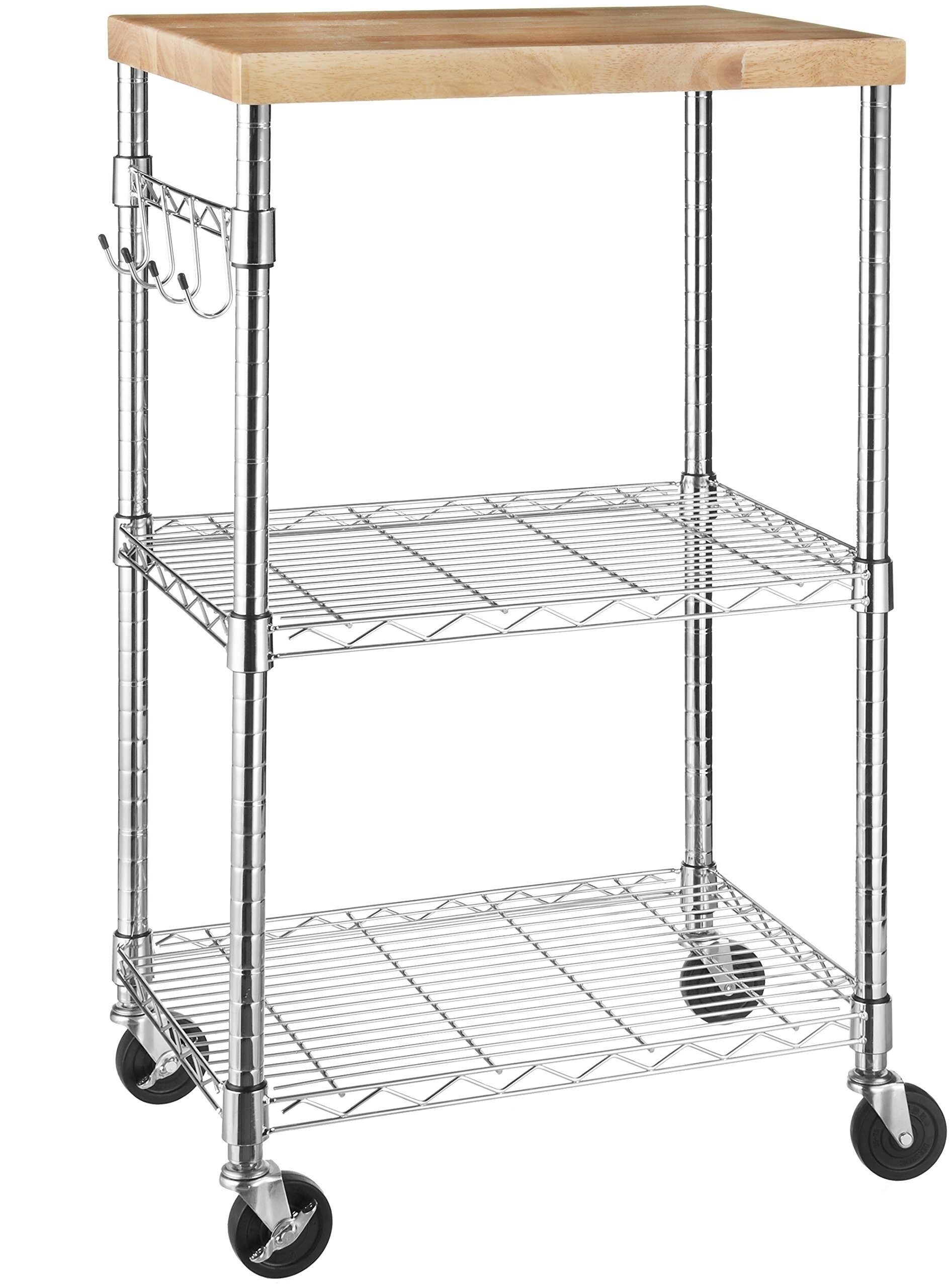 Brashears Baker's Rack
This beautiful wooden baker's rack doubles as a free-standing bar and liquor cabinet. The natural colored solid wood matches any décor color scheme while the faux marble countertop adds a touch of elegance to your living room, dining room, or entertaining space.
Standing at 64'' H x 31'' W x 15.75'' D, it can comfortably accommodate up to 100 lbs. of stemware, accessories, and bottles on its seven shelves.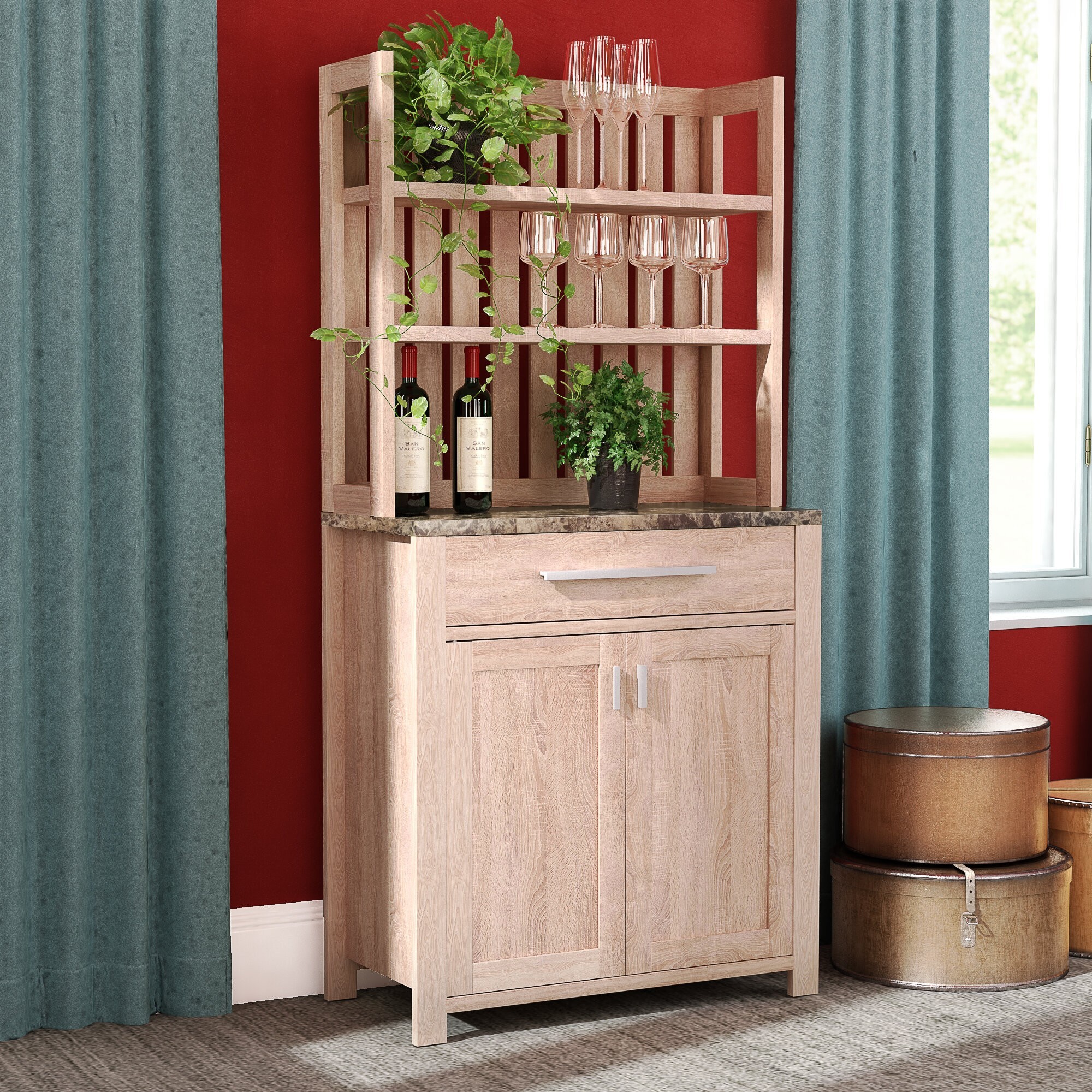 Home Styles Oak Hill Bakers Rack
If traditional baker's racks are more your style, take a look at this distressed oak and metal model with a lovely live teak wood finish. It features two upper shelves for displaying family photos and décor accents, as well as three drawers under the main counter area in which you can store puzzles, games, or silverware.
Standing over 6' tall, it's great for larger kitchens, dining rooms, or family rooms and will instantly be an impressive and dependable piece of furniture.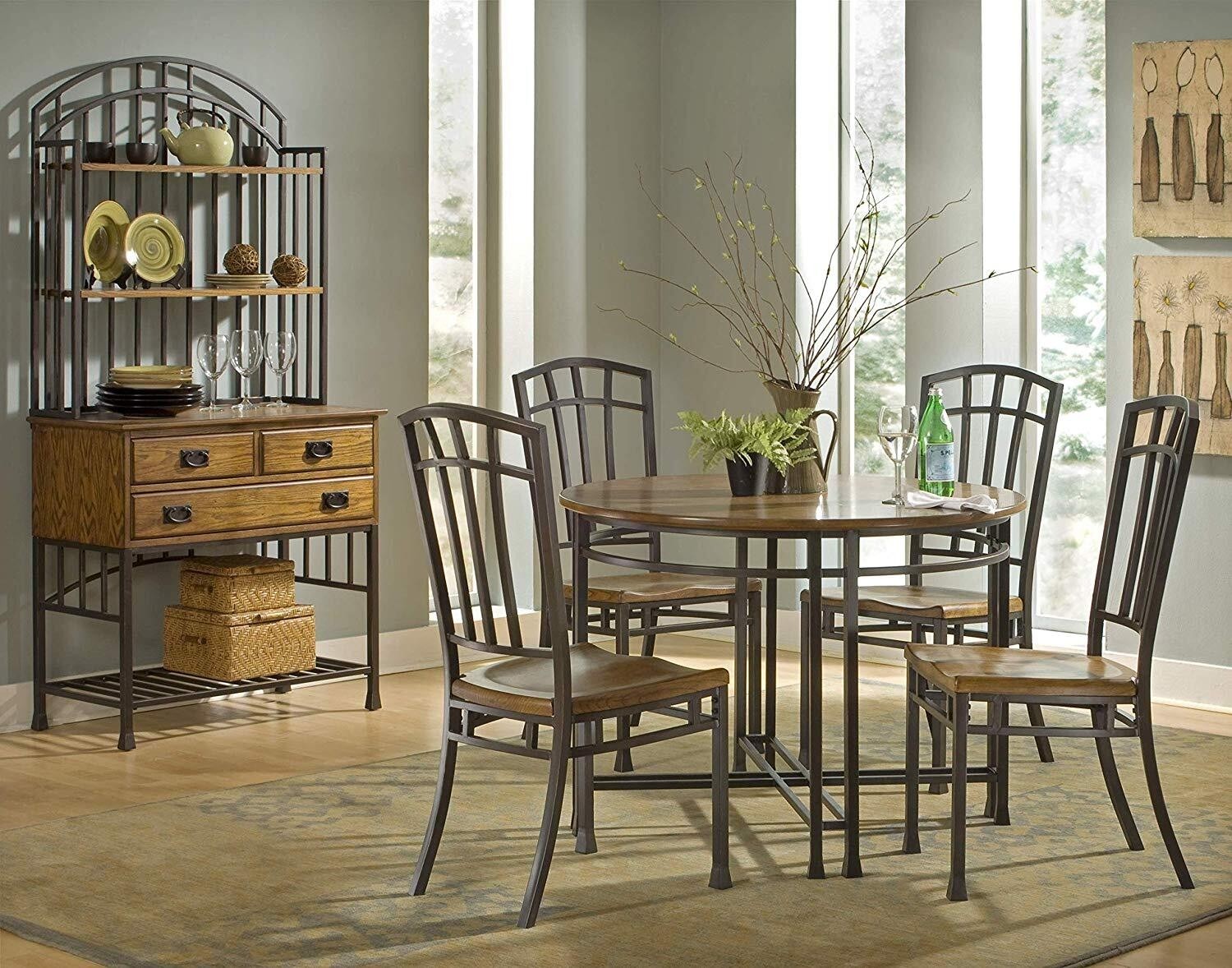 Hackworth Steel Baker's Rack
The metalwork on this steel baker's rack is extravagant and beautiful, and with dimensions of 48'' H x 42'' W x 11'' D, it is perfect for rooms with lower ceilings. Regardless of its compact size you don't lose any storage capacity thanks to the two corner racks on either side.
Place this eye-catching piece in your sunroom to hold your beloved potted flowering plants. Or, use it in your dining area as a vintage bar to store your stemware, decanters and your best bottles of top shelf liquor.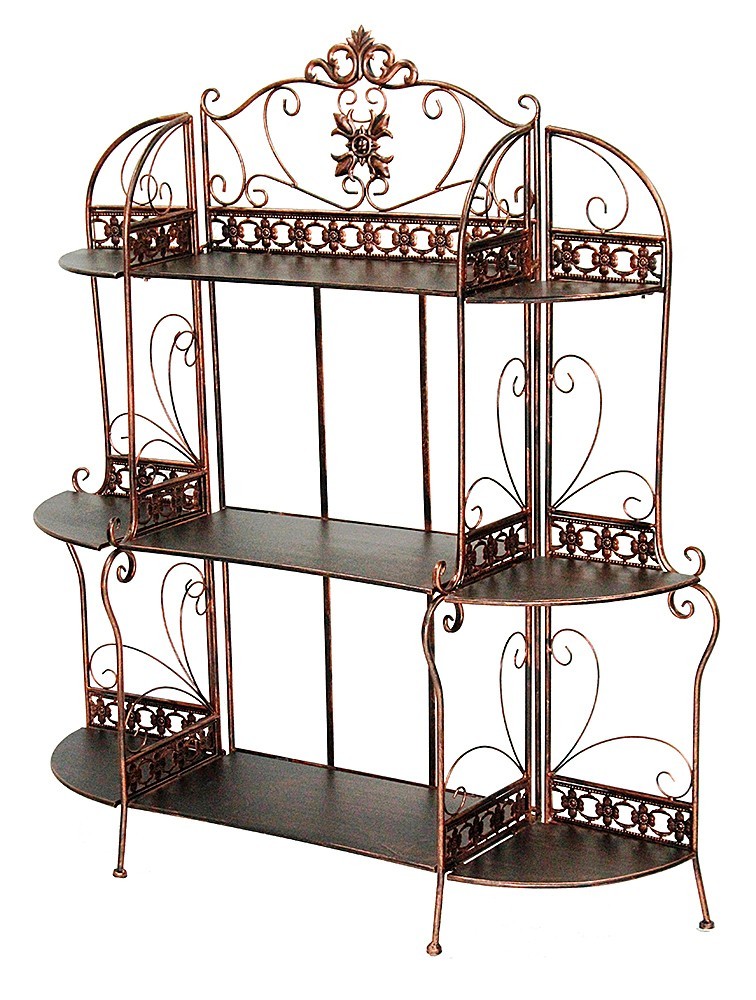 HOMYSHOPY Wine Bakers Rack
Made of engineered wood and metal, this 39.76" W x 19.69" D x 71.26" Industrial-style baker's rack is closer to a bar than a cooling area for your favorite baked goods. It features a built-in wine rack to accommodate 12 bottles of your favorite vintage, a glass hanging rack, and additional storage space to hide spices or sweeteners for your cocktails.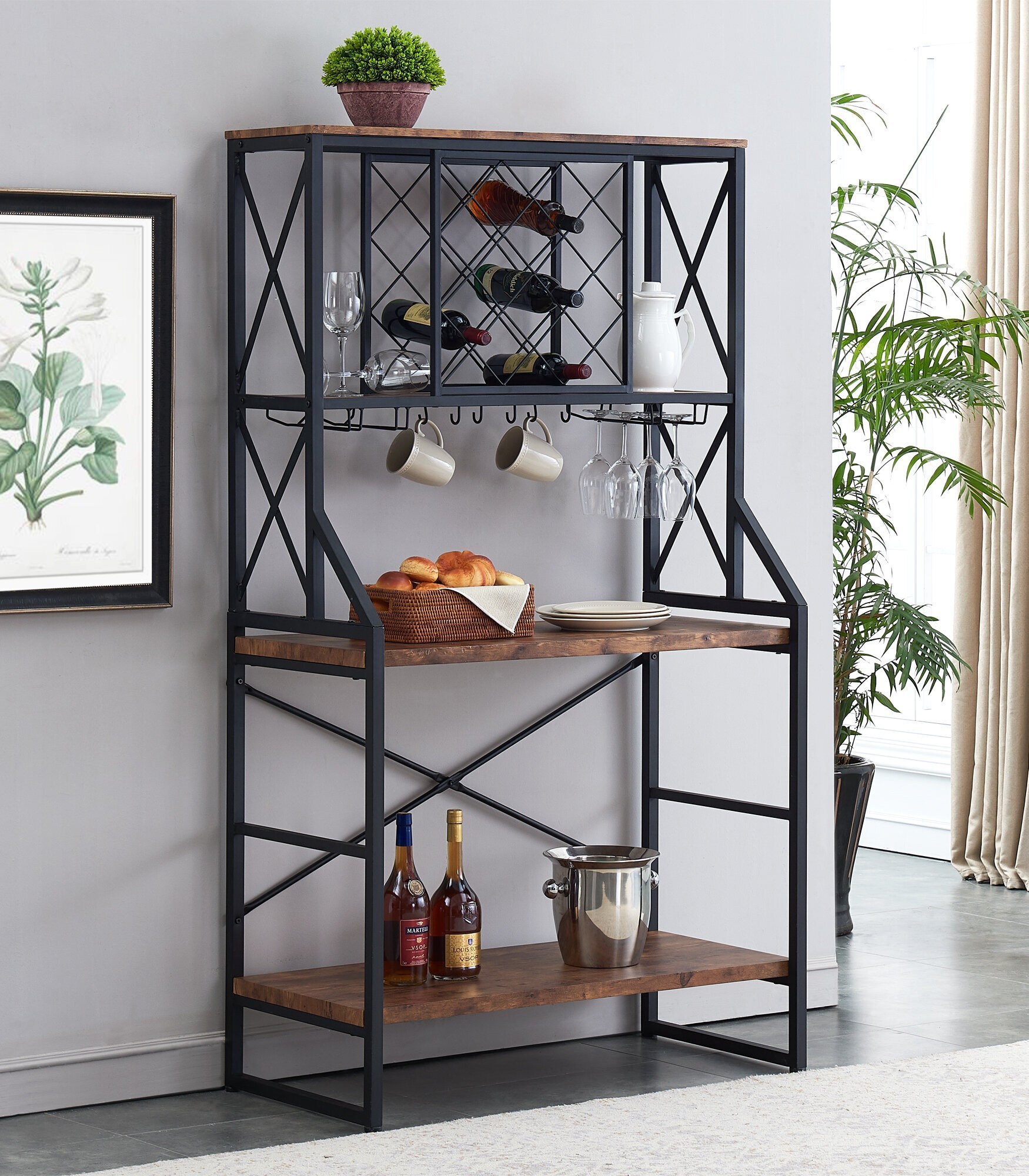 Noha Trellis Steel Baker's Rack
Add a touch of provincial life to your country cottage kitchen with this beautiful, white baker's rack made of metal and wood. This rack is the perfect spot to put a coffee bar as it takes only 68'' H x 27.5'' W x 16.5'' D inches of space.
Use the wine rack to store your favorite bottled syrups while lining up different coffee makers and brew methods on the shelves. Store your sweeteners and other condiments on the high shelf where they're easy to access.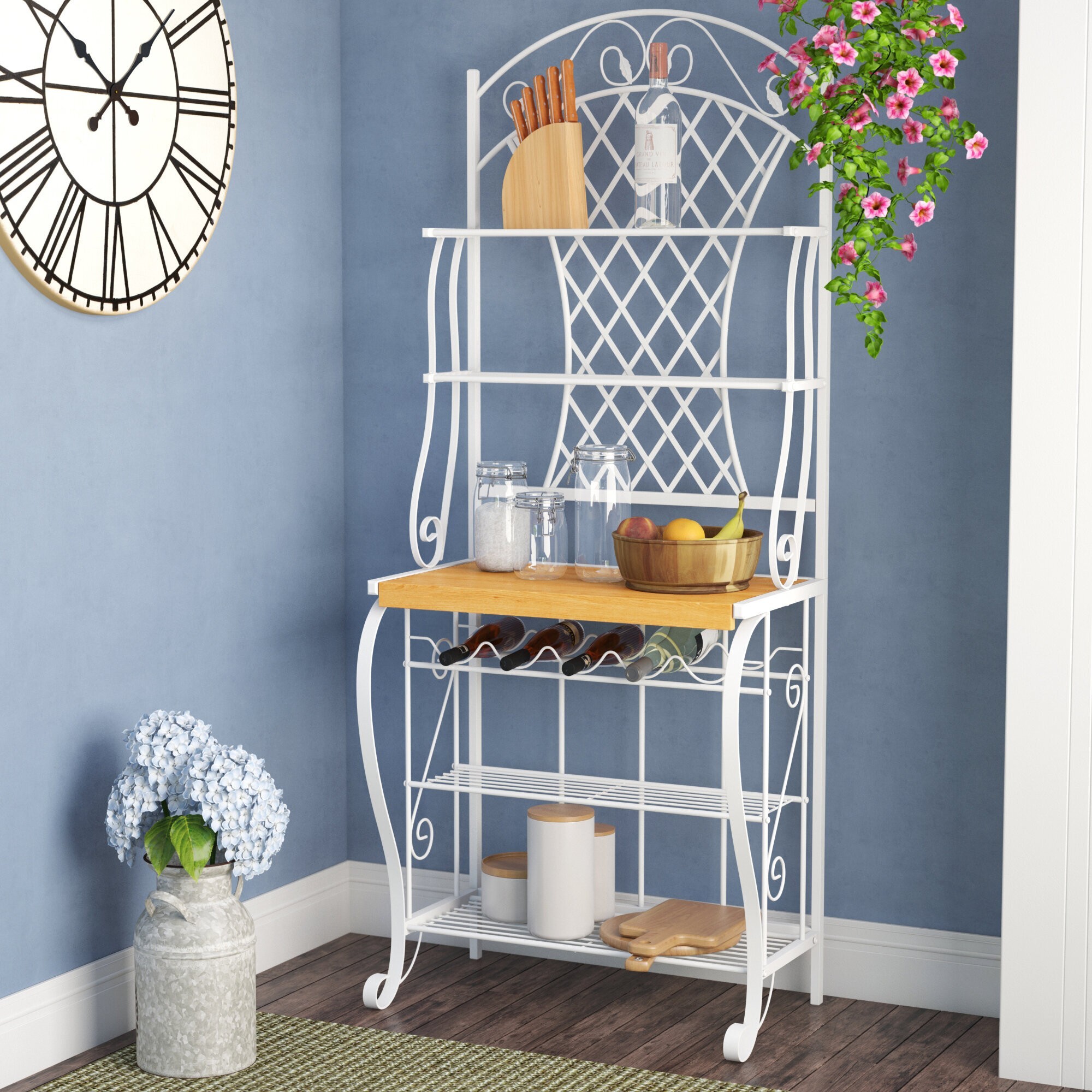 Benjara Foldable Corner Rack with Flower Accents
This unique corner rack is perfect for a small office setting or waiting room. It's 21.5" W x 15" D x 63.75" H inches so it will fit anywhere. The finish is black with charming flower and leaf accents in purple and green.
This baker's rack is useful in your professional setting to store books, plants, or brochures for your clients.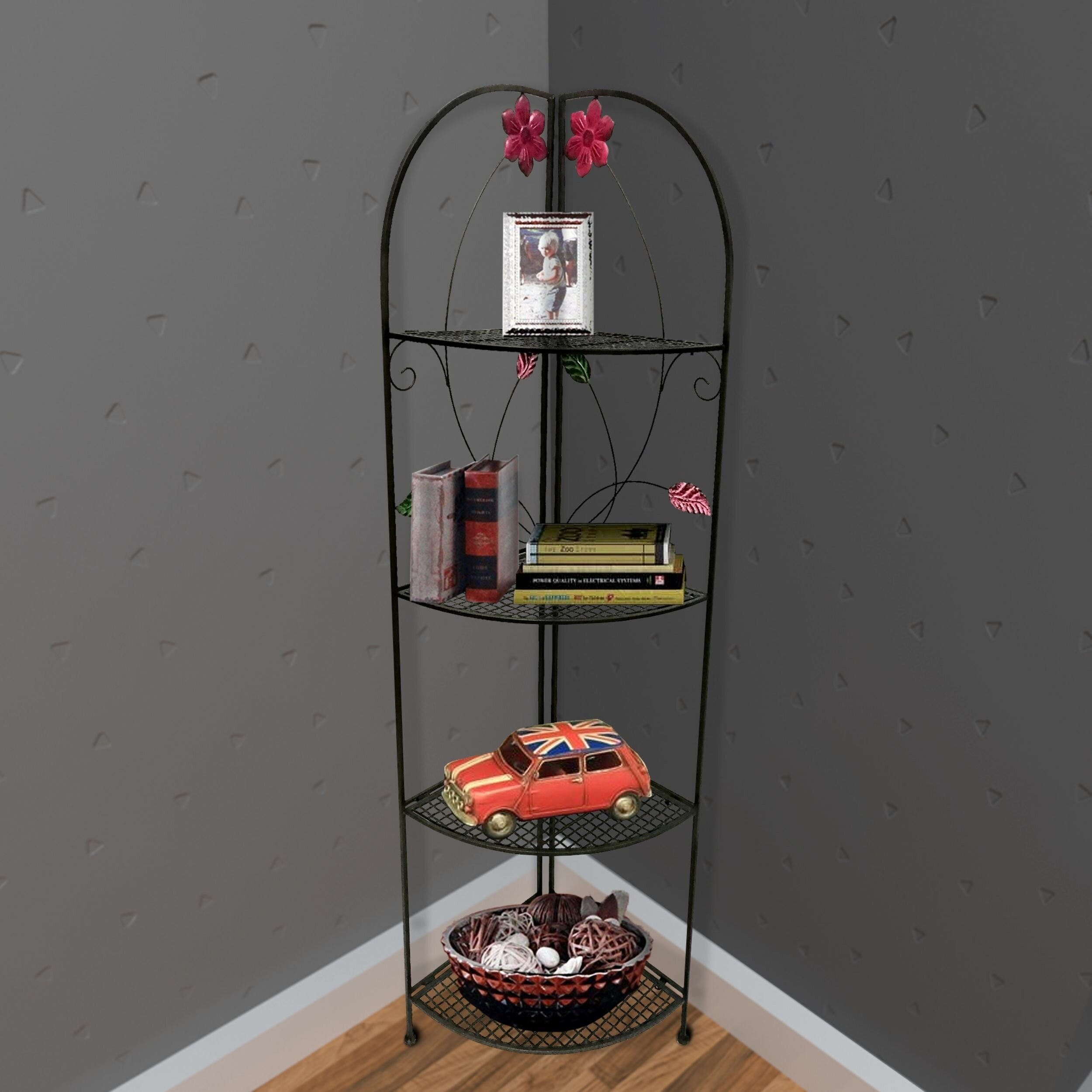 Furlow Wood Baker's Rack
As an excellent choice for a coastal-themed vacation house, this white rack is made of manufactured wood and features two wicker rattan baskets serving as catch-alls on the bottom shelves.
It's an instant way to spruce up your small kitchen or dinette at just 64.5'' H x 30'' W x 15'' D. It would look great in an entryway to store keys, wallets, backpacks and more because of its compact size.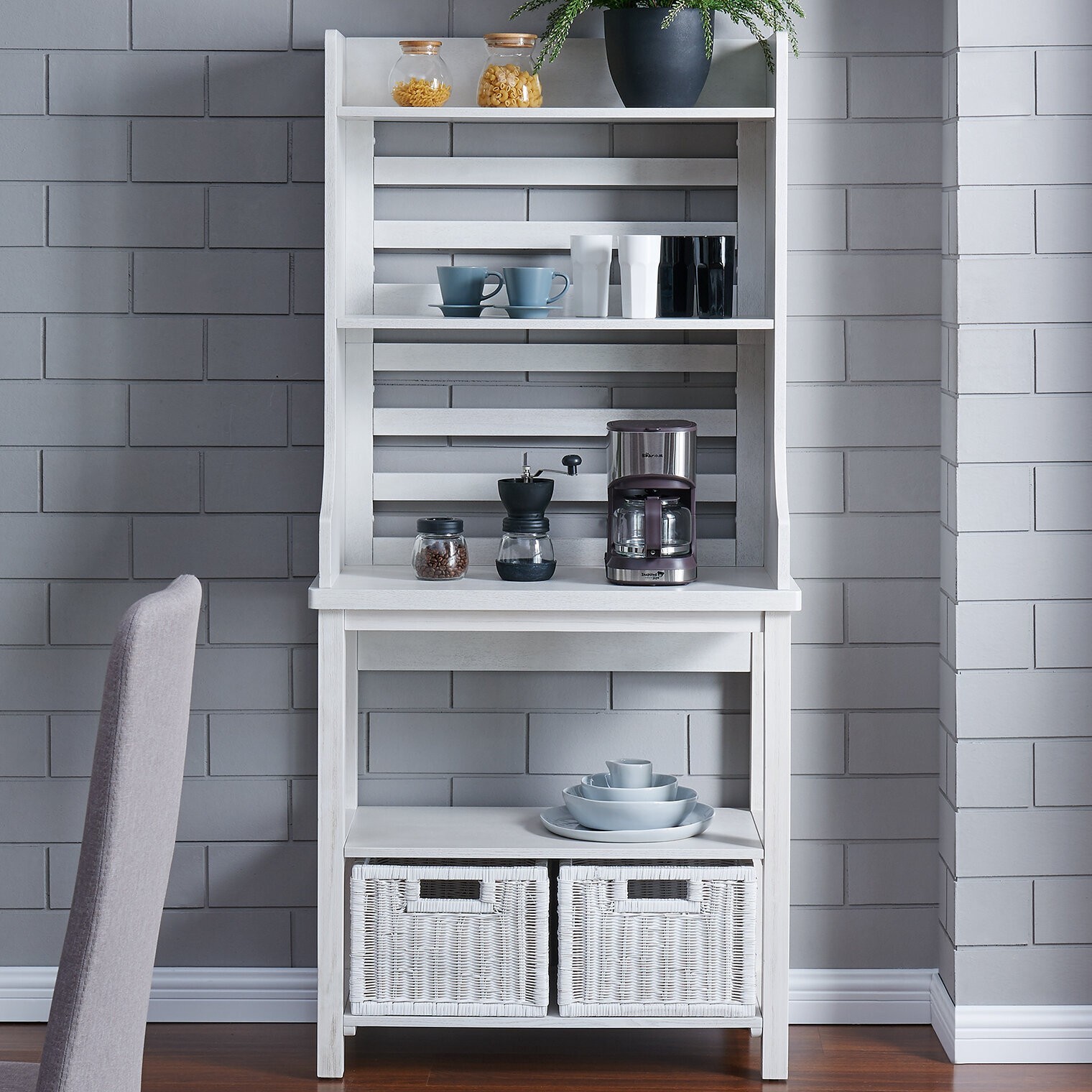 The Takeaway
While the baker's rack started its life in the kitchens of 17th-century bakers, they have been given new life in our modern-day living rooms, dining rooms, and patios. Don't let tradition impede on your design ideas. No matter what your storage needs entail, consider using a wooden baker's rack to clean the clutter in any room of your house.